This website uses cookies to ensure you get the best experience while browsing it. By clicking 'Got It' you're accepting these terms.
Solar Is Cheaper Than Electricity From the Grid in 42 of 50 Largest U.S. Cities
Jan. 16, 2015 10:25AM EST
Business
As technologies mature, prices drop. And we've been hearing a lot about the drop in the price of generating and transmitting renewable energy as those technologies have grown from pie-in-the-sky dreams to everyday realities. Yet many people still think of rooftop solar photovoltaic (PV) systems as unaffordable luxuries.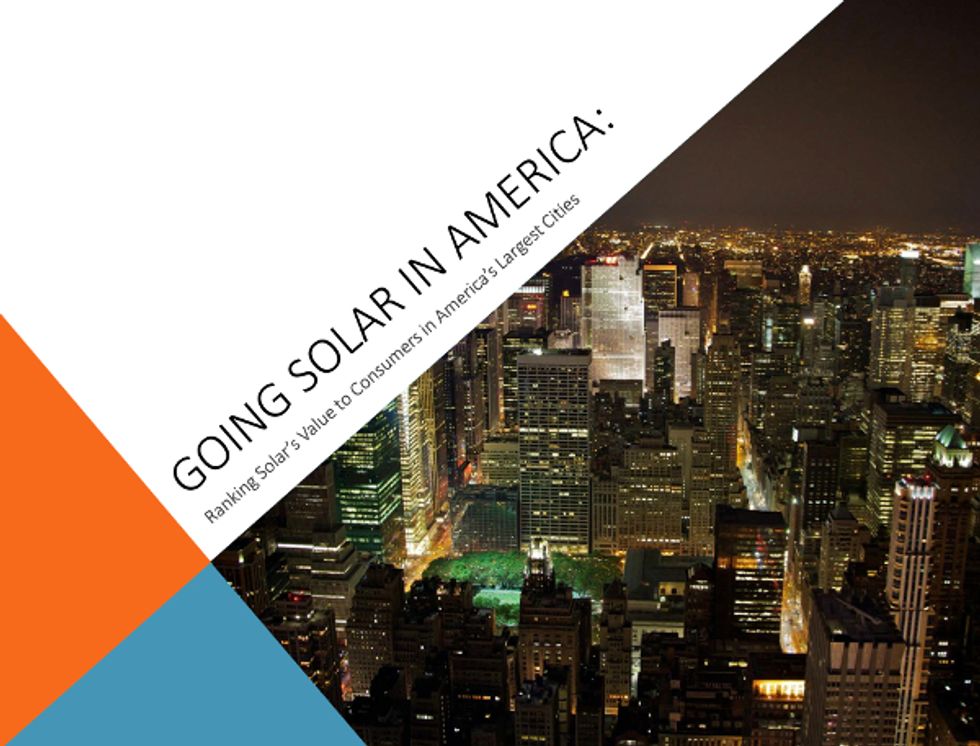 Now a new report called Going Solar in America, prepared by the North Carolina Clean Energy Technology Center with the support of the U.S. Department of Energy's SunShot Initiative, shows how the plummeting costs of going solar could already make it the more economical choice for energy consumers in 42 of the U.S.'s 50 largest cities. It found that in those cities, a fully financed solar system would cost average residential consumers less than they would pay for electricity from their current local utility.
New York and Boston topped the list, in large part because the cost of electricity from the grid is very expensive there. The top ten is rounded out by Albuquerque, San Jose, Las Vegas, Washington D.C., Los Angeles, San Diego, Oakland and San Francisco. High local energy costs also account for California cities filling half the top ten slots.
"Most Americans are unaware of the true financial value of solar today," said study authors Jim Kennerly and Autumn Proudlove. "Seen by many as a technological luxury, solar energy is not seriously considered as an option by most homeowners in the U.S. However, our analysis shows that, in 46 of America's 50 largest cities, a fully-financed, typically-sized solar PV system is a better investment than the stock market, and in 42 of these cities, the same system already costs less than energy from a residential customer's local utility."
Additionally, the study found that 9.1 million single-family homeowners in the 50 cities live in a place where buying a solar system outright would cost less than their current utility bill over the life of the system, and 21 million would pay less if low-cost financing were available. That's based on the assumption of a 100 percent financed purchase at 5 percent interest over 25 years, the average life of a solar PV system.
Factors that play into the increasing affordability of going solar include a steep drop in the price of hardware and electricity costs that are likely to climb by as much as 83 percent over the next 25 years. The study suggested that in order to compete for market share, non-hardware costs such as installation labor, financing, customer acquisition, permitting and inspection, which can add up to 64 percent of the total cost of a system, need to come down.
"It is not hyperbolic to say that the soft-cost reduction challenge is at the heart of getting rooftop solar PV to a level of broad-based cost-effectiveness (and true nationwide consumer acceptance)," the report says.
The cost of generating home electricity through a solar system is also impacted by government policies such as renewable energy standards, net metering and the federal Investment Tax Credit, which are harder to predict. And some of those policies are under heavy attack, as shown by the recent freeze in Ohio's renewable energy standards and a proposal there to eliminate them entirely, and Arizona's proposal to tax solar PV systems. The federal Investment Tax Credit is set to expire at the end of 2016 so its future is unclear.
"A major reason why these dramatic cost declines have resulted in more people investing in solar is the existence of supportive federal, state and local incentives and public policies," the study says. "While some incentives are intended to 'sweeten the deal' and jumpstart the local solar market, others are more basic policies that allow customer-generators to enter the market and receive a payment for the power they supply to the grid."
The authors said that their study was intended to help dispel the idea that solar energy was out of reach for the average energy consumer.
"It is our hope that people will come away realizing that solar is now not just an option for the rich, but a real opportunity for anyone looking to take greater control over their monthly utility bills and make a long-term, relatively low-risk investment," they said.
YOU MIGHT ALSO LIKE
Solar Is Creating Jobs Nearly 20 Times Faster Than Overall U.S. Economy
Top 10 States Leading the U.S. in Solar Energy Growth
EcoWatch Daily Newsletter
A Starbucks barista prepares a drink at a Starbucks Coffee Shop location in New York. Ramin Talaie / Corbis via Getty Images
By Cathy Cassata
Are you getting your fill of Starbucks' new Almondmilk Honey Flat White, Oatmilk Honey Latte, and Coconutmilk Latte, but wondering just how healthy they are?
By Sharon Kelly
Back in April last year, the Trump administration's Environmental Protection Agency decided it was "not necessary" to update the rules for toxic waste from oil and gas wells. Torrents of wastewater flow daily from the nation's 1.5 million active oil and gas wells and the agency's own research has warned it may pose risks to the country's drinking water supplies.
Swedish climate activist Greta Thunberg takes part in a "Friday for Future" youth demonstration in a street of Davos on Jan. 24, 2020 on the sideline of the World Economic Forum annual meeting. FABRICE COFFRINI / AFP via Getty Images
Treasury Secretary Steven Mnuchin pretended not to know who Greta Thunberg is, and then he told her to get a degree in economics before giving world leaders advice, as The Guardian reported.
The Visible Infrared Imaging Radiometer Suite on the Suomi NPP satellite acquired this image of forest fire smoke hovering over North America on Aug. 15, 2018. NASA Earth Observatory
New York City isn't known for having the cleanest air, but researchers traced recent air pollution spikes there to two surprising sources — fires hundreds of miles away in Canada and the southeastern U.S.
If temperatures continue to rise, the world is at risk from global
sea-level rise
, which will flood many coastal cities as seen above in Bangladesh. NurPhoto / Contributor / Getty Images
The mounting climate emergency may spur the next global financial crisis and the world's central banks are woefully ill equipped to handle the consequences, according to a new book-length report by the Bank for International Settlements (BIS), as S&P Global reported. Located in Basel, Switzerland, the BIS is an umbrella organization for the world's central banks.