Renewable Energy
25 April 2016
Solar Impulse Pilot: 'I Flew Over Plastic Waste As Big As a Continent'
As the Solar Impulse 2 made its historic 62-hour flight from Hawaii to California without fuel, pilot Bertrand Piccard personally saw the horrific amount of plastic in our oceans.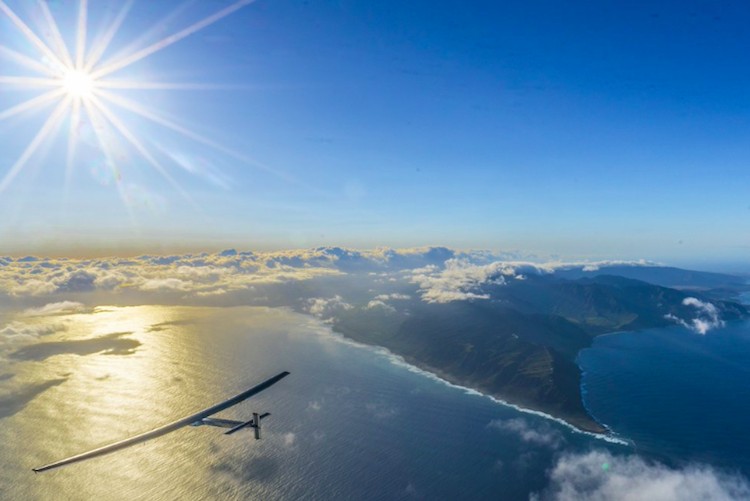 The solar airplane as it approaches the California. Photo credit: Solar Impulse
While flying above the Great Pacific Garbage Patch, Piccard sent out a tweet to Boyan Slat, the 21-year-old founder and CEO of The Ocean Cleanup.
"I flew over plastic waste as big as a continent," Piccard wrote. "We must continue to support projects like @BoyanSlat Ocean Cleanup," referring to Slat's ambitious project of ridding the world's oceans of plastic trash.
The Ocean Cleanup describes itself as the "world's first feasible concept to clean the oceans of plastic" and has garnered widespread public admiration and support especially for Slat, a former aerospace engineering student who proposed the concept when he was only 17.
Piccard and Slat also spoke on Friday as the solar-powered plane made its risky journey.
It's no surprise that the pilot and the young inventor linked up—both are using innovative technology to promote the greater good of the planet.
Piccard and the Solar Impulse team plan to fly around the world using only the power of the sun to promote clean transportation and other environmental causes.
"We have demonstrated it is feasible to fly many days, many nights, that the technology works," fellow pilot Andre Borschberg told the Associated Press.
"I think innovation and pioneering must continue," Piccard added. "It must continue for better quality of life, for clean technologies, for renewable energy. This is where the pioneers can really express themselves and be successful."
Slat has spoken before about the necessity to protect our oceans.
"The oceans are the most important life-support systems of our planet," he said in 2014. "It regulates the climate, it produces oxygen. The vast majority of biodiversity can be found in the ocean."
The Ocean Cleanup involves a massive static platform and V-shapped booms that passively corrals plastics with wind and ocean currents. If all goes to plan, the project will officially launch in 2020 and be the longest floating structure ever deployed in the ocean.
Similarly, both parties have experienced hiccups along the way. Before arriving in California, the plane, the Solar Impulse 2, had been grounded in Hawaii for nine months as it underwent repairs after its record-breaking five-day trip from Japan to Hawaii in July.
As for Ocean Cleanup project, despite a 530-page feasibility study, some critics and scientists have written off Slat's idea on mechanical design and ecological impacts. Dr. Marcus Eriksen, the co-founder of 5 Gyres, offered a number of constructive suggestions for the project.
Still, it's very clear that the environment needs whatever help it can get, from curbing our reliance on dirty energy to putting a stop to plastic waste. The world's oceans and marine life are suffering from a devastating plastic crisis, with 8 million metric tons of plastic waste dumped into our oceans every year. Plastic pollution is only getting worse as consumer use of plastic and plastic-intensive goods intensifies in emerging countries.
Not only that, an alarming new study by the University of Delaware physical oceanographer Tobias Kukulka reported that there might be much more plastic than what's estimated.
"My research has shown that ocean turbulence actually mixes plastics and other pollutants down into the water column despite their buoyancy," Kukulka said, according to UD Daily. "This means that surface measurements could be wildly off and the concentration of plastic in the marine environment may be significantly higher than we thought."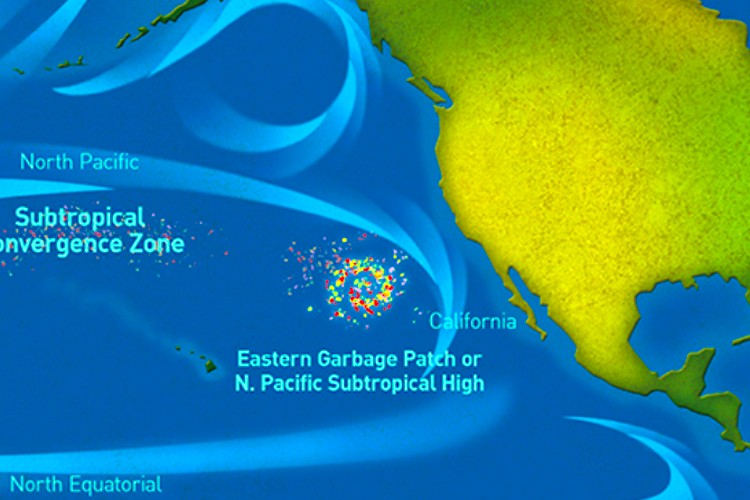 Marine debris that has accumulated in the Pacific Ocean. Photo credit: NOAA
YOU MIGHT ALSO LIKE
Scientists Confirm: 93% of Great Barrier Reef Now Bleached
Elon Musk Has a Secret Plan to Eliminate City Traffic With a 'New Type of Car'
San Francisco Becomes First Major City to Require Solar Panels on New Buildings
www.youtube.com
Volkswagen is bringing back its hippie-approved minivan but with a 21st century upgrade—the new I.D. Buzz is all-electric.
The concept car was first revealed at the Detroit Auto Show in January and now the German automaker is officially putting its reinvigorated Microbus into production.
Keep reading...
Show less
I have asked repeatedly to have my short interview clip removed from this film. The director refuses. He believes his film is fair and balanced. I do not.

I am often interviewed (see media) and hardly ever quoted incorrectly or out of context. This film is one of those rare exceptions.
Keep reading...
Show less
Top of JPMorgan Chase Tower, Dallas, Texas. Joe Mabel / Wikimedia
Keep reading...
Show less
Cupping symptoms associated with dicamba damage on a cucumber plant. University of Arkansas.
Arkansas farmers filed a class-action lawsuit last week against Monsanto and German chemical company BASF, alleging that the companies' dicamba-based herbicides caused damage to their properties.
The plaintiffs claim that Monsanto and BASF implemented and controlled the dicamba crop system, releasing seed technology without a corresponding, safe and approved herbicide.
Keep reading...
Show less
Cup and bubblegum corals found in Northeast U.S. Canyons, the Atlantic's first marine monument. NOAA
Interior Sec. Ryan Zinke, who recently recommended a reduction in the size of the 1.35 million acre Bears Ears National Monument to President Trump, is advocating for more drilling and mining on public lands and waters.
The former Montana Rep. told Reuters that the development of America's protected federal lands could help the country become a "dominant" global energy force.
Keep reading...
Show less
Gage Skidmore / Flickr (CC BY-SA 2.0)
Dozens of scientists on the U.S. Environmental Protection Agency's (EPA) Board of Scientific Counselors and board subcommittees have been informed that they will not be renewed for their roles advising the agency, the Washington Post reported.
Keep reading...
Show less
www.youtube.com
Worried about the future of the Great Barrier Reef? If so, you're not alone.
Many publications have already written obituaries for the reef, despite the fact that it is not completely dead. Thanks to this video via Vox for sounding the alarm on this critical issue, before it's too late.
Keep reading...
Show less
Mike Mozart
By Olga V. Naidenko, Ph.D.
In a landmark rule with global repercussions, California state scientists are preparing to issue the world's first health guideline for Monsanto's glyphosate herbicide based on its cancer risk. The state's proposed safe level is more than 100 times lower than the U.S. Environmental Protection Agency's (EPA) legal allowance for the average-sized American.
Keep reading...
Show less
www.youtube.com
By Bob Henson
A high risk of life-threatening flooding continues on Wednesday over parts of the central Gulf Coast as Tropical Storm Cindy lumbers toward shore. The greatest flood threat will be across low-lying areas of far southern Mississippi and Alabama, according to the NWS/NOAA Weather Prediction Center. A second area with a moderate flood risk lies across far southeast Texas and southwest Louisiana.
Keep reading...
Show less