Solar Impulse Attempts Historic Flight Across the Pacific
May. 30, 2015 03:15PM EST
Business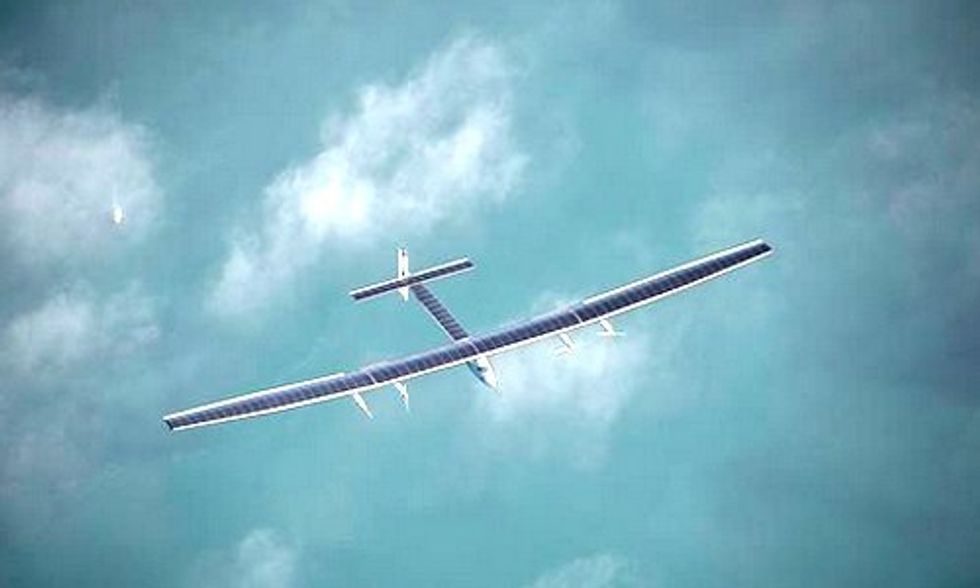 [Editor's note: Poor weather conditions are forcing Solar Impulse pilot André Borschberg to land in Nagoya, Japan at approximately 23:00 local time (14:00 GMT). Borschberg will wait for better weather conditions to continue his flight across the Pacific.]
Solar Impulse 2, the first solar airplane able to sustain flight at night with a pilot on board has been making its way around the world over the past few months. The plane took off today a little after 2 a.m. on Sunday in Nanjing, China. The flight from Nanjing to Honolulu, Hawaii is the seventh and longest leg of the first round-the-world solar flight. It will take an estimated six days to complete the roughly 5,000-mile journey. The first leg of the journey took place in early March, taking off from from Abu Dhabi in the United Arab Emirates and landing in the Omani capital, Muscat.
It is important to embrace the unknown, something that @andreborschberg will be doing in his attempt #Pacific pic.twitter.com/rzSLrrhJpD

— Bertrand PICCARD (@bertrandpiccard) May 30, 2015
If the flight is successful, it will be the longest ever flight on solar power, both in terms of distance and time.
"Flying across oceans without fuel means taking renewable energy to the ultimate level," says the Solar Impulse team. The plane, which has been piloted by both André Borschberg and Bertrand Piccard, has a wingspan bigger than that of a Boeing 747 but it weights only one percent of that—about the weight of a large passenger car. Built into the wing are 17,000 solar cells that feed four electric motors and recharge lithium batteries for night flight.
#Si2 is airborne and the #solarTEAM keeps on working hard at the #MCC! Intense days ahead! pic.twitter.com/q157DTVUfW

— SOLAR IMPULSE (@solarimpulse) May 30, 2015
The flight from Nanjing has been delayed for weeks due to weather conditions over the Pacific, which has made the build up to today's takeoff even more exciting. "A cold front over the ocean created 'a wall of clouds and thunderstorms stretching from Taiwan to above the east coast of Japan,'" the team told CNN. But when the team found a break in the weather, they decided to go for it. You can watch live coverage of the event here:
And you can even track the flight in real-time on their website. You can track the plane's altitude, its distance, its energy use, the air temperature and even what the pilot is doing at the current moment (piloting, interview, yoga, self-hypnosis, resting, eating or using the bathroom).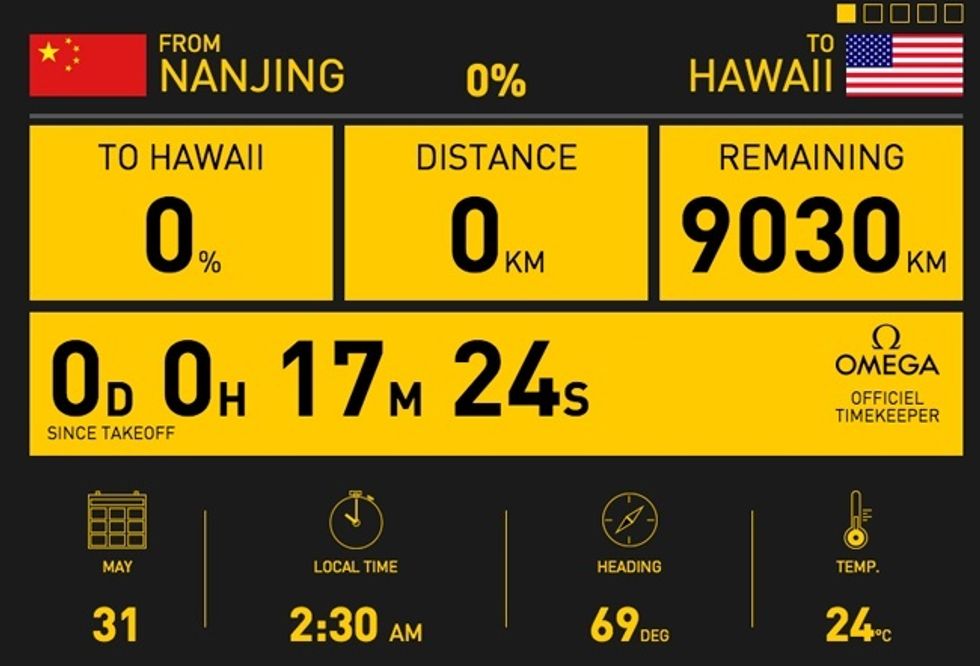 YOU MIGHT ALSO LIKE
Solar-Powered Plane Takes Off for Historic Round-the-World Trip
Wind Power Could Become Nation's Largest Source of Energy by 2050 With Deployment in All 50 States
Wind and Solar Provide 100% of New Generating Capacity in April
EcoWatch Daily Newsletter