Solar Heating and Cooling Could Save $61B, Create 50,250 Jobs By 2050
Brandon Baker
The Solar Energy Industries Association (SEIA) believes the nation could save $61 billion in energy costs by 2050, creating 50,250 jobs along the way.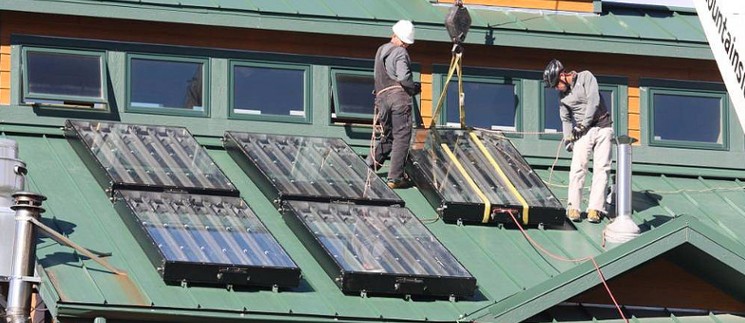 The U.S. could achieve those goals by vastly expanding the solar heating and cooling capacity (SHC) across the country, according to a SEIA report, Solar Heating & Cooling: Energy for a Secure Future, released this month. Installing 100 million new SHC panels nationwide would increase SHC capacity from nine gigawatts (GW) to 300 GW in the next 37 years, according to the report prepared by Boston-based BEAM Engineering.
The country's nine GW of SHC capacity ranks it just 36th in the world, relative to its population.
"With ambitious targets and a smart, easy-to-understand strategy now in place, SHC can help to displace an estimated 226 million tons of carbon emissions annually," task force chair Ole Pilgaard said. "That's the equivalent of taking 47 million passenger cars off the road."
Heating and cooling represents about 44 percent of U.S. energy consumption. Expanding SHC systems could allow the nation to generate about 8 percent of its heating and cooling needs through "clean, affordable solar energy," the report states.
The residents of 115 million U.S. homes consume about $266 billion of energy each year, with 72 percent of it related to water heating, space heating and space cooling. That's enough to put 10 million people through college, the report estimates.
 SHC expansion would positively impact the country by:
Avoiding 226 million tons of carbon dioxide emissions each year, which equates to taking 64 coal plants offline.
Adding $2.1 billion in increased federal tax revenue through added jobs
Lessening the damage caused by drilling, extracting, transporting and storing fossil fuels.
"Part of our challenge is to do a better job of educating policymakers—at both the state and federal level—about the enormous benefits SHC provides to American consumers and businesses, as well as to the U.S. economy," SEIA President and CEO Rhone Resch said. "If we're successful, the payoff will be enormous in terms of future job creation and energy savings."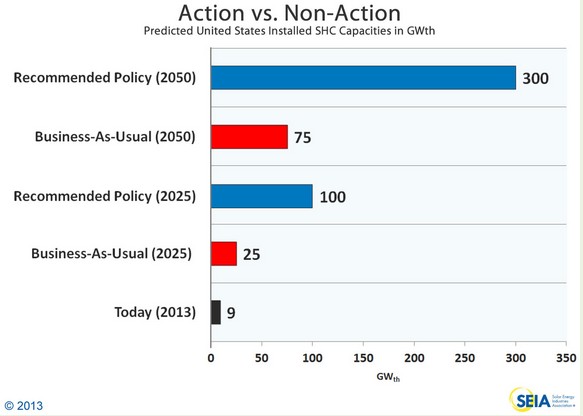 Residential SHC systems can cost $6,000 to $10,000, while commercial and industrial systems can run from $20,000 to $100,000. The report estimates that the payback period can be as little as four years, depending on application, location and financial incentives. 
A roadmap and statement from Resch calls for  long-term policies and financial incentives to make the expansion work.
"The three main types of financial incentives are tax credits, rebate/grant programs and Renewable Energy Credits (REC)," according to the roadmap. "Successful financial incentives allow businesses to make investments under predictable, long-term economic conditions."
SEIA is optimistic about policymakers getting on the same page, stating that Democrats, Republicans and Independents support solar energy by counts of 94, 75 and 89 percent, respectively.
"Without question, this plan will benefit both our economy and our environment," Pilgaard said.

Monsanto, the maker of the glyphosate-based herbicide Roundup, filed a motion June 16 in U.S. District Court, Northern District of California to reconsider the chemical's addition to California's Proposition 65 list of agents known to cause cancer.
The agrochemical giant made this move based on a June 14 Reuters investigation of Dr. Aaron Blair, a lead researcher on the World Health Organization's International Agency for Research on Cancer (IARC) committee, that classified glyphosate as a "2A probable human carcinogen" in March 2015.
Keep reading...
Show less
By Avery Friedman
Algae is often considered a nuisance, but for Sweden, the rapidly growing sea plant is now an asset.
As the Scandinavian country works to cut all of its greenhouse gas emissions by 2045, it's using algae to sop up the carbon emissions from cement.
Keep reading...
Show less
Jun. 24, 2017 01:35PM EST
By Itai Vardi
A recent intensification in protests against Williams Partners' planned Atlantic Sunrise pipeline in Pennsylvania prompted a state senator to propose legislation aimed at limiting demonstrations.
Last month, Pennsylvania Sen. Scott Martin (R-Norman) announced his intention to introduce legislation that would pass the costs of law enforcement responding to protests onto the demonstrators. Martin also helped introduce a different bill that would criminalize protests at natural gas facilities.
Keep reading...
Show less
Jun. 24, 2017 01:29PM EST
Black Shogun / iStock
The Federal Energy Regulatory Commission (FERC) released its Final Environmental Impact Statement Friday for the Mountain Valley Pipeline, a controversial 303-mile pipeline that would carry two billion cubic feet of fracked gas per day from West Virginia through Virginia.
Keep reading...
Show less
Jun. 24, 2017 01:46PM EST
Falcon PEV
The so-called "first and last mile" problem is one of the biggest hurdles with public transportation. How do you encourage more people to take Earth-friendlier commutes when their homes are miles away from the train or bus station?
One solution, as this Estonian electric scooter company proposes, is to simply take your commute with you—literally. Tallinn-based Stigo has developed a compact e-scooter that folds to the size of a rolling suitcase in about two seconds.
Keep reading...
Show less
Jun. 24, 2017 05:12PM EST
Connect4Climate
[Editor's note: I'm still in shock after hearing the news that Lucia Grenna passed away in her sleep last week. When we first met in April of 2014 at a Copenhagen hotel, I was immediately taken by here powerful presence. We spent the next couple days participating in a Sustainia climate change event where Lucia presented her audacious plans to connect people to the climate issue. I had the chance to partner with Lucia on several other projects throughout the years and work with her incredible Connect4Climate team. I was always in awe of her ability to "make the impossible possible." Her spirit will live on forever. — Stefanie Spear]
It is with a heavy heart that Connect4Climate announces the passing of its founder and leading light, Lucia Grenna. Lucia passed peacefully in her sleep on June 15, well before her time. We remember her for her leadership and extraordinary ability to motivate people to take on some of the greatest challenges of our time, not least climate change.
Keep reading...
Show less
Jun. 23, 2017 07:29PM EST
Wikimedia Commons
By Stacy Malkan
Neil deGrasse Tyson has inspired millions of people to care about science and imagine themselves as participants in the scientific process. What a hopeful sign it is to see young girls wearing t-shirts emblazoned with the words, "Forget princess, I want to be an astrophysicist."
Keep reading...
Show less
Jun. 23, 2017 01:57PM EST
www.youtube.com
By Andy Rowell
Any day now we will truly witness climate change in action. Within days at worst, maybe weeks at best, scientists predict that a huge section of the Larsen C ice shelf in Antarctica will break off into the ocean, in what is called a major "carving" event.
Keep reading...
Show less
Jun. 23, 2017 02:27PM EST
www.youtube.com
President Trump visited Cedar Rapids, Iowa on June 21 to speak to a large crowd in the U.S. Cellular Center at a political rally organized by his campaign.
As Trevor Noah noted during The Daily Show episode last night (starts at 2:25), the real reason Trump has these rallies is to "get back in front of his loyal crowds and feed of their energy." Noah believes that "Trump supporters are so on board with their dude he can say anything and they'll come along for the ride."
Keep reading...
Show less