Solar Energy Revolution Reaching Full Speed
By David Pomerantz
Solar power is here, and it isn't just environmentalists saying it anymore. A research division of Citigroup, the massive multinational bank that probably doesn't share Greenpeace's worldview on many issues, does agree with us on one point: solar energy is poised to explode in the U.S.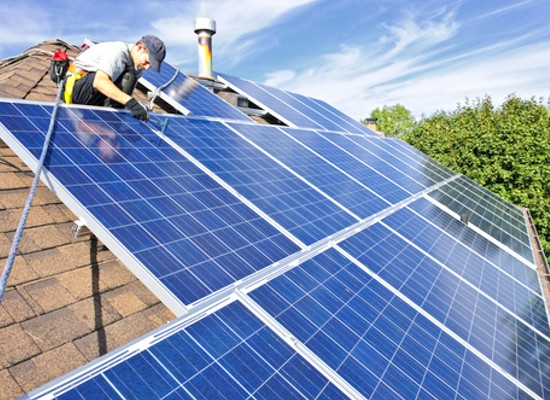 Photo courtesy of Shutterstock
Citi Research published the report,"Rising Sun: Implications for U.S. Utilities," in August (hat tip to Marc Gunther, who referenced it in a great piece for Yale Environment 360.) It slipped under the media radar, which is unfortunate because the analysis is phenomenal and offers great hope for the clean energy revolution here in the U.S. The report isn't available online, but here are a few of the key points it makes:
Solar is growing extremely fast in the U.S.
That growth is driven almost entirely by pure economics, not environmental concerns.
The big utilities can't seem to get either of the above two points through their skulls yet.
Solar financing is the next political frontier to watch in the U.S.
Here's each point in greater depth:
Solar is growing like gangbusters.
Citi's analysts don't mince words:
Our viewpoint is that Solar is here to stay and very early in the growth cycle in the U.S.
They note that solar panels costed an average of $75/watt in 1972. In 2012, that number was down to less than $1/watt (the number is even lower now, closer to $.65/watt in some places.)
The report compares that rapid decrease in cost to Moore's Law, the famous theory which postulated in 1965 that computer chips could double in performance every two years. That prediction turned out to be uncannily accurate, which is the basic reason for why you're reading this on a laptop, tablet or smartphone right now. A similar phenomenon is happening now with solar costs, which have shrunk reliably and quickly.
As a result, two thirds of all the solar power in the world has been installed since 2011, and that number will double again by 2015, Greentechmedia reported. Citi's analysts noted that this solar growth has exceeded almost everyone's expectation:
The biggest surprise in recent years has been the speed at which the cost of solar panels has reduced, resulting in cost parity being achieved in certain areas much more quickly than was ever expected.
The biggest driver of solar growth will be economics, not environmental concerns.
The most exciting thing about this solar boom is probably the hope that it provides for everyone who depends on a healthy planet (AKA, everyone.) Solar growth means less burning of coal, gas and eventually oil, the main causes of the climate change that is already causing extreme weather here in the U.S. and around the world, and portends much uglier effects like increased conflict, rising sea levels, ocean acidification and fresh water scarcity down the road.
However, the report notes that those environmental concerns aren't driving solar growth–and that's actually a good thing. For solar to go mainstream, it has to become a money saver for more people and businesses, which is exactly that's happening.
What is clear to us is that the perception of solar as being inefficient and requiring material subsidies is no longer accurate–a concept that is not being fully appreciated by the utility sector, in our view. As we clearly display in the below sections, Solar is already cheaper than electricity at the plug in many countries, with others very close behind including the U.S. with several states already displaying "socket" or retail parity (i.e. Georgia, Arizona and New Mexico).
In other words, in many parts of the country, especially the Southeast and Southwest, it's cheaper to install your own solar panels, and then generate most of your electricity for free, than it is to keep paying a utility for all of your power every month.
The report notes that the most promising trend for expanding the pool of people who could go solar is the growth of new ways to finance their solar installations. While the panels are getting cheaper every year, many people still don't have the cash on hand to afford them upfront–even though it will be cheaper over time. But new financing models are making them more affordable. The analysts write:
Distributed (DG) or off grid generation at the residential and commercial scale level could be set to take on a greater piece of the solar generation pie. Much of this we attribute to the emergence and expansion of third party financing…
Meanwhile, solar is getting cheaper in all of those ways against a backdrop of rising fossil fuel prices that are destined to keep rising:
At the same time, the alternatives of conventional fossil fuels are likely to gradually become more expensive (assuming that the "lowest hanging fruit" in terms of reserves are exploited first).
Sunshine is free though, and the cost of the panels needed to harness it are getting cheaper every quarter.
Utilities still don't get it.
The Citi analysts write:
While we expect the same trend in the U.S. [of declining solar costs and rapid growth], we find that many utilities have had issues trying to grapple with this concept.
Duke Energy, the country's largest utility, provides a great example of a company that is at best grappling with how to respond to these changes, and at worst failing to appreciate them altogether. Greenpeace has been campaigning alongside Duke's ratepayers to convince the company to switch from fossil fuels to solar energy. But Duke's own plans in North Carolina show that it plans to keep its head firmly in the sand. The company predicts that by 2032, the share of the electricity it generates from wind and solar energy in the Carolinas will be… wait for it… 3 percent! That estimate seems almost laughable in the context of Citi's estimates.
The next frontier to watch: third-party solar financing
Citi reports that the big factor that will determine where solar gets cheapest, fastest, in the U.S. is the maturity of third-party solar financing markets. Third-party financiers could be banks, solar leasing companies, or innovative new crowdsourcing efforts like the one at Mosaic–any business that can help people better spread out the investment in solar panels over the lifetime of the system.
Third-party financing availability is a grab bag in the U.S. It's legal in 22 states, illegal in six states where utilities have pushed state governments to ban it in order to protect their own monopolies, and on hazy legal grounds in the other 22 states. Here's a map giving the lay of the land.
This is the next frontier to watch, and new battles are cropping up already in places like Iowa and Wisconsin. The electricity buying public is getting angrier, as evidenced by growing ratepayer protests in places like North Carolina against Duke. Utilities are taking more out of people's pocket every day for electricity created by coal and gas plants that are making their kids sick and causing global warming. As more people see that they could have the option to stop giving all their money to a company like Duke, and start financing solar panels, the political pressure on states to open up their borders to solar financing companies could grow almost as quickly as solar installations have been.
When Citigroup, one of the largest banks in the world, is saying that the clean energy revolution is reaching full speed, it's time the utilities start to listen. They can't stop the solar growth, but they can choose whether they'll try to slow it down or try to embrace it. It will be better for their customers, their businesses and certainly for the planet if they choose the latter.
Visit EcoWatch's RENEWABLES page for more related news on this topic.
——–

By Itai Vardi
A recent intensification in protests against Williams Partners' planned Atlantic Sunrise pipeline in Pennsylvania prompted a state senator to propose legislation aimed at limiting demonstrations.
Last month, Pennsylvania Sen. Scott Martin (R-Norman) announced his intention to introduce legislation that would pass the costs of law enforcement responding to protests onto the demonstrators. Martin also helped introduce a different bill that would criminalize protests at natural gas facilities.
Keep reading...
Show less
Black Shogun / iStock
The Federal Energy Regulatory Commission (FERC) released its Final Environmental Impact Statement Friday for the Mountain Valley Pipeline, a controversial 303-mile pipeline that would carry two billion cubic feet of fracked gas per day from West Virginia through Virginia.
Keep reading...
Show less
Falcon PEV
The so-called "first and last mile" problem is one of the biggest hurdles with public transportation. How do you encourage more people to take Earth-friendlier commutes when their homes are miles away from the train or bus station?
One solution, as this Estonian electric scooter company proposes, is to simply take your commute with you—literally. Tallinn-based Stigo has developed a compact e-scooter that folds to the size of a rolling suitcase in about two seconds.
Keep reading...
Show less
Connect4Climate
[Editor's note: I'm still in shock after hearing the news that Lucia Grenna passed away in her sleep last week. When we first met in April of 2014 at a Copenhagen hotel, I was immediately taken by here powerful presence. We spent the next couple days participating in a Sustainia climate change event where Lucia presented her audacious plans to connect people to the climate issue. I had the chance to partner with Lucia on several other projects throughout the years and work with her incredible Connect4Climate team. I was always in awe of her ability to "make the impossible possible." Her spirit will live on forever. — Stefanie Spear]
It is with a heavy heart that Connect4Climate announces the passing of its founder and leading light, Lucia Grenna. Lucia passed peacefully in her sleep on June 15, well before her time. We remember her for her leadership and extraordinary ability to motivate people to take on some of the greatest challenges of our time, not least climate change.
Keep reading...
Show less
Jun. 23, 2017 07:29PM EST
Wikimedia Commons
By Stacy Malkan
Neil deGrasse Tyson has inspired millions of people to care about science and imagine themselves as participants in the scientific process. What a hopeful sign it is to see young girls wearing t-shirts emblazoned with the words, "Forget princess, I want to be an astrophysicist."
Keep reading...
Show less
Jun. 23, 2017 01:57PM EST
www.youtube.com
By Andy Rowell
Any day now we will truly witness climate change in action. Within days at worst, maybe weeks at best, scientists predict that a huge section of the Larsen C ice shelf in Antarctica will break off into the ocean, in what is called a major "carving" event.
Keep reading...
Show less
Jun. 23, 2017 02:27PM EST
www.youtube.com
President Trump visited Cedar Rapids, Iowa on June 21 to speak to a large crowd in the U.S. Cellular Center at a political rally organized by his campaign.
As Trevor Noah noted during The Daily Show episode last night (starts at 2:25), the real reason Trump has these rallies is to "get back in front of his loyal crowds and feed of their energy." Noah believes that "Trump supporters are so on board with their dude he can say anything and they'll come along for the ride."
Keep reading...
Show less
Jun. 23, 2017 07:50PM EST
The Kamuthi solar plant in the southern Indian state of Tamil Nadu.
The rapid growth in renewable energy continues to put a dent in the demand for coal.
Coal India, the world's biggest coal mining company and producer of 82 percent of the country's coal, announced the closure of 37 mines that are financially "unviable."
Keep reading...
Show less
Jun. 23, 2017 06:42PM EST
www.youtube.com
By Katie O'Reilly
Two years ago—long before coal became one of the most dominant and controversial symbols of the 2016 presidential election—Bloomberg Philanthropies approached production company RadicalMedia with the idea of creating a documentary exploring the U.S. coal mining industry. Last spring, they brought on Emmy-nominated director Michael Bonfiglio, tasked with forging a compelling story out of the multitudes of facts, statistics and narratives underlying the declining industry.
Keep reading...
Show less