This website uses cookies to ensure you get the best experience while browsing it. By clicking 'Got It' you're accepting these terms.
By David Pomerantz
Solar power is here, and it isn't just environmentalists saying it anymore. A research division of Citigroup, the massive multinational bank that probably doesn't share Greenpeace's worldview on many issues, does agree with us on one point: solar energy is poised to explode in the U.S.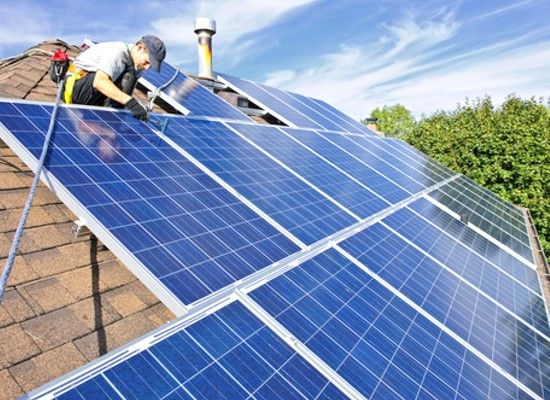 Photo courtesy of Shutterstock
Citi Research published the report,"Rising Sun: Implications for U.S. Utilities," in August (hat tip to Marc Gunther, who referenced it in a great piece for Yale Environment 360.) It slipped under the media radar, which is unfortunate because the analysis is phenomenal and offers great hope for the clean energy revolution here in the U.S. The report isn't available online, but here are a few of the key points it makes:
Solar is growing extremely fast in the U.S.
That growth is driven almost entirely by pure economics, not environmental concerns.
The big utilities can't seem to get either of the above two points through their skulls yet.
Solar financing is the next political frontier to watch in the U.S.
Here's each point in greater depth:
Solar is growing like gangbusters.
Citi's analysts don't mince words:
Our viewpoint is that Solar is here to stay and very early in the growth cycle in the U.S.
They note that solar panels costed an average of $75/watt in 1972. In 2012, that number was down to less than $1/watt (the number is even lower now, closer to $.65/watt in some places.)
The report compares that rapid decrease in cost to Moore's Law, the famous theory which postulated in 1965 that computer chips could double in performance every two years. That prediction turned out to be uncannily accurate, which is the basic reason for why you're reading this on a laptop, tablet or smartphone right now. A similar phenomenon is happening now with solar costs, which have shrunk reliably and quickly.
As a result, two thirds of all the solar power in the world has been installed since 2011, and that number will double again by 2015, Greentechmedia reported. Citi's analysts noted that this solar growth has exceeded almost everyone's expectation:
The biggest surprise in recent years has been the speed at which the cost of solar panels has reduced, resulting in cost parity being achieved in certain areas much more quickly than was ever expected.
The biggest driver of solar growth will be economics, not environmental concerns.
The most exciting thing about this solar boom is probably the hope that it provides for everyone who depends on a healthy planet (AKA, everyone.) Solar growth means less burning of coal, gas and eventually oil, the main causes of the climate change that is already causing extreme weather here in the U.S. and around the world, and portends much uglier effects like increased conflict, rising sea levels, ocean acidification and fresh water scarcity down the road.
However, the report notes that those environmental concerns aren't driving solar growth–and that's actually a good thing. For solar to go mainstream, it has to become a money saver for more people and businesses, which is exactly that's happening.
What is clear to us is that the perception of solar as being inefficient and requiring material subsidies is no longer accurate–a concept that is not being fully appreciated by the utility sector, in our view. As we clearly display in the below sections, Solar is already cheaper than electricity at the plug in many countries, with others very close behind including the U.S. with several states already displaying "socket" or retail parity (i.e. Georgia, Arizona and New Mexico).
In other words, in many parts of the country, especially the Southeast and Southwest, it's cheaper to install your own solar panels, and then generate most of your electricity for free, than it is to keep paying a utility for all of your power every month.
The report notes that the most promising trend for expanding the pool of people who could go solar is the growth of new ways to finance their solar installations. While the panels are getting cheaper every year, many people still don't have the cash on hand to afford them upfront–even though it will be cheaper over time. But new financing models are making them more affordable. The analysts write:
Distributed (DG) or off grid generation at the residential and commercial scale level could be set to take on a greater piece of the solar generation pie. Much of this we attribute to the emergence and expansion of third party financing…
Meanwhile, solar is getting cheaper in all of those ways against a backdrop of rising fossil fuel prices that are destined to keep rising:
At the same time, the alternatives of conventional fossil fuels are likely to gradually become more expensive (assuming that the "lowest hanging fruit" in terms of reserves are exploited first).
Sunshine is free though, and the cost of the panels needed to harness it are getting cheaper every quarter.
Utilities still don't get it.
The Citi analysts write:
While we expect the same trend in the U.S. [of declining solar costs and rapid growth], we find that many utilities have had issues trying to grapple with this concept.
Duke Energy, the country's largest utility, provides a great example of a company that is at best grappling with how to respond to these changes, and at worst failing to appreciate them altogether. Greenpeace has been campaigning alongside Duke's ratepayers to convince the company to switch from fossil fuels to solar energy. But Duke's own plans in North Carolina show that it plans to keep its head firmly in the sand. The company predicts that by 2032, the share of the electricity it generates from wind and solar energy in the Carolinas will be… wait for it… 3 percent! That estimate seems almost laughable in the context of Citi's estimates.
The next frontier to watch: third-party solar financing
Citi reports that the big factor that will determine where solar gets cheapest, fastest, in the U.S. is the maturity of third-party solar financing markets. Third-party financiers could be banks, solar leasing companies, or innovative new crowdsourcing efforts like the one at Mosaic–any business that can help people better spread out the investment in solar panels over the lifetime of the system.
Third-party financing availability is a grab bag in the U.S. It's legal in 22 states, illegal in six states where utilities have pushed state governments to ban it in order to protect their own monopolies, and on hazy legal grounds in the other 22 states. Here's a map giving the lay of the land.
This is the next frontier to watch, and new battles are cropping up already in places like Iowa and Wisconsin. The electricity buying public is getting angrier, as evidenced by growing ratepayer protests in places like North Carolina against Duke. Utilities are taking more out of people's pocket every day for electricity created by coal and gas plants that are making their kids sick and causing global warming. As more people see that they could have the option to stop giving all their money to a company like Duke, and start financing solar panels, the political pressure on states to open up their borders to solar financing companies could grow almost as quickly as solar installations have been.
When Citigroup, one of the largest banks in the world, is saying that the clean energy revolution is reaching full speed, it's time the utilities start to listen. They can't stop the solar growth, but they can choose whether they'll try to slow it down or try to embrace it. It will be better for their customers, their businesses and certainly for the planet if they choose the latter.
Visit EcoWatch's RENEWABLES page for more related news on this topic.
——–

EcoWatch Daily Newsletter
Protestors marched outside the Prudential Center in Newark, New Jersey on Monday, August 26, during the MTV Video and Music Awards to bring attention to the water crisis currently gripping the city. Karla Ann Cote / NurPhoto / Getty Images
By Will Sarni
It is far too easy to view scarcity and poor quality of water as issues solely affecting emerging economies. While the images of women and children fetching water in Africa and a lack of access to water in India are deeply disturbing, this is not the complete picture.
The city of Flint, Michigan, where dangerous levels of pollutants contaminated the municipal water supply, is a case in point — as is, more recently, the city of Newark, New Jersey.
The Past is No Longer a Guide to the Future
We get ever closer to "day zeros" — the point at when municipal water supplies are switched off — and tragedies such as Flint. These are not isolated stories. Instead they are becoming routine, and the public sector and civil society are scrambling to address them. We are seeing "day zeros" in South Africa, India, Australia and elsewhere, and we are now detecting lead contamination in drinking water in cities across the U.S.

"Day zero" is the result of water planning by looking in the rear-view mirror. The past is no longer a guide to the future; water demand has outstripped supplies because we are tied to business-as-usual planning practices and water prices, and this goes hand-in-hand with the inability of the public sector to factor the impacts of climate change into long-term water planning. Lead in drinking water is the result of lead pipe service lines that have not been replaced and in many cases only recently identified by utilities, governments and customers. An estimated 22 million people in the US are potentially using lead water service lines. This aging infrastructure won't repair or replace itself.
One of the most troubling aspects of the global water crisis is that those least able to afford access to water are also the ones who pay a disproportionately high percentage of their income for it. A report by WaterAid revealed that a standard water bill in developed countries is as little as 0.1 percent of the income of someone earning the minimum wage, while in a country like Madagascar a person reliant on a tanker truck for their water supply would spend as much as 45 percent of their daily income on water to get just the recommended daily minimum supply. In Mozambique, families relying on black-market vendors will spend up to 100 times as much on water as those reached by government-subsidized water supplies.
Finally, we need to understand that the discussion of a projected gap between supply and demand is misleading. There is no gap, only poor choices around allocation. The wealthy will have access to water, and the poor will pay more for water of questionable quality. From Flint residents using bottled water and paying high water utility rates, to the poor in South Africa waiting in line for their allocation of water — inequity is everywhere.
Water Inequity Requires Global Action — Now.
These troubling scenarios beg the obvious question: What to do? We do know that ongoing reports on the 'water crisis' are not going to catalyze action to address water scarcity, poor quality, access and affordability. Ensuring the human right to water feels distant at times.
We need to mobilize an ecosystem of stakeholders to be fully engaged in developing and scaling solutions. The public sector, private sector, NGOs, entrepreneurs, investors, academics and civil society must all be engaged in solving water scarcity and quality problems. Each stakeholder brings unique skills, scale and speed of impact (for example, entrepreneurs are fast but lack scale, while conversely the public sector is slow but has scale).
We also urgently need to change how we talk about water. We consistently talk about droughts happening across the globe — but what we are really dealing with is an overallocation of water due to business-as-usual practices and the impacts of climate change.
We need to democratize access to water data and actionable information. Imagine providing anyone with a smartphone the ability to know, on a real-time basis, the quality of their drinking water and actions to secure safe water. Putting this information in the hands of civil society instead or solely relying on centralized regulatory agencies and utilities will change public policies.
Will Sarni is the founder and CEO of Water Foundry.

Note: This post also appears on the World Economic Forum.
Reposted with permission from our media associate Circle of Blue.
From Your Site Articles
Related Articles Around the Web
Pexels
Mice exposed to nicotine-containing e-cigarette vapor developed lung cancer within a year.
More research is needed to know what this means for people who vape.
Other research has shown that vaping can cause damage to lung tissue.
A new study found that long-term exposure to nicotine-containing e-cigarette vapor increases the risk of cancer in mice.
Demonstrators with The Animal Welfare Institute hold a rally to save the vaquita, the world's smallest and most endangered porpoise, outside the Mexican Embassy in DC on July 5, 2018. SAUL LOEB / AFP / Getty Images
Six months: That's how much time Mexico now has to report on its progress to save the critically endangered vaquita porpoise (Phocoena sinus) from extinction.
Pexels
It may seem innocuous to flush a Q-tip down the toilet, but those bits of plastic have been washing up on beaches and pose a threat to the birds, turtles and marine life that call those beaches home. The scourge of plastic "nurdles," as they are called, has pushed Scotland to implement a complete ban on the sale and manufacture of plastic-stemmed cotton swabs, as the BBC reported.
Air conditioners, like these in a residential and restaurant area of Singapore city, could put a massive strain on electricity grids during more intense heatwaves. Taro Hama @ e-kamakura / Moment / Getty Images
By Tim Radford
Scientists in the U.S. have added a new dimension to the growing hazard of extreme heat. As global average temperatures rise, so do the frequency, duration and intensity of heatwaves.
Actress Jane Fonda is arrested on the East Front of the U.S. Capitol in Washington, DC on Oct. 11. Marvin Joseph / The Washington Post via Getty Images
Oscar-award winning actress and long-time political activist Jane Fonda was arrested on the steps of Capitol Hill in Washington, DC on Friday for peacefully protesting the U.S. government's inaction in combating the climate crisis, according to the AP.
sam thomas / iStock / Getty Images Plus
By Caroline Hickman
I'm up late at night worrying that my baby brothers may die from global warming and other threats to humanity – please can you put my mind at rest? – Sophie, aged 17, East Sussex, UK
Sheriff officials work the scene at Villa Calimesa Mobile Home Park in Calimesa on Oct. 13. Jennifer Cappuccio Maher / MediaNews Group / Inland Valley Daily Bulletin / Getty Images