Solar Energy Dominates First Quarter With 74 Percent of New Electric Capacity
May. 29, 2014 03:36PM EST
Business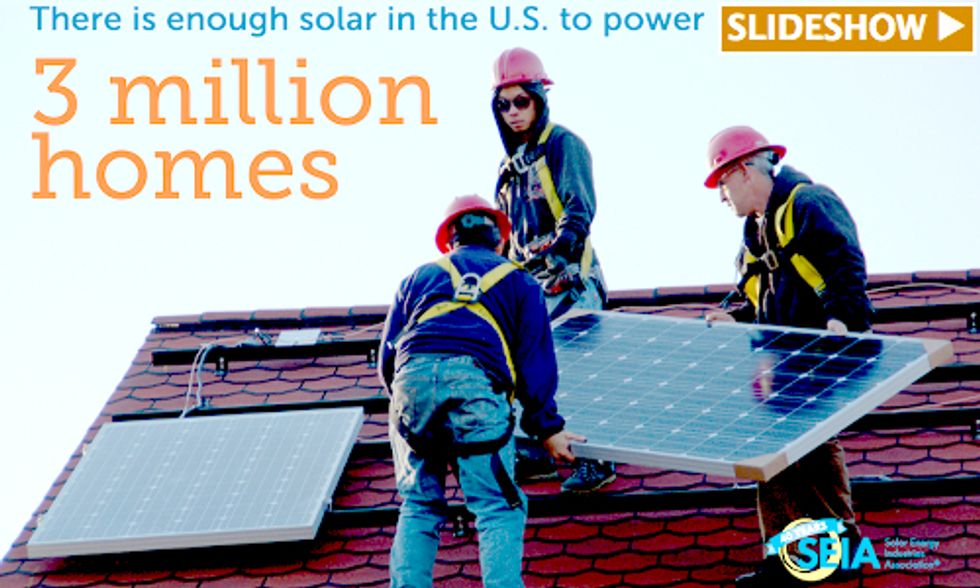 Solar energy was clearly the top choice when it came to new, electric generating capacity installed during this year's first quarter.
Power generated from the sun accounted for 74 percent of that new capacity, according to a quarterly report produced by the Solar Energy Industries Association (SEIA) and GTM Research. That figure outpaced all other forms of energy by at least 54 percent. Natural gas checked in with a paltry 4 percent.
In all, 1,330 megawatts (MW) of solar photovoltaics (PV) were installed in the first three months of 2014. That figure—a 79-percent increase over the same period last year—brings the U.S. total installed solar capacity to 14.8 gigawatts. That's enough to power 3 million homes.
[blackoutgallery id="336302"] 
"Solar accounted for 74 percent of all new U.S. electric capacity installed in Q1 2014, further signaling the rapidly increasing role that solar is playing in the energy market," Shayle Kann, senior vice president at GTM Research, said in a statement. "Expect to see a resurgence in the non-residential market, combined with continued incremental residential growth, throughout the rest of this year."
For the first time, since SEIA and GTM have been tracking the numbers, residential PV installations outpaced commercial in a quarter. Additionally, this quarter marked the best-ever for concentrating solar power, led by that sector's largest plant, Ivanpah, located near the California-Nevada border.
"[Solar energy is] creating thousands of new jobs nationwide and pumping nearly $15 billion a year into the U.S. economy," SEIA President and CEO Rhone Resch said. "Solar is also providing a big boost for our environment.
"The 14,800 megawatts of solar currently installed in the U.S. can generate enough pollution-free electricity to displace 18 billion pounds of coal or 1.8 billion gallons of gasoline. That's the equivalent of removing 3.5 million passenger cars off our roads and highways. For states trying to meet new, enhanced air quality standards, solar can be a real game changer."
——–
YOU ALSO MIGHT LIKE
10 States That Led Solar Energy to a Monumental Year
20 Cities Shining Brightest With Solar Energy
World's Largest Solar Thermal Plant Opens For Business
——–
EcoWatch Daily Newsletter
Recent Stories from EcoWatch