Solar Energy Could Power America 100 Times Over
Nov. 20, 2014 10:16AM EST
Business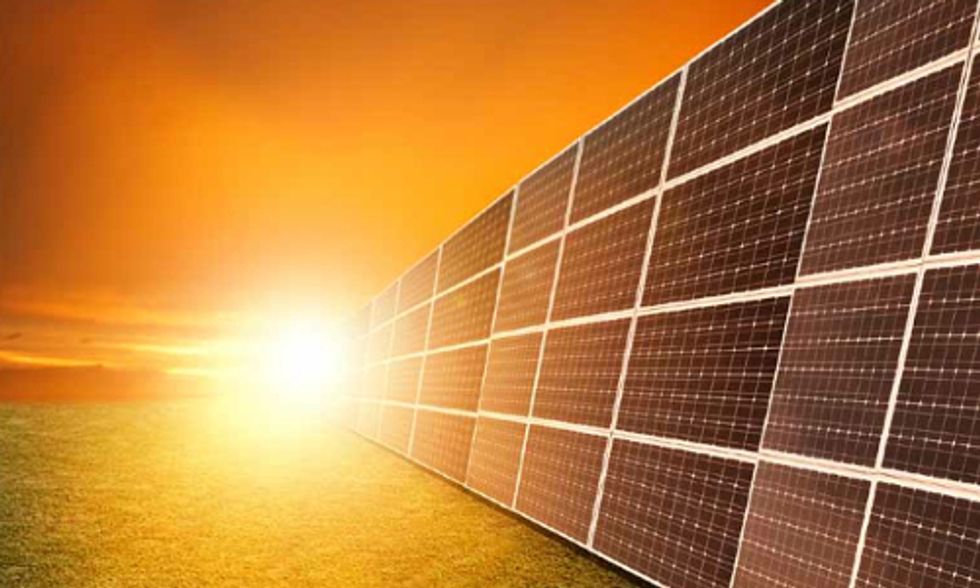 "America could meet its energy needs by capturing just a sliver of the virtually limitless and pollution-free energy that strikes the nation every day in the form of sunlight." That's the assertion of a new report Star Power: The Growing Role of Solar Energy in America, released today by Environment America.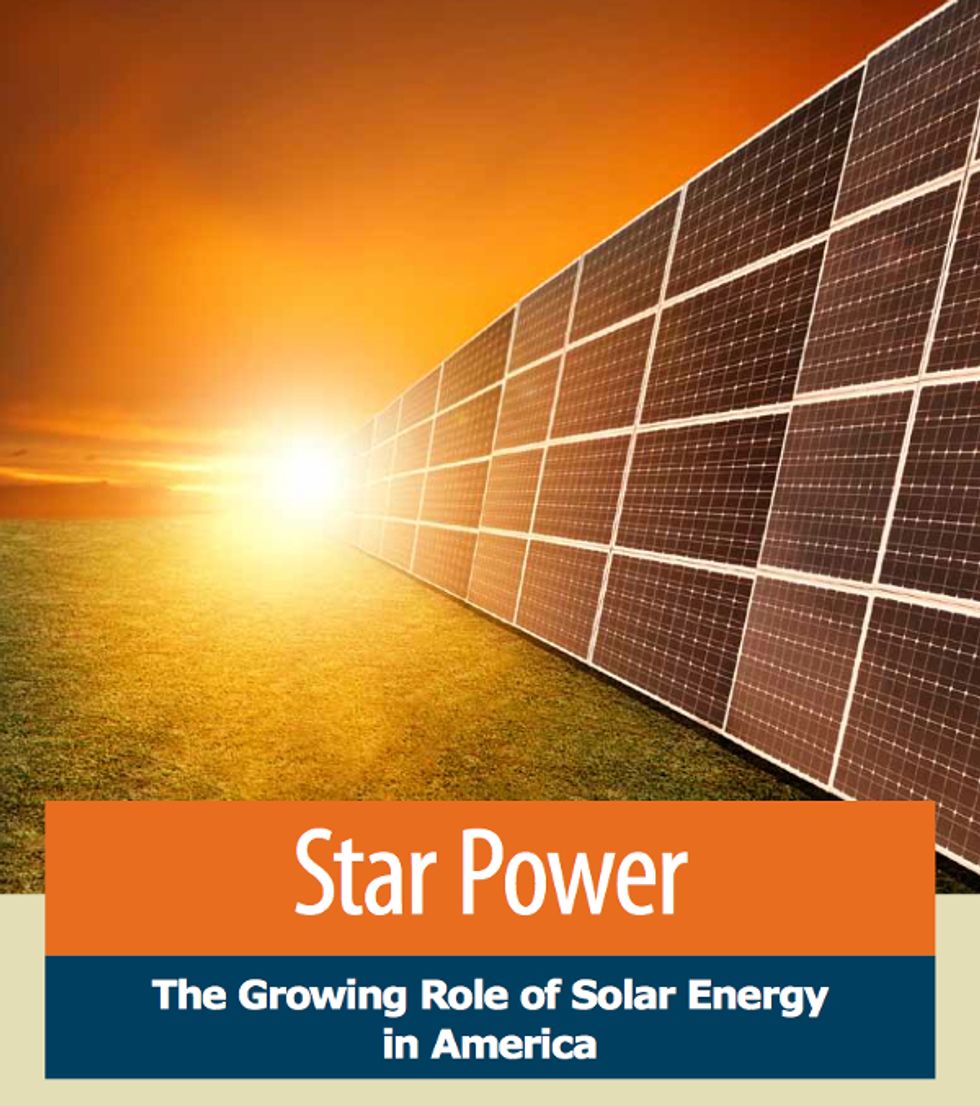 Enough sunlight strikes the U.S. every year to power the country 100 times over, say the report's authors, and 35 million homes and businesses could potentially host solar panels.
And with solar photovoltaic (PV) capacity in the U.S. tripling just in the last two years, more than half of all new electricity generating capacity in the first half of 2014 coming from solar installations and enough installed capacity now in existence to power 3.2 million homes, the report authors suggest that the U.S. should set a goal of generating 10 percent of its electricity from solar by 2030. Solar capacity increased by 77 percent per year from 2010 through 2013; if it increased only 22 percent annually going forward, that would be enough to reach that goal.
Star Power points to numerous benefits to increasing solar power's share of energy generation including addressing climate change, making our air cleaner, saving water and creating  jobs, enumerating the benefits that would occur if the U.S. reached the goal of 10 percent solar by 2030.
 Producing 10 percent of our electricity from solar power would reduce America's global warming pollution by 280 million metric tons in 2030, the equivalent of taking 59 million cars off the road. Solar energy at that scale would help the United States comply with the goals of the U.S. Environmental Protection Agency (EPA) Clean Power Plan to reduce U.S. global warming pollution from the power sector by 30 percent below 2005 levels by 2030. If the EPA decides that distributed generation can help states achieve their goals under the plan, producing 10 percent of our electricity from clean, solar power would enable the United States to achieve half of its emission reductions goal.

 Expanding solar energy will reduce emissions of pollutants that contribute to smog and soot and threaten public health, especially in vulnerable populations like children, the elderly and those with respiratory diseases.

 Sourcing 10 percent of U.S. electricity from solar energy would reduce water consumption from power plants dramatically. The lifecycle water consumption of solar photovoltaics is 1/500th of the lifecycle water consumption of coal power plants and 1/80th of that of natural gas plants, per unit of electricity produced.

 Solar energy creates local clean energy jobs that cannot be outsourced. Growth in the solar industry from November 2012 to November 2013 was 10 times faster than the national average for employment, and more than 140,000 Americans worked in the solar energy industry in 2013.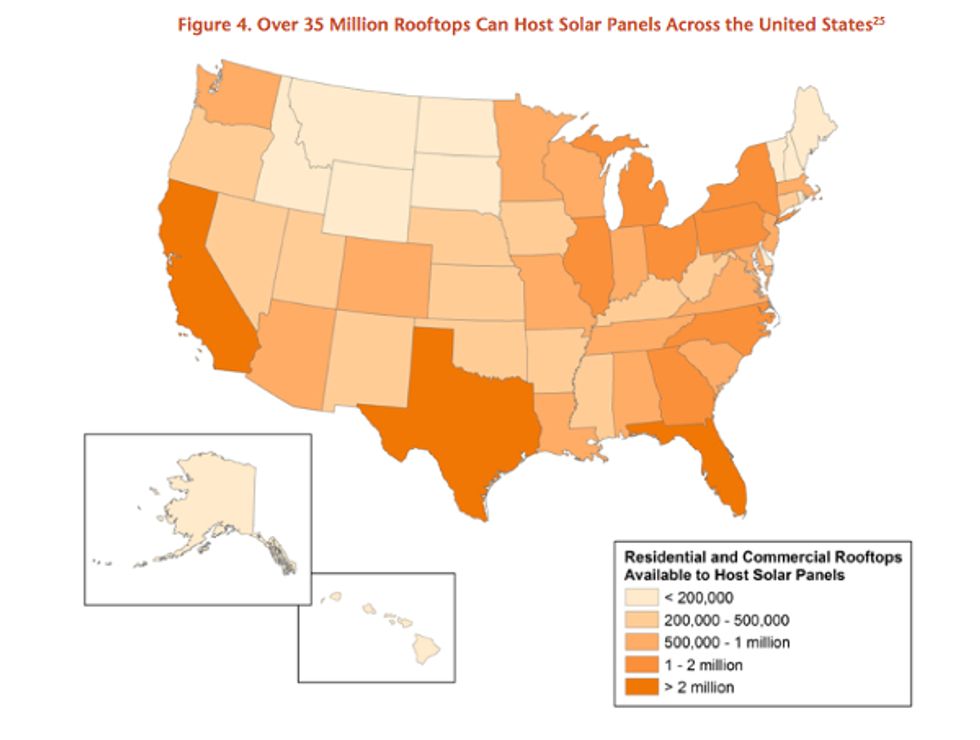 What's the hold-up then? Politics, the report says.
"Powerful interests that benefit from our current, largely fossil fuel-fired electricity grid are already fighting to slow the growth of solar energy. Many cities and states continue to make the process of 'going solar' unnecessarily inconvenient and costly. And the integration of large amounts of solar energy into the grid will require concerted effort—effort that will only happen with a clear signal from policymakers and the public."
It urges state and local governments, as well as the federal government, to set solar energy goals, to install solar panels as much as possible on public buildings and to set policies that make it easier and more affordable for homes and businesses to "go solar."
"A future in which America gets at least 10 percent of its electricity from the sun is within reach," the report concludes. "The tools to build this vision are available and the momentum exists—now federal, state and local governments should adopt aggressive goals for solar integration and implement policies that encourage the adoption of solar power."
YOU MIGHT ALSO LIKE
Top 10 States Leading the U.S. in Solar Energy Growth
German Solar Experience Offers Critical 'Lessons Learned' For America
Interactive Map: Find Out How Your State Ranks on Renewable Energy
EcoWatch Daily Newsletter
Related Articles from EcoWatch
Recent Stories from EcoWatch