Solar Energy Beats Out Coal
Apr. 24, 2013 05:04PM EST
Energy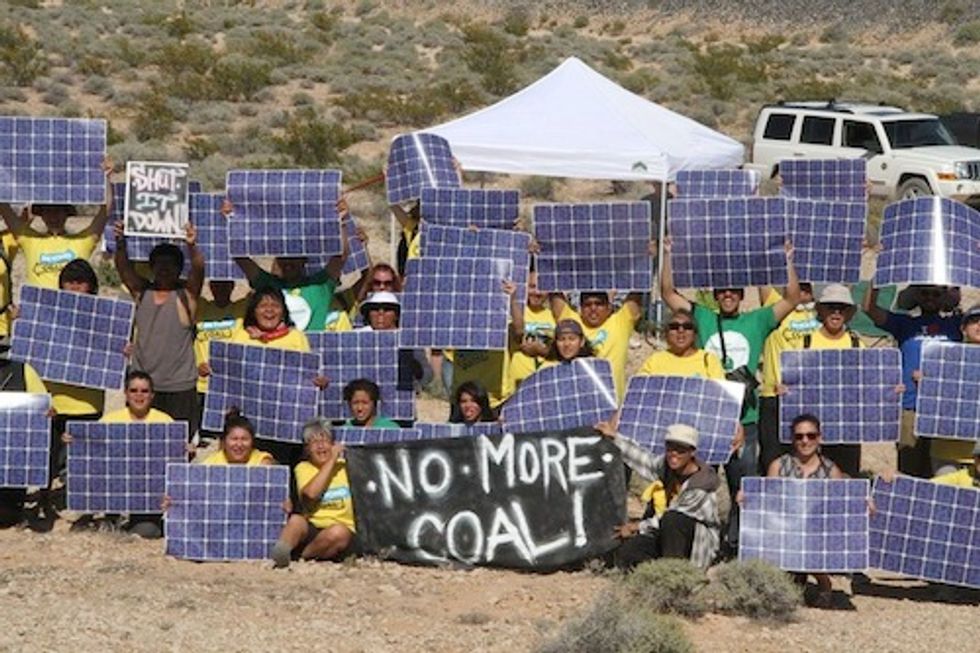 This past Saturday hundreds of tribal leaders, clean energy supporters and faith leaders from across the Southwest joined the Moapa Band of Paiutes for a 16-mile Coal to Clean Energy walk.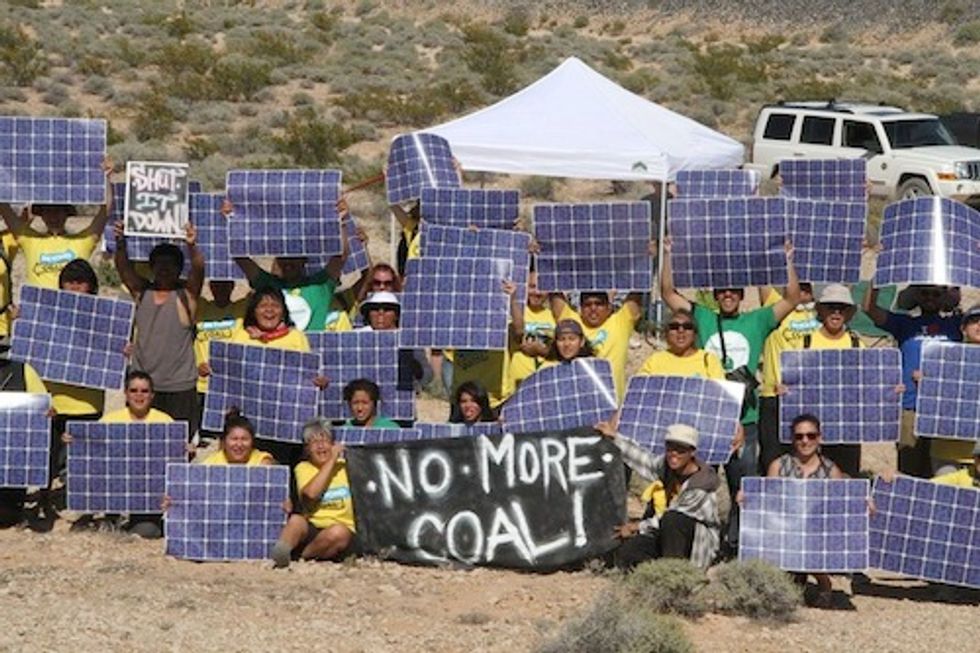 The march came on the heels of NV Energy announcing plans to retire its coal plants and stop drawing power from Arizona's Navajo Generating Station. A year ago, Moapa Paiutes walked 50 miles over three days from their reservation to Las Vegas to protest the Reid Gardner coal plant's pollution and bring attention to the tribe's efforts to develop solar energy. This year's Coal to Clean Energy walk culminated at the site of the 250-megawatt solar project on the Moapa Paiute Reservation that will sell power to Los Angeles.
"For far too long, the Reid Gardner coal plant has been poisoning our air, water and the health of our families," said Moapa Band of Paiutes Chairman William Anderson. "NV Energy moving to close the coal plant is the result of countless families coming together to demand change. We want to make sure that the coal plant does indeed close and stays closed. We don't want the coal plant to be replaced by another polluting power plant—like a gas plant. We want a switch to truly clean sustainable energy sources like the solar project that will be built in our reservation."
Senator Harry Reid expressed his support for the Moapa Paiute Coal to Clean Energy march. "The Moapa Band of Paiutes is an important voice for Nevada's transition towards a cleaner, more sustainable energy future," said Reid. "The day is soon coming when the Paiutes will be able to breathe freely and the Reid Gardner coal plant will be shuttered and they will break ground on the nation's first commercial solar energy project on tribal lands that will not emit any hazardous emissions, wastes or carbon pollution."
For decades, Moapa Paiute families have experienced high levels of asthma attacks, lung disease, heart disease and cancer they believe is related to the coal pollution coming from the Reid Gardner power plant. The plant is located immediately adjacent to their community on the Moapa River Reservation.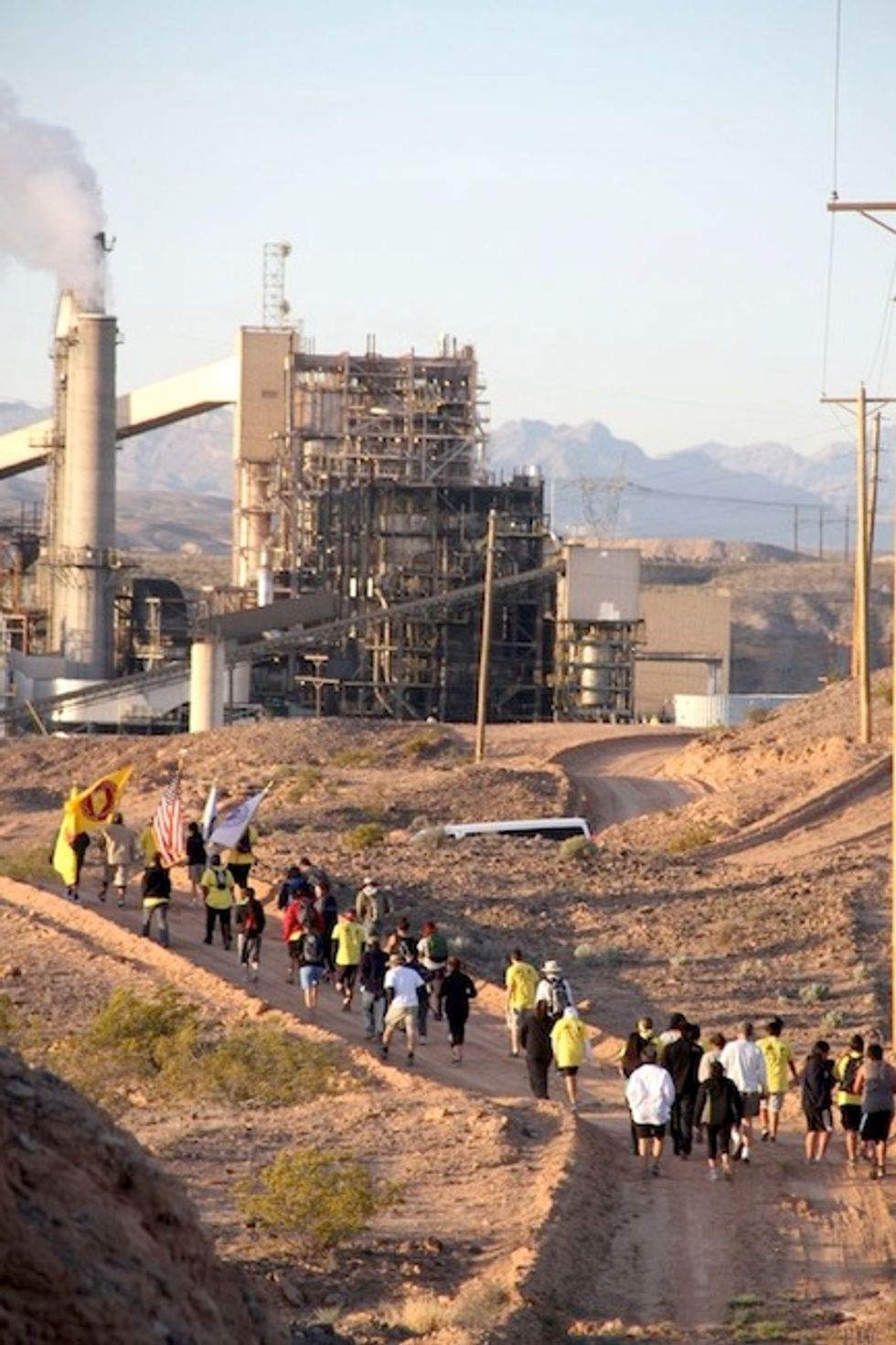 "The Paiutes are leading the way with the Moapa Solar project that will soon break ground and create good jobs for the families that live right here in the Reservation," said Allison Chin, national president of the Sierra Club, who participated in the walk on Saturday. "Today's march from the Reid Gardner coal plant to the future of site of the Moapa Solar project represents for all of us a new coal to clean energy path for not only Nevada, but for the entire west to follow."
NV Energy's recently announced statewide plan to transition away from coal takes place in the midst of a trend to end the use of coal in the West. Washington State enacted a law that will close its last coal plant by 2025 and Oregon will be coal-free by 2020. Los Angeles just announced that it is ending its use of coal energy from Arizona's Navajo Generating Station and Utah's Intermountain Power Plant.
Southern California Edison is in the process of finalizing its exit from the Four Corners Generating Station. The Department of Water Resources will exit the Reid Gardner plant this summer and several smaller publicly owned California utilities are also finalizing an exit from New Mexico's San Juan Generating Station.
Visit EcoWatch's COAL and RENEWABLES pages for more related news on this topic.
——–
Click here to tell Congress to Expedite Renewable Energy.

EcoWatch Daily Newsletter