Soils and Oceans Omitted From Paris COP21 Agenda
Nov. 18, 2015 03:24PM EST
Popular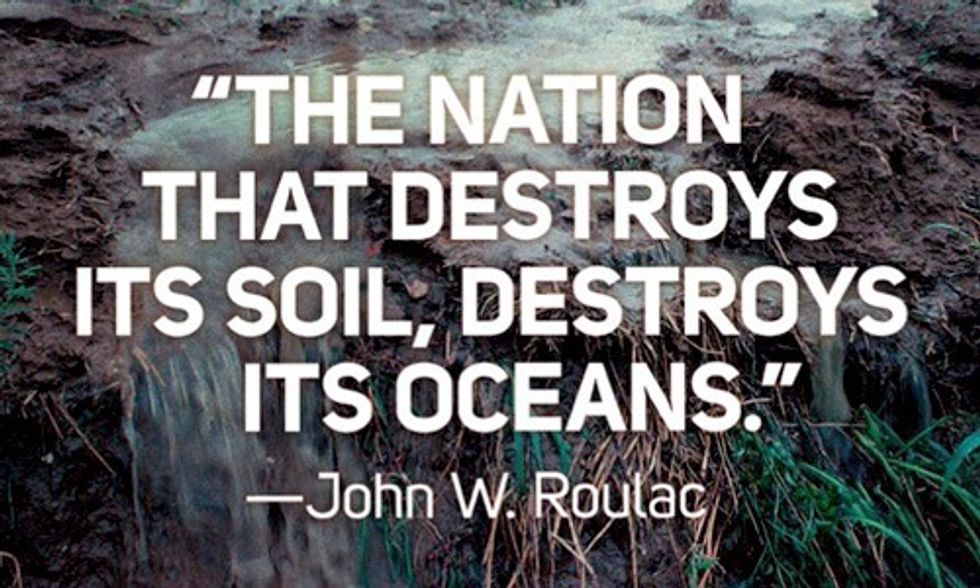 As our planet's atmosphere races past 400 ppm of carbon dioxide and "climate chaos" weather becomes the norm, many hopes and concerns are being directed to the United Nations Conference on Climate Change, to be held this December in Paris.
Will world leaders agree to shift away from carbon-centric energy and food production to more renewable energy sources and regenerative agriculture?
The elephant in the room in Paris—and it's quite a big elephant—is that for some reason the world's government leaders, and many climate groups, have omitted the planet's two leading carbon sinks, soils and oceans, from the main climate agenda. They now plan to discuss whether land use should even be part of the discussion.
Really? In this age of fascination with high technology, we choose to ignore the earthworm (tiller of the soil) and ocean plankton (our indispensable oxygen generator) at our peril. Did you know that two out of every three breaths you take come via phytoplankton? Relying primarily on solar, wind and hybrids as the solutions to climate change is a path toward disaster.
The good news is that we can help heal our acidic oceans, moderate the planet's erratic weather and produce abundant food by refocusing on soil sequestration (which, as a bonus, improves not just soil quality but also water-holding capacity) across farmlands, rangelands and forestlands.
My recent EcoWatch article provides an easy-to-understand overview on the potential of regenerative ag to solve the climate crisis, and gives links to organizations working on this vital issue. One country taking a positive step forward is France, which just announced an innovative plan to raise the amount of carbon in its soils by 0.4 percent a year. Why is the media not reporting this—especially since France is hosting the climate conference?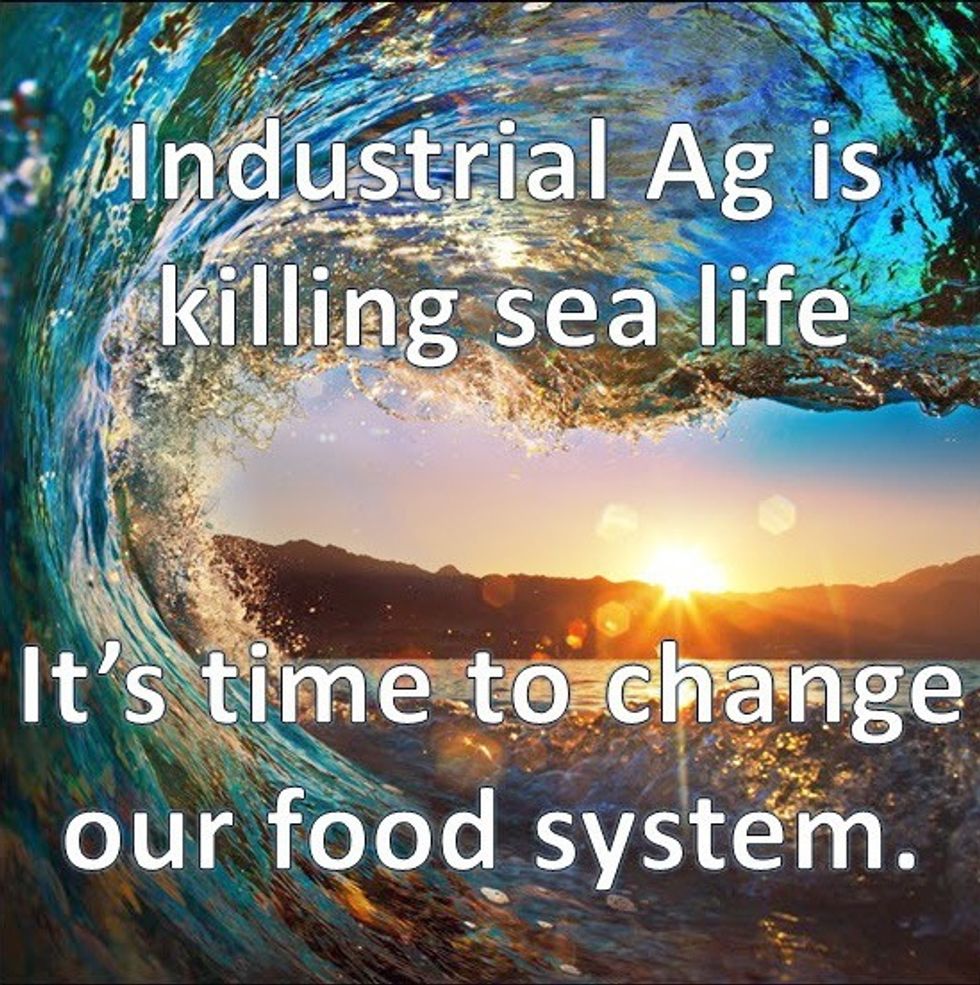 Today about 1 percent of the oceans' plankton dies annually from ocean acidification, which has increased by 30 percent in the past hundred years—mostly caused by industrial ag's high carbon pollution, with Exxon and transportation coming in as a distant second. We now know that 20 to 30 percent of all manmade greenhouse gases in the atmosphere come from industrial agriculture. The leading greenhouse gas emission sources contributing to that total are GMO corn and soy crops, centralized cattle and pig confinement operations and rice grown with synthetic fertilizers.
A recent study by University of Maryland researchers, reported as '"Green Revolution Changes Breathing of the Biosphere," detailed how a computer model linked stronger seasonal oscillations in carbon dioxide to intensive agriculture. (A note to those who represent Greenpeace, 350.org and other climate NGOs: Please reread the last two paragraphs; otherwise you might keep letting the main climate culprits go scot-free).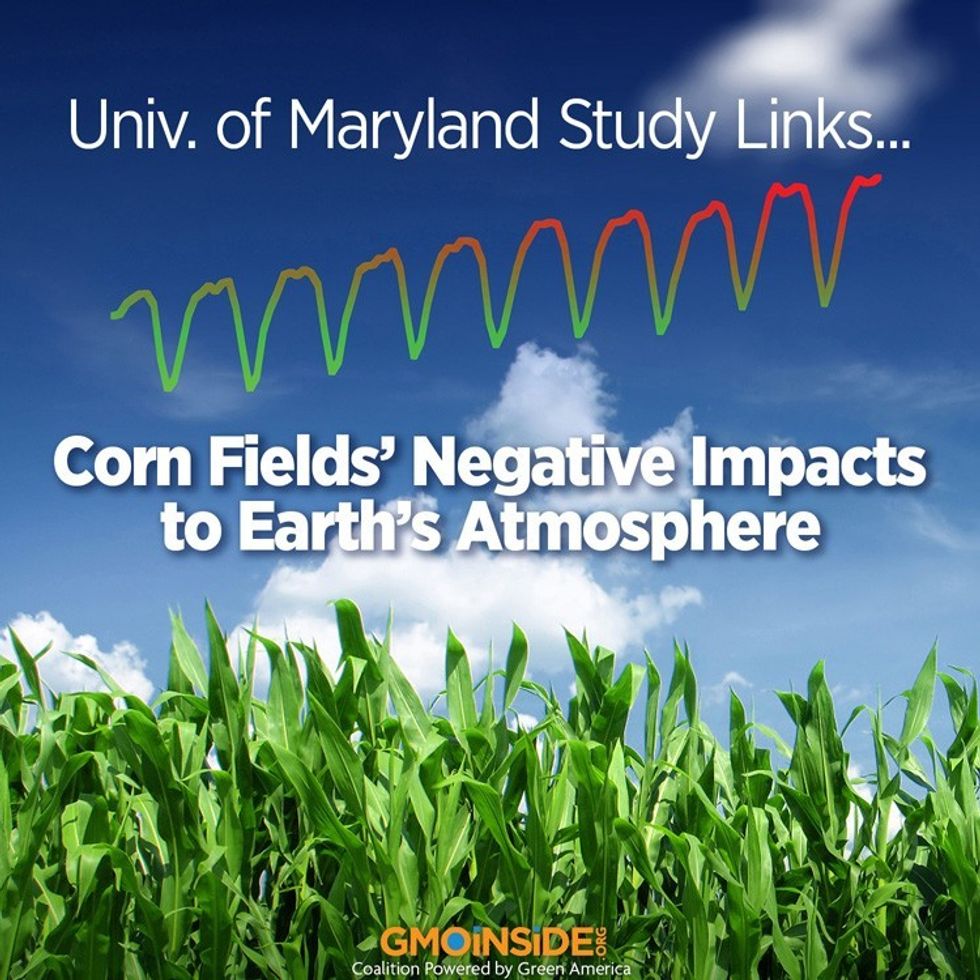 A Journey Well Traveled
When we discover a powerful truth on the personal or societal level, such as our need to redress the mistreatment of our soils, it's useful to reflect on how we arrived at that realization. Thousands of years ago, most societies—from Europe to Asia to what we now call the Americas—had a deep respect and caring for the Earth. Cultures from the Celtic to the Chinese to the Inca honored nature as a shared mythos that was central to daily life.
But by the last mid-century, people accepted that rivers in Ohio should be on fire, while also accepting pandemic air pollution. Then the flower children of the '60s and '70s rejected the supposed bounty of industrial food systems, and today the wellness revolution is stronger than ever. People are waking from the modern industrial-ag nightmare. That McDonald's is edging toward bankruptcy is one of the current signs that the times are indeed a-changin'.
Living in a Biological World
Paying attention to the health of our soils and oceans is now a matter of life and death. That may come as shock to most Americans, as our educational system and media teach us many things—except how the Earth works. We can learn how to be a doctor (except that they forget nutrition) or a carpenter (but they forget how forests grow) or a farmer (except that they forget the importance of soil health and earthworms) or an urban planner (but they forget how to conserve water). This hyperspecialization has yielded technocrats who don't understand the laws of nature.
We have spent trillions of dollars on failed nuclear power when we have the best nuclear reactor in the universe: the sun, which is wireless and 93 million miles away. From grade schools to universities, brainwashed thinking is still pervasive. Our challenge today is to educate enough people and leaders to shift our lifestyle before we irreparably damage the Earth's life-support systems.
Return the Carbon, Heal the Oceans
We were all taught in kindergarten to returns things to where they belong. Today the fate of 90 percent of all species depends on humanity returning excess atmospheric carbon to the soil. If we fall short in this imperative, the oceans will become so acidic that most plankton will die and those 90 percent of the planet's life forms will vanish. GreenWave, an innovative Connecticut-based firm, has a unique approach that works to restore oceans, communities and coastal economies by growing kelp, which thrives on converting CO2 into biomass.
If you don't believe that the oceans are in trouble, just read this 2010 piece from Germany's leading magazine Spiegel: "Phytoplankton's Dramatic Decline: A Food Chain Crisis in the World's Oceans."
Per the article's lead, plankton "is the starting point for our oceans' food chain. But stocks of phytoplankton have decreased by 40 percent since 1950 ... It is an astonishing collapse, say researchers, and may have dramatic consequences both for the oceans and for humans."
The New York Times also warns of the dying of our oceans in its article "Our Deadened, Carbon-Soaked Seas" by Richard W. Spinrad, chief scientist at the National Oceanic and Atmospheric Administration, and Ian Boyd, chief scientific adviser to the British government's Department of Environment, Food and Rural Affairs. As the article states:
"Ocean and coastal waters around the world are beginning to tell a disturbing story. The seas, like a sponge, are absorbing increasing amounts of carbon dioxide from the atmosphere, so much so that the chemical balance of our oceans and coastal waters is changing and a growing threat to marine ecosystems. Over the past 200 years, the world's seas have absorbed more than 150 billion metric tons of carbon from human activities. Known as ocean acidification, this process makes it difficult for shellfish, corals, and other marine organisms to grow and reproduce."
Last summer, a giant, toxic algae bloom was found to stretch all the way from Alaska to California.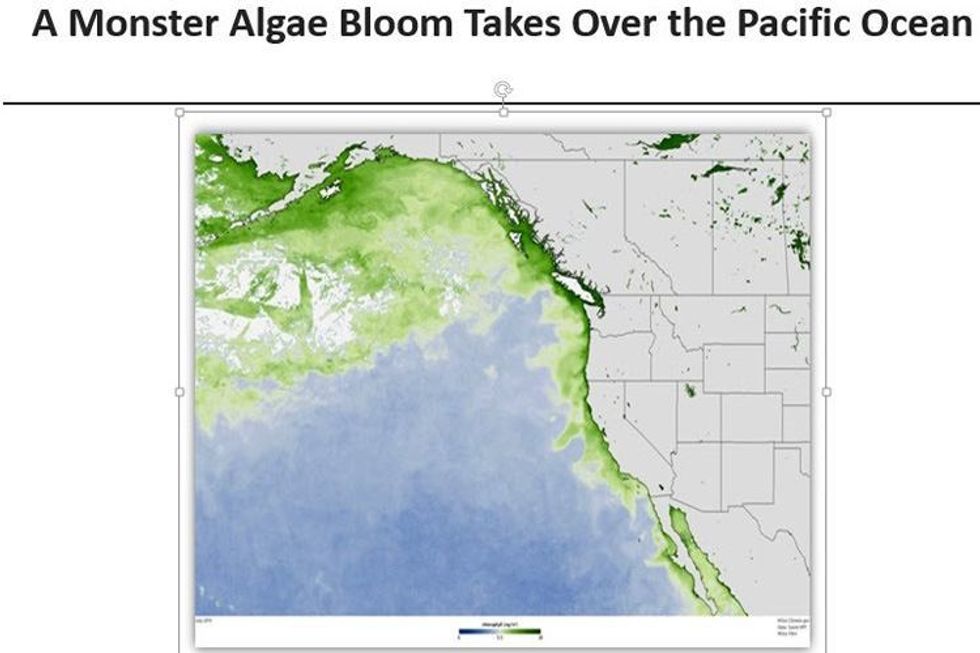 Vera Trainer, a research oceanographer with the Northwest Fisheries Science Center in Washington State, told Reuters, "It's the longest-lasting, highest-toxicity, and densest bloom that we've ever seen." Trainer added, "A single clam can have enough toxins to kill a person." This toxic bloom has forced the crab season to be shut down in parts of the West Coast, and in California's Sonoma County this past summer, a golden retriever died moments after swimming in the Russian River and swallowing some of the blue-green algae.
The climate movement seems fixated on the melting poles and what might occur by 2100 with oceans rising by X amount of feet. The reality is that this will all become a moot point if the oceans become mostly biologically dead in the next several decades. Whales, dolphins, salmon and plankton are already disappearing in this great sixth extinction.
If the oceans die, humanity will have no future. I challenge any climate-change advocate who sits down to talk to Fox TV viewers to, instead of discussing the dangers of climate change, a warming Earth, and melting icebergs, talk about the simple fact that manmade CO2 is falling into the seas and causing ocean acidification, resulting in dying plankton, less oxygen to breathe, etc. Americans will be receptive to this perspective, as many feel a connection to the ocean even if they live far away from it.
For the forthcoming Paris talks, the link between soils and oceans is not on the agenda. This is due in part to a corruption of the political process by chemical giants like Monsanto, which wants to prevent people from discovering that its Roundup product kills soil life and diminishes carbon storage. Scientists at American or Canadian public universities and the U.S. Department of Agriculture (USDA) all realize that speaking such hard truths is a major career buzz kill. In fact, The Atlantic just published a piece on South Dakota-based USDA entomologist Jonathan Lundgren, who was forced off a plane while en route to give a talk on GMOs, bee health and pesticides.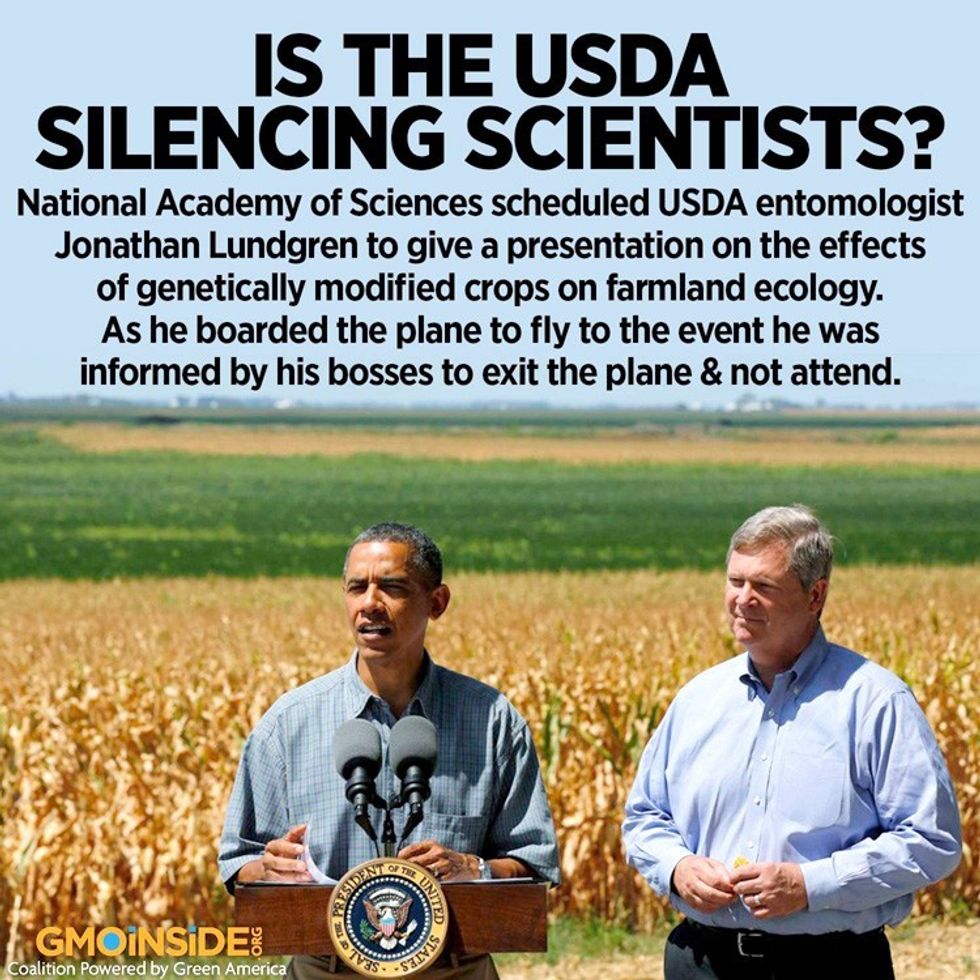 Isn't it time for Monsanto to be charged with crimes of fraudulently subverting science and policy, as in Exxon's legal case? Many new groups, such as Kiss the Ground, producers of The Soil Story (full disclosure: I serve as an advisor, and Nutiva is a sponsor), are working to educate people on soils. Representatives of Kiss the Ground will be in Paris during the talks, with an art installation under the Eiffel Tower on soils and carbons.
The Soil Can Heal Us
We can still reverse this dire ecocide by paying close attention to farming diversity and the linkages between agriculture and the oceans and soils. The first meter of soil contains more carbon than does the entire atmosphere (even despite the overload at 400 ppm CO2). While climate chaos is scary and depressing to think about, the good news is that we have an app for it—one with 500 million years of proven R&D: soil sequestration using photosynthesis. Today we call this carbon farming, as well as regenerative agriculture, agro-ecology, permaculture or biodynamics. Carbon farming and other natural agricultural systems improve the rate at which CO2 is removed from the atmosphere and sequestered into stable organic matter in the soil.
We're grateful to have advisors like @JohnRoulac of @nutiva who realize that everything is connected. #soil #ocean https://t.co/BWBpNPdr16

— Kiss the Ground (@Kiss the Ground)1445969906.0
And the word is getting out. Consider the recent article "Restoring Global Soil Quality Is One of the Best Things We Can Do for Climate Change."
And in February 2016 the book The Carbon Farming Solution: A Global Toolkit of Perennial Crops & Regenerative Agriculture Practices for Climate Change Mitigation & Food Security, by Eric Toensmeier, will be published by Chelsea Green.
What One Person Can Do
1. Become educated on regenerative ag with these resources:
2. Make the majority of your food choices local and organic. Reduce your meat or dairy consumption (and do select pasture-raised products).
3. Stop consuming CAFO (Concentrated Animal Feeding Operation) meat and dairy products.
4. Stop investing in your 401K or mutual funds if they include Monsanto, DuPont, Dow, Syngenta, Heinz, General Mills, Coke, Pepsi, etc.
5. Help spread the word about the power of soils to reverse climate change.
Perhaps Tom Newmark, a cofounder of the Carbon Underground Project, says it best: "Many NGOs view carbon and agriculture as the 'enemy.' The regenerative movement sees carbon as our friend, and agriculture as our natural ally to help our friend carbon return to the land."
YOU MIGHT ALSO LIKE
Michael Pollan's Letter to the Future
Vandana Shiva: Agri-Corporations Attempt to Hijack COP21
Real Climate Action Starts With What's on Your Plate
Awesome 5-Minute Video Urges Young People to Start a Farming Revolution
Xiulin Ruan, a Purdue University professor of mechanical engineering, holds up his lab's sample of the whitest paint on record. Purdue University / Jared Pike
Scientists at the University of Purdue have developed the whitest and coolest paint on record.
Painting buildings white to help cool down cities has long been touted as a climate solution. However, the white paints currently on the market reflect only 80 to 90 percent of sunlight and cannot actually cool a roof to below air temperature, The Guardian reported. However, this new paint can.
"Our paint can help fight against global warming by helping to cool the Earth – that's the cool point," University of Purdue Professor Xiulin Ruan told The Guardian. "Producing the whitest white means the paint can reflect the maximum amount of sunlight back to space."
The new paint, introduced in ACS Applied Materials & Interfaces on Thursday, can reflect up to 98.1 percent of sunlight and cool surfaces by 4.5 degrees Celsius. This means it could be an effective replacement for air conditioning.
"If you were to use this paint to cover a roof area of about 1,000 square feet, we estimate that you could get a cooling power of 10 kilowatts. That's more powerful than the central air conditioners used by most houses," Ruan said in a University of Purdue press release.
The new paint improves upon a previous paint by the same research team that reflected 95.5 percent of sunlight. Researchers say it is likely the closest counterpart to the blackest black, "Vantablack," which can absorb as much as 99.9 percent of visible light. The new paint is so white for two main reasons: It uses a high concentration of a reflective chemical compound called barium sulfate, and the barium sulfate particles are all different sizes, meaning they scatter different parts of the light spectrum.
White paint is already being used to combat the climate crisis. New York has painted more than 10 million square feet of rooftops white, BBC News reported. Project Drawdown calculated that white or plant-covered roofs could sequester between 0.6 and 1.1 gigatons of carbon between 2020 and 2050. The researchers hope their paint will enhance these efforts.
"We did a very rough calculation," Ruan told BBC News. "And we estimate we would only need to paint one percent of the Earth's surface with this paint — perhaps an area where no people live that is covered in rocks — and that could help fight the climate change trend."
The research team has filed a patent for the paint and hope it will be on the market within two years, according to The Guardian. However, Andrew Parnell, who develops sustainable coatings at the University of Sheffield, said it would be important to calculate the emissions produced from mining barium sulphate and compare those with the emissions saved from using the paint instead of air conditioning.
"The principle is very exciting and the science [in the new study] is good. But I think there might be logistical problems that are not trivial," Parnell told The Guardian. "How many million tons [of barium sulphate] would you need?"
Parnell thought green roofs, or roofs on which plants grow, might prove to be a more ecologically friendly alternative.
EcoWatch Daily Newsletter
Less than three years after California governor Jerry Brown said the state would launch "our own damn satellite" to track pollution in the face of the Trump administration's climate denial, California, NASA, and a constellation of private companies, nonprofits, and foundations are teaming up to do just that.
Under the umbrella of the newly-formed group Carbon Mapper, two satellites are on track to launch in 2023. The satellites will target, among other pollution, methane emissions from oil and gas and agriculture operations that account for a disproportionate amount of pollution.
Between 2016 and 2018, using airplane-based instruments, scientists found 600 "super-emitters" (accounting for less than 0.5% of California's infrastructure) were to blame for more than one-third of the state's methane pollution. Now, the satellite-based systems will be able to perform similar monitoring, continuously and globally, and be able to attribute pollution to its source with previously impossible precision.
"These sort of methane emissions are kind of like invisible wildfires across the landscape," Carbon Mapper CEO and University of Arizona research scientist Riley Duren said. "No one can see them or smell them, and yet they're incredibly damaging, not just to the local environment, but more importantly, globally."
For a deeper dive:

Los Angeles Times, Reuters, Bloomberg, Axios, BBC
For more climate change and clean energy news, you can follow Climate Nexus on Twitter and Facebook, sign up for daily Hot News, and visit their news site, Nexus Media News.
From Your Site Articles
Related Articles Around the Web
The Biden administration needs to act quickly to reduce carbon emissions. Andrew Merry / Getty Images
By Jeff Goodell
The Earth's climate has always been a work in progress. In the 4.5 billion years the planet has been spinning around the sun, ice ages have come and gone, interrupted by epochs of intense heat. The highest mountain range in Texas was once an underwater reef. Camels wandered in evergreen forests in the Arctic. Then a few million years later, 400 feet of ice formed over what is now New York City. But amid this geologic mayhem, humans have gotten lucky. For the past 10,000 years, virtually the entire stretch of human civilization, people have lived in what scientists call "a Goldilocks climate" — not too hot, not too cold, just right.
Now, our luck is running out. The industrialized nations of the world are dumping 34 billion tons or so of carbon into the atmosphere every year, which is roughly 10 times faster than Mother Nature ever did on her own, even during past mass extinction events. As a result, global temperatures have risen 1.2 C since we began burning coal, and the past seven years have been the warmest seven years on record. The Earth's temperature is rising faster today than at any time since the end of the last ice age, 11,300 years ago. We are pushing ourselves out of a Goldilocks climate and into something entirely different — quite literally, a different world than humans have ever lived in before.
How hot will the summers get in India and Pakistan, and how will tens of thousands of deaths from extreme heat impact the stability of the region (both nations have nuclear weapons)? How close is the West Antarctic ice sheet to collapse, and what does the risk of five or six feet of sea-level rise mean for people living in mobile homes on the Gulf Coast? The truth is, no one knows for sure. We are in uncharted terrain. "We're now in a world where the past is no longer a good guide to the future," said Jesse Jenkins, an assistant professor of engineering at Princeton University. "We have to get much better at preparing for the unexpected."
By all indications, President Biden and his team understand all this. And it's hard not to feel that after 30 years of dithering and denial and hypocrisy, the fight to save the climate has finally begun in earnest. In the 2020 election, nearly 70 percent of Biden's voters said climate change was a top issue for them. Biden has staffed his administration with the climate A-team, from Gina McCarthy as domestic climate czar to John Kerry as international climate envoy. He has made racial and environmental justice a top priority. And perhaps most important of all, he sees the climate crisis as an opportunity to reinvent the U.S. economy and create millions of new jobs.
"I think in Obama's mind, it was always about tackling the climate challenge, not making the climate challenge the central element of your economic policy," says John Podesta, a Democratic power broker and special adviser to President Obama who played a key role in negotiating the Paris Agreement. "Biden's team is different. It is really the core of their economic strategy to make transformation of the energy systems the driver of innovation, growth, and job creation, justice and equity."
Of course, there have been hopeful moments before: the signing of the Kyoto Protocol in 1997, when the nations of the world first came together to limit CO2 emissions; the success of Al Gore's documentary An Inconvenient Truth in 2006; the election of Obama in 2008 ("This was the moment when the rise of the oceans began to slow and our planet began to heal," Obama said in his speech accepting the Democratic presidential nomination that year); the Paris Agreement in 2015, when China finally engaged in climate talks. But all of these moments, in the end, led to nothing. If you look at the only metric that really matters — a graph of the percentage of CO2 molecules in the atmosphere — it has been on a long, steady upward climb. More CO2 equals more heat. To put it bluntly, all our scientific knowledge, all the political speeches, all the activism and protest marches have done zero to stop the accumulation of CO2 in the atmosphere from the burning of fossil fuels.
But hope rises again. The economic winds are lifting Biden's sails: The cost of wind and solar power has plummeted by 90 percent or so over the past decade, and in many parts of the world it's the cheapest way to generate electricity. Meanwhile, fossil-fuel dinosaurs are tottering: Big Coal is collapsing in real time and may disappear from American life in the next decade or so. ExxonMobil lost $22 billion last year and in August was delisted from the S&P 500. GM, long the staunch fossil-fuel loyalist of the U.S. auto industry, has pledged to go all-electric by 2035.
Globally, the signs of change are equally inspiring. Eight of the 10 largest economies have pledged to reach net-zero emissions by 2050. China, by far the world's largest carbon polluter in terms of raw tonnage (on a per capita basis, the U.S. and several other countries pollute far more), has promised to become carbon neutral by 2060. Some 400 companies, including Microsoft, Unilever, Facebook, Ford, Nestlé, and Pepsi, have committed to reduce carbon pollution consistent with the United Nations' 1.5 C target, which scientists have determined is the threshold of dangerous climate change. Many of these same companies are now calling on the Biden administration to cut overall U.S. carbon pollution by at least 50 percent below 2005 levels by 2030, a goal consistent with the 1.5 C target.
Big Money is also waking up to the risks and benefits of climate action. In his annual letter to investors, Larry Fink, the CEO of BlackRock, which manages $7.8 trillion in assets, challenged companies "to disclose a plan for how their business model will be compatible with a net-zero economy." In her confirmation hearing, Treasury Secretary Janet Yellen called climate change "an existential threat" and promised to create a team to examine the risks and integrate them into financial policy-making.
Still, these are only baby steps in a very long journey. And the clock is ticking. "When it comes to the climate crisis," says futurist Alex Steffen, "speed is everything." Every molecule of carbon we dump into the atmosphere is another molecule of carbon that will warm the climate for centuries to come, and in subtle and not-so-subtle ways, reshape the world we live in. The changes we are making are not reversible. If we magically stopped all carbon pollution tomorrow, the Earth's temperature would level off, but warm seas would continue melting the ice sheets and seas would keep rising for decades, if not centuries (last time carbon levels were as high as they are today, sea levels were 70 feet higher). Ocean acidification, caused by high CO2 levels, is already dissolving coral reefs and is having a major impact on the ocean food chain. Even after emissions stop, it will take the ocean thousands of years to recover.
Cutting carbon fast would slow these changes and reduce the risk of other climate catastrophes. But despite the world's newfound ambition, political leaders are not moving anywhere near fast enough. Even the goal of holding future warming to 2 C, which is a centerpiece of the Paris Agreement and considered the outer limits of a Goldilocks climate for much of the planet, is nearly out of reach. As a recent paper in Nature pointed out: "On current trends, the probability of staying below 2 C of warming is only five percent." If all countries meet the commitment they made in the 2015 Paris Agreement and continue to reduce emissions at the same rate after 2030, the paper argued, the probability of remaining below 2 C of warming rises to 26 percent ("As if a 26 percent chance was good," Swedish climate wunderkind Greta Thunberg pointed out in a tweet).
The great danger is not climate denial. The great danger is climate delay. Instead of pushing for changes tomorrow, world leaders and CEOs like to make virtuous-sounding statements about what they will do in 2050. And then in 2050, they will make virtuous-sounding statements about what they will do in 2070. Climate scientist Zeke Hausfather calls this the "empty radicalism" of long-term goals.
What's needed is action now. As climate envoy John Kerry put it at the World Sustainable Development Summit in February: "We have to now phase out coal five times faster than we have been. We have to increase tree cover five times faster than we have been. We have to ramp up renewable energy six times faster than we are. We have to transition to [electric vehicles] 22 times faster."
As an example of the seriousness of Biden's near-term ambition, he has proposed transitioning to 100 percent clean electricity by 2035, which means goodbye natural-gas plants, goodbye coal plants, and hello electric cars and battery storage. It's an astonishingly ambitious proposal, one that would require a remaking of the digital backbone of America at a breakneck speed. It will create hundreds of thousands of jobs, but if Biden is serious about getting it done, it will require retooling permitting laws and the environmental-review process that often stalls big infrastructure projects.
Demanding action now will also require shutting down the international financing schemes that support fossil fuels. China, Japan, and South Korea all claim to be doing their part in making carbon reductions at home, while at the same time they are financing 70,000 megawatts of coal power in places like Bangladesh, Vietnam, and Indonesia. In addition, state-run oil companies in places like China, Indonesia, and Saudi Arabia are on course to spend more than $400 billion over the next decade to expand oil infrastructure and exploration.
The goal of net-zero emissions is also problematic. "Net zero" is not the same thing as zero. It means that carbon pollution is either eliminated or offset by other processes that remove carbon from the atmosphere, such as forests or machines that capture CO2. Some of these offsets and technologies are more legit than others, opening the door to scams that claim to eliminate more carbon than they do.
In a way, the economic chaos caused by the pandemic has created a historic opportunity for the Biden administration. As one White House adviser tells me, "If you are going to pump billions of dollars into the economy, why not use those dollars to help us transition away from fossil fuels?" This is one of the central ideas behind Biden's $2 trillion infrastructure bill, which is now being negotiated in Congress. The bill includes a wide variety of climate-related initiatives, shaped around the twin pillars of Biden-era policy: clean-energy jobs and climate justice.
Already the pushback is fierce, especially in states that have benefited from the fracking boom. "The climate fight going forward is really about natural gas," says Leah Stokes, author of Short Circuiting Policy, an analysis of how special interests have derailed clean-energy policy for 30 years. Shortly after Biden issued his first round of executive orders aimed at the climate crisis, Texas Gov. Greg Abbott held a press conference in the middle of the gas fields "to make clear that Texas is going to protect the oil-and-gas industry from any type of hostile attack launched from Washington, D.C." In Florida, two bills were introduced that would preempt local governments from implementing plans to lower carbon pollution. In California and New York, residents are fighting transmission lines for offshore wind farms. Republicans, along with stalwart fossil-fuel allies like the Heritage Foundation, recently convened a private retreat in Utah to plot ways to "reclaim the narrative" on climate, while Republican Senators like Tennessee's Marsha Blackburn continue to recycle tired old rants about how the Paris Agreement is destroying American jobs.
None of this is surprising. And the fight will only get bigger and more ruthless as the clean-energy transition accelerates. Fossil fuels are emblematic of a culture, a way of life, a political hierarchy, and an empire of wealth that will not go quietly into the night.
Even among climate activists and progressives, there is wide disagreement about the best path forward. In Pennsylvania, Rep. Conor Lamb, a Democrat who supports Biden's climate goals, sees natural gas as indispensable. "You can't turn off natural gas in our society, at least in the Northeast of the United States at this time," Lamb tells me. "You just can't do it." Lamb advocates investments in expensive and unproven technology like carbon capture that could extend the life of fossil fuels. Then there are the eternal battles over nuclear power as a source of clean energy, which Lamb also supports. Others, like UC Berkeley energy professor Daniel Kammen, remain skeptical: "If low-cost, reliable, entirely safe nuclear can prove itself out, this is wonderful. . . . But there's a lot of big ifs."
More important, the fight for a stable climate is increasingly inseparable from a fight for justice and equity. Catherine Coleman Flowers, who was on a task force that helped shape Biden's climate policy during his campaign, grew up and works in Lowndes County, Alabama. "I see a lot of poverty here," Flowers says. "And I see a lot of people who suffer from the impacts of climate change — whether it is heat, or disease, or poor sanitation and polluted drinking water. You can't separate one from the other. They put sewage lagoons next to the houses of poor people, not rich people. They put oil pipelines through poor neighborhoods, not rich ones."
Internationally, rich nations of the world pledged to "mobilize" $100 billion by 2020 through the U.N.'s Green Climate Fund to help developing nations adapt to climate change. But only about $10 billion materialized. The U.S. was among the worst actors: Of the $3 billion President Obama promised, he funded only $1 billion before Trump canceled further payments (Biden has promised to make good on the commitment, and then some).
Whatever happens with Biden's climate and energy initiatives, we're living in a new world now. The faster we cut carbon, the more manageable the changes will be. But change is coming. The biggest fights of the future are less likely to be about natural gas and nuclear power than about sea walls and migration policies. "Adaptation is not sexy," says Alice Hill, who was an adviser to the Obama administration. "But it is inevitable." As climate impacts escalate, dangerous techno-fixes, such as solar geoengineering, which involves spraying particles into the stratosphere to reflect away sunlight and cool the planet, will likely become more tempting and more divisive, perhaps further diluting the will to quickly cut carbon pollution.
For more than 30 years now, scientists and politicians have been aware that our hellbent consumption of fossil fuels could push us out of the Goldilocks zone and force humans to live in a world we have never inhabited before. As Biden's push for climate action gets real, we will learn a lot about how serious human beings are about living on this planet, and how far the powerful and privileged are willing to go to reduce the suffering of the poor and vulnerable. If political leaders don't take the climate crisis seriously now, with all they know, with all they have been through already, will they ever? "Climate advocates keep saying, 'This is it, this is it, this is it,'" warns Podesta. "But this really is it. If we don't amp up and accelerate the energy transformation in this decade, we're goners — really goners."
This story originally appeared in Rolling Stone and is republished here as part of Covering Climate Now, a global journalism collaboration strengthening coverage of the climate story.
Researchers suggest reintroducing species, such as the forest elephant in the Congo Basin, pictured, as a way to help restore biodiversity. guenterguni / Getty Images
By Julia Conley
Ecologists and environmental advocates on Thursday called for swift action to reintroduce species into the wild as scientists at the University of Cambridge in England found that 97% of the planet's land area no longer qualifies as ecologically intact.
"Conservation is simply not enough anymore," said financier and activist Ben Goldsmith. "We need restoration."
Google Earth's latest feature allows you to watch the climate change in four dimensions.