This website uses cookies to ensure you get the best experience while browsing it. By clicking 'Got It' you're accepting these terms.
Soils and Oceans Omitted From Paris COP21 Agenda
Nov. 18, 2015 02:24PM EST
Climate
As our planet's atmosphere races past 400 ppm of carbon dioxide and "climate chaos" weather becomes the norm, many hopes and concerns are being directed to the United Nations Conference on Climate Change, to be held this December in Paris.
Will world leaders agree to shift away from carbon-centric energy and food production to more renewable energy sources and regenerative agriculture?
The elephant in the room in Paris—and it's quite a big elephant—is that for some reason the world's government leaders, and many climate groups, have omitted the planet's two leading carbon sinks, soils and oceans, from the main climate agenda. They now plan to discuss whether land use should even be part of the discussion.
Really? In this age of fascination with high technology, we choose to ignore the earthworm (tiller of the soil) and ocean plankton (our indispensable oxygen generator) at our peril. Did you know that two out of every three breaths you take come via phytoplankton? Relying primarily on solar, wind and hybrids as the solutions to climate change is a path toward disaster.
The good news is that we can help heal our acidic oceans, moderate the planet's erratic weather and produce abundant food by refocusing on soil sequestration (which, as a bonus, improves not just soil quality but also water-holding capacity) across farmlands, rangelands and forestlands.
My recent EcoWatch article provides an easy-to-understand overview on the potential of regenerative ag to solve the climate crisis, and gives links to organizations working on this vital issue. One country taking a positive step forward is France, which just announced an innovative plan to raise the amount of carbon in its soils by 0.4 percent a year. Why is the media not reporting this—especially since France is hosting the climate conference?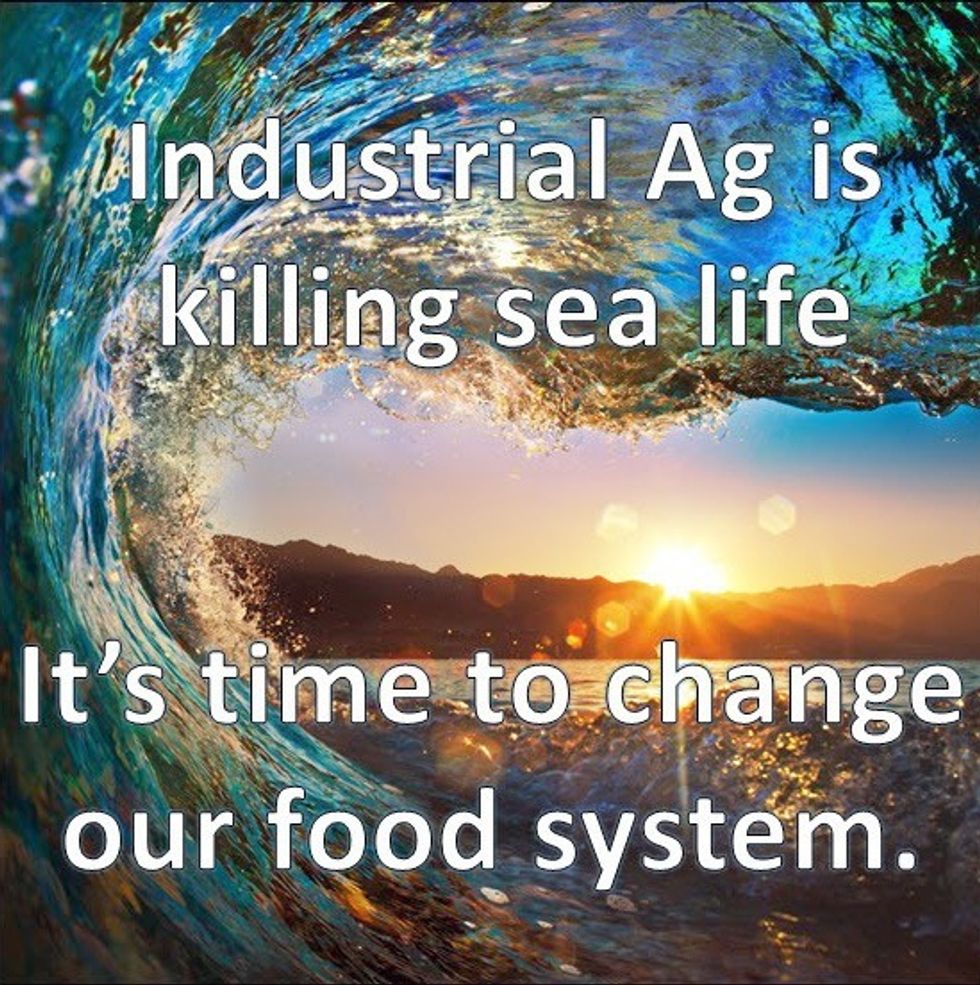 Today about 1 percent of the oceans' plankton dies annually from ocean acidification, which has increased by 30 percent in the past hundred years—mostly caused by industrial ag's high carbon pollution, with Exxon and transportation coming in as a distant second. We now know that 20 to 30 percent of all manmade greenhouse gases in the atmosphere come from industrial agriculture. The leading greenhouse gas emission sources contributing to that total are GMO corn and soy crops, centralized cattle and pig confinement operations and rice grown with synthetic fertilizers.
A recent study by University of Maryland researchers, reported as '"Green Revolution Changes Breathing of the Biosphere," detailed how a computer model linked stronger seasonal oscillations in carbon dioxide to intensive agriculture. (A note to those who represent Greenpeace, 350.org and other climate NGOs: Please reread the last two paragraphs; otherwise you might keep letting the main climate culprits go scot-free).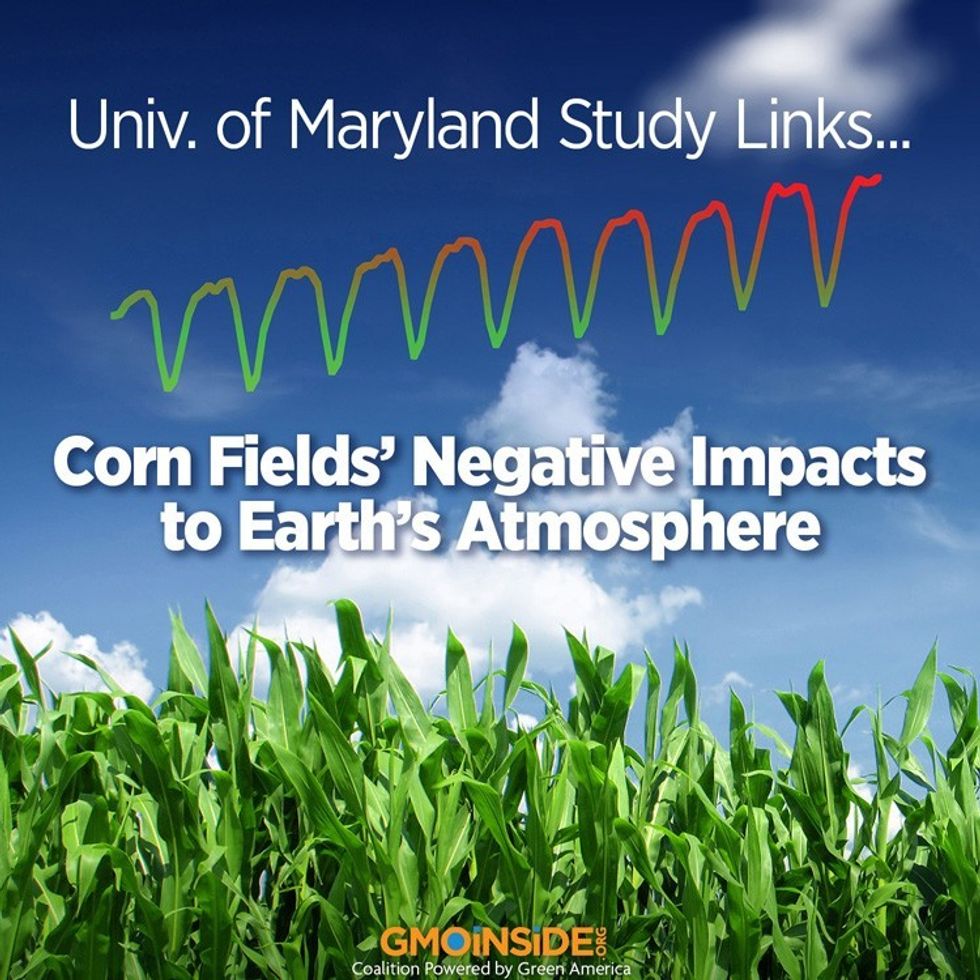 A Journey Well Traveled
When we discover a powerful truth on the personal or societal level, such as our need to redress the mistreatment of our soils, it's useful to reflect on how we arrived at that realization. Thousands of years ago, most societies—from Europe to Asia to what we now call the Americas—had a deep respect and caring for the Earth. Cultures from the Celtic to the Chinese to the Inca honored nature as a shared mythos that was central to daily life.
But by the last mid-century, people accepted that rivers in Ohio should be on fire, while also accepting pandemic air pollution. Then the flower children of the '60s and '70s rejected the supposed bounty of industrial food systems, and today the wellness revolution is stronger than ever. People are waking from the modern industrial-ag nightmare. That McDonald's is edging toward bankruptcy is one of the current signs that the times are indeed a-changin'.
Living in a Biological World
Paying attention to the health of our soils and oceans is now a matter of life and death. That may come as shock to most Americans, as our educational system and media teach us many things—except how the Earth works. We can learn how to be a doctor (except that they forget nutrition) or a carpenter (but they forget how forests grow) or a farmer (except that they forget the importance of soil health and earthworms) or an urban planner (but they forget how to conserve water). This hyperspecialization has yielded technocrats who don't understand the laws of nature.
We have spent trillions of dollars on failed nuclear power when we have the best nuclear reactor in the universe: the sun, which is wireless and 93 million miles away. From grade schools to universities, brainwashed thinking is still pervasive. Our challenge today is to educate enough people and leaders to shift our lifestyle before we irreparably damage the Earth's life-support systems.
Return the Carbon, Heal the Oceans
We were all taught in kindergarten to returns things to where they belong. Today the fate of 90 percent of all species depends on humanity returning excess atmospheric carbon to the soil. If we fall short in this imperative, the oceans will become so acidic that most plankton will die and those 90 percent of the planet's life forms will vanish. GreenWave, an innovative Connecticut-based firm, has a unique approach that works to restore oceans, communities and coastal economies by growing kelp, which thrives on converting CO2 into biomass.
If you don't believe that the oceans are in trouble, just read this 2010 piece from Germany's leading magazine Spiegel: "Phytoplankton's Dramatic Decline: A Food Chain Crisis in the World's Oceans."
Per the article's lead, plankton "is the starting point for our oceans' food chain. But stocks of phytoplankton have decreased by 40 percent since 1950 ... It is an astonishing collapse, say researchers, and may have dramatic consequences both for the oceans and for humans."
The New York Times also warns of the dying of our oceans in its article "Our Deadened, Carbon-Soaked Seas" by Richard W. Spinrad, chief scientist at the National Oceanic and Atmospheric Administration, and Ian Boyd, chief scientific adviser to the British government's Department of Environment, Food and Rural Affairs. As the article states:
"Ocean and coastal waters around the world are beginning to tell a disturbing story. The seas, like a sponge, are absorbing increasing amounts of carbon dioxide from the atmosphere, so much so that the chemical balance of our oceans and coastal waters is changing and a growing threat to marine ecosystems. Over the past 200 years, the world's seas have absorbed more than 150 billion metric tons of carbon from human activities. Known as ocean acidification, this process makes it difficult for shellfish, corals, and other marine organisms to grow and reproduce."
Last summer, a giant, toxic algae bloom was found to stretch all the way from Alaska to California.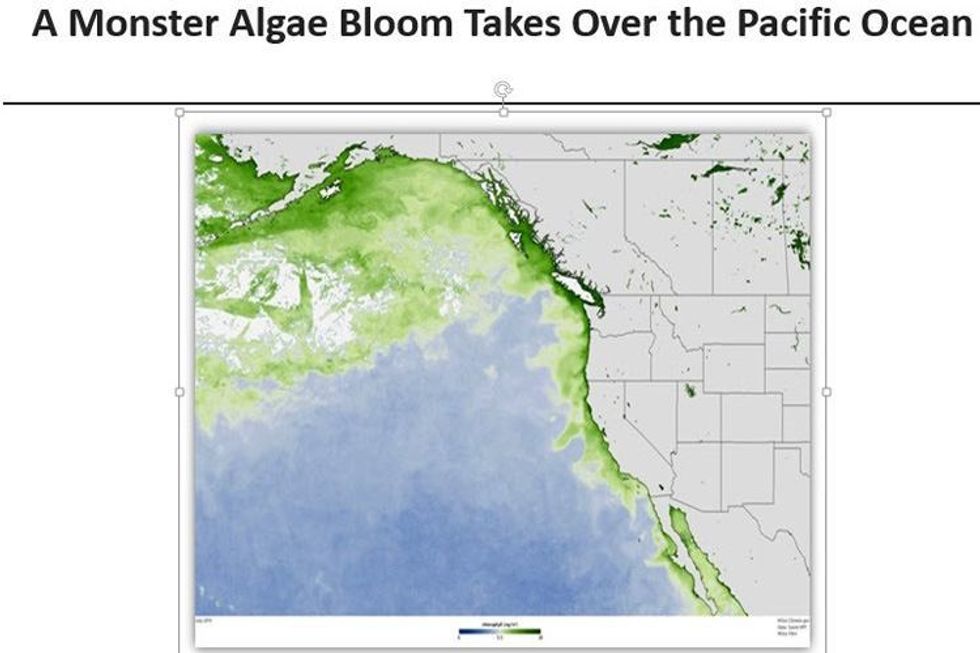 Vera Trainer, a research oceanographer with the Northwest Fisheries Science Center in Washington State, told Reuters, "It's the longest-lasting, highest-toxicity, and densest bloom that we've ever seen." Trainer added, "A single clam can have enough toxins to kill a person." This toxic bloom has forced the crab season to be shut down in parts of the West Coast, and in California's Sonoma County this past summer, a golden retriever died moments after swimming in the Russian River and swallowing some of the blue-green algae.
The climate movement seems fixated on the melting poles and what might occur by 2100 with oceans rising by X amount of feet. The reality is that this will all become a moot point if the oceans become mostly biologically dead in the next several decades. Whales, dolphins, salmon and plankton are already disappearing in this great sixth extinction.
If the oceans die, humanity will have no future. I challenge any climate-change advocate who sits down to talk to Fox TV viewers to, instead of discussing the dangers of climate change, a warming Earth, and melting icebergs, talk about the simple fact that manmade CO2 is falling into the seas and causing ocean acidification, resulting in dying plankton, less oxygen to breathe, etc. Americans will be receptive to this perspective, as many feel a connection to the ocean even if they live far away from it.
For the forthcoming Paris talks, the link between soils and oceans is not on the agenda. This is due in part to a corruption of the political process by chemical giants like Monsanto, which wants to prevent people from discovering that its Roundup product kills soil life and diminishes carbon storage. Scientists at American or Canadian public universities and the U.S. Department of Agriculture (USDA) all realize that speaking such hard truths is a major career buzz kill. In fact, The Atlantic just published a piece on South Dakota-based USDA entomologist Jonathan Lundgren, who was forced off a plane while en route to give a talk on GMOs, bee health and pesticides.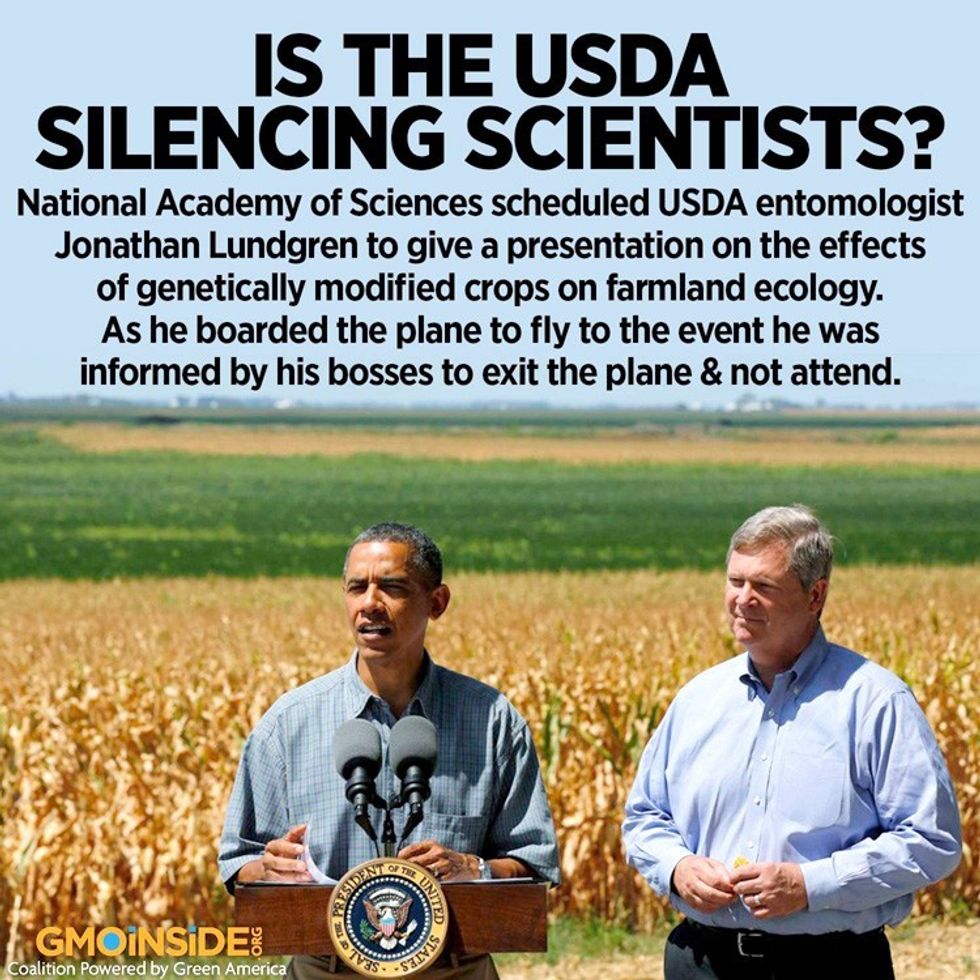 Isn't it time for Monsanto to be charged with crimes of fraudulently subverting science and policy, as in Exxon's legal case? Many new groups, such as Kiss the Ground, producers of The Soil Story (full disclosure: I serve as an advisor, and Nutiva is a sponsor), are working to educate people on soils. Representatives of Kiss the Ground will be in Paris during the talks, with an art installation under the Eiffel Tower on soils and carbons.
The Soil Can Heal Us
We can still reverse this dire ecocide by paying close attention to farming diversity and the linkages between agriculture and the oceans and soils. The first meter of soil contains more carbon than does the entire atmosphere (even despite the overload at 400 ppm CO2). While climate chaos is scary and depressing to think about, the good news is that we have an app for it—one with 500 million years of proven R&D: soil sequestration using photosynthesis. Today we call this carbon farming, as well as regenerative agriculture, agro-ecology, permaculture or biodynamics. Carbon farming and other natural agricultural systems improve the rate at which CO2 is removed from the atmosphere and sequestered into stable organic matter in the soil.
And the word is getting out. Consider the recent article "Restoring Global Soil Quality Is One of the Best Things We Can Do for Climate Change."
And in February 2016 the book The Carbon Farming Solution: A Global Toolkit of Perennial Crops & Regenerative Agriculture Practices for Climate Change Mitigation & Food Security, by Eric Toensmeier, will be published by Chelsea Green.
What One Person Can Do
1. Become educated on regenerative ag with these resources:
2. Make the majority of your food choices local and organic. Reduce your meat or dairy consumption (and do select pasture-raised products).
3. Stop consuming CAFO (Concentrated Animal Feeding Operation) meat and dairy products.
4. Stop investing in your 401K or mutual funds if they include Monsanto, DuPont, Dow, Syngenta, Heinz, General Mills, Coke, Pepsi, etc.
5. Help spread the word about the power of soils to reverse climate change.
Perhaps Tom Newmark, a cofounder of the Carbon Underground Project, says it best: "Many NGOs view carbon and agriculture as the 'enemy.' The regenerative movement sees carbon as our friend, and agriculture as our natural ally to help our friend carbon return to the land."
YOU MIGHT ALSO LIKE
Michael Pollan's Letter to the Future
Vandana Shiva: Agri-Corporations Attempt to Hijack COP21
Real Climate Action Starts With What's on Your Plate
Awesome 5-Minute Video Urges Young People to Start a Farming Revolution
EcoWatch Daily Newsletter
The CDC has emphasized that washing hands with soap and water is one of the most effective ways to prevent the spread of COVID-19. Guido Mieth / Moment / Getty Images
The Centers for Disease Control has emphasized that washing hands with soap and water is one of the most effective measures we can take in preventing the spread of COVID-19. However, millions of Americans in some of the most vulnerable communities face the prospect of having their water shut off during the lockdowns, according to The Guardian.
A California newt (Taricha torosa) from Napa County, California, USA. Connor Long /
CC BY-SA 3.0
Aerial photos of the Sierra Nevada — the long mountain range stretching down the spine of California — showed rust-colored swathes following the state's record-breaking five-year drought that ended in 2016. The 100 million dead trees were one of the most visible examples of the ecological toll the drought had wrought.
Now, a few years later, we're starting to learn about how smaller, less noticeable species were affected.
Disinfectants and cleaners claiming to sanitize against the novel coronavirus have started to flood the market.
Natthawat / Moment / Getty Images
Disinfectants and cleaners claiming to sanitize against the novel coronavirus have started to flood the market, raising concerns for the U.S. Environmental Protection Agency (EPA), which threatened legal recourse against retailers selling unregistered products, according to The New York Times.
A customer packs groceries in reusable bags at a NYC supermarket on March 1, 2020. Eduardo Munoz Alvarez/Getty Images
The global coronavirus pandemic has thrown our daily routine into disarray. Billions are housebound, social contact is off-limits and an invisible virus makes up look at the outside world with suspicion. No surprise, then, that sustainability and the climate movement aren't exactly a priority for many these days.
Ingredients are displayed for the Old School Pinto Beans from the Decolonize Your Diet cookbook by Luz Calvo and Catriona Rueda Esquibel. Melissa Renwick / Toronto Star via Getty Images
By Molly Matthews Multedo
Livestock farming contributes to global warming, so eating less meat can be better for the climate.