Soil Carbon Cowboys: Arizona State Professor and Filmmaker Showcases Drought-Resilient Soil Practices
Jun. 25, 2014 12:21PM EST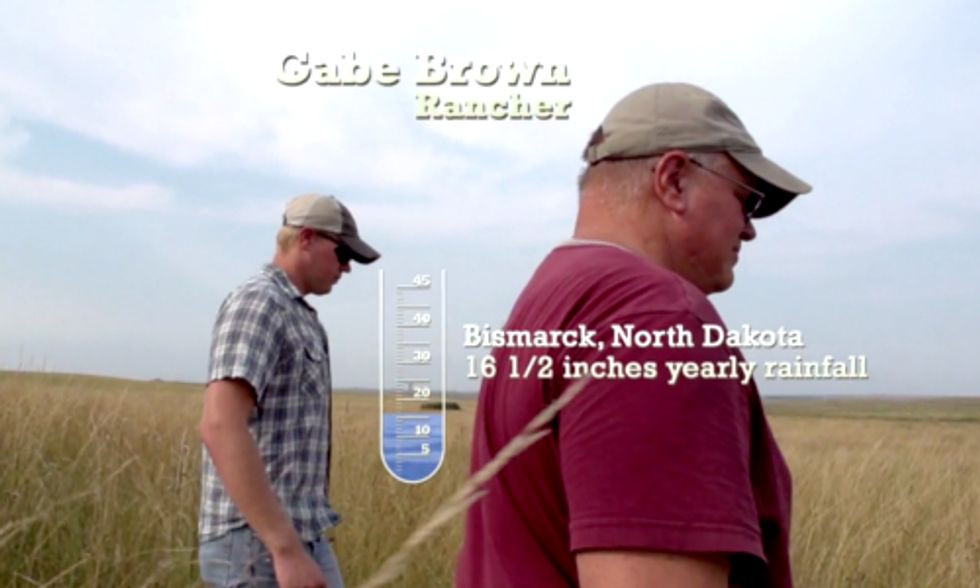 Ranchers like Gabe Brown and Neil Dennis live in places that receive fewer than 20 inches of rainfall per year, but it hasn't spelled doom for their animals and crops.
They have figured out a way to reinvigorate their soil to allow rainwater to sink into the earth rather than run off. The men had their soil carbon capturing story told in a concise, 12-minute short film, Soil Carbon Cowboys, created by filmmaker Peter Byck, also a professor of practice at Arizona State University's School of Sustainability and its Walter Cronkite School of Journalism and Mass Communications.
"Why do I want to go out and spend thousands upon thousands of dollars every year on synthetic fertilizer when I can grow these crops for just the cost of the seed? They'll make the nitrogen for me and then my livestock will come around and eat these plants, convert it to dollars for me to sell," said Brown, a rancher from Bismarck, ND, which gets fewer than 17 inches of annual rainfall. "So, I'm getting all my fertilizer, basically for a profit because I'm making money off these crops."
Byck previously made Carbon Nation, a 2010 film centered on slowing down the growing carbon footprint. The film inspired two curriculums available to teachers all over within ASU's Mary Lou Fulton Teacher's College.
Byck, also a senior scientist at the Julie Ann Wrigley Global Institute of Sustainability, has further plans to research regenerative grazing to measure potential benefits like carbon sequestration, animal health, water infiltration and retention, methane and nitrous oxide emissions, insect, wildlife, fungi and bacteria populations and rancher well-being, according to the New America Foundation, which hosted Byck for an event a month ago. Take a look at his talk with Dr. Allen Williams, another rancher featured in Soil Carbon Cowboys who is also the the founding partner and president of Livestock Management Consultants and Grass Fed Beef. He is also chair of the Association of Family Farms.
EcoWatch Daily Newsletter
Recent Stories from EcoWatch