This website uses cookies to ensure you get the best experience while browsing it. By clicking 'Got It' you're accepting these terms.
Soda Companies Turn Attention to Developing Countries as Sales Fall Flat in the West
Feb. 12, 2016 03:46PM EST
Food
Americans still drink a lot of soda: Sales in the U.S. were more than $70 billion in 2014, according to Euromonitor International, well ahead of China, the runner-up market, with $28.4 billion. The way we think about, talk about and legislate soda has changed rather drastically—and we drink relatively less of it too, with consumption dropping 25 percent between 1998 and 2014. So with the threat of soda taxes and warning labels and an increased popular understanding of the links between sugar-sweetened beverages and obesity, companies like Coca-Cola and Pepsi are looking to sell more of their products elsewhere—especially in developing markets.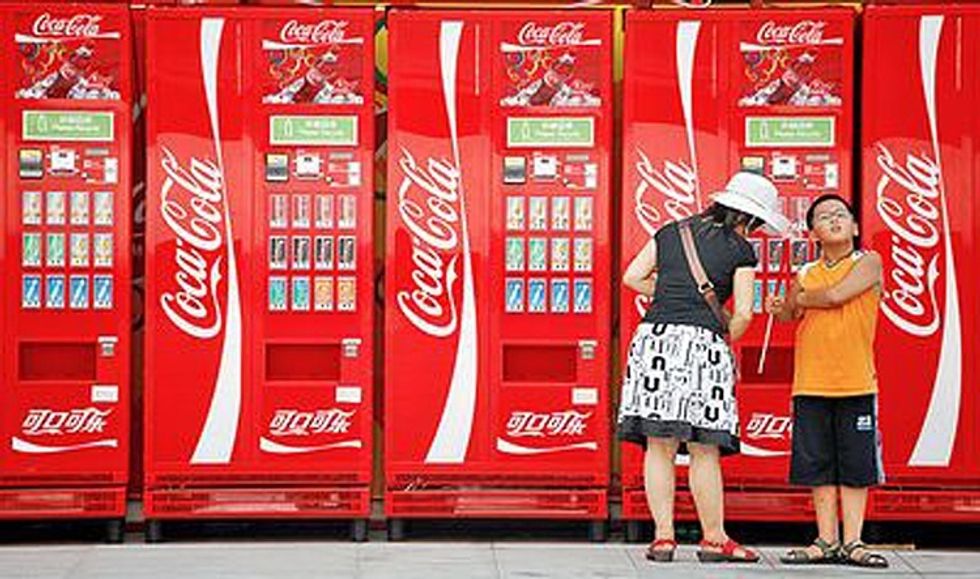 The increased focus on countries such as India, Brazil and others is the subject of a new report released Tuesday by the Center for Science in the Public Interest (CSPI), a consumer-advocacy group that has frequently critiqued the beverage industry for its role in the obesity crisis. "These are countries with growing populations, growing incomes and with governments less likely to pursue aggressive strategies to deter consumption," Michael F. Jacobson, CSPI's president and a coauthor of the report, said. And as the report argues, those unfettered new markets will soon suffer from more of the diet-related public health ills that the U.S. is grappling with, from obesity to type 2 diabetes.
Coke and Pepsi, which together account for $870 billion in annual soda sales, are by no means newcomers to the global market. But the sales trends are shifting: Emerging and developed markets have gone from representing about 55 percent of overall soda sales in 2008, according to the report, to nearly 70 percent projected for 2018. Soda sale forecasts for the next three years are flat for North America and declining slightly in Western Europe; sales in Latin America, Asia, the Middle East and Africa are all set to rise.
As Ahmet Bozer, executive vice president and president of Coca-Cola International, said in 2014, "There's 600 million teenagers who have not had a Coke in the last week" and many of them live in these emerging markets. Latin America, for example, is soda's largest market and Mexico infamously has the highest per-capita consumption in the world.
While Coke will funnel huge amounts of money into these markets in the coming years—investing, according to CSPI, $12.4 billion in Mexico between 2010 and 2020 and another $17 billion in African markets—governments are showing signs of moving more quickly on public health policies to combat obesity and the like by limiting soda consumption.
Mexico, after all, passed a national soda tax in 2013, and research shows that it is working to reduce the amount of sugar-sweetened beverages residents drink. A local ordinance in Berkeley, California, now taxes soda and while a similar measure was voted down in San Francisco, the city will soon require health-warning labels on sugary drinks. As India, the Philippines, Indonesia and Great Britain all consider national soda taxes, Reuters said on Monday, "2016 could be the year of the sugar tax."
Whether a soda tax in a country like India—which is already a major market and will see a total of $5 billion in investment from Coke alone between 2012 and 2020—will slow soda sales there and create a protracted battle between government and industry (or both) remains to be seen. But with Indian officials considering a tax as high as 40 percent—much more than Mexico's peso-per-liter tax—it would seem that the political realities are shifting against soda.
But with soda companies blanketing developing countries with billboards, TV ads, sports-team sponsorships and plenty of icy-cold cola, the likes of Coke and Pepsi still hold the popular imagination.
"In regions where poverty prevails and most people do not participate in the world of hyper-consumption, drinking a Coke or other extremely sugary and intensely marketed drink is the result of an aspirational act—the desire to belong to a world from which they are excluded," Alejandro Calvillo Unna, a Mexican consumer advocate, wrote in his preface to the CSPI report.
"Companies take advantage of the vulnerability of those communities to market their products," he continued. "The result: racially and culturally discriminatory marketing practices that worsen the poor health conditions and marginalization these groups already experience."
This article was reposted with permission from our media associate TakePart.

YOU MIGHT ALSO LIKE
Illegal Chilean Sea Bass Fishing Could Be Coming to an End, Thanks to Sea Shepherd
Imports of Genetically Engineered Salmon Blocked Until Labeling Requirements Are Established
Michael Pollan: Return to the Kitchen to Forge a Deeper Connection to the Ingredients We Use to Nourish Ourselves
Coffee Farmers Sue Monsanto for Hiding Cancer-Causing Impact of Glyphosate
EcoWatch Daily Newsletter
A new study shows that half of all Arctic warming and corresponding sea-loss during the late 20th century was caused by ozone-depleting substances. Here, icebergs discharged from Greenland's Jakobshavn Glacier. Kevin Krajick / Earth Institute /
EurekAlert!
The world awakened to the hole in the ozone layer in 1985, which scientists attributed it to ozone depleting substances. Two years later, in Montreal, the world agreed to ban the halogen compounds causing the massive hole over Antarctica. Research now shows that those chemicals didn't just cut a hole in the ozone layer, they also warmed up the Arctic.
Diane Wilson holds up a bag full of nurdles she collected from one of Formosa's outfall areas on Jan. 15. Julie Dermansky / DeSmogBlog
On the afternoon of Jan. 15, activist Diane Wilson kicked off a San Antonio Estuary Waterkeeper meeting on the side of the road across from a Formosa plastics manufacturing plant in Point Comfort, Texas.
After Wilson and the waterkeeper successfully sued Formosa in 2017, the company agreed to no longer release even one of the tiny plastic pellets known as nurdles into the region's waterways. The group of volunteers had assembled that day to check whether the plant was still discharging these raw materials of plastics manufacturing.
Malaysian Environment Minister Yeo Bee Yin (front 2nd L) and officials inspect a container containing plastic waste shipment on Jan. 20, 2020 before sending back to the countries of origin. AFP via Getty Images
The Southeast Asian country Malaysia has sent 150 shipping containers packed with plastic waste back to 13 wealthy countries, putting the world on notice that it will not be the world's garbage dump, as CNN reported. The countries receiving their trash back include the United States, the United Kingdom, France and Canada.
Trump leaves after delivering a speech at the Congress Centre during the World Economic Forum annual meeting in Davos on Jan. 21, 2020. JIM WATSON / AFP via Getty Images