This website uses cookies to ensure you get the best experience while browsing it. By clicking 'Got It' you're accepting these terms.
Snowy Owl Flocks to Southern States in Search of Food
Jan. 11, 2014 10:45AM EST
The birding community in Washington, D.C., is abuzz over a rare, iconic avian visitor. The Snowy Owl, which has always been a "must-see" bird for the birding community, has been spotted at Arlington's Reagan National Airport in recent days; other owls were spotted earlier at Dulles International Airport and later at Baltimore-Washington International Airport.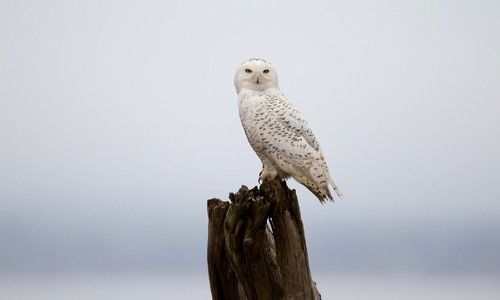 Photo courtesy of Shutterstock
"You could say this species is the 'rock star' of the birding community," said Jason Berry, who holds the D.C. record for bird sightings in a 12-month period and serves as a conservation officer at the American Bird Conservancy. "Although it achieved celebrity status as Hedwig the Owl in the Harry Potter movie series, this spectacular bird is rarely seen in most parts of the U.S. This bird would probably be on just about every birder's top-five list of birds to see in a lifetime." 
Berry said that the presence of the bird in the D.C. area is part of what may be a record-setting "irruption" by the species in the lower 48 states. He said the bird is visiting many states farther south than usual as a result of a bumper crop of young Snowy Owls in their Arctic breeding grounds last spring. That bumper crop of baby owls was made possible by an unusual abundance of lemmings—small, mole-like rodents that are a staple of the bird's diet.
"Those owl babies are now adolescents who have to find feeding grounds," explained Berry. "Since Snowy Owls are very territorial, the youngsters can't stake out a territory near home in the Arctic because those grounds are already claimed by the adults." 
Berry said it is hard to know how long a Snowy Owl will stay in one place, "Sometimes it's hours, sometimes it's days or even weeks. Usually it is a function of food supply. They tend to keep moving until they find needed food," he said.
Snowy Owls are the largest—by weight—of North America's owls. About two feet tall, they have a wingspan of up to five feet. Their eyes are a mesmerizing yellow. Snowy Owls are white birds with varying amounts of black or brown markings on the body and wings. On females these markings can be quite dense, giving the bird a salt-and-pepper look. Males tend to be paler and become whiter as they age.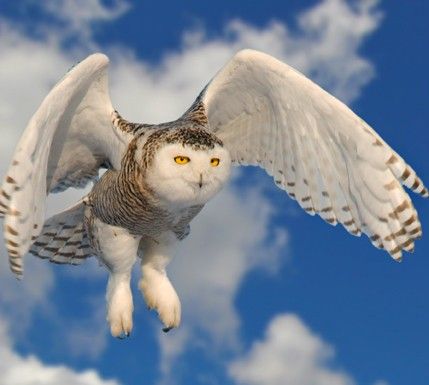 Snowy Owls often perch on rises such as the crests of dunes or on fence posts, telephone poles and hay bales. When they fly, they usually stay close to the ground. Because Snowy Owls breed in treeless arctic tundra, they seek out similar terrain when visiting the lower 48 states. That proclivity has led the bird to show up in at least one venue that has posed some concerns: airports. When that has happened, some airports such as Logan International in Boston and BWI in Baltimore, Md., have chosen to send out professional trappers to capture the birds and then release them elsewhere.
"Since Snowy Owls encounter people so rarely in the wild, they have relatively little instinctive fear of them and can be approached without bolting at surprisingly close distances. So capturing them and releasing them elsewhere is typically not much of a challenge for professionals," Berry said. "It is, however, not a job for an average person. These are fierce birds that, in addition, deserve our respect. It's important to view birds from a distance to avoid agitating birds that are doubtless already stressed."
New York's Kennedy International Airport recently dealt with visiting owls in a less-than wildlife-friendly fashion, shooting and killing three Snowy Owls before an outcry from across the country led them to adopt a capture-and-release approach. American Bird Conservancy was one of the groups raising objections to the deadly remedy by New York Airport officials. The Conservancy has contacted the Metropolitan Washington Airports Authority to advise them of nonlethal options for Snowy Owl removal should such an action become warranted.
"Every airport in the northeast should know that there is always the possibility of Snowy Owls showing up at their facilities in the winter," said Berry. "All it takes is a little planning by officials to have trapping contingencies in place if needed. Dispatching trapping professionals with nets provides just as effective and simple a remedy as dispatching them with guns."
Visit EcoWatch's BIODIVERSITY page for more related news on this topic.

EcoWatch Daily Newsletter
Tuna auctions are a tourist spectacle in Tokyo. Outside the city's most famous fish market, long queues of visitors hoping for a glimpse of the action begin to form at 5 a.m. The attraction is so popular that last October the Tsukiji fish market, in operation since 1935, moved out from the city center to the district of Toyosu to cope with the crowds.

gmnicholas / E+ / Getty Images
Kristan Porter grew up in a fishing family in the fishing community of Cutler, Maine, where he says all roads lead to one career path: fishing. (Porter's father was the family's lone exception. He suffered from terrible seasickness, and so became a carpenter.) The 49-year-old, who has been working on boats since he was a kid and fishing on his own since 1991, says that the recent warming of Maine's cool coastal waters has yielded unprecedented lobster landings.
Aerial view of lava flows from the eruption of volcano Kilauea on Hawaii, May 2018. Frizi / iStock / Getty Images
Hawaii's Kilauea volcano could be gearing up for an eruption after a pond of water was discovered inside its summit crater for the first time in recorded history, according to the AP.
The Eqip Sermia Glacier is seen behind a moraine left exposed by the glacier's retreat during unseasonably warm weather on Aug. 1 at Eqip Sermia, Greenland. Sean Gallup / Getty Images
hadynyah / E+ / Getty Images
By Johnny Wood
The Ganges is a lifeline for the people of India, spiritually and economically. On its journey from the Himalayas to the Bay of Bengal, it supports fishermen, farmers and an abundance of wildlife.
The river and its tributaries touch the lives of roughly 500 million people. But having flowed for millennia, today it is reaching its capacity for human and industrial waste, while simultaneously being drained for agriculture and municipal use.
Here are some of the challenges the river faces.
By Jake Johnson
As a growing number of states move to pass laws that would criminalize pipeline protests and hit demonstrators with years in prison, an audio recording obtained by The Intercept showed a representative of a powerful oil and gas lobbying group bragging about the industry's success in crafting anti-protest legislation behind closed doors.
Reposted with permission from our media associate Common Dreams.

DESIREE MARTIN / AFP / Getty Images
Wildfires raging on Gran Canaria, the second most populous of Spain's Canary Islands, have forced around 9,000 people to evacuate.