Snow-Deprived Ski Industry Wants to Know What Ted Cruz Plans to Do About Climate Change
Jan. 22, 2016 08:59AM EST
Politics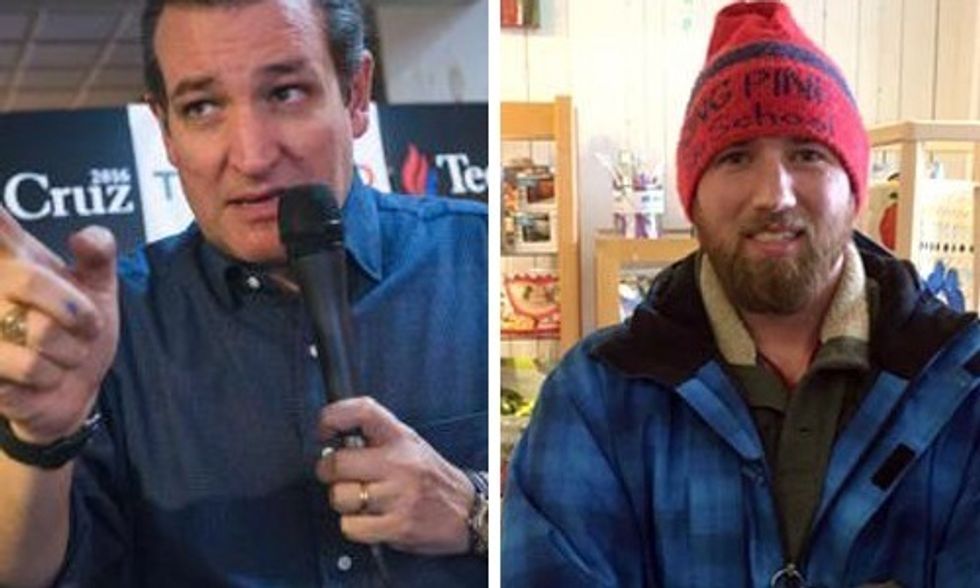 While Ted Cruz was campaigning in New Hampshire on Tuesday, he was approached by multiple residents who are concerned about how he will respond to climate change if elected.
New Hampshire's struggling ski towns ask what Ted Cruz will do about climate change https://t.co/Xz4KEpLdEN

— ThinkProgress (@ThinkProgress)1453332005.0
The first was Sean Carney, a snowboard instructor, part-time farmer and environmental science teacher. According to ThinkProgress, Carney asked the candidate why he continues to deny climate science despite the overwhelming evidence of the grave impacts of climate change, including a report from the Pentagon that found that climate change is an "urgent and growing threat."
Cruz responded:
"Any public policy should follow science and should follow evidence. The problem with global warming is there are far too many politicians in Washington that pursue it as a political agenda, irrespective of the science. You ask why I don't follow a study from the Pentagon? The Obama Pentagon is hopelessly politicized and partisan."
When Carney followed up, Cruz said, "I'm not going to engage in a debate."
Carney is concerned for his town of North Conway. Its economy is largely dependent on tourism brought in from skiers and snowboarders headed to the White Mountains. And climate change, Carney said, is taking its toll on the town.
"I see it first-hand here in the valley," he said. "We're a very climate-dependent economy with skiing and tourism. This year has been a banner year for bad snow. The restaurants around here are feeling it with low numbers. The hotels are feeling it."
A 2012 study bolsters Carney's argument. It found that New Hampshire loses 17 percent of its skier visits when there's little snow compared to years when there is a lot. And the increasingly unpredictable weather is making it hard for communities to adapt, Carney explained.
He's not the only one worried about our future president's stance on climate change. At a campaign event in Rochester later that day, two 350.org volunteers dropped a banner accusing Cruz of being "bought out by Big Oil." The two were quickly escorted out of the event. Griffin Sinclair-Wingate, one of the volunteers, told ThinkProgress that Cruz, like most of the Republican candidates, is beholden to the oil and gas industry. "He's had $15 million given to his super PAC from the oil and gas industry," he said. "He's not only hurting the environment but he's hurting people."
An AP Fact Check evaluated some of Cruz's claims about climate change in New Hampshire this week and found that the Texas senator is "decidedly at odds with the scientific consensus that Earth is warming because of human activity."
And in November 2015, AP asked eight climate and biological scientists to grade (on a 0-100 scale) the comments of top presidential candidates for their scientific accuracy. To eliminate bias, the names of the candidates were removed from their comments, so the scientists were scrutinizing them merely on scientific grounds. Cruz received the lowest grade out of any candidate at a mere 6 percent.
"This individual understands less about science [and climate change] than the average kindergartner," one of the scientists, Penn State University professor Michael Mann, wrote of Cruz. "That sort of ignorance would be dangerous in a doorman, let alone a president."
YOU MIGHT ALSO LIKE
NASA Scientist Dying of Cancer Attacked by Climate Deniers
California to Investigate Exxon on Climate Cover-Up
300 Sea Turtles Found Dead on Indian Beach
Monsanto's Genetically Engineered Roundup Ready Alfalfa Has Gone Wild
EcoWatch Daily Newsletter
Related Articles from EcoWatch