Smog Soars under Obama and Oil-Friendly Congress
Jun. 05, 2012 08:00AM EST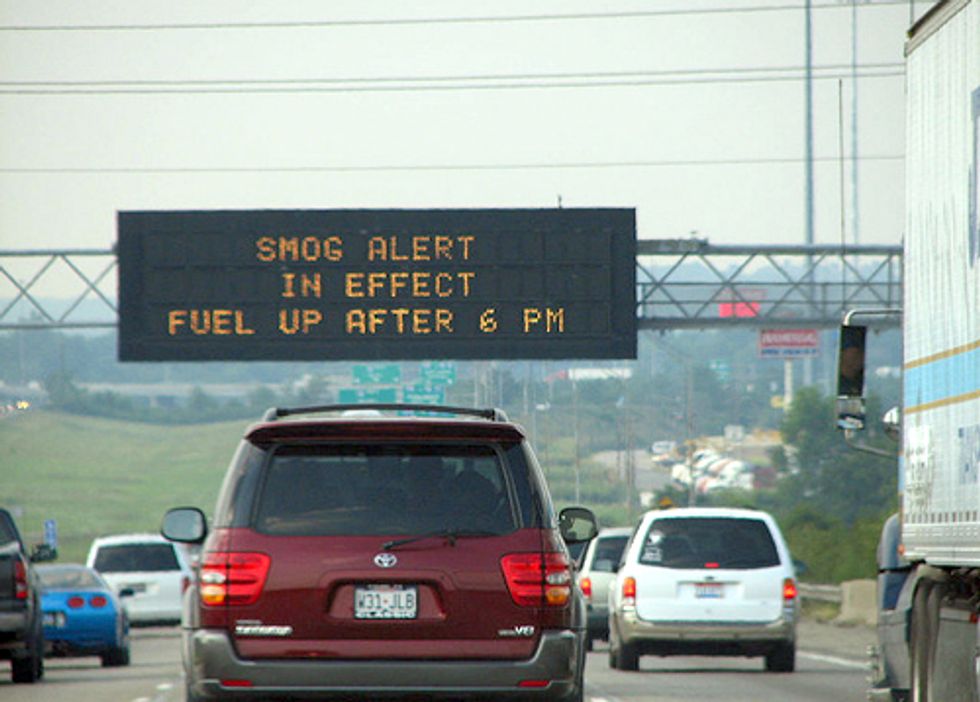 The Smog Watch survey by Clean Air Watch volunteers found that last month was the smoggiest May in at least the past five years.
The table below compares the smog problem during the month of May for the past five years, since the Bush smog standard was set in 2008 and we began tracking smog in reference to it. The number in the second column refers to the total number of "exceedances" (levels of ozone worse than the Bush EPA standard of 75 parts per billion) recorded at state-run monitoring stations. These statistics demonstrate that the smog problem has been widespread and persistent.
Year     Number of monitored ozone exceedances in May
2008      388
2009      481
2010       382
2011        323
2012      854
Total number of monitored exceedances for 2012 through May 31: 1,002. During the comparable period of 2011: 445.
Several things influence the formation of ozone, including emissions of volatile organic compounds and nitrogen oxides, as well as weather conditions.
Recent studies have reported that increasing temperatures due to climate change will intensify the ozone problem, increasing the need for tools to fight smog.
The single most effective tool against smog would be lower-sulfur gasoline. With low-sulfur gas, every car on the road would instantly pollute less. That's because sulfur in gasoline impedes the smog-fighting performance of catalytic converters. Lower-sulfur gas=less smog. (The NOx reductions from power plants through the Cross-State Air Pollution Rule have largely been achieved, despite legal challenges to it. Another possible tool—tougher NOx restrictions on industrial boilers—would be a political hot potato.)
The oil industry and oil-friendly politicians have tried to tie low-sulfur gas to high gas prices. But U.S. Environmental Protection Agency (EPA) has testified to Congress that such a plan would be "less than one penny per gallon" in costs to refiners. Gas prices, of course, have fallen in recent weeks, perhaps taking some of the steam out of the oil arguments.
The smog siege of May does not necessarily mean the summer months will follow suit; cooler weather and lots of rain could dampen smog readings during the next three or four months. However, the May problems alone ought to be enough to make us stand up and take note.
Below is a list of the 31 states with Code Orange or Code Red smog problems so far in 2012. The number next to the state refers to the total number of days in the state in 2012 with ozone levels worse than the Bush standard. California, Texas and Arizona have had the most Code Red or Code Orange days so far in 2012.
Total Code Red or Code Orange Days for Smog in 2012, by State
31 states
Alabama 3
Arizona 17
Arkansas 3
California 27
Colorado 7
Connecticut 2
Florida 4
Georgia 2
Delaware 2
Illinois 7
Indiana 4
Iowa 1
Kansas 1
Kentucky 1
Louisiana 7
Maryland 2
Massachusetts 1
Michigan 6
Minnesota 1
Mississippi 3
Missouri 4
Nevada 8
New Mexico 1
New York 3
Ohio 9
Oklahoma 4
Pennsylvania 2
Tennessee 2
Texas 18
Utah 2
Virginia 1
Visit EcoWatch's AIR page for more related news on this topic.
EcoWatch Daily Newsletter