This website uses cookies to ensure you get the best experience while browsing it. By clicking 'Got It' you're accepting these terms.
SkyTruth's Top 10 Posts on Environmental Impacts of Large-Footprint Industrial Activities
Jan. 02, 2013 09:04PM EST
Energy
As we look forward to all that 2013 has in store, we also look back fondly on all that we have accomplished in 2012. So as we dive right into the new year, here are our "Top 10" most viewed blog posts from 2012.
10. Gas Drilling Time Series Analysis in Pennsylvania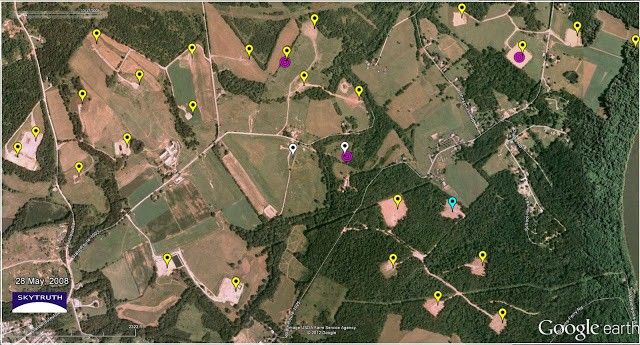 Using aerial survey images from the U.S. Dept. of Agriculture's (USDA) National Agricultural Imaging Program (NAIP), we looked at the way new wells and infrastructure are changing the landscape in rural southwestern Pennsylvania. Using aerial images to track development of natural resources and compare with  information from state and industry sources is at the very core of what we do here at SkyTruth.
9. Wildfires and Gas Wells—Pine Ridge Fire, Colorado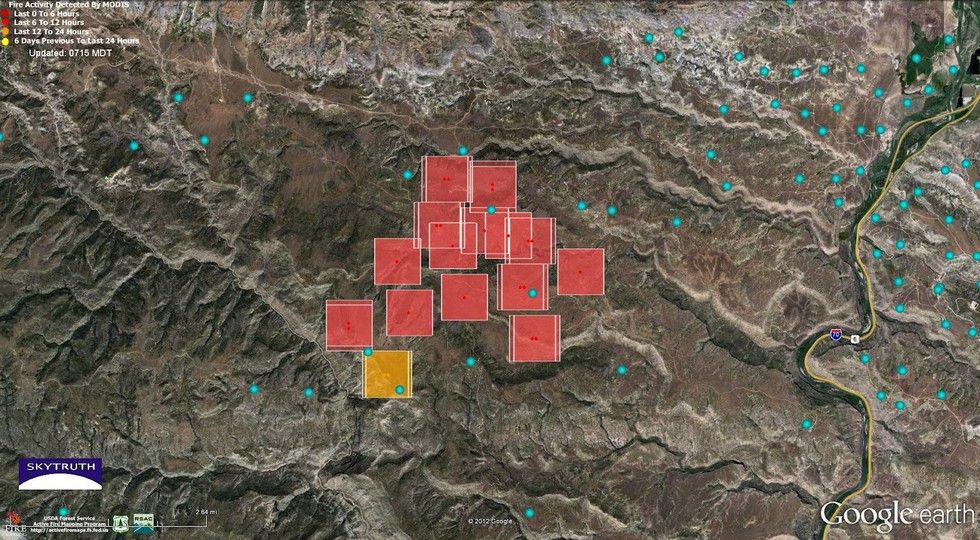 As wildfire season kicked off in the Western U.S., we were particularly interested in the proximity of gas wells to active wildfires. While natural gas infrastructure is notoriously leaky, the Grand Junction Sentinel reported that gas operators in the Pine Ridge area shut in their wells as the fire approached so as not to risk adding to the blaze.
8. Before-After Aerial Photography Shows Damage, Shoreline Changes from Hurricane Sandy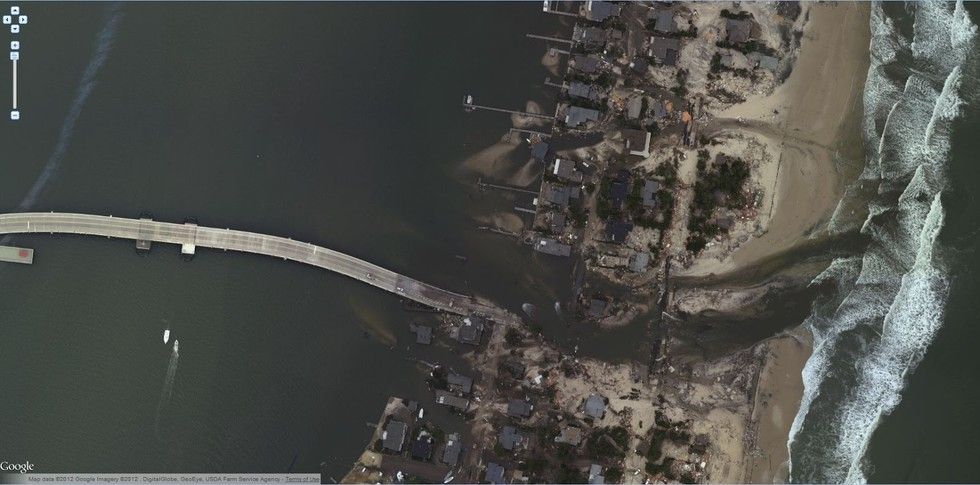 In order to coordinate relief efforts and assess damages, the National Oceanic and Atmospheric Administration (NOAA) coordinates aerial image surveys after natural disasters like Hurricane Sandy. These images are made available to the public as soon as they are processed, and we compiled a few sets of images that illustrated the sheer power of the storm. While the twisted, submerged wreckage of a roller coaster hints at the power of the storm,  nothing quite tells the story like seeing the complete rearrangement of the landscape from our perspective in the sky.
7. Gas Well Blowout in the North Sea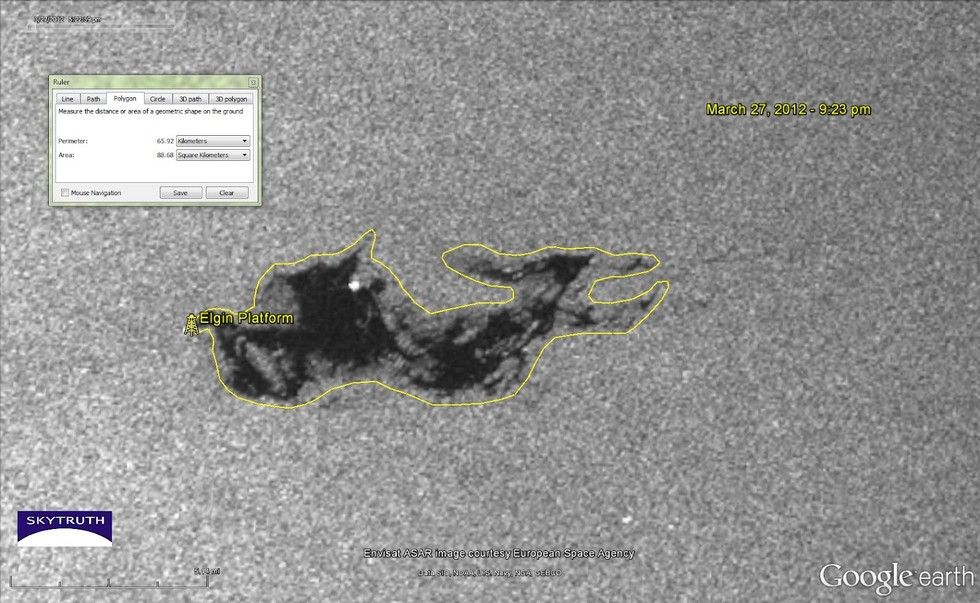 A blowout at an off-shore rig drilling for natural gas in the Elgin field (located in the North Sea between Scotland and Norway) garnered some attention in March. The leak turned out to be on the rig itself, not underwater, but we observed some kind of spill on the surface around the rig. The spill is most likely gas condensate, a significant byproduct of drilling in that region of the North Sea.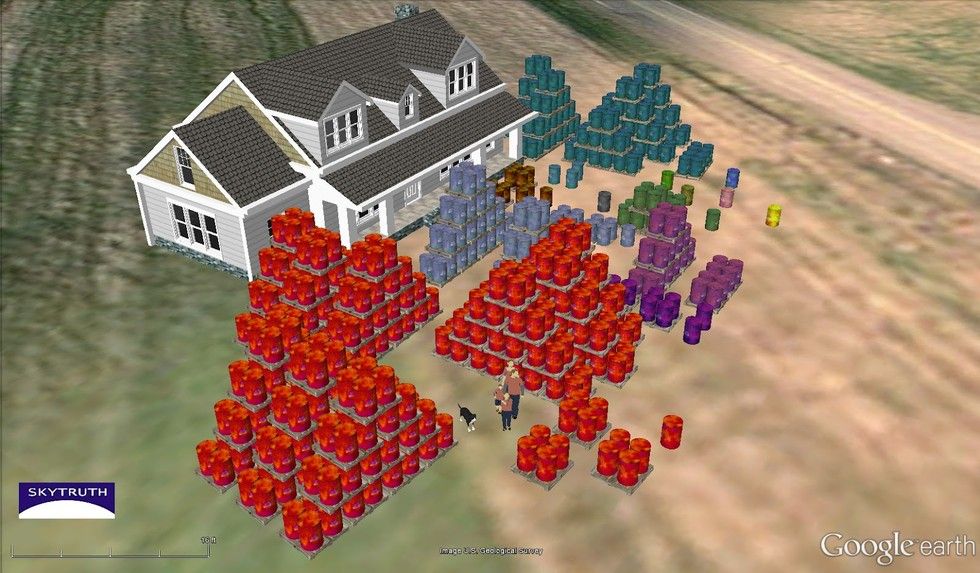 Our next most popular post was not documenting a spill, but was about a fictitious Pennsylvania family. Based on data from a voluntary industry report about the chemicals used in a typical hydraulic fracturing job in the Marcellus Shale, we created a 3D visualization of volume of various chemicals used in the process. We also pointed out the substantial number of chemicals which industry claims are "trade secrets" and were not identified at all - symbolized by the large quantity of red barrels.
5. Water, Water, Everywhere: 20 Months of Frackwater in the U.S.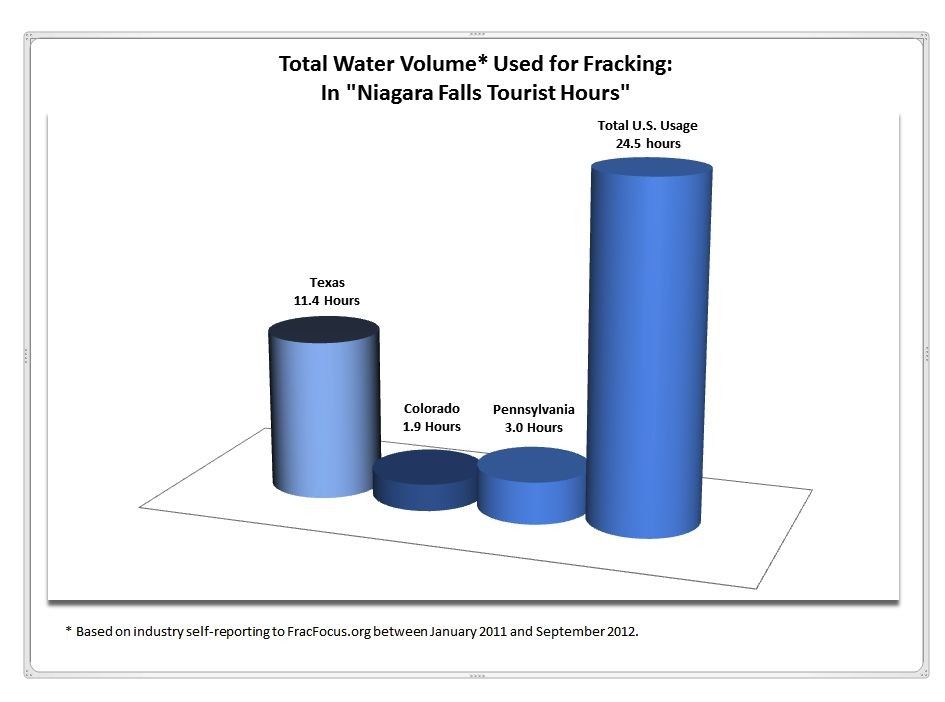 Following up on our work with voluntary industry reports on the chemicals used in hydraulic fracturing, we compiled all of the data voluntarily reported to the industry-funded disclosure website FracFocus.org. Adding up the millions of gallons of water, we found that it would take over 24 hours for all of the water reportedly used for hydraulic fracturing to flow over one of North America's Seven Natural wonders: Niagara Falls. This was also reposted to our partners at EcoWatch.org, where we used this calculation to represent Central Park covered by 240 feet of toxic waste-water.
4. Chevron Blowout and Rig Fire off Nigeria—Small Slick Visible on Radar Today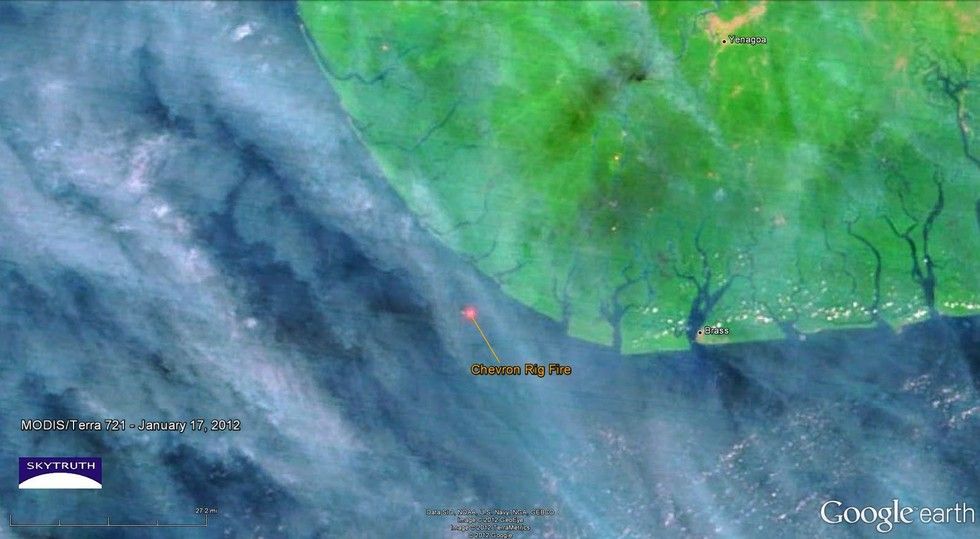 A blowout off the coast of Nigeria got some major attention, but thankfully the natural gas well did not produce as large a spill as was possible. We noted the heat of the burning rig on infrared composite images, but radar satellite images showed only a small slick. Not all of the data we use is available to the general public for free, but some images, such as this infrared composite, are freely available from NASA for anyone to look at.
3. SkyTruth Releases Fracking Chemical Database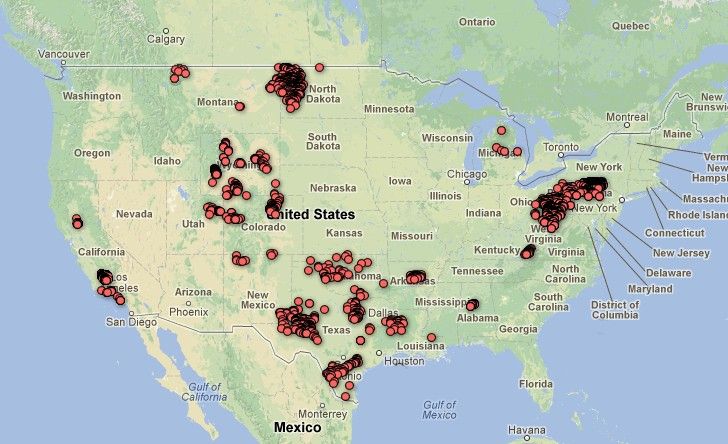 We heavily promoted the release of our fracking chemical database to the national media and to our partners. This resource will greatly aid policy discussion about disclosure regulations and aid in research on the impacts of hydraulic fracturing across a wide-range of disciplines. While the database is most useful to researchers and decision makers, this database enables everyone to sign up for SkyTruth Alerts whenever new fracking chemical reports are uploaded to FracFocus.org.
2. Satellite Images Shows Heat From Chevron Drill Rig, Offshore Nigeria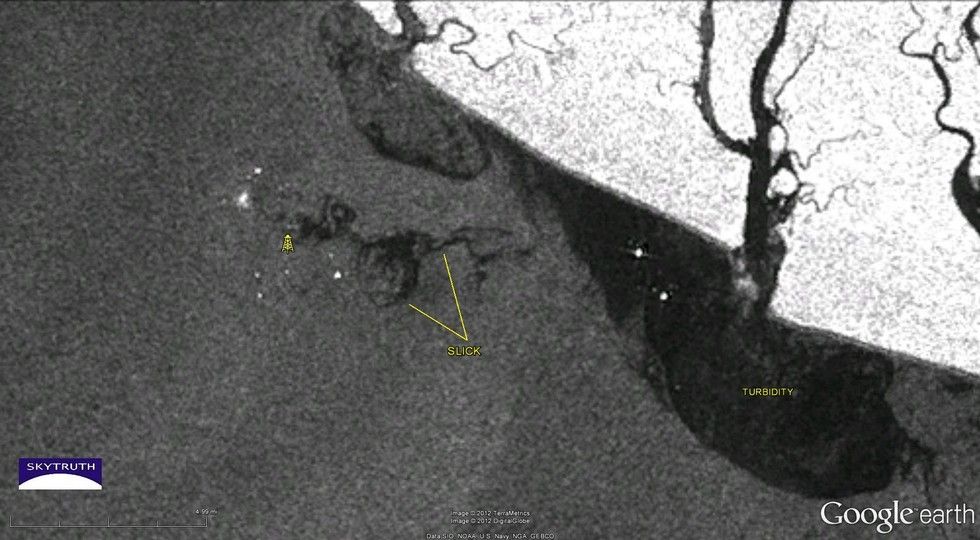 Our most popular posts  are usually related to pollution incidents, and the rig fire off the coast of Nigeria in January was no exception. While our report on the 20th of January (#4 on this list) had more detailed analysis of the incident, this preliminary post gained over 500 more views. Not only do we have the capacity for detailed tracking of environmental incidents, rapid access to satellite images allows us to respond quickly to breaking news. Unfortunately, one of our best resources, the European Space Agency's Envisat, unexpectedly went silent in April. We are looking forward to the launch of its replacement, Sentinel 1, sometime this coming year. 
1. Bakken Shale-Oil Drilling and Flaring Lights Up the Night Sky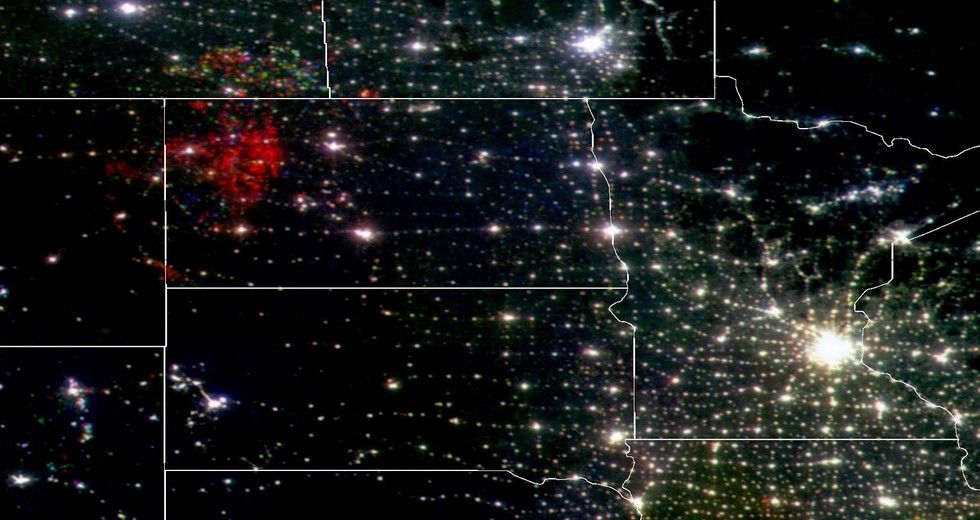 Our most viewed post of 2012 was nightime imagery of natural gas flaring in North Dakota's Bakken Oil Shale. Because the main focus of drilling in the Bakken is for highly profitable oil, most of the natural gas that's also being produced is flared off (burned) as a waste product. Much better options are to inject it back into the reservoir, or capture it for sale. After all, why are we drilling and fracking for natural gas in the Rockies and the mid-Atlantic, while we're just wasting it in North Dakota? Expect to see more from us on the issue of flaring in 2013 as we work with a new dataset of nighttime light detection from NASA.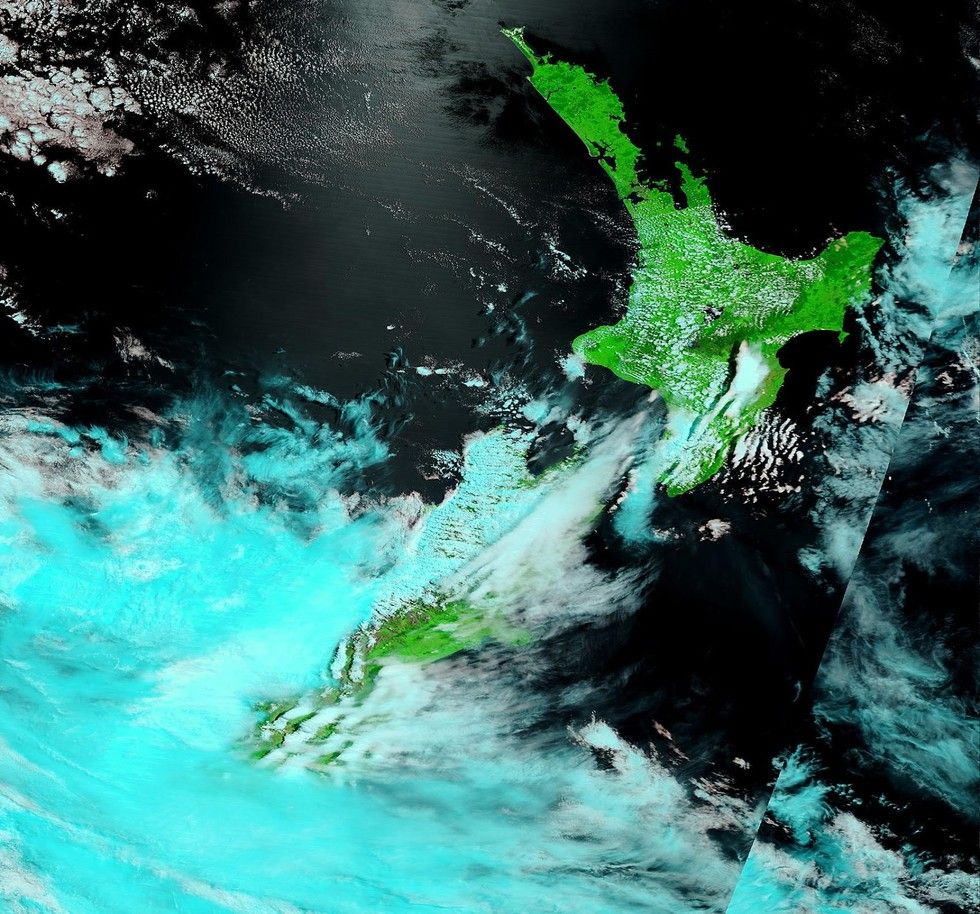 New Zealand: As seen in an infrared composite image taken by NASA's Terra Satellite less then five hours after they became the first major city to welcome 2013. Using resources just like this, we will continue to keep a vigilant eye on the earth for years to come. Source: NASA MODIS
In 2013, SkyTruth will continue to provide up-to-date information on pollution incidents and reveal the truth about the environmental impacts of large-footprint industrial activities such as mining, drilling, commercial fishing, etc. In all of this, we work to support scientifically credible research and policy decisions that will help us understand and manage our planet's natural resources in the best way possible.
Visit EcoWatch's ENERGY and FRACKING pages for more related news on this topic.
EcoWatch Daily Newsletter
EPA Administrator Andrew Wheeler signs the so-called Affordable Clean Energy rule on June 19, replacing the Obama-era Clean Power Plan that would have reduced coal-fired plant carbon emissions. U.S. Environmental Protection Agency / Twitter
By Elliott Negin
On July 8, President Trump hosted a White House event to unabashedly tout his truly abysmal environmental record. The following day, coincidentally, marked the one-year anniversary of Andrew Wheeler at the helm of the U.S. Environmental Protection Agency (EPA), first as acting administrator and then as administrator after the Senate confirmed him in late February.
A timber sale in the Kaibab National Forest. Dyan Bone / Forest Service / Southwestern Region / Kaibab National Forest
By Tara Lohan
If you're a lover of wilderness, wildlife, the American West and the public lands on which they all depend, then journalist Christopher Ketcham's new book is required — if depressing — reading.
Golde Wallingford submitted this photo of "Pure Joy" to EcoWatch's first photo contest. Golde Wallingford
EcoWatch is pleased to announce our third photo contest!

Somalians fight against hunger and lack of water due to drought as Turkish Ambassador to Somalia, Olgan Bekar (not seen) visits the a camp near the Mogadishu's rural side in Somalia on March 25, 2017. Sadak Mohamed / Anadolu Agency / Getty Images
World hunger is on the rise for the third consecutive year after decades of decline, a new United Nations (UN) report says. The climate crisis ranks alongside conflict as the top cause of food shortages that force more than 821 million people worldwide to experience chronic hunger. That number includes more than 150 million children whose growth is stunted due to a lack of food.
Eduardo Velev cools off in the spray of a fire hydrant during a heatwave on July 1, 2018 in Philadelphia. Jessica Kourkounis / Getty Images
By Adrienne L. Hollis
Because extreme heat is one of the deadliest weather hazards we currently face, Union of Concerned Scientist's Killer Heat Report for the U.S. is the most important document I have read. It is a veritable wake up call for all of us. It is timely, eye-opening, transparent and factual and it deals with the stark reality of our future if we do not make changes quickly (think yesterday). It is important to ensure that we all understand it. Here are 10 terms that really help drive home the messages in the heat report and help us understand the ramifications of inaction.
Senator Graham returns after playing a round of golf with Trump on Oct. 14, 2017 in Washington, DC. Ron Sachs – Pool / Getty Images
Lindsey Graham, the South Carolina Senate Republican who has been a close ally of Donald Trump, did not mince words last week on the climate crisis and what he thinks the president needs to do about it.
A small Bermuda cedar tree sits atop a rock overlooking the Atlantic Ocean. todaycouldbe / iStock / Getty Images Plus
By Marlene Cimons
Kyle Rosenblad was hiking a steep mountain on the island of Maui in the summer of 2015 when he noticed a ruggedly beautiful tree species scattered around the landscape. Curious, and wondering what they were, he took some photographs and showed them to a friend. They were Bermuda cedars, a species native to the island of Bermuda, first planted on Maui in the early 1900s.
krisanapong detraphiphat / Moment / Getty Images
By Grace Francese
You may know that many conventional oat cereals contain troubling amounts of the carcinogenic pesticide glyphosate. But another toxic pesticide may be contaminating your kids' breakfast. A new study by the Organic Center shows that almost 60 percent of the non-organic milk sampled contains residues of chlorpyrifos, a pesticide scientists say is unsafe at any concentration.