This website uses cookies to ensure you get the best experience while browsing it. By clicking 'Got It' you're accepting these terms.
Skyscraper-Size Ice Structures Discovered Beneath Greenland Ice Sheet
Jun. 16, 2014 12:42PM EST
Beneath the barren whiteness of Greenland, a mysterious world has popped into view. Using ice-penetrating radar, researchers have discovered ragged blocks of ice as tall as city skyscrapers and as wide as the island of Manhattan at the very bottom of the ice sheet, apparently formed as water beneath the ice refreezes and warps the surrounding ice upwards.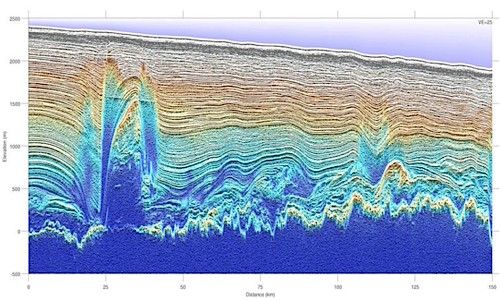 The newly revealed forms may help scientists understand more about how ice sheets behave and how they will respond to a warming climate. The results are published in the latest issue of Nature Geoscience.
"We see more of these features where the ice sheet starts to go fast," said the study's lead author, Robin Bell, a geophysicist at Columbia University's Lamont-Doherty Earth Observatory. "We think the refreezing process uplifts, distorts and warms the ice above, making it softer and easier to flow."
The structures cover about a tenth of northern Greenland, the researchers estimate, becoming bigger and more common as the ice sheet narrows into ice streams, or glaciers, headed for the sea. As meltwater at the bottom refreezes over hundreds to thousands of years, the researchers believe it radiates heat into the surrounding ice sheet, making it pick up its pace as the ice becomes softer and flows more easily.
Since the 1970s, and as recently as 1998, researchers flying over the region mistook radar images of these structures for hills. Newer instruments flown during NASA's IceBridge campaign to map ice loss at both poles found the hills to be made of ice instead of rock. Bell, who had discovered similar ice features at the base of the East Antarctic ice sheet, recognized them immediately.
While mapping Antarctica's ice-covered Gamburtsev Mountains in 2008 and 2009, Bell and colleagues discovered extensive melting and refreezing along ridges and steep valley walls of the range. Though researchers had long known that pressure and friction can melt the bottom of ice sheets, no one knew that refreezing water could deform the layer-cake structure above. In a 2011 study in Science, Bell and colleagues proposed that ice sheets can grow from the bottom up, not just from the top-down accumulation of falling snow.
The current study builds on the findings from Antarctica by linking the bottom features to faster ice sheet flow. The researchers looked at Petermann Glacier in the north of Greenland, which made headlines in 2010 when a 100-square mile chunk of ice slipped into the sea. They discovered that Petermann Glacier is sweeping a dozen large features with it toward the coast as it funnels off the ice sheet; one feature sits where satellite data has shown part of the glacier racing twice as fast as nearby ice. The researchers suggest that the refreeze process is influencing the glacier's advance hundreds of miles from where Petermann floats onto the sea.
"Overall, these observations suggest that basal freeze-on is a key control on the large-scale flow of Petermann Glacier, a possibility that has not been explored previously," writes University of Texas researcher Joseph MacGregor in the same issue of Nature Geoscience.
Greenland's glaciers appear to be moving more rapidly toward the sea as climate warms but it remains unclear how the refreeze process will influence this trend, the researchers said.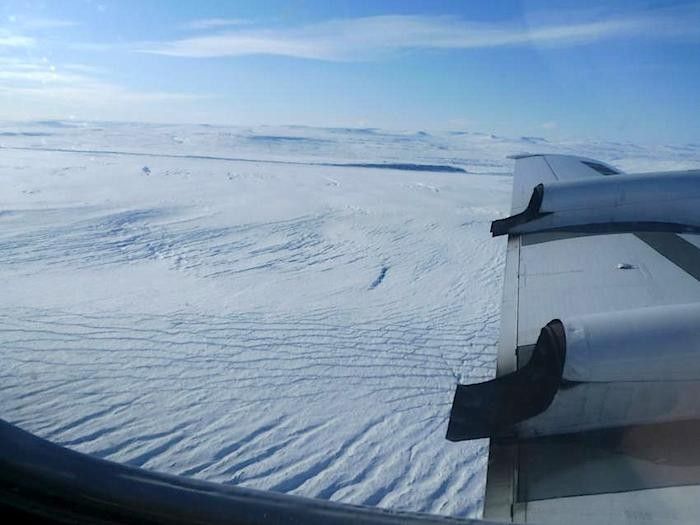 They expected to find bottom features in the ice sheet's interior, as they did in Antarctica, but did not expect to see features at the edges, where lakes form and rivers flow over the surface, they said. Water from those lakes and rivers appears to fall through crevasses and other holes in the ice to reach the base of the ice sheet, where some of it apparently refreezes. Their discovery indicates that refreezing and deformation at the base of the ice sheet may be far more widespread than previously thought. Bell and her colleagues believe that similar features may come to light as other parts of Greenland and Antarctica are studied in closer detail.
Flying over northern Greenland during the 2011 Ice Bridge season, Kirsty Tinto, a geophysicist at Lamont-Doherty, sat up straight when the radar images began to reveal a deformed layer-cake structure. "When you're flying over this flat, white landscape people almost fall asleep it's so boring—layer cake, layer cake, layer cake," said Tinto, a study coauthor. "But then suddenly these things appear on the screen. It's very exciting. You get a sense of these invisible processes happening underneath."
The study was funded by the U.S. National Science Foundation and NASA. Other authors: Indrani Das, Michael Wolovick, Winnie Chu, Timothy Creyts, Nicholas Frearson, Abdulhakim Abdi, all of Lamont-Doherty, and John Paden of University of Kansas.
EcoWatch Daily Newsletter
An Exxon station in Florida remains open despite losing its roof during Hurricane Katrina on Aug. 29, 2005. Florida Air National Guard photo by Master Sgt. Shaun Withers
The country's largest fossil fuel company goes on trial today to face charges that it lied to investors about the safety of its assets in the face of the climate crisis and potential legislation to fight it, as the AP reported.
El Niño's effect on Antarctica is seen in a tabular iceberg off of Thwaites ice shelf. Jeremy Harbeck / NASA
El Niños are getting stronger due to climate change, according to a new study in Monday's Proceedings of the National Academy of Sciences.
By Julia Ries
Antibiotic resistance has doubled in the last 20 years.
Additionally a new study found one patient developed resistance to a last resort antibiotic in a matter of weeks.
Health experts say antibiotic prescriptions should only be given when absolutely necessary in order to avoid growing resistance.
Over the past decade, antibiotic resistance has emerged as one of the greatest public health threats.
Pexels
There are hundreds of millions of acres of public land in the U.S., but not everyone has had the chance to hike in a national forest or picnic in a state park.
Workers attend to a rooftop solar panel project on May 14, 2017 in Wuhan, China. Kevin Frayer / Getty Images
By Simon Evans
Renewable sources of electricity are set for rapid growth over the next five years, which could see them match the output of the world's coal-fired power stations for the first time ever.

Firefighters work during a wildfire threatening nearby hillside homes in the Pacific Palisades neighborhood on Oct. 21 in Los Angeles. The fire scorched at least 30 acres and prompted mandatory evacuations. Mario Tama / Getty Images
A wildfire that broke out Monday near Los Angeles' wealthy Pacific Palisades area threatened around 200 homes and injured two people, CNN reported.
Justin Trudeau gives a speech following a victory in his Quebec riding of Papineau on Oct. 22.
CBC News / YouTube screenshot
Pharmaceutical giant Johnson & Johnson recalled 33,000 bottles of baby powder on Friday after the U.S. Food and Drug Administration (FDA) found trace amounts of asbestos in one of its bottles.