Fracking
Nov. 21, 2013 12:59PM EST
Six-State Study Confirms Job Numbers Exaggerated by Fracking Industry
Drilling in the six states that span the Marcellus and Utica Shale formations has produced far fewer new jobs than the industry and its supporters claim, according to a report released today by the Multi-State Shale Research Collaborative, a group of state-level research organizations tracking the impacts of shale drilling.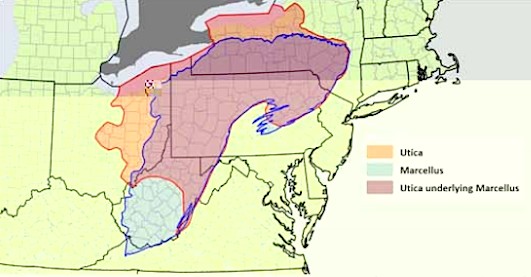 "Industry supporters have exaggerated the jobs impact in order to minimize or avoid altogether taxation, regulation and even careful examination of shale drilling," said Frank Mauro, executive director of the Fiscal Policy Institute in New York.
Shale drilling has created jobs, particularly in Pennsylvania and West Virginia, and cushioned some drilling-intensive areas in those states from the worst effects of the Great Recession and the weak recovery. As this report documents, however, the number of shale jobs created is far below industry claims and remains a small share of overall employment.
"This report shows very few shale-related jobs created in Ohio," said Amanda Woodrum, energy researcher at Policy Matters Ohio. "If Pennsylvania and West Virginia are indicators of what we can expect in Ohio, employment in Ohio's shale industry will continue to be very modest."
The Marcellus and Utica shale formations span six states: New York, Ohio, Pennsylvania, West Virginia, Maryland and Virginia. Natural gas development in these six states was fueled by high commodity prices from 2000 to 2008. As prices have declined more recently, gas drilling activity has slowed while development of higher-priced oil has accelerated.
"Shale drilling has made little difference in job growth in any of the six states we studied," said Stephen Herzenberg, executive director of the Keystone Research Center in Pennsylvania. "We know this because we now have data on what happened, not what industry supporters hoped would happen."
Recent trends are consistent with the boom and bust pattern that has characterized extractive industries for decades. It also points to the need for state and local policymakers to collaborate to enact policies that serve the public interest.
"West Virginia, Pennsylvania and Ohio have a long history with the 'resource curse' of coal and oil extraction that has provided wealth for a few but left a legacy of environmental degradation and poverty in their wake," said Herzenberg. "Pennsylvania and its neighbors must not repeat the mistakes of the past."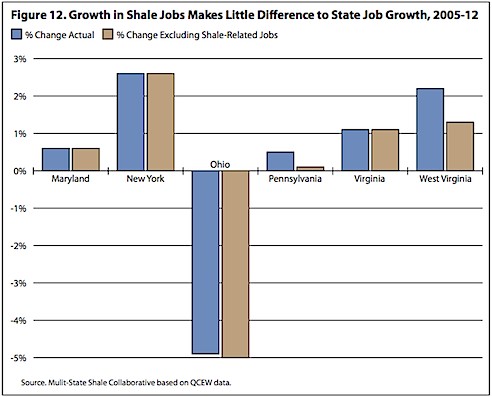 Key findings from the new report include:
While shale-related employment growth has made a positive contribution to job growth, the number of jobs created is far below industry claims and remains a small share of overall employment in the region.

Between 2005 and 2012, fewer than four new direct shale-related jobs have been created for each new well drilled, much less than estimates as high as 31 direct jobs per well in some industry-financed studies.
Region-wide, shale-related employment accounts for just one out of every 795 jobs. By contrast, education and health sectors account for one out of every six jobs.
Job growth in the industry has been greatest (as a share of total employment) in West Virginia. Still, shale-related employment is less than one percent of total West Virginia employment and less than half a percent of total employment in all the other states.

Many of the core extraction jobs existed before the emergence of hydrofracking.

Together, Pennsylvania, Ohio and West Virginia had 38 percent of all producing wells in the country in 1990 and 32 percent in 2000.
Some counties with a long history of mineral extraction have experienced a shift in employment from coal to shale extraction.

Industry employment projections have been overstated.

Some industry supporters have equated "new hires" with "new jobs" and attributed ancillary job figures to shale drilling even when they have nothing to do with drilling.
Industry-funded studies have used questionable assumption in economic modeling to inflate the number of jobs created in related supply chain industries (indirect jobs) as well as those created by the spending of income earned from the industry or its suppliers (induced jobs).

Drilling is highly sensitive to price fluctuations, which means that job gains may not be lasting.

In some counties, employment gains have been reversed as drilling activity shifted to more lucrative oil shale fields in Ohio and North Dakota.
Direct shale-related employment across the six-state Marcellus/Utica region fell over the last 12 months for which there are data—the first quarter 2012 to the first quarter 2013.
"While shale development has been important to West Virginia's ongoing economic recovery, it is less than one percent of the state's employment mix," said Ted Boettner, executive director of the West Virginia Center on Budget & Policy. "This means policymakers need to make the important public investments in higher education and workforce development that will diversify our economy and make it stronger over the long-term."
"To paraphrase John Kennedy, policymakers approaching shale issues should 'ask not what you can do for your gas company, ask what you can do for your state,'" said Mauro
Visit EcoWatch's FRACKING page for more related news on this topic.

Werner Baumann (left), CEO of Bayer AG, and Hugh Grant, chairman and CEO of Monsanto. Bayer
The European Commission, the European Union's executive arm, announced Tuesday it has opened an in-depth investigation into Bayer's proposed $66 billion takeover of Monsanto over "concerns that the merger may reduce competition in areas such as pesticides, seeds and traits."

The controversial merger, if successful, will form the world's largest integrated seed and pesticide company.
Keep reading...
Show less
www.youtube.com
U.S. Environmental Protection Agency (EPA) administrator Scott Pruitt appears in a video sponsored by the beef industry calling on farmers and ranchers to file official comments on a proposal to withdraw and rewrite the Obama-era "Waters of the United States" rule (or WOTUS) before the Aug. 28 deadline.
The National Cattlemen's Beef Association (NCBA) video was produced by the beef lobbying organization's policy division, Beltway Beef and was released last week. Notably, NCBA spent $117,375 in lobbying last year.
Keep reading...
Show less
Two years ago, Stanford University professor Mark Jacobson and his collaborators published a widely circulated study that detailed how the U.S. can eliminate nuclear, biofuels and fossil fuels and transition to 100 percent renewable energy by 2050.
Now, in a paper published Wednesday in the new scientific journal Joule, Jacobson and 26 co-authors created clean energy roadmaps not just for the 50 United States, but for 139 individual countries.

Keep reading...
Show less
Subtitle removed and sidebar altered on federal health website. EDGI
The effects of climate change is inextricably linked to human health. The burning of fossil fuels releases carbon dioxide and other greenhouse gases that traps heat in the atmosphere, causing global temperatures to spike, air quality to worsen, all while fueling droughts, floods and storms that impact food and water security.
Climate change is making us sick in many ways, but it appears that the Trump administration trying to downplay this fact.
Keep reading...
Show less
Pax Ahimsa Gethen / Wikimedia Commons
By Steve Horn
Energy Transfer Partners, owner of the Dakota Access pipeline, has filed a $300 million Racketeer Influenced and Corrupt Organizations (RICO) lawsuit against Greenpeace and other environmental groups for their activism against the long-contested North Dakota-to-Illinois project.
In its 187-page complaint, Energy Transfer alleges that "putative not-for-profits and rogue eco-terrorist groups who employ patterns of criminal activity and campaigns of misinformation to target legitimate companies and industries with fabricated environmental claims and other purported misconduct" caused the company to lose "billions of dollars."
Keep reading...
Show less
ExxonMobil misled the public on what it knew about climate change and its link to fossil fuels, according to a groundbreaking new analysis of the company's internal and external communications.
In a study published Tuesday in the journal Environmental Research Letters, Harvard postdoctoral fellow Geoffrey Supran and professor Naomi Oreskes reviewed nearly 200 communications on climate change from the oil giant, including scientific research, internal company memos and paid editorial features in the New York Times.
Keep reading...
Show less
Energy
Aug. 22, 2017 12:55PM EST
Tallahassee Democrat / Twitter
The U.S. District Court of Appeals ruled 2-1 Tuesday saying that the Federal Environmental Energy Regulatory Commission (FERC) failed to adequately review the environmental impacts of the greenhouse gas (GHG) emissions of the fracked gas Sabal Trail pipeline, which runs more than 500 miles through Alabama, Georgia and Florida.
Keep reading...
Show less
Offshore Staghorn coral nursery. Rescue-A-Reef, UM Rosenstiel School of Marine and Atmospheric Science
As ocean waters warm and acidify, corals across the globe are disappearing. Desperate to prevent the demise of these vital ecosystems, researchers have developed ways to "garden" corals, buying the oceans some much-needed time. University of Miami Rosenstiel School marine biologist Diego Lirman sat down with Josh Chamot of Nexus Media to describe the process and explain what's at stake. This interview has been edited for length and clarity.
Keep reading...
Show less


Get EcoWatch in your inbox