This website uses cookies to ensure you get the best experience while browsing it. By clicking 'Got It' you're accepting these terms.
Sinking Barge Imperils Florida Deep Sea Coral
Nov. 10, 2011 11:56AM EST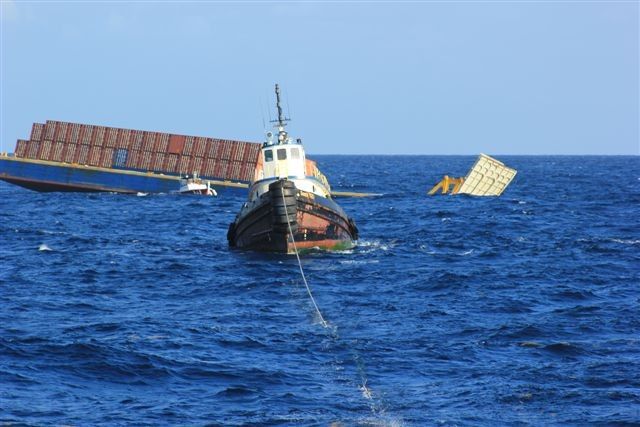 Oceana, the largest international advocacy group working solely to protect the world's oceans, expressed deep concern Nov. 10 about a sinking barge as long as a city block, Sante Pax, offshore of Miami, Fla. While Oceana is thankful that the entire crew is now safely on land, it is questioning what can be done to minimize the impacts it will have on a recently protected deep sea coral reef.
"It is horrifying to think about this giant barge and the dozens of shipping containers it was carrying crushing these century-old corals," said Margot Stiles, a marine scientist at Oceana who has been working for several years to protect these sensitive corals. "The U.S. government must do everything it can to limit the damage and require the responsible parties to pay for the clean-up."
In June of 2010, the South Atlantic Fishery Management Council, which is responsible for ocean management throughout the Southeast, approved a measure to protect more than 23,000 square miles of known deep sea corals ranging from North Carolina to Florida, including hundreds of pinnacles up to 500 feet tall. The protection closed this area to bottom trawls and other destructive fishing gear, which threatened the reef. Although current regulations prevent any anchor, net or dredge from touching the coral, the Sante Pax is likely to land directly on top of the largest known continuous deep sea coral reef in the country.
"We urge the involved parties to salvage all materials possible," said Stiles. "Now that the crew is rescued, we must begin to worry about the long-term impacts this event will have."
Containers weighing at least 5,000 lbs. each have been falling off the ship since it lost power and began drifting through the area more than a week ago.
This reef is built by several species of coral that have been documented by scientists since the 1970s using submarines and undersea robots. Fishermen catch plentiful golden crabs and royal red shrimp in the area, animals that use the reef as a nursery and feeding ground. Recent reports suggest the ship is currently sinking near two of the most important sites within the protected area, where commercially valuable wreckfish gather in large numbers to spawn.
For more information, click here.
EcoWatch Daily Newsletter
By Anita Desikan
The Trump administration is routinely undermining your ability — and mine, and everyone else's in this country — to exercise our democratic rights to provide input on the administration's proposed actions through the public comment process. Public comments are just what they sound like: an opportunity for anyone in the public, both individuals and organizations, to submit a comment on a proposed rule that federal agencies are required by law to read and take into account. Public comments can raise the profile of an issue, can help amplify the voices of affected communities, and can show policymakers whether a proposal has broad support or is wildly unpopular.
Alena Gamm / EyeEm / Getty Images
Picture this: a world where chocolate is as rare as gold. No more five-dollar bags of candy on Halloween. No more boxes of truffles on Valentine's day. No more roasting s'mores by the campfire. No more hot chocolate on a cold winter's day.
Who wants to live in a world like that?
Fabian Krause / EyeEm / Getty Images
Water protectors of all persuasions gathered in talking circles at Borderland Ranch in Pe'Sla, the heart of the sacred Black Hills, during the first Sovereign Sisters Gathering. At the center are Cheryl Angel in red and white and on her left, Lyla June. Tracy Barnett
By Tracy L. Barnett
Sources reviewed this article for accuracy.
For Sicangu Lakota water protector Cheryl Angel, Standing Rock helped her define what she stands against: an economy rooted in extraction of resources and exploitation of people and planet. It wasn't until she'd had some distance that the vision of what she stands for came into focus.
Hedges, 2019 © Hugh Hayden. All photos courtesy of Lisson Gallery
By Patrick Rogers
"I'm really into trees," said the sculptor Hugh Hayden. "I'm drawn to plants."
BruceBlock / iStock / Getty Images
Thanks to their high concentration of powerful plant compounds, foods with a natural purple hue offer a wide array of health benefits.