Silence Is Not Golden in the Face of Greatest Moral Challenge of Our Time
Often when I was a child, I heard the words silence is golden. Silence can be golden when listening to God in prayer or seeking clarity from trusted friends. However, silence is not golden when something needs to be said and it never is. In such circumstances I am not very good with silence. Speaking what I knew to be true prepared me for becoming an evangelical preacher, after spending 14 years in the coal industry. Silence is not golden is when you have a request from more than 60,000 constituents asking you to take action on climate change. Recently, I delivered the names of more than 60,000 Floridians to Governor Scott asking him to lead the state of Florida to address climate change, but at the moment, his only answer is silence.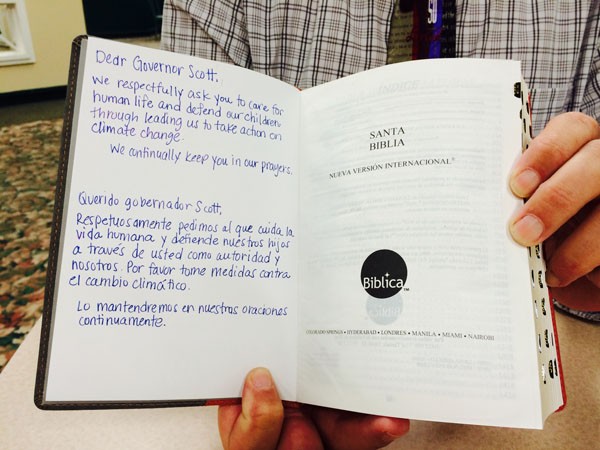 After three weeks of back and forth with the Governor's staff, I finally delivered the request of those 60,000 plus Floridians to the Governor's office in Tallahassee. Governor Scott knew I was coming. First, I was denied the meeting and told to contact my Florida legislator, then after pointing out that I wasn't a Florida resident, I was informed that a meeting would be granted, and then almost two weeks ago, the Governor's general counsel's sent me an email making it clear that Governor Scott was too busy to grant my request.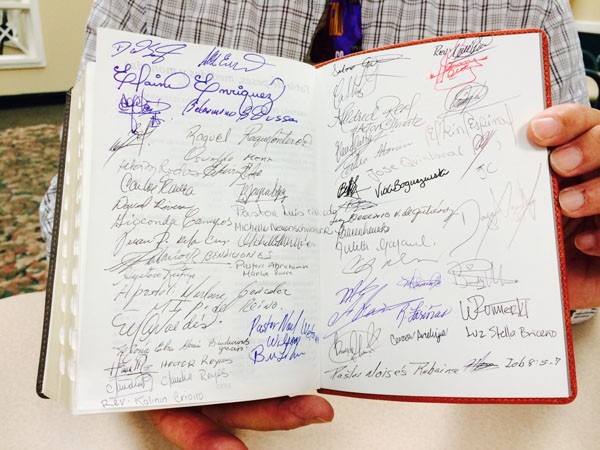 So to insure Governor Scott received the request from more than 60,000 pro-life Christians, I delivered them directly to his office but still silence. I know that I am not from Florida, but one of my Christian heroes, John Wesley, once stated, "The world is my parish." As a minister, I will travel anywhere to defend the lives and future of God's children. And God's children are already being threatened in Florida. Saltwater already spoils pure drinking water, sea level rise costs tax dollars and vector borne diseases are increasing. Someone needs to speak out to protect our children and these 60,000 Floridians equally distributed across the state empowered me to communicate on their behalf.
Maybe Governor Scott is waiting until after his Tuesday meeting with Florida scientists to speak. That certainly would be a wise course of action. I pray Governor Scott's silence is the sort where he is taking time to seek the Lord in wisdom and not politics as usual. Addressing climate change and the scientific consensus that humans are causing it by our fossil fuel use will require all America to unite. As I have stated many times, climate change is the greatest moral challenge of our time, it's not political. Making a plan to defend our children and lead them to a brighter economic future with healthier lives is not something one political party can solve or even one governor.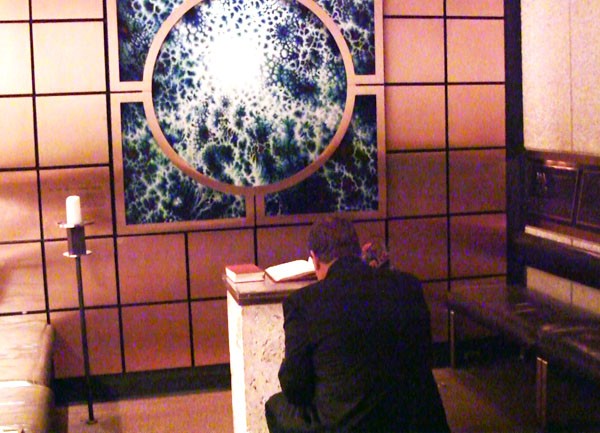 Solving the climate crisis requires government, business and all of us to work together under the leadership of our Risen Lord, Jesus. Jesus once told us that nothing is impossible with God. However following Jesus' leadership and understanding that caring for God's creation is an act of discipleship requires action, not simply silence or ignoring the facts.
Governor Scott, now is the time to act and lead Florida. Your silence isn't golden, but a slight to the Florida citizens who share your same faith. They deserve the Golden Rule, "So in everything, do to others what you would have them do to you, for this sums up the Law and the Prophets." (Matthew 7:12 NIV)
YOU ALSO MIGHT LIKE
Pacific Ocean Warming at Fastest Rate in 10,000 Years
Study Finds Ocean Warming Is Largely Man-Made
www.youtube.com
Volkswagen is bringing back its hippie-approved minivan but with a 21st century upgrade—the new I.D. Buzz is all-electric.
The concept car was first revealed at the Detroit Auto Show in January and now the German automaker is officially putting its reinvigorated Microbus into production.
Keep reading...
Show less
I have asked repeatedly to have my short interview clip removed from this film. The director refuses. He believes his film is fair and balanced. I do not.

I am often interviewed (see media) and hardly ever quoted incorrectly or out of context. This film is one of those rare exceptions.
Keep reading...
Show less
Top of JPMorgan Chase Tower, Dallas, Texas. Joe Mabel / Wikimedia
Keep reading...
Show less
Cupping symptoms associated with dicamba damage on a cucumber plant. University of Arkansas.
Arkansas farmers filed a class-action lawsuit last week against Monsanto and German chemical company BASF, alleging that the companies' dicamba-based herbicides caused damage to their properties.
The plaintiffs claim that Monsanto and BASF implemented and controlled the dicamba crop system, releasing seed technology without a corresponding, safe and approved herbicide.
Keep reading...
Show less
Cup and bubblegum corals found in Northeast U.S. Canyons, the Atlantic's first marine monument. NOAA
Interior Sec. Ryan Zinke, who recently recommended a reduction in the size of the 1.35 million acre Bears Ears National Monument to President Trump, is advocating for more drilling and mining on public lands and waters.
The former Montana Rep. told Reuters that the development of America's protected federal lands could help the country become a "dominant" global energy force.
Keep reading...
Show less
Gage Skidmore / Flickr (CC BY-SA 2.0)
Dozens of scientists on the U.S. Environmental Protection Agency's (EPA) Board of Scientific Counselors and board subcommittees have been informed that they will not be renewed for their roles advising the agency, the Washington Post reported.
Keep reading...
Show less
www.youtube.com
Worried about the future of the Great Barrier Reef? If so, you're not alone.
Many publications have already written obituaries for the reef, despite the fact that it is not completely dead. Thanks to this video via Vox for sounding the alarm on this critical issue, before it's too late.
Keep reading...
Show less
Mike Mozart
By Olga V. Naidenko, Ph.D.
In a landmark rule with global repercussions, California state scientists are preparing to issue the world's first health guideline for Monsanto's glyphosate herbicide based on its cancer risk. The state's proposed safe level is more than 100 times lower than the U.S. Environmental Protection Agency's (EPA) legal allowance for the average-sized American.
Keep reading...
Show less
www.youtube.com
By Bob Henson
A high risk of life-threatening flooding continues on Wednesday over parts of the central Gulf Coast as Tropical Storm Cindy lumbers toward shore. The greatest flood threat will be across low-lying areas of far southern Mississippi and Alabama, according to the NWS/NOAA Weather Prediction Center. A second area with a moderate flood risk lies across far southeast Texas and southwest Louisiana.
Keep reading...
Show less