This website uses cookies to ensure you get the best experience while browsing it. By clicking 'Got It' you're accepting these terms.
Sierra Club Files Lawsuit Against Michigan For Granting Permit to State's 'Worst Polluter'
Jul. 21, 2014 03:59PM EST
Already known as one of Michigan's worst air polluters, you could could argue that Severstal Inc. is the last company that needs a permit to emit more toxins.
But Michigan's Department of Environmental Quality (DEQ) did just that in May, which prompted the Sierra Club and three other petitioners to file a lawsuit Monday in Wayne County Circuit Court. The groups want the court to strike down the Dearborn steel company's permit, citing federal Clean Air Act provisions and actions allowing a state business-promoting agency to intervene with environmental regulators involved in a permit decision.
The permit allows Severstal to release more than 725 times more lead into the air from one portion of the company's plant, compared to the original permit from 2006, the Detroit Free Press reported prior to the approval. The new permit lets the company pollute at levels already cited more than 30 times in clean air enforcement actions by the DEQ, according to the Sierra Club.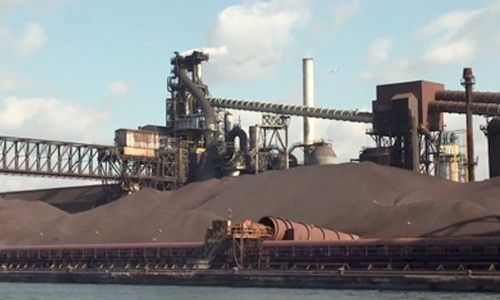 "The decision to grant this permit to pollute violates the Clean Air Act and means families living in Dearborn and Detroit will be breathing more toxic air for years to come," Rhonda Anderson, the Sierra Club's senior Detroit organizer, said in a statement.
The South Dearborn Environmental Improvement Association, Detroiters Working for Environmental Justice and the Original United Citizens of Southwest Detroit also field the suit. Coincidentally, the groups filed the suit the same day that West Chester, OH-based AK Steel bought Severstal for $700 million. That didn't take any eyes off the permit, though.
"It's outrageous and just wrong to put a corporate polluter's interest ahead of public health," Tyrone Carter, president of the Original United Citizens of Southwest Detroit, said. "There are kids growing up and going to school within sight of this plant who deserve and have a right to be protected from harmful pollution by a company that makes millions of dollars in profits but won't be required to comply with clean air laws."
A 90-day review of emissions from a Severstal smokestack two years ago revealed 1,660 violations of state and federal regulations for smoke opacity, which is a measure of particle levels in the smoke. Still, the company received the permit shortly after a visit from Gov. Rick Snyder, in which some alleged the governor received a Russian vase and a $1,000 contribution from Severstal's top North American official. The chair of the state's Democratic party deemed the permit "backdoor politics at its worst," while Rhonda Anderson of the Sierra Club said it was "an embarrassment" for the state.
"We are doing this for our kids and our grandkids," said South Dearborn Environmental Improvement Association board member Abdo Bapacker. "Many families in the South End are sick from breathing polluted air."
EcoWatch Daily Newsletter
Artist's conception of solar islands in the open ocean. PNAS
Millions of solar panels clustered together to form an island could convert carbon dioxide in seawater into methanol, which can fuel airplanes and trucks, according to new research from Norway and Switzerland and published in the Proceedings of the National Academy of Sciences journal, PNAS, as NBC News reported. The floating islands could drastically reduce greenhouse gas emissions and dependence on fossil fuels.
Marcos Alves / Moment Open / Getty Images
More than 40 percent of insects could go extinct globally in the next few decades. So why did the U.S. Environmental Protection Agency (EPA) last week ok the 'emergency' use of the bee-killing pesticide sulfoxaflor on 13.9 million acres?
EcoWatch teamed up with Center for Biological Diversity via EcoWatch Live on Facebook to find out why. Environmental Health Director and Senior Attorney Lori Ann Burd explained how there is a loophole in the The Federal Insecticide, Fungicide, and Rodenticide Act under section 18, "that allows for entities and states to request emergency exemptions to spraying pesticides where they otherwise wouldn't be allowed to spray."
Simple swaps that cut down on kitchen trash.
Sponsored
By Kayla Robbins
Along with the bathroom, the kitchen is one of the most daunting areas to try and make zero waste.
View of downtown Miami, Florida from Hobie Island on Feb. 2, 2019.
Michael Muraz / Flickr
The Democratic candidates for president descended upon Miami for a two-night debate on Wednesday and Thursday. Any candidate hoping to carry the state will have to make the climate crisis central to their campaign, as The New York Times reported.
By Sharon Kelly
On Monday, the Wall Street Journal featured a profile of Scott Sheffield, CEO of Pioneer Natural Resources, whose company is known among investors for its emphasis on drawing oil and gas from the Permian basin in Texas using horizontal drilling and hydraulic fracturing, or fracking.
Pexels
By Craig K. Chandler
The federal government has available to it, should it choose to use them, a wide range of potential climate change management tools, going well beyond the traditional pollution control regulatory options. And, in some cases (not all), without new legislative authorization.
Denis Poroy / Getty Images
By Dan Gray
Processed foods, in their many delicious forms, are an American favorite.
But new research shows that despite increasing evidence on just how unhealthy processed foods are, Americans have continued to eat the products at the same rate.
By Sarah Steffen
With a profound understanding of their environmental surroundings, indigenous communities around the world are often cited as being pivotal to tackling climate change.