Sierra Club Endorses Hillary Clinton
Today, the Sierra Club endorsed Hillary Clinton for President of the United State. Now, we will work our hearts out to make sure she wins the White House in November and defeats climate science denier and all-around bigot Donald Trump.
Our decision is the result of a grassroots-driven process that started with our 2.4 million members and supporters, culminating in a vote of the Sierra Club's all-volunteer board of directors. Our choice is rooted in the fact that this is the most important election for the climate and for our environment, in our lifetimes.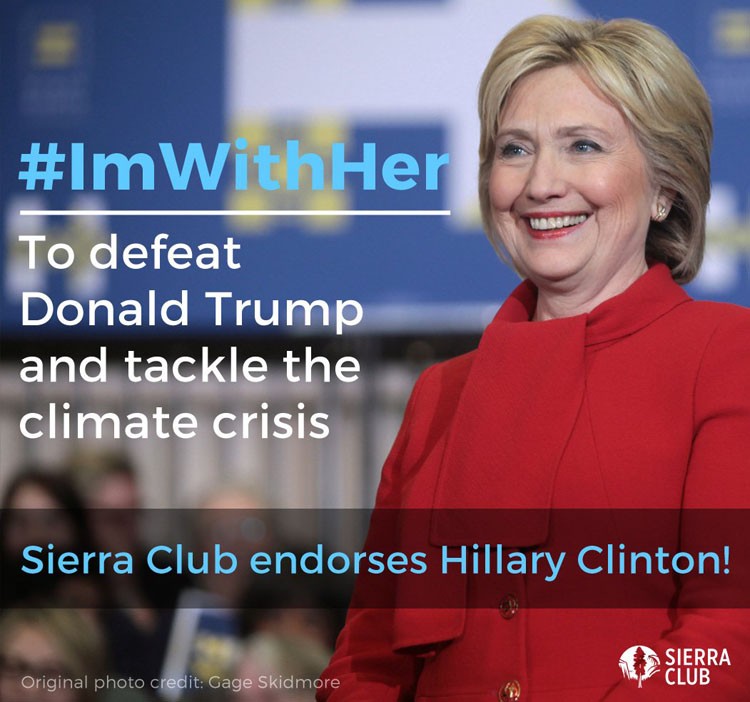 We have never been in more need of an environmental champion as president and, when you consider the records of the two candidates this general election, it's clear the stakes could not be higher. With Hillary Clinton on the ballot in November, we have a champion who has demonstrated that she is listening to the voices of Sierra Club members and so many others across the country who want to protect our clean air and water and are clamoring for more clean energy and climate action.
Clinton has committed to opposing the toxic Trans Pacific Partnership, preventing dangerous drilling in the Arctic and Atlantic oceans and the extraction of fossil fuels on public lands. She has a strong plan to tackle the climate crisis and build on the progress we've already made by installing 500 million solar panels, generating enough renewable energy to power every home in America and increasing our national carbon reduction goals to expand on the policies, legacy and progress of President Obama. Further, she has released detailed plans to fight for environmental justice and ensure conservation of America's national parks, forests and other public lands.
On the other hand, Donald Trump has ignored scientific fact, the international community and huge majorities of American voters by calling the climate crisis "a hoax" He's pledged to destroy the U.S. Environmental Protection Agency (EPA) and scrap all of the common-sense safeguards that protect our air, our water and our communities from toxic pollution. He even has said he'd push for more tax subsidies for the biggest oil companies in the world.
Electing Trump would be historic for all the wrong reasons. But electing Clinton would be historic for all the right reasons. I know that I, like so many other women across the country, can't wait to say "Madam President."
The Sierra Club made the decision to support Clinton now, the earliest we have ever endorsed in a presidential contest, because we simply cannot afford to wait a minute longer to start organizing, mobilizing and getting out the word about just how high the stakes are in 2016.
Make no mistake: It's important to recognize that this Democratic Primary had the most robust conversation about climate action and clean energy that we've ever seen and that's thanks in large part to Sen. Bernie Sanders and his supporters, who are among the strongest and most passionate advocates we have. Sanders connected with so many who are frustrated with big corporate polluters pushing their agenda and pushing over the American people's demands for clean air, clean water and climate action now. The fact that the Democratic candidates have had such a vigorous debate about climate stands in stark contrast to the utter lack of any such conversation at all on the Republican side.
Under President Obama, our nation has made historic progress in leading the world to reach a universal climate accord in Paris, while acting decisively to rein in carbon pollution here at home. Moving forward, it's clear that Clinton is the candidate who will build on this legacy. Clinton played a key role in building early momentum for the Paris accord by appointing the first Special Envoy for Climate Change, securing commitments of $100 million in climate finance for poorer nations from developed countries and forming the international Climate and Clean Air Coalition to reduce super-warming pollutants like methane.
Meanwhile, if Donald Trump were to be elected president, he has made clear he will do everything in his power to drag us backwards with his dangerous promise to "cancel" the Paris agreement and his radical proposal to eliminate the EPA entirely. When combined with his dangerous and despicable policies and comments about women, immigrants, Muslims, Mexicans, the disabled and so many other Americans, it's clear Trump's extremism is out of sync with our nation and has no place in the White House.
Now, with the choice so clear but the results far from certain, we must all come together and get behind the one candidate who can keep our climate action progress moving forward and protect clean air and clean water: Hillary Clinton. As the Republican nominee, there is a very real chance that Donald Trump could win this election. So let's join together to build on President Obama's climate legacy, stop a climate denier in his tracks and achieve a historic victory for the climate by electing Hillary Clinton this November.
Allison Chin is a member of the Sierra Club board of directors and past president of the board.
YOU MIGHT ALSO LIKE
Solar Added More New Capacity Than Coal, Natural Gas and Nuclear Combined
Stephen Hawking: One Thing Threatens Us More Than Donald Trump … Climate Change
5 Things You Need to Know About Donald Trump's Pitiful Plan for the Planet
India's Prime Minister Modi Joins Obama in Redoubling Pledge to Act on Climate Change
By Itai Vardi
A recent intensification in protests against Williams Partners' planned Atlantic Sunrise pipeline in Pennsylvania prompted a state senator to propose legislation aimed at limiting demonstrations.
Last month, Pennsylvania Sen. Scott Martin (R-Norman) announced his intention to introduce legislation that would pass the costs of law enforcement responding to protests onto the demonstrators. Martin also helped introduce a different bill that would criminalize protests at natural gas facilities.
Keep reading...
Show less
Black Shogun / iStock
The Federal Energy Regulatory Commission (FERC) released its Final Environmental Impact Statement Friday for the Mountain Valley Pipeline, a controversial 303-mile pipeline that would carry two billion cubic feet of fracked gas per day from West Virginia through Virginia.
Keep reading...
Show less
Falcon PEV
The so-called "first and last mile" problem is one of the biggest hurdles with public transportation. How do you encourage more people to take Earth-friendlier commutes when their homes are miles away from the train or bus station?
One solution, as this Estonian electric scooter company proposes, is to simply take your commute with you—literally. Tallinn-based Stigo has developed a compact e-scooter that folds to the size of a rolling suitcase in about two seconds.
Keep reading...
Show less
Connect4Climate
[Editor's note: I'm still in shock after hearing the news that Lucia Grenna passed away in her sleep last week. When we first met in April of 2014 at a Copenhagen hotel, I was immediately taken by here powerful presence. We spent the next couple days participating in a Sustainia climate change event where Lucia presented her audacious plans to connect people to the climate issue. I had the chance to partner with Lucia on several other projects throughout the years and work with her incredible Connect4Climate team. I was always in awe of her ability to "make the impossible possible." Her spirit will live on forever. — Stefanie Spear]
It is with a heavy heart that Connect4Climate announces the passing of its founder and leading light, Lucia Grenna. Lucia passed peacefully in her sleep on June 15, well before her time. We remember her for her leadership and extraordinary ability to motivate people to take on some of the greatest challenges of our time, not least climate change.
Keep reading...
Show less
Jun. 23, 2017 07:29PM EST
Wikimedia Commons
By Stacy Malkan
Neil deGrasse Tyson has inspired millions of people to care about science and imagine themselves as participants in the scientific process. What a hopeful sign it is to see young girls wearing t-shirts emblazoned with the words, "Forget princess, I want to be an astrophysicist."
Keep reading...
Show less
Jun. 23, 2017 01:57PM EST
www.youtube.com
By Andy Rowell
Any day now we will truly witness climate change in action. Within days at worst, maybe weeks at best, scientists predict that a huge section of the Larsen C ice shelf in Antarctica will break off into the ocean, in what is called a major "carving" event.
Keep reading...
Show less
Jun. 23, 2017 02:27PM EST
www.youtube.com
President Trump visited Cedar Rapids, Iowa on June 21 to speak to a large crowd in the U.S. Cellular Center at a political rally organized by his campaign.
As Trevor Noah noted during The Daily Show episode last night (starts at 2:25), the real reason Trump has these rallies is to "get back in front of his loyal crowds and feed of their energy." Noah believes that "Trump supporters are so on board with their dude he can say anything and they'll come along for the ride."
Keep reading...
Show less
Jun. 23, 2017 07:50PM EST
The Kamuthi solar plant in the southern Indian state of Tamil Nadu.
The rapid growth in renewable energy continues to put a dent in the demand for coal.
Coal India, the world's biggest coal mining company and producer of 82 percent of the country's coal, announced the closure of 37 mines that are financially "unviable."
Keep reading...
Show less
Jun. 23, 2017 06:42PM EST
www.youtube.com
By Katie O'Reilly
Two years ago—long before coal became one of the most dominant and controversial symbols of the 2016 presidential election—Bloomberg Philanthropies approached production company RadicalMedia with the idea of creating a documentary exploring the U.S. coal mining industry. Last spring, they brought on Emmy-nominated director Michael Bonfiglio, tasked with forging a compelling story out of the multitudes of facts, statistics and narratives underlying the declining industry.
Keep reading...
Show less