This website uses cookies to ensure you get the best experience while browsing it. By clicking 'Got It' you're accepting these terms.
Sierra Club Endorses Hillary Clinton
Jun. 09, 2016 11:34AM EST
Climate
Today, the Sierra Club endorsed Hillary Clinton for President of the United State. Now, we will work our hearts out to make sure she wins the White House in November and defeats climate science denier and all-around bigot Donald Trump.
Our decision is the result of a grassroots-driven process that started with our 2.4 million members and supporters, culminating in a vote of the Sierra Club's all-volunteer board of directors. Our choice is rooted in the fact that this is the most important election for the climate and for our environment, in our lifetimes.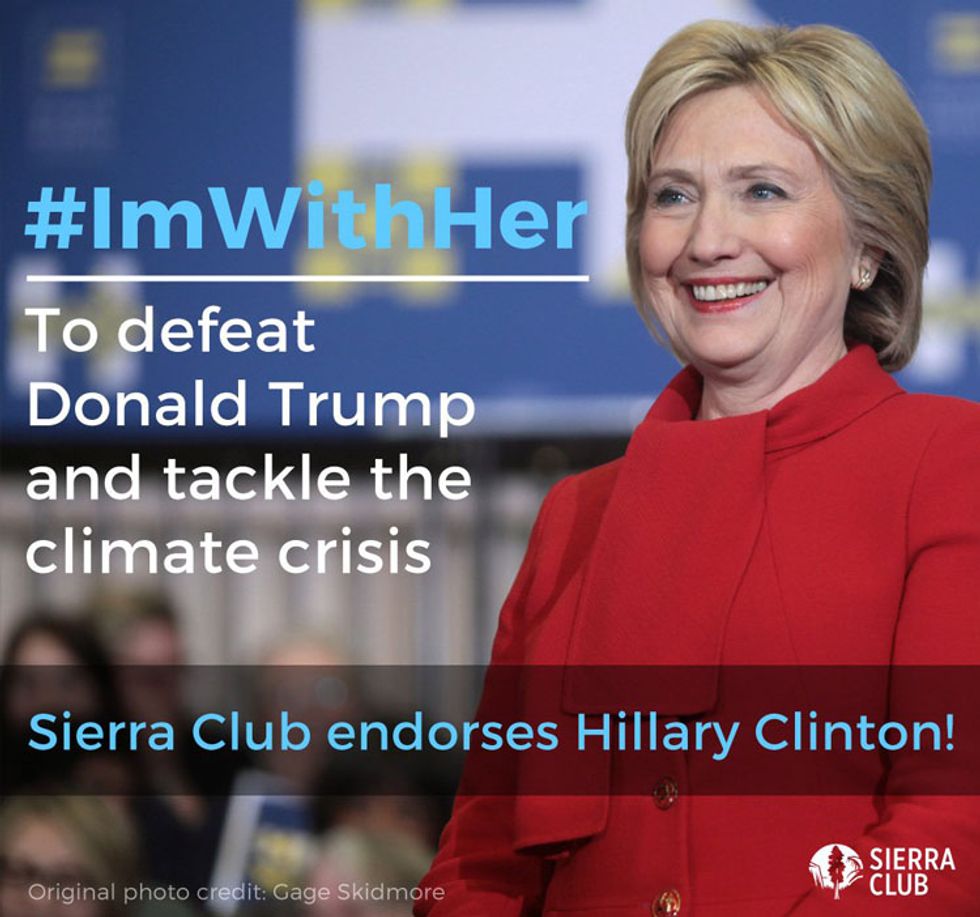 We have never been in more need of an environmental champion as president and, when you consider the records of the two candidates this general election, it's clear the stakes could not be higher. With Hillary Clinton on the ballot in November, we have a champion who has demonstrated that she is listening to the voices of Sierra Club members and so many others across the country who want to protect our clean air and water and are clamoring for more clean energy and climate action.
Clinton has committed to opposing the toxic Trans Pacific Partnership, preventing dangerous drilling in the Arctic and Atlantic oceans and the extraction of fossil fuels on public lands. She has a strong plan to tackle the climate crisis and build on the progress we've already made by installing 500 million solar panels, generating enough renewable energy to power every home in America and increasing our national carbon reduction goals to expand on the policies, legacy and progress of President Obama. Further, she has released detailed plans to fight for environmental justice and ensure conservation of America's national parks, forests and other public lands.
On the other hand, Donald Trump has ignored scientific fact, the international community and huge majorities of American voters by calling the climate crisis "a hoax" He's pledged to destroy the U.S. Environmental Protection Agency (EPA) and scrap all of the common-sense safeguards that protect our air, our water and our communities from toxic pollution. He even has said he'd push for more tax subsidies for the biggest oil companies in the world.
Electing Trump would be historic for all the wrong reasons. But electing Clinton would be historic for all the right reasons. I know that I, like so many other women across the country, can't wait to say "Madam President."
The Sierra Club made the decision to support Clinton now, the earliest we have ever endorsed in a presidential contest, because we simply cannot afford to wait a minute longer to start organizing, mobilizing and getting out the word about just how high the stakes are in 2016.
Make no mistake: It's important to recognize that this Democratic Primary had the most robust conversation about climate action and clean energy that we've ever seen and that's thanks in large part to Sen. Bernie Sanders and his supporters, who are among the strongest and most passionate advocates we have. Sanders connected with so many who are frustrated with big corporate polluters pushing their agenda and pushing over the American people's demands for clean air, clean water and climate action now. The fact that the Democratic candidates have had such a vigorous debate about climate stands in stark contrast to the utter lack of any such conversation at all on the Republican side.
Under President Obama, our nation has made historic progress in leading the world to reach a universal climate accord in Paris, while acting decisively to rein in carbon pollution here at home. Moving forward, it's clear that Clinton is the candidate who will build on this legacy. Clinton played a key role in building early momentum for the Paris accord by appointing the first Special Envoy for Climate Change, securing commitments of $100 million in climate finance for poorer nations from developed countries and forming the international Climate and Clean Air Coalition to reduce super-warming pollutants like methane.
Meanwhile, if Donald Trump were to be elected president, he has made clear he will do everything in his power to drag us backwards with his dangerous promise to "cancel" the Paris agreement and his radical proposal to eliminate the EPA entirely. When combined with his dangerous and despicable policies and comments about women, immigrants, Muslims, Mexicans, the disabled and so many other Americans, it's clear Trump's extremism is out of sync with our nation and has no place in the White House.
Now, with the choice so clear but the results far from certain, we must all come together and get behind the one candidate who can keep our climate action progress moving forward and protect clean air and clean water: Hillary Clinton. As the Republican nominee, there is a very real chance that Donald Trump could win this election. So let's join together to build on President Obama's climate legacy, stop a climate denier in his tracks and achieve a historic victory for the climate by electing Hillary Clinton this November.
Allison Chin is a member of the Sierra Club board of directors and past president of the board.
YOU MIGHT ALSO LIKE
Solar Added More New Capacity Than Coal, Natural Gas and Nuclear Combined
Stephen Hawking: One Thing Threatens Us More Than Donald Trump … Climate Change
5 Things You Need to Know About Donald Trump's Pitiful Plan for the Planet
India's Prime Minister Modi Joins Obama in Redoubling Pledge to Act on Climate Change
EcoWatch Daily Newsletter
Pro-environment demonstrators on the streets of Washington, DC during the Jan. 20, 2017 Trump inauguration.
Mobilus In Mobili
/ Flickr /
CC BY-SA 2.0
By Dr. Brian R. Shmaefsky
One year after the Flint Water Crisis I was invited to participate in a water rights session at a conference hosted by the US Human Rights Network in Austin, Texas in 2015. The reason I was at the conference was to promote efforts by the American Association for the Advancement of Science (AAAS) to encourage scientists to shine a light on how science intersects with human rights, in the U.S. as well as in the context of international development. My plan was to sit at an information booth and share my stories about water quality projects I spearheaded in communities in Bangladesh, Colombia, and the Philippines. I did not expect to be thrown into conversations that made me reexamine how scientists use their knowledge as a public good.
Mt. Rainier and Reflection Lake on Sept. 10, 2015. Crystal Geyser planned to open a bottling plant near Mt. Rainier, emails show.
louelke - on and off / Flickr
Bottled water manufacturers looking to capture cool, mountain water from Washington's Cascade Mountains may have to look elsewhere after the state senate passed a bill banning new water permits, as The Guardian reported.
Large storage tank of Ammonia at a fertilizer plant in Cubatão, Sao Paulo State, Brazil. Luis Veiga / The Image Bank / Getty Images
The shipping industry is coming to grips with its egregious carbon footprint, as it has an outsized contribution to greenhouse gas emissions and to the dumping of chemicals into open seas. Already, the global shipping industry contributes about 2 percent of global carbon emissions, about the same as Germany, as the BBC reported.
At high tide, people are forced off parts of the pathway surrounding DC's Tidal Basin. Andrew Bossi /
Wikimedia
The Jefferson Memorial in Washington, DC overlooks the Tidal Basin, a man-made body of water surrounded by cherry trees. Visitors can stroll along the water's edge, gazing up at the stately monument.
But at high tide, people are forced off parts of the path. Twice a day, the Tidal Basin floods and water spills onto the walkway.
Lioness displays teeth during light rainstorm in Kruger National Park, South Africa. johan63 / iStock / Getty Images
Ahead of government negotiations scheduled for next week on a global plan to address the biodiversity crisis, 23 former foreign ministers from various countries released a statement on Tuesday urging world leaders to act "boldly" to protect nature.