Sierra Club and U.S. Rep. Mike Pompeo Spar in Twitter Debate on Climate Change
Jun. 22, 2014 09:00AM EST
Climate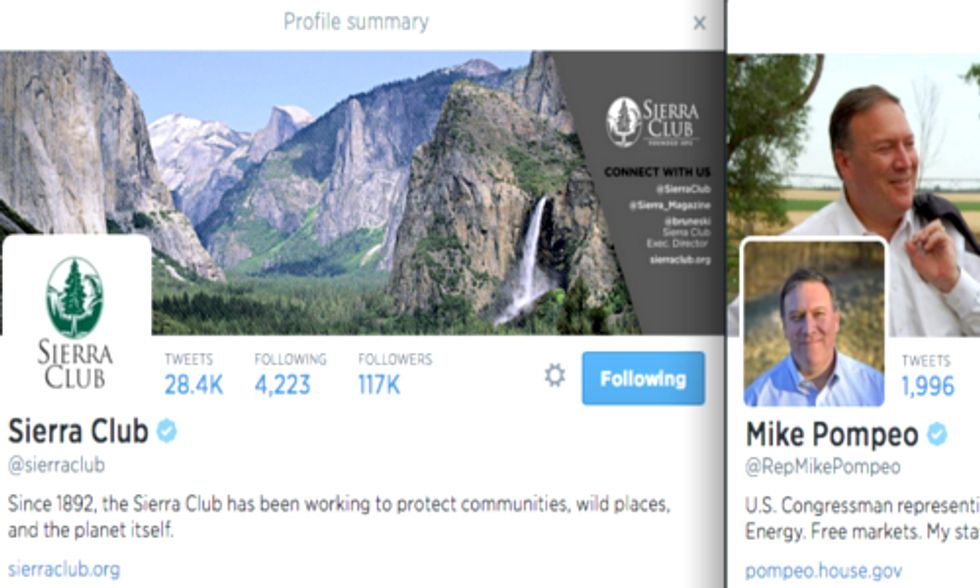 Because it flows frenetically, all day and every day, Twitter makes it easy to miss out on good exchanges.
And if you weren't on your laptop, phone or tablet around 12:30 p.m. on Thursday, you definitely missed a good one.
Back-and-forth tweeting between the Sierra Club and U.S. Rep. Mike Pompeo (R-KS) centered on climate change, but in a way that offered a little something for everybody. There was evidence of donations from the Koch Brothers; an accusation that U.S. Environmental Protection Agency Administrator Gina McCarthy was unable to answer one of Pompeo's climate questions; and a couple requests from Pompeo for others to "show me the data."
The Sierra Club responded with a mention of the common belief of 97 percent of climate scientists, followed by a rather sharp zinger: "... it's refreshing to see a Republican suddenly so interested in science."
The Twitter exchange embedded below speaks for itself, but notice that Pompeo never responded to one of the Sierra Club's early questions: "So you're saying that you agree with the science that says that climate change is real and caused by burning fossil fuels?"
.@repmikepompeo can't stand the @epa carbon standards. His top donors? Koch bros and the oil & gas industry: http://t.co/heJyqdMQYD

— Sierra Club (@sierraclub) June 19, 2014 
@sierraclub @EPA is proposing a costly policy. They refuse to show data supporting their claims. I'm focused on science and good policy here

— Mike Pompeo (@RepMikePompeo) June 19, 2014
@sierraclub @EPA claims it can fix climate change. I ask "How much?" "When?" Show me the data. Nothing. Instead it's all just politics.

— Mike Pompeo (@RepMikePompeo) June 19, 2014 
.@RepMikePompeo @EPA So you're saying that you agree w/ the science that says that climate change is real & caused by burning fossil fuels?

— Sierra Club (@sierraclub) June 19, 2014
@sierraclub If @EPA proposes costly policies that hurt American families, it has responsibility to provide the supporting data. They won't.

— Mike Pompeo (@RepMikePompeo) June 19, 2014
@sierraclub Motivations are immaterial to a policy discussion. Show science of how this specific policy impacts sea levels, or world temp.

— Mike Pompeo (@RepMikePompeo) June 19, 2014
@sierraclub When I asked Gina McCarthy of @EPA, she explained she couldn't measure that. But that it positioned us as a global leader.

— Mike Pompeo (@RepMikePompeo) June 19, 2014
@sierraclub If @EPA is serious about policymaking it should do things it can measure and impact, and that won't hurt American families.

— Mike Pompeo (@RepMikePompeo) June 19, 2014
@sierraclub I'm disappointed to see you keep attacking those who use empirical data in policy discussion. @EPA shouldn't be guesstimating.

— Mike Pompeo (@RepMikePompeo) June 19, 2014
.@RepMikePompeo Simple! Plan cuts carbon pollution from power plants = #1 cause of climate disruption = #1 cause of sea level rise

— Sierra Club (@sierraclub) June 19, 2014
.@RepMikePompeo If you're looking for empirical data on climate science, which you deny, 97% of climate scientists can provide that for you.

— Sierra Club (@sierraclub) June 19, 2014
.@RepMikePompeo On the other hand, it's refreshing to see a Republican suddenly so interested in science.

— Sierra Club (@sierraclub) June 19, 2014
@sierraclub So how much sea level rise will we stop as a consequence of this plan? Show me data. Hard numbers. Or is that all guesswork?

— Mike Pompeo (@RepMikePompeo) June 19, 2014
.@RepMikePompeo Do you understand the hard numbers about carbon pollution leading to sea level rise?

— Sierra Club (@sierraclub) June 19, 2014
EcoWatch Daily Newsletter
Recent Stories from EcoWatch