Siberian Crater Mystery Solved
Aug. 12, 2014 01:12PM EST
Climate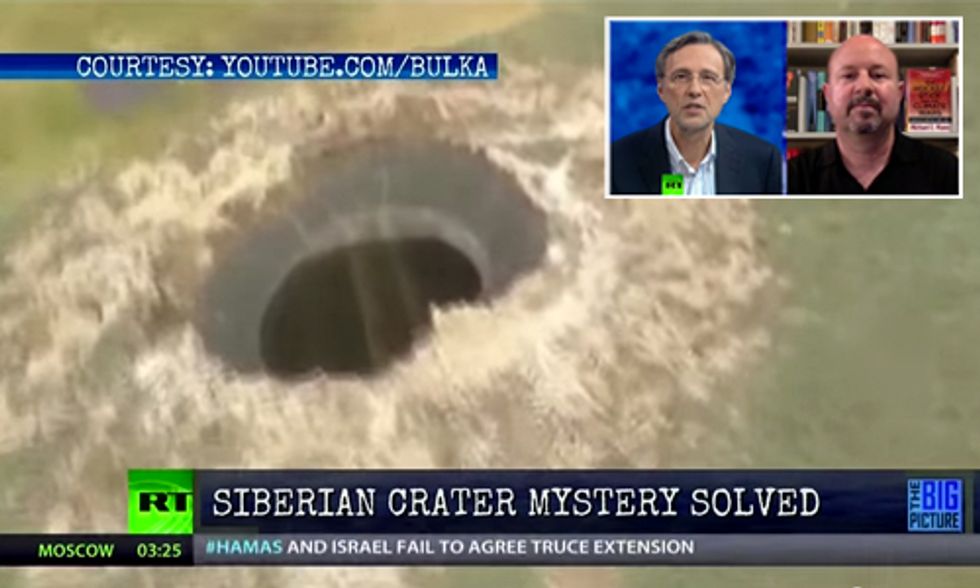 The recent appearance of giant craters in the Siberian permafrost has intrigued observers and alarmed those concerned about global climate change. Some have even claimed that these craters mark a point of no return for the climate.
Thom Hartman interviewed Penn State University professor Dr. Michael Mann, author of The Hockey Stick and the Climate Wars, on the Green Report about the cause and potential climate implications of these craters.
The show revealed that Russian researchers "have linked the Siberian craters to the abnormally hot summers ... of 2012 and 2013 which were warmer than usual by an average of 5 degrees celsius. As temperatures rose, the researchers suggest, permafrost thawed and collapsed, releasing methane that had been trapped in the icy ground."
Mann said that, while the percentage of methane found inside these craters has been as high as 9 percent compared to an atmospheric level of fraction of a fraction of a percent and methane is more closely linked to warming than carbon emissions, it's premature to throw up our hands and give up. And he explains why continuing to focus on reducing carbon emissions is essential.
You Might Also Like
Methane Blow-Holes Sign of Runaway Climate Change?
Russian Scientists: Global Warming Played Major Role in Siberian Craters
EcoWatch Daily Newsletter