This website uses cookies to ensure you get the best experience while browsing it. By clicking 'Got It' you're accepting these terms.
Shutting Down One of Nation's Dirtiest Coal Plants and the Heroes Behind It
May. 10, 2014 12:43PM EST
Energy
The retirement of NV Energy-owned Reid Gardner Generating Station is a major victory for the climate, clean air, renewable energy and the many people involved in the fight. While the efforts of Warren Buffett should not be ignored, it was years of relentless grassroots work by the Moapa Band of Paiutes and the Sierra Club as well as unwavering support from Sen. Harry Reid (D-NV) that drove this retirement forward.
[blackoutgallery id="334042"]
For half a century, the Moapa Band of Paiutes have lived in the shadow of the Reid Gardner coal plant, but got little to no benefit from its hulking presence. Instead, the 200 Moapa residents were left to suffer the undeserved consequences of a filthy coal plant. Every year, Reid Gardner emitted more than 4,000 tons of nitrogen oxides, 1,200 tons of sulfur dioxide and 5 million tons of carbon pollution into the air. Those pollutants are known to cause or exacerbate asthma attacks, lung disease, sinus problems, thyroid disease, cardiovascular problems and even premature death. Since the 1960's, the Moapa Paiutes breathed that air and have suffered from those health issues.
The impacts of this plant extended further than polluting the air. The amount of burned coal at Reid Gardner produced 46 million gallons of toxic coal ash that was spread into multiple settling ponds and then dumped into an unlined landfill. This waste contains mercury, lead and other dangerous heavy metals that cause cancer, heart, lung and kidney disease, reproductive problems, birth defects and many others. Having mounds of coal ash sitting next door leaves your land, home, and family vulnerable. Gusts of wind pick up the coal ash from Reid Gardner and carry it onto the Moapa Paiutes' reservation land, covering their property, food and water in toxic ash. Additionally, coal ash toxins can seep into the ground from locations like the ponds and landfill, and pollute the groundwater that is used to drink, clean and farm. The Moapa Paiutes were not only up against a massive coal plant, but also the massive amounts of coal ash it produced, coal ash that still sits nearby.
Starting in 2005, the Sierra Club and Sen. Reid worked together to keep three coal plants from being built in Nevada. Two years later the Sierra Club heard about NV Energy's plan to keep Reid Gardner open for at least another decade and to store more coal ash at the plant. That was when the Sierra Club joined the Moapa Band of Paiutes in fighting for their right to clean air, clean water and good health for their community. Last year our joint efforts paid off, when state lawmakers passed legislation that requires the retirement of the plant and stipulates that renewable energy will replace a significant amount of its power. Today, after decades of breathing dirty air and after years of fighting it, the Moapa Paiutes are relieved that the Reid Gardner plant is retiring and that clean energy, including a 200 megawatt project on the tribe's reservation lands, will be built in its place.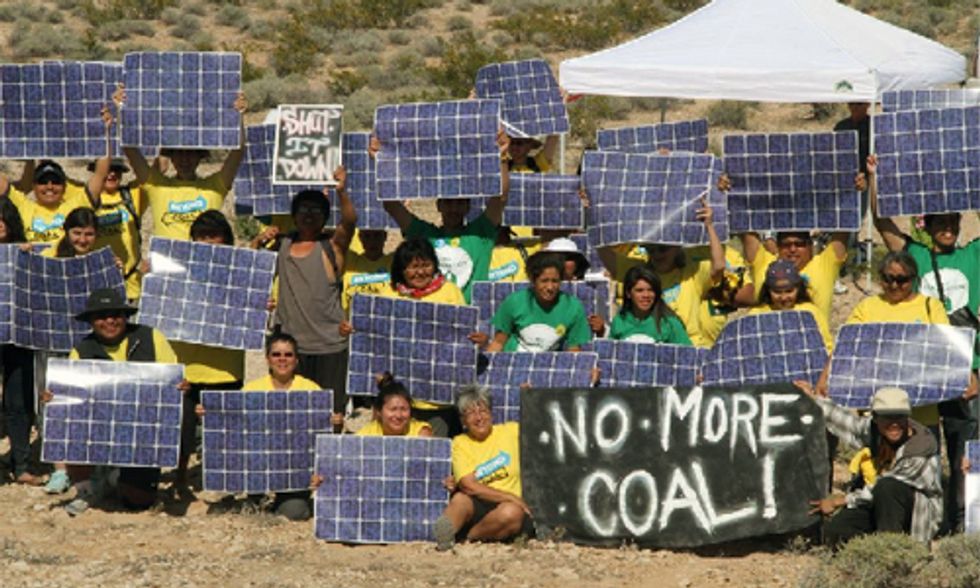 While the end of this story is near, the fight is not over. The Nevada Public Utilities Commission still has to approve NV Energy's replacement plan. The Reid Gardner coal ash ponds still need to be removed. The toxic dust and likely groundwater contamination still needs to be cleaned up. And the landfill still needs to be lined and covered. All of this will take years. And there are still two more coal plants left in Nevada that are endangering the state's air quality and contributing carbon pollution to the atmosphere. But the coal-related injustices the Moapa Band of Paiutes have lived with are set to be resolved, and the Tribe is now participating in the new clean energy economy.
Bruce Nilles is the senior campaign director for Sierra Club's Beyond Coal.
——–
YOU ALSO MIGHT LIKE
Warren Buffett to Close One of Nation's Dirtiest Coal Plants in Favor of Solar Energy
EPA Announces Limits to Greenhouse Gas Emissions on New Power Plants
11 Arrested at Peabody Coal's Annual Shareholder Meeting in Missouri
——–
EcoWatch Daily Newsletter
A new study shows that half of all Arctic warming and corresponding sea-loss during the late 20th century was caused by ozone-depleting substances. Here, icebergs discharged from Greenland's Jakobshavn Glacier. Kevin Krajick / Earth Institute /
EurekAlert!
The world awakened to the hole in the ozone layer in 1985, which scientists attributed it to ozone depleting substances. Two years later, in Montreal, the world agreed to ban the halogen compounds causing the massive hole over Antarctica. Research now shows that those chemicals didn't just cut a hole in the ozone layer, they also warmed up the Arctic.
Diane Wilson holds up a bag full of nurdles she collected from one of Formosa's outfall areas on Jan. 15. Julie Dermansky / DeSmogBlog
On the afternoon of Jan. 15, activist Diane Wilson kicked off a San Antonio Estuary Waterkeeper meeting on the side of the road across from a Formosa plastics manufacturing plant in Point Comfort, Texas.
After Wilson and the waterkeeper successfully sued Formosa in 2017, the company agreed to no longer release even one of the tiny plastic pellets known as nurdles into the region's waterways. The group of volunteers had assembled that day to check whether the plant was still discharging these raw materials of plastics manufacturing.
Malaysian Environment Minister Yeo Bee Yin (front 2nd L) and officials inspect a container containing plastic waste shipment on Jan. 20, 2020 before sending back to the countries of origin. AFP via Getty Images
The Southeast Asian country Malaysia has sent 150 shipping containers packed with plastic waste back to 13 wealthy countries, putting the world on notice that it will not be the world's garbage dump, as CNN reported. The countries receiving their trash back include the United States, the United Kingdom, France and Canada.
Trump leaves after delivering a speech at the Congress Centre during the World Economic Forum annual meeting in Davos on Jan. 21, 2020. JIM WATSON / AFP via Getty Images