This website uses cookies to ensure you get the best experience while browsing it. By clicking 'Got It' you're accepting these terms.
Shut California's Fukushima: Diablo Must Go
Sep. 06, 2014 11:02AM EST

The catastrophe at Fukushima was not an accident. It's unfolding again in California.
The next west coast quake could easily shake the two reactors at Diablo Canyon to rubble.
They are riddled with defects, can't withstand potential seismic shocks from five major nearby fault lines, violate state water quality laws and are vulnerable to tsunamis and fire.
Diablo's owner, Pacific Gas & Electric (PG&E), is in deep legal and financial crisis.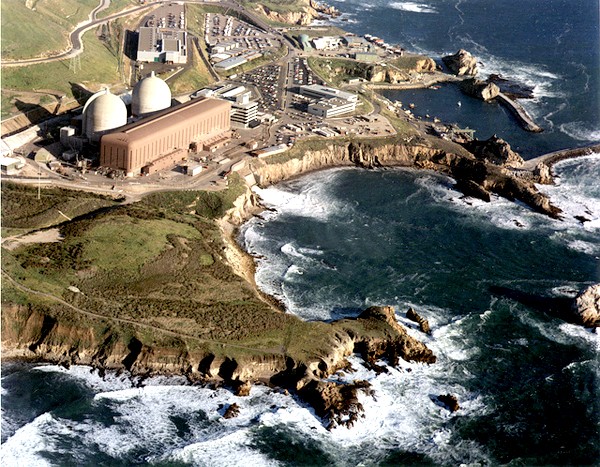 The California Public Utilities Commission (CPUC) has just proposed that PG&E be fined $1.4 billion for a 2010 gas explosion and fire that killed eight people and obliterated a neighborhood in San Bruno. The federal government has announced 28 indictments, meaning the CPUC fine may just be the tip of a very expensive iceberg for PG&E. The San Bruno disaster was caused by pipeline defects about which PG&E had been warned for years, but failed to correct. The fines cover 3,798 separate violations of laws and regulations, both state and federal. PG&E was previously fined $38 million for a 2008 pipeline explosion in Rancho Cordova.
Similar defects remain uncorrected at Diablo Canyon, whose radioactive cloud could span the continental U.S. in four days. Mass citizen action recently shut two coastal reactors at San Onofre. It must do the same at Diablo before the next quake hits.
Ironically, as America's Nuclear Regulatory Commission (NRC) allows Diablo to operate, all 54 reactors in Japan remain shut. Its Nuclear Regulatory Authority has just ordered the Tsuruga reactor to be scrapped because of its vulnerability to earthquakes. Two more elderly reactors at Mihama may also be terminated before year's end.
At Fukushima, Tokyo Electric Power now admits that far more radiation is spewing into the Pacific than previously admitted. The thyroid cancer death rate among children in the area is 40 times normal. So is the still-rising childhood thyroid abnormality rate, a terrifying re-run of downwind Chernobyl.
Tepco has begun paying compensation to local suicide victims, including the widower of a woman who doused herself with kerosene before burning herself alive.
All of it predictable.
For decades Japanese citizens warned Tepco not to build reactors in an earthquake/tsunami zone. The company repeatedly ignored safety warnings and tolerated known defects that worsened the disaster.
Diablo Canyon's twin reactors sit eight miles west of San Luis Obispo, between Los Angeles and San Francisco, surrounded by earthquake faults.
The Hosgri, three miles offshore, was found as the reactors were being built. Design specifications were never fully altered to account for it. Nor have they been upgraded for the newly-found Los Osos, San Luis Bay and Shoreline faults.  The Shoreline lies just 650 yard from Diablo's cores.
The massive San Andreas fault is just 45 miles away, about half as far as was the March 11, 2011, Richter-9.0 epicenter from Fukushima.
A shock that size from any of the fault lines near Diablo could reduce it to a seething pile of radioactive hell, far deadlier than Fukushima. Prevailing winds could blanket virtually all of North America with its deadly fallout.
The nuclear industry would immediately deny all health impacts. It would blame "unpredictable" God and nature.
But a 42-page report from NRC inspector Dr. Michael Peck says new fault line discoveries challenge Diablo's "presumption of nuclear safety."
Buried by the NRC for at least a year, it was released by Friends of the Earth and reported on by the Associated Press and the great enviro-journalist Karl Grossman, as well as by the Nuclear Information & Resource Service and Beyond Nuclear.
Peck has a doctorate in nuclear engineering and was Diablo's chief on-site inspector for five years. He's now a senior instructor at the NRC's Technical Training Center in Tennessee. His status as a current NRC employee makes such a critical report highly unusual—and alarming.
Nuclear engineer Arnie Gundersen has warned about sea-level intake pipes like those at Diablo. When the tsunami struck Fukushima, he writes, "The cooling equipment along the shoreline was turned into a scrap yard of twisted metal."
Then there is fire.
Diablo Canyon, writes David Lochbaum of the Union of Concerned Scientists, "has never, ever complied with fire safety regulations, not even for a second by mistake."
"The one-two punch of earthquake/tsunami caused Fukushima," Lochbaum wrote in an email to me.
"A one-two punch of earthquake/fire could cause Diablo Canyon."
But, says Lochbaum, "It can't be an accident. Not when the company and its alleged regulator both know that the plant does not met earthquake and fire safety regulations.
"That cannot cause an accident. Criminal negligence perhaps. At least malicious mayhem. But not an accident."
More than 10,000 people were arrested trying to stop Diablo in the 1970s and '80s. During the delays they caused, PG&E found major errors in reading key blueprints involving some of Diablo's most critical equipment.
Damage is still being tallied from California's Aug. 25 Napa Valley quake. The 1994 Northridge quake killed 57 people, injured roughly 5,000. The Loma Prieta quake during the 1989 World Series killed 63 people, injured more than 3,700. The infamous 1906 San Francisco quake leveled the city and killed thousands.
New shocks at Diablo Canyon could dwarf all those numbers—and Fukushima's.
Tens of millions of Americans would be irradiated.  Our continent's eco-systems would be poisoned.  Our nation's economy would be gutted.
But as at San Bruno, there would be no excuses.
Harvey Wasserman wrote SOLARTOPIA!  OUR GREEN-POWERED EARTH and editswww.nukefree.org.  He was arrested at Diablo Canyon in 1984, and is likely to be back soon. Listen to Wasserman's recent radio discussion of Diablo with David Lochbaum and Rochelle Becker.
YOU ALSO MIGHT LIKE
Thyroid Cancer in Young People Surge in Fukushima Since Nuclear Meltdown
The Slow Death of Nuclear Power and the Rise of Renewables
Fukushima's Children are Dying
EcoWatch Daily Newsletter
Sriram Madhusoodanan of Corporate Accountability speaking on conflict of interest demand of the People's Demands at a defining action launching the Demands at COP24. Corporate Accountability
By Patti Lynn
2018 was a groundbreaking year in the public conversation about climate change. Last February, The New York Times reported that a record percentage of Americans now believe that climate change is caused by humans, and there was a 20 percentage point rise in "the number of Americans who say they worry 'a great deal' about climate change."
The head of England's Environment Agency has urged people to stop watering their lawns as a climate-induced water shortage looms. Pexels
England faces an "existential threat" if it does not change how it manages its water, the head of the country's Environment Agency warned Tuesday.
Pexels
By Jessica Corbett
A new analysis revealed Tuesday that over the past two decades heat records across the U.S. have been broken twice as often as cold ones—underscoring experts' warnings about the increasingly dangerous consequences of failing to dramatically curb planet-warming emissions.
A flock of parrots in Telegraph Hill, San Francisco.
~dgies / Flickr
By Madison Dapcevich
Ask any resident of San Francisco about the waterfront parrots, and they will surely tell you a story of red-faced conures squawking or dive-bombing between building peaks. Ask a team of researchers from the University of Georgia, however, and they will tell you of a mysterious string of neurological poisonings impacting the naturalized flock for decades.
Fire burns in the North Santiam State Recreational Area on March 19. Oregon Department of Forestry
An early-season wildfire near Lyons, Oregon burned 60 acres and forced dozens of homes to evacuate Tuesday evening, the Oregon Department of Forestry (ODF) said, as KTVZ reported.
The initial cause of the fire was not yet known, but it has been driven by the strong wind and jumped the North Santiam River, The Salem Statesman Journal reported. As of Tuesday night, it threatened around 35 homes and 30 buildings, and was 20 percent contained.
Edwin Hardeman is the plaintiff in the first U.S. federal trial claiming that Roundup causes cancer. NOAH BERGER / AFP / Getty Images
A second U.S. jury has ruled that Roundup causes cancer.
The unanimous verdict was announced Tuesday in San Francisco in the first federal case to be brought against Monsanto, now owned by Bayer, alleging that repeated use of the company's glyphosate-containing weedkiller caused the plaintiff's cancer. Seventy-year-old Edwin Hardeman of Santa Rosa, California said he used Roundup for almost 30 years on his properties before developing non-Hodgkin's lymphoma.
The decision comes less than a year after a jury awarded $289 million to Bay-area groundskeeper Dewayne Johnson over similar claims. The amount was later reduced to $78 million.
"Today's verdict reinforces what another jury found last year, and what scientists with the state of California and the World Health Organization have concluded: Glyphosate causes cancer in people," Environmental Working Group President Ken Cook said in a statement. "As similar lawsuits mount, the evidence will grow that Roundup is not safe, and that the company has tried to cover it up."
Judge Vince Chhabria has split Hardeman's trial into two phases. The first, decided Tuesday, focused exclusively on whether or not Roundup use caused the plaintiff's cancer. The second, to begin Wednesday, will assess if Bayer is liable for damages.

"We are disappointed with the jury's initial decision, but we continue to believe firmly that the science confirms glyphosate-based herbicides do not cause cancer," Bayer spokesman Dan Childs said in a statement reported by The Guardian. "We are confident the evidence in phase two will show that Monsanto's conduct has been appropriate and the company should not be liable for Mr. Hardeman's cancer."
Some legal experts said that Chhabria's decision to split the trial was beneficial to Bayer, Reuters reported. The company had complained that the jury in Johnson's case had been distracted by the lawyers' claims that Monsanto had sought to mislead scientists and the public about Roundup's safety.

However, a remark made by Chhabria during the trial and reported by The Guardian was blatantly critical of the company.
"Although the evidence that Roundup causes cancer is quite equivocal, there is strong evidence from which a jury could conclude that Monsanto does not particularly care whether its product is in fact giving people cancer, focusing instead on manipulating public opinion and undermining anyone who raises genuine and legitimate concerns about the issue," he said.
Many regulatory bodies, including the U.S. Environmental Protection Agency, have ruled that glyphosate is safe for humans, but the World Health Organization's International Agency for Research on Cancer found it was "probably carcinogenic to humans" in 2015. A university study earlier this year found that glyphosate use increased cancer risk by as much as 41 percent.
Hardeman's lawyers Jennifer Moore and Aimee Wagstaff said they would now reveal Monsanto's efforts to mislead the public about the safety of its product.
"Now we can focus on the evidence that Monsanto has not taken a responsible, objective approach to the safety of Roundup," they wrote in a statement reported by The Guardian.
Hardeman's case is considered a "bellwether" trial for the more than 760 glyphosate cases Chhabria is hearing. In total, there are around 11,200 such lawsuits pending in the U.S., according to Reuters.
University of Richmond law professor Carl Tobias told Reuters that Tuesday's decision showed that the verdict in Johnson's case was not "an aberration," and could possibly predict how future juries in the thousands of pending cases would respond.
PxHere
Americans like wind turbines as neighbors, at least when compared with the alternatives.
Offutt Air Force Base after flooding on March 17. U.S. Air Force / TSgt. Rachelle Blake