This website uses cookies to ensure you get the best experience while browsing it. By clicking 'Got It' you're accepting these terms.
Show Your Support for Organic Standards
Nov. 04, 2011 04:03PM EST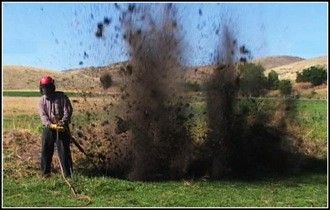 Tell the National Organic Standards Board (NOSB) to ensure an open and transparent decision-making process and to stop the use of exploding devices for rodent control.
We share your enthusiasm for organic practices as the solution to pesticide pollution, to advance clean food, air, water and a sustainable environment—and want to ensure that organic grows stronger every day. But, this won't happen without your involvement.
You can have your voice heard on many important issues that the NOSB is considering at its upcoming meeting at the end of November. You can access background on the issues on our Keeping Organic Strong webpage and then send comments into U.S. Department of Agriculture by Nov. 13. It's easy. Go to our website at the above link, read about the issues and follow the links for background and model language.
Here are just two issues that you'll want to comment on:
Support transparency and openness. NOSB is considering a policy which affirms and codifies an open process that makes it easier for the public to follow their deliberations during the year. Transparency is important because it allows the public to have greater input as positions are being considered and developed and in the end ensures increasing trust in the process and practices that are allowed under the law. As we grow public trust in the organic process, we will grow the market—and a larger market is better for everyone, those who eat food, work the land and inhabit the planet.
Oppose exploding devices for rodent control. Exploding devices have no place in organic, which seeks to protect ecosystems and biodiversity. Yes, rodents can be a problem in crop production, but explosions are not the answer given the range of alternative practices, such as traps and cultural practices, that are more effective and less expensive. Exploding devices raise an underlying question for supporters of organic practices about the compatibility of this approach with organic systems.
The Keeping Organic Strong webpage provides summaries and model comments on the major issues before the NOSB. There is a lot to comment on and we will be updating the page as the deadline for comments approaches.
Make sure your views are heard by the NOSB by commenting as soon as possible.
For more information, click here.
EcoWatch Daily Newsletter
By Anita Desikan
The Trump administration is routinely undermining your ability — and mine, and everyone else's in this country — to exercise our democratic rights to provide input on the administration's proposed actions through the public comment process. Public comments are just what they sound like: an opportunity for anyone in the public, both individuals and organizations, to submit a comment on a proposed rule that federal agencies are required by law to read and take into account. Public comments can raise the profile of an issue, can help amplify the voices of affected communities, and can show policymakers whether a proposal has broad support or is wildly unpopular.
Alena Gamm / EyeEm / Getty Images
Picture this: a world where chocolate is as rare as gold. No more five-dollar bags of candy on Halloween. No more boxes of truffles on Valentine's day. No more roasting s'mores by the campfire. No more hot chocolate on a cold winter's day.
Who wants to live in a world like that?
Fabian Krause / EyeEm / Getty Images
Water protectors of all persuasions gathered in talking circles at Borderland Ranch in Pe'Sla, the heart of the sacred Black Hills, during the first Sovereign Sisters Gathering. At the center are Cheryl Angel in red and white and on her left, Lyla June. Tracy Barnett
By Tracy L. Barnett
Sources reviewed this article for accuracy.
For Sicangu Lakota water protector Cheryl Angel, Standing Rock helped her define what she stands against: an economy rooted in extraction of resources and exploitation of people and planet. It wasn't until she'd had some distance that the vision of what she stands for came into focus.
Hedges, 2019 © Hugh Hayden. All photos courtesy of Lisson Gallery
By Patrick Rogers
"I'm really into trees," said the sculptor Hugh Hayden. "I'm drawn to plants."
BruceBlock / iStock / Getty Images
Thanks to their high concentration of powerful plant compounds, foods with a natural purple hue offer a wide array of health benefits.