This website uses cookies to ensure you get the best experience while browsing it. By clicking 'Got It' you're accepting these terms.
Should Tofu Be Part of a Healthy Diet?
Mar. 24, 2016 09:51AM EST
Food
Tofu is one of those foods that sparks debate. Some can't rave enough about its versatility and health benefits. Others think it is a genetically-modified poison to be avoided at all costs. This may leave you wondering whether tofu should be a part of your diet or not.
This article takes a detailed look at tofu and its health effects, both good and bad.
What is Tofu?
Tofu is a food made of condensed soy milk that is pressed into solid white blocks. It originated in China and the process is quite similar to how cheese is made.
Rumor has it that a Chinese cook discovered tofu more than 2,000 years ago by accidentally mixing a batch of fresh soy milk with nigari.
Nigari is what remains when salt is extracted from seawater. It is a mineral-rich coagulant used to help tofu solidify and keep its form.
This is what fresh tofu looks like: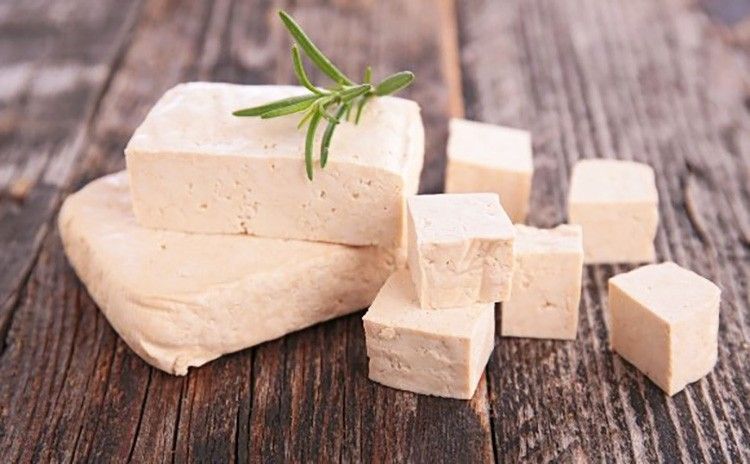 Most of the world's soybeans are currently grown in the U.S. and a very large proportion is genetically modified.
Although genetically modified foods are controversial, research has so far not found them to be harmful to human health (1).
However, if you're worried about it, simply opt for non-GMO, organic tofu brands.
Bottom Line: Tofu is made from condensed soy milk, in a process similar to how cheese is made. Whether made from GMO soybeans or not, tofu is generally considered safe for human consumption.
Tofu Contains Many Nutrients
Tofu is high in protein and contains all the essential amino acids your body needs. It also contains fats, carbs and a wide variety of vitamins and minerals.
One 3.5-oz (100-gram) serving of tofu contains:
Manganese: 31 percent of the RDI.
Calcium: 20 percent of the RDI.
Selenium: 14 percent of the RDI.
Phosphorus: 12 percent of the RDI.
Copper: 11 percent of the RDI.
Magnesium: 9 percent of the RDI.
Iron: 9 percent of the RDI.
Zinc: 6 percent of the RDI.
This comes with only 70 total calories, which makes tofu a highly nutrient-dense food.
However, the micronutrient content of tofu can vary, depending on the coagulant used to make it. Nigari adds more magnesium, while precipitated calcium increases the calcium content.
Bottom Line: Tofu is low in calories, but high in protein and fat. It also contains many important vitamins and minerals.
Tofu Also Contains Antinutrients
Like most plant foods, tofu contains several antinutrients.
These include:
Phytates: Phytates can reduce the absorption of minerals such as calcium, zinc and iron.
However, soaking or cooking soybeans can inactivate or eliminate some of these antinutrients.
Sprouting soybeans before making tofu reduces phytates by up to 56 percent and trypsin inhibitors by up to 81 percent, while also increasing protein content by up to 13 percent (2).
Fermentation can also reduce anti-nutrients. For this reason, make sure to add fermented probiotic soy foods to your diet, such as miso, tempeh, tamari or natto.
Bottom Line: Tofu contains antinutrients like trypsin inhibitors, phytates and lectins. It is possible to degrade these antinutrients, which increases the nutritional value of tofu.
Tofu Contains Beneficial Isoflavones
Soybeans contain natural plant compounds called isoflavones.
These isoflavones function as phytoestrogens, meaning that they can attach to and activate estrogen receptors in the body.
This produces effects similar to the hormone estrogen, although they are weaker.
The two main isoflavones in soy are genistein and daidzein and tofu contains 20.2–24.7 mg of isoflavones per 3.5-oz (100-gram) serving (3).
Many of the health benefits of tofu are attributed to the high isoflavone content.
Bottom Line: All soy-based products contain isoflavones, which are believed to have various health benefits.
Tofu May Reduce the Risk of Heart Disease
Only a few studies specifically look at tofu's effects on heart health.
However, research has shown that a high intake of legumes, including soy, is linked to lower rates of heart disease (4).
We also know that soy isoflavones can reduce blood vessel inflammation and improve their elasticity (5).
One study found that supplementing with 80 mg of isoflavones per day for 12 weeks improved blood flow by 68 percent in patients who were at risk of stroke (6).
Taking 50 grams of soy protein per day is also associated with improved blood fats and an estimated 10 percent lower risk of heart disease (7).
What's more, in post-menopausal women, high soy isoflavone intake was linked to several heart protective factors. These included improvements to body mass index, waist circumference, fasting insulin and HDL cholesterol (8).
Finally, tofu also contains saponins, compounds thought to have protective effects on heart health (9).
Animal studies have shown that saponins improve blood cholesterol and increase the disposal of bile acids, both of which can help lower heart disease risk (10).
Bottom Line: Whole soy foods like tofu can improve several markers of heart health. This may lead to a reduced risk of heart disease.
Tofu is Linked to Reduced Risk of Some Cancers
Studies have looked into the effects of tofu on breast, prostate and digestive system cancers.
Tofu and Breast Cancer
Research shows that women who eat soy products at least once a week have a 48–56 percent lower risk of breast cancer (11, 12).
This protective effect is thought to come from isoflavones, which have also been shown to positively influence the menstrual cycle and blood estrogen levels (13, 14).
It seems that exposure to soy during childhood and adolescence may be most protective, but that's not to say that intake later in life is not beneficial (15).
In fact, research shows that women who ate soy products at least once a week throughout adolescence and adulthood had a 24 percent lower risk of developing breast cancer, compared to those who ate soy during adolescence alone (16).
One often-heard criticism of tofu and other soy products is that they may increase breast cancer risk. However, a two-year study in which post-menopausal women consumed two servings of soy per day failed to find an increased risk (17).
Other studies report similar findings, including a review of 174 studies, which found no link between soy isoflavones and increased risk of breast cancer (18, 19, 20).
Tofu and Cancers of the Digestive System
One study observed that higher intakes of tofu were linked to a 61 percent lower risk of stomach cancer in men (21).
Interestingly, a second study reported a 59 percent lower risk in women (22).
What's more, a recent review of 633,476 participants linked higher soy intake to a 7 percent lower risk of cancer of the digestive system (23).
Tofu and Prostate Cancer
Two review studies found that men consuming higher amounts of soy, especially tofu, had a 32–51 percent lower risk of developing prostate cancer (24, 25).
A third review agrees with this, but adds that the beneficial effects of isoflavones may depend on the amount consumed and type of gut bacteria present (26).
Bottom Line: Research indicates that soy has a protective effect against breast, digestive and prostate cancers.
Tofu May Reduce the Risk of Diabetes
Over the past 10 years, several cell and animal studies have shown that soy isoflavones can have benefits for blood sugar control (27, 28).
In one study of healthy post-menopausal women, 100 mg of soy isoflavones per day reduced blood sugar levels by 15 percent and insulin levels by 23 percent (29).
For diabetic post-menopausal women, supplementing with 30 grams of isolated soy protein lowered fasting insulin levels by 8.1 percent, insulin resistance by 6.5 percent, LDL cholesterol by 7.1 percent and total cholesterol by 4.1 percent (30).
In another study, taking isoflavones each day for a year improved insulin sensitivity and blood fats, while reducing the risk of heart disease (31).
However, these findings are not universal. A recent review of 24 human studies found that intact soy protein—as opposed to isoflavone supplements or protein extracts—was more likely to lower blood sugar (32, 33).
Bottom Line: Tofu may have positive effects on blood sugar control, but more studies are needed to confirm this link.
Other Potential Health Benefits of Tofu
Due to its high isoflavone content, tofu may also have benefits for:
Brain function: Soy isoflavones may have a positive influence on memory and brain function, especially for women over 65 (36).
Skin elasticity: Taking 40 mg of soy isoflavones per day significantly reduced wrinkles and improved skin elasticity after 8–12 weeks (42).
Weight loss: In one study, taking soy isoflavones for 8–52 weeks resulted in an average weight loss of 10 lbs (4.5 kg) more than a control group (43).
Bottom Line: Due to its high isoflavone content, tofu may have benefits for a variety of health conditions. However, more research is needed.
Tofu May Cause Problems for Some People
Eating tofu and other soy foods every day is generally considered to be safe. That being said, you may want to moderate your intake if you have:
Kidney or gallbladder stones: Tofu contains a good amount of oxalates, which may worsen oxalate-containing kidney or gallbladder stones.
Breast tumors: Due to tofu's weak hormonal effects, some doctors tell women with estrogen-sensitive breast tumors to limit their soy intake.
Thyroid issues: Some professionals also advise individuals with poor thyroid function to avoid tofu due to its goitrogen content.
However, not all researchers agree. Some even say that consuming soy foods like tofu can benefit people with kidney stones (44).
In addition, a recent report from the European Food Safety Authority (EFSA) concluded that soy and soy isoflavones pose no concerns for breast and uterine cancers or thyroid function (45).
Nevertheless, researchers agree that infants should not be exposed to soy isoflavones, which may disrupt the development of reproductive organs (26, 46).
Although this has not been studied well in humans, some animal studies suggest that high amounts of soy may interfere with fertility (47, 48).
Bottom Line: Eating tofu is safe for most people. If you're worried about negative health effects, then double-check with your healthcare provider.
How to Select Tofu or Make Your Own
Tofu can be purchased in bulk or individual packages, refrigerated or not.
You can also find it dehydrated, freeze-dried, jarred or canned.
Generally, not a lot of processing is necessary to make tofu, so choose varieties that have short nutrition labels.
You can expect to see ingredients like soybeans, water, coagulants (such as calcium sulfate, magnesium chloride or delta gluconolactone) and maybe some seasoning.
Once opened, tofu blocks need to be rinsed prior to being used.
Leftovers can be stored in the refrigerator, covered with water. Stored this way, tofu can be kept for up to one week—just make sure you change the water often.
Tofu can also be frozen, in its original package, for up to five months.
Finally, making your own tofu is also a possibility. All you need are soybeans, lemon and water. If you'd like to give it a try, check out this simple video:
Bottom Line: Tofu can be found in a variety of shapes and forms. Homemade tofu is also surprisingly easy to make.
Tofu is a Healthy Food
Tofu is high in protein and many healthy nutrients.
Eating tofu may protect against a variety of health conditions, such as heart disease, diabetes and even certain cancers.
This article was reposted from our media associate Authority Nutrition.
YOU MIGHT ALSO LIKE
25 Easy Ways to Get More Fermented Foods in Your Diet
Read This if You Love Eating Fish But Worry Your Getting Too Much Mercury Exposure
8 Health Benefits From Drinking Kombucha Tea
Atlantic Salmon Is All But Extinct as a Genetically Eroded Version of Farmed Salmon Has Taken Over
EcoWatch Daily Newsletter
Farms with just one or a handful of different crops encourage fewer species of pollinating and pest-controlling insects to linger, ultimately winnowing away crop yields, according to a new study.
Up to half of the detrimental impacts of the "landscape simplification" that monocropping entails come as a result of a diminished mix of ecosystem service-providing insects, a team of scientists reported Oct. 16 in the journal Science Advances.
Monocrop palm oil plantation Honduras.
​SHARE Foundation / Flickr / CC BY-NC 2.0​
"Our study shows that biodiversity is essential to ensure the provision of ecosystem services and to maintain a high and stable agricultural production," Matteo Dainese, the study's lead author and a biologist at Eurac Research in Bolzano, Italy, said in a statement.

It stands to reason that, with declines in the sheer numbers of insects that ferry pollen from plant to plant and keep crop-eating pests under control, these services will wane as well. But until now, it hasn't been clear how monocultures affect the number and mix of these species or how crop yields might change as a result.
Aiming to solve these questions, Dainese and his colleagues pulled together data from 89 studies cutting across a variety of landscapes, from the tropics of Asia and Africa to the higher latitudes of northern Europe. They tabulated the number of pollinating and pest-controlling insects at these sites — both the absolute number of individuals and the number of species — along with an assessment of the ecosystem services the insects provided.
In almost all of the studies they looked at, the team found that a more diverse pool of these species translated into more pollination and greater pest control. They also showed that simplified landscapes supported fewer species of service-providing insects, which ultimately led to lower crop yields.
The researchers also looked at a third measure of the makeup of insect populations — what they called "evenness." In natural ecosystems, a handful of dominant species with many more individuals typically live alongside a higher number of rarer species. The team found as landscapes became less diverse, dominant species numbers dwindled and rare species gained ground. This resulting, more equitable mix led to less pollination (though it didn't end up affecting pest control).
"Our study provides strong empirical support for the potential benefits of new pathways to sustainable agriculture that aim to reconcile the protection of biodiversity and the production of food for increasing human populations," Ingolf Steffan-Dewenter, one of the study's authors and an animal ecologist at the University of Würzburg in Germany, said in the statement.
The scientists figure that the richness of pollinator species explains around a third of the harmful impacts of less diverse landscapes, while the richness of pest-controlling species accounts for about half of the same measure. In their view, the results of their research point to the need to protect biodiversity on and around crops in an uncertain future.
"Under future conditions with ongoing global change and more frequent extreme climate events, the value of farmland biodiversity ensuring resilience against environmental disturbances will become even more important," Steffan-Dewenter said.
Reposted with permission from our media associate Mongabay.
From Your Site Articles
Related Articles Around the Web
View of an Ivorian cleared forest at the edge of the 35.000 hectares Peko Mont National Park on Oct. 8, 2016. The Mont Péko National Park is located in the west of Ivory Coast where the forest officers fight with illegal immigrants to protect an exceptional flora and fauna, espacially dwarf elephants. SIA KAMBOU / AFP / Getty Images
Ivory Coast's rainforests have been decimated by cocoa production and what is left is put in peril by a new law that will remove legal protections for thousands of square miles of forests, according to The Guardian.
The Apusiaajik Glacier, as seen from Kulusuk village in East Greenland. Like most glaciers in Greenland, it's retreating rapidly, changing the local landscape year by year. Photo credit: Karin Kirk
By Karin Kirk
Greenland had quite the summer. It rose from peaceful obscurity to global headliner as ice melted so swiftly and massively that many were left grasping for adjectives. Then, Greenland's profile was further boosted, albeit not to its delight, when President Trump expressed interest in buying it, only to be summarily dismissed by the Danish prime minister.
During that time I happened to be in East Greenland, both as an observer of the stark effects of climate change and as a witness to local dialogue about presidential real estate aspirations, polar bear migrations and Greenland's sudden emergence as a trending topic.

Heavy metals that may damage a developing brain are present in 95 percent of baby foods on the market. Cirou Frederic / PhotoAlto Agency RF Collections / Getty Images
Heavy metals that may damage a developing brain are present in 95 percent of baby foods on the market, according to new research from the advocacy organization Healthy Babies Bright Futures (HBBF), which bills itself as an alliance of scientists, nonprofit organizations and donors trying to reduce exposures to neurotoxic chemicals during the first three years of development.
Chicago skyline on July 22 as high winds continue to push the waters of Lake Michigan over the top of the pedestrian and bike trail along the lakefront in Chicago. Raymond Boyd / Michael Ochs Archives / Getty Images
Every fall, I take my environmental studies class camping at Sleeping Bear Dunes National Lakeshore on Lake Michigan. Some years the beach extends more than three meters to the water. This year, in many spots, there was no beach at all.
Insects like bees, butterflies and even certain species of beetle and ant incidentally pollinate our crops when they collect protein-rich pollen and sugary nectar.
Rolf Dietrich Brecher
/ CC BY 2.0
By Kerstin Palme
Creepy-crawlies are among the oldest life forms on this planet. Before dinosaurs ever walked the earth, insects were certainly already there. Some estimates date their origins to 400 million years ago. They're also extremely successful. Of the 7 to 8 million species documented on Earth, around three quarters are likely bugs.
But several insect species could disappear for good in the next few decades and that would have serious consequences for humans.
Swedish automaker Volvo unveils its first electric vehicle the XC40 Recgarge EV, during an event in Los Angeles on Oct. 16. Frederic J. BROWN / AFP / Getty Images
Volvo introduced its first-ever all-electric vehicle this week, kicking off an ambitious plan to slash emissions and phase out solely gas-powered vehicles starting this year.
Cars are queued in Turin, Italy in August. Particulate matter levels were the highest in Italy, Poland and the Balkans countries. Nicolò Campo / LightRocket / Getty Images