This website uses cookies to ensure you get the best experience while browsing it. By clicking 'Got It' you're accepting these terms.
Should the U.S. Export Natural Gas?
Sep. 23, 2012 04:56PM EST
Energy
By Bruce Ferguson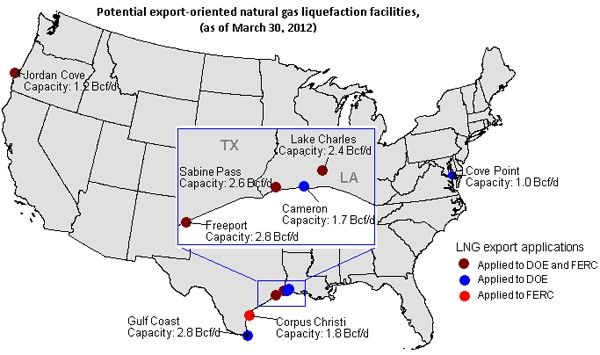 Should the U.S. export natural gas?
The answer depends on what you think about hydrofracking.
Historically, the U.S. has had to supplement domestic natural gas production with imports, but now the extensive use of hydraulic fracturing to extract gas from shale could allow America to become a gas exporter. A recent article in Barron's suggested that the U.S. could become the world's largest exporter of gas by 2017.
But let's be clear. When we're talking about natural gas exports, we're talking about shale gas.
That is, we're talking about fracking. So let's reframe the question: Should the U.S. be fracked to supply foreign nations with gas?
The objections to fracking are legion, and each one needs to be weighed in the balance if the U.S. is to develop a prudent gas export policy.
We know, for example, that fracking even a single shale gas well requires millions of gallons of fracking fluid, and produces huge quantities of toxic wastewater.
All of this fluid has to be transported, usually by truck, and that means hundreds of diesel trucks going to and from each well pad. The exhaust from these trucks combines with the methane and volatile organic compounds released into the atmosphere during the extraction process to produce ozone.
It's no exaggeration to say that, because of fracking, some rural communities have higher ozone levels than Los Angeles on a bad day.
Developing a giant shale formation like the Marcellus will entail injecting hundreds of billions of gallons of toxic fluid underground, and no one can say with any certainty how this might impact our drinking water supplies in the years and decades to come.
We do know that a recent geochemical study conducted in northeastern Pennsylvania found naturally occurring pathways between underground shale formations and shallow drinking water aquifers. The fact that the industry insists that fracking be exempt from the Safe Drinking Water Act is not reassuring.
And of course there are other issues to consider, including the recent peer-reviewed studies that indicate that shale gas is, from a greenhouse gas perspective, worse than oil or coal. Health care professionals say we don't know what effect fracking will have on human health, while economists worry that disruptive extraction activity might damage local economies by crowding out long-term sustainable businesses like agriculture and tourism.
Right now the U.S. doesn't have the infrastructure it needs to become a major gas exporter. Canada and Mexico don't need our gas, and the liquefied natural gas (LNG) export terminals that will be necessary to tap lucrative markets in Europe and Asia have not yet been built.
Constructing the eleven huge LNG export terminals now on the drawing boards will cost more than $100 billion.
Tens of billions more will be needed to build pipelines to bring the gas to the coastal terminals. Should the U.S. pour this kind of money into fossil fuel infrastructure at a time when scientists warn that we are already suffering the adverse impacts of climate change?
The Obama administration has held up licensing export terminals until after the election. This winter, when licensing is again on the table, scientists, health care professionals and concerned citizens who oppose fracking may find themselves allied with manufacturers who realize that competition with foreign markets will drive up costs for both American industry and consumers.
Finally consider this: If the U.S. does export shale gas, it will be supplying countries like France that have already banned fracking because it's too dangerous.
Is the U.S. on its way to becoming an energy extraction colony for other nations?
Are we the new Third World?
Visit EcoWatch's FRACKING page for more related news on this topic.
EcoWatch Daily Newsletter
Colombia rainforest. Marcel Oosterwijk / CC BY-SA 2.0
Many of us think of the Amazon as an untouched wilderness, but people have been thriving in these diverse environments for millennia. Due to this long history, the knowledge that Indigenous and forest communities pass between generations about plants, animals and forest ecology is incredibly rich and detailed and easily dwarfs that of any expert.
picture-alliance / Newscom / R. Ben Ari
By Wesley Rahn
Plastic byproducts were found in 97 percent of blood and urine samples from 2,500 children tested between 2014 and 2017, according to a study by the German Environment Ministry and the Robert Koch Institute.

Pexels
Medically reviewed by Daniel Bubnis, MS, NASM-CPT, NASE Level II-CSS
Hot yoga has become a popular exercise in recent years. It offers many of the same benefits as traditional yoga, such as stress reduction, improved strength, and flexibility.
Lara Hata / iStock / Getty Images
By SaVanna Shoemaker, MS, RDN, LD
Rice is a staple in many people's diets. It's filling, inexpensive, and a great mild-tasting addition to flavorful dishes.
An image of the trans-alaskan oil pipeline that carries oil from the northern part of Alaska all the way to valdez. This shot is right near the arctic national wildlife refuge. kyletperry / iStock / Getty Images Plus
The Trump administration has initialized the final steps to open up nearly 1.6 million acres of the protected Alaskan National Wildlife Refuge to allow oil and gas drilling.
Kaboompics / Pexels
Tensions between lawmakers and several large manufacturing companies came to a head on Capitol Hill this week during a hearing on toxic fluorochemicals in U.S. drinking water.