This website uses cookies to ensure you get the best experience while browsing it. By clicking 'Got It' you're accepting these terms.
Should Lake Erie Be Seen as a Model for Resilience or a Toxic Algae Mess?
Jul. 31, 2015 01:31PM EST
The National Oceanic and Atmospheric Administration (NOAA) recently predicted another banner year for toxic algae in Lake Erie. Late summer will likely bring blooms of pesto-green scum to Lake Erie. And yet this is the same lake with the notorious reputation for being declared "dead" in the 1970s.
Lake Erie is the shallowest of the Great Lakes, more a saucer than a bowl. It's warm too, with productive waters that can support a $10 million charter sport-fishing industry each year.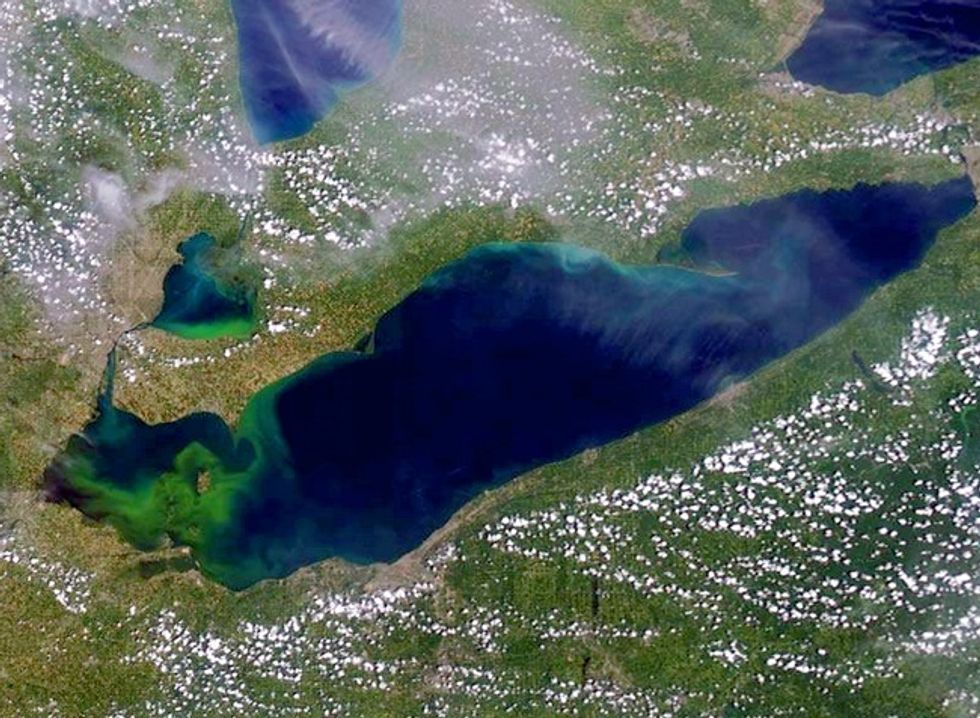 Despite huge investments in "restoration", images of swirling blue-green algae still stream in from satellite images of its western basin. Photo credit: Great Lakes Environmental Research Laboratory
The shallow depths of the lake intensify its productivity. Each year, as the lake warms, it "turns over," bringing all the nutrients that have settled to its bottom back into the water column, spurring blooms of algae that feast upon the juicy jazzed up waters. This is a natural process, with the sing-song name of eutrophication.
Add even more nutrients and the lake doesn't die. It becomes more alive.
In the 1960s, years of nutrient pollution caught up with Lake Erie. Sewage treatment plants and farm fields funneled so much phosphorous into the lake that it choked with life. Huge algal blooms filled the basin, ensnaring fishing buoys and cigarette butts in huge gyres. The algae sucked the oxygen from the water, leaving massive fish kills in its wake. Even the trash strewn along the shore was covered in algae.
Billions of dollars were spent by state, federal and Canadian governments on the clean-up. New sewage treatment facilities, a phase-out of combined sewer overflows and regulations on detergents reduced phosphorous loading by at least 60 percent.
An unexpected source of help came from the mighty zebra mussel, an invasive bivalve that snuck into the lake through ballast and then settled right on in … on everything. Clogging water intake pipes and fouling boats and dock pilings, this mussel sucked up that algal soup and began clarifying the lake's waters. The zebra and its sister mussel, the quagga, now filter the lake's entire volume every 24 hours, straining out the tiny phytoplankton and algae.
As a restoration ecologist, I try not to see nature as a scrapbook of human error. But, it's hard to see Lake Erie as anything but a restoration failure. Despite huge investments in "restoration," images of swirling blue-green algae still stream in from satellite images of its western basin.
Yet, if you sailed out to Kelly's Island today, you'd also likely find tangles of water snakes resting under the docks. These snakes were recently removed from the Endangered Species list and now thrive in the lake's rewoven food web.
Lake Erie has been the poster child of environmental catastrophe for decades. It represents the challenges of trying to fix a system that is badly out of sync. It's going to take a suite of restoration tools—policy, engineering, planting, digging, fishing, etc.—more than decades to return the lake to a naturally dynamic, functioning ecosystem. And some problems, like the mussel infestation, may never be fixed.
Lake Erie gets a lot of bad press—toxic algal blooms haven't done much for its image. But what if we instead considered the lake a model of resilience? For all its woes, the lake shifts, adapts and surprises. Just ask the snakes.
Rebecca L. Vidra is the director of undergraduate studies at Duke University's Nicholas School of the Environment.
YOU MIGHT ALSO LIKE 
Watch The Yes Men's Comical Solution to California's Epic Drought
High Levels of Radium Found in PA Stream Near Drinking Water Supply
EcoWatch Daily Newsletter
Bernie Sanders announces he is suspending his campaign via a livestream Wednesday.
berniesanders.com
via Getty Images
The Ernest N. Morial Convention Center in New Orleans, Louisiana has been converted to a 1,000-bed field hospital for coronavirus patients to alleviate stress on local hospitals. Chris Graythen / Getty Images
An area in Louisiana whose predominantly black and brown residents are hard-hit by health problems from industry overdevelopment is experiencing one of the highest death rates from coronavirus of any county in the United States.
A woman lies in bed with the flu. marka/Universal Images Group via Getty Images
A central player in the fight against the novel coronavirus is our immune system. It protects us against the invader and can even be helpful for its therapy. But sometimes it can turn against us.
Several flower species, including the orchid, can recover quickly from severe injury, scientists have found. cunfek / iStock / Getty Images Plus
Calling someone a delicate flower may not sting like it used to, according to new research. Scientists have found that many delicate flowers are actually remarkably hearty and able to bounce back from severe injury.
A Boeing 727 flies over approach lights with a trail of black-smoke from the engines on April 9, 2018. aviation-images.com / Universal Images Group via Getty Images
With global air travel at a near standstill, the airline industry is looking to rewrite the rules it agreed to tackle global emissions. The Guardian reports that the airline is billing it as a matter of survival, while environmental activists are accusing the industry of trying to dodge their obligations.