Shocking Photos of Green Sea Turtle Killed by Ingesting Plastics and Other Marine Litter
Nov. 02, 2015 11:58AM EST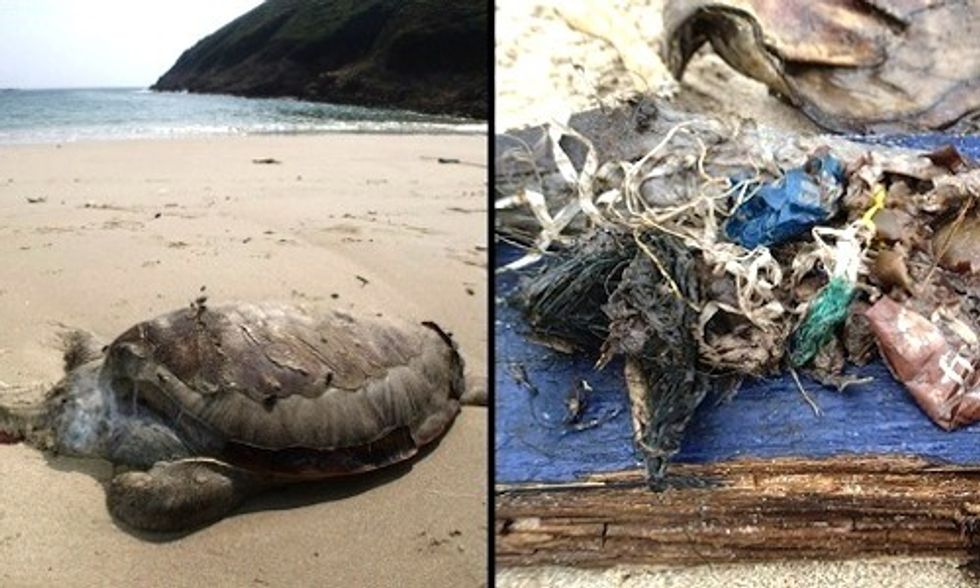 A green sea turtle was found dead on a beach in Sai Kung, Hong Kong, with its stomach and intestines filled with plastic and other marine debris, underscoring the growing crisis of ocean pollution.
Green turtle killed by marine litter found in #HongKong https://t.co/PWb8RwMwXC @HongKongFP #pollution #turtles https://t.co/D4SyXl4Rpd

— Blue Planet Society (@Blue Planet Society)1445939145.0
The greatest threat to green sea turtles, which are endangered, is the commercial harvesting of their eggs, poaching and bycatch (unintentional capture from fishing).
However, this recent incident in Hong Kong highlights the disturbing fact that human-caused trash is a growing threat to aquatic life. As the World Wildlife Fund (WWF) told the Hong Kong Free Press, this is the first time that a green sea turtle in Hong Kong has been found dead from ingesting marine litter.
According to Hong Kong newspaper Stand News, the turtle was found by a local woman named Mandy Wong, who immediately notified the Agricultural, Fisheries and Conservation Department upon discovery. When she returned to the site the next day, she was surprised to find that the turtle's body had been torn apart (perhaps by a dog) with the turtle's stomach and intestines filled with trash.
Dee Hwa Chong, senior fish researcher at the Ichthyological Society of Hong Kong, told Chinese newspaper Ming Pao that the turtle had died from ingesting plastic litter that can tear apart its digestive tract and block its intestines, preventing the turtle from taking in food.
The WWF's Coastal Watch conducted a comprehensive survey on marine litter on coastal habitats in Hong Kong from July 2014 and May 2015, and concluded that plastic trash is a severe threat to all marine ecosystems.
"During all of the surveys, we observed various organisms entangled in debris which caused injury or death, like 'ghost nets' (fishing nets which have been cast adrift). We also found fish bite marks on pieces of plastic litter," said Patrick Yeung, Coastal Watch project manager. "The pollutants absorbed by marine animals will potentially bioaccumulate along the food chain, which will eventually damage the marine ecosystem, affect fishery resources and human health. It is imperative that we tackle the marine litter problem at its source immediately."
Green turtles are a protected species in Hong Kong and listed as endangered by the International Union for Conservation of Nature and Natural Resources. According to Conserveturtles.org, the current population of nesting females is estimated to be between 85,000 and 90,000.
It's clear that we must reduce our plastic footprint as this pollution chokes the entire marine food chain, from plankton to much larger creatures.
Roughly 8 million tons of plastic is dumped into the world's oceans every year, and according to a recent study, 60 percent of this waste comes from just five countries: China, Indonesia, the Philippines, Thailand and Vietnam. As these economies continue to grow and demand more plastic goods, it's projected that plastic consumption in Asia will increase by an astonishing 80 percent to surpass 200 million tons by 2025.
Last week, EcoWatch reported that a dead sperm whale was found off the coast of Taiwan with vast quantities of plastic bags and fishing nets filling its stomach.
YOU MIGHT ALSO LIKE
National Geographic's Stunning Portraits Bare the Stark Reality of Climate Change
One-Third of World's Orangutans at Risk From Fires in Sumatra and Borneo
Another Whale Dead From Ingesting a Plastic Bag
Algal Blooms Linked to Largest Die-Off of Great Whales Ever Recorded
EcoWatch Daily Newsletter
Recent Stories from EcoWatch