This website uses cookies to ensure you get the best experience while browsing it. By clicking 'Got It' you're accepting these terms.
Shocking GMO Ingredient Found in Baby Food
Sep. 16, 2015 01:06PM EST
Food
A shocking new report released Tuesday by the organization GMO Free USA found that Gerber's food product known as "Graduates Lil' Crunchies" contain Roundup Ready corn—a type of genetically-modified corn that actually produces insecticides.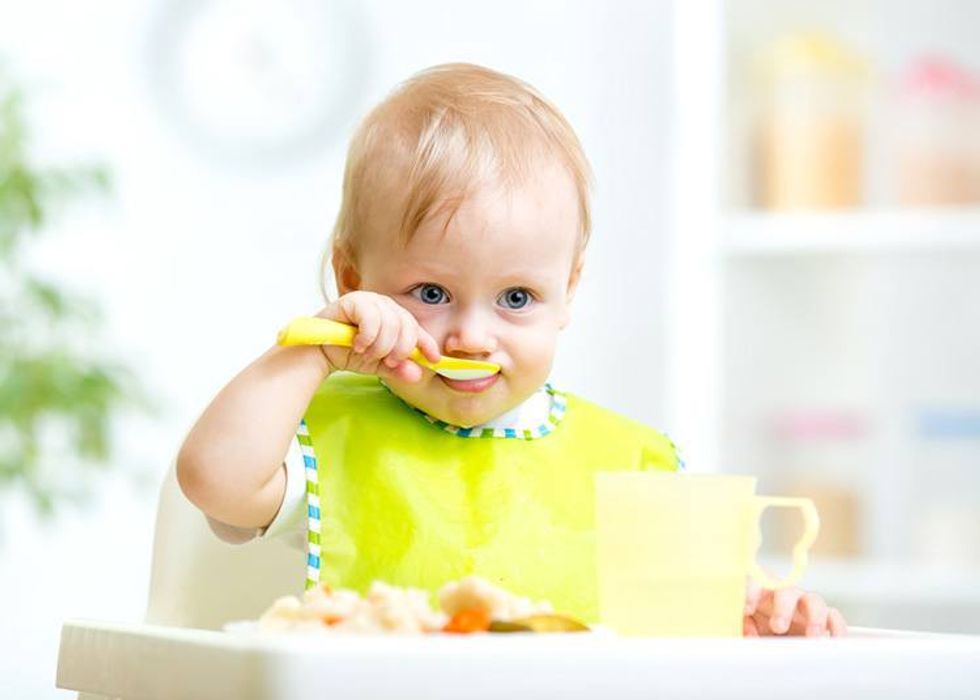 One hundred percent of the corn in the Lil' Crunchies Veggie Dip was GMO. Photo credit: Shutterstock
According to GMO Free USA:
"We sent a package of Gerber Graduates Lil' Crunchies Veggie Dip Baked Whole Grain Corn Snack to a certified lab to test for the presence of GMO material. The quantitative PCR test verified, by DNA analysis, that 100 percent of the corn in the Lil' Crunchies Veggie Dip was GMO. All of the corn has been genetically-engineered to be herbicide tolerant (Roundup Ready) and the corn contained DNA sequences known to be present in Bt insecticide-producing GMO corn."
PCR is short for polymerase chain reaction, which is a method of analyzing genetic material.
The organization adds that Bt (Bacillus thuringiensis) corn "produces insecticidal toxins from inside every cell of the plant." In other words, these pesticides cannot be washed off the plant. Little testing has ever been done on Bt corn's capacity to continue producing insecticides once eaten, but studies suggest that it might.
According to research published in the Archives of Environmental Contamination and Toxicology, scientists found that the genetically-modified corn was linked to liver and kidney damage in animals.
In an in vitro study on human cells published in the Journal of Applied Toxicology, scientists found that the corn may be toxic to human cells. In this study, the researchers found that Roundup killed cells or tissues or caused the cells to kill themselves from 50 parts per million, which the scientists indicate is "far below agricultural dilutions" used in the growing of the genetically-modified corn.
Further research in the Journal of American Science confirmed the liver and kidney damage found in other studies and also found that animals fed a partial diet of genetically-modified corn had male reproductive organ damage, spleen damage and damage to the intestines. The scientists added that "the risk of genetically modified crops cannot be ignored and deserves further investigation."
While scientists continue to recommend further testing, the U.S. Food and Drug Administration (FDA), Environmental Protection Agency (EPA) and the U.S. Department of Agriculture (USDA) have all allowed Bt corn to be commercialized without any human safety tests. The same is true of the respective Canadian agencies Health Canada, Environment Canada and Agriculture and Agri-Food Canada.
Industry continues to cite the genetically-modified corn as safe, claiming that it is broken down before or during consumption. Yet, Canadian research by scientists at the University of Sherbrooke, Quebec, published a study in the medical journal Reproductive Toxicology that found GMO proteins circulating in the bodies of non-pregnant women, pregnant women and the blood supply to fetuses.
YOU MIGHT ALSO LIKE
America's Largest Fast Food Chains Earn Failing Grade for Antibiotic Use
Monsanto's Tobacco Files: University Scientists Caught Conspiring With Biotech Industry to Manipulate Public Opinion on GMOs
California Becomes First State to Label Monsanto's Roundup as a Carcinogen
EcoWatch Daily Newsletter
The Ernest N. Morial Convention Center in New Orleans, Louisiana has been converted to a 1,000-bed field hospital for coronavirus patients to alleviate stress on local hospitals. Chris Graythen / Getty Images
An area in Louisiana whose predominantly black and brown residents are hard-hit by health problems from industry overdevelopment is experiencing one of the highest death rates from coronavirus of any county in the United States.
A woman lies in bed with the flu. marka/Universal Images Group via Getty Images
A central player in the fight against the novel coronavirus is our immune system. It protects us against the invader and can even be helpful for its therapy. But sometimes it can turn against us.
Several flower species, including the orchid, can recover quickly from severe injury, scientists have found. cunfek / iStock / Getty Images Plus
Calling someone a delicate flower may not sting like it used to, according to new research. Scientists have found that many delicate flowers are actually remarkably hearty and able to bounce back from severe injury.
A Boeing 727 flies over approach lights with a trail of black-smoke from the engines on April 9, 2018. aviation-images.com / Universal Images Group via Getty Images
With global air travel at a near standstill, the airline industry is looking to rewrite the rules it agreed to tackle global emissions. The Guardian reports that the airline is billing it as a matter of survival, while environmental activists are accusing the industry of trying to dodge their obligations.
A National Guard member works on election day at a polling location on April 7, 2020 in Madison, Wisconsin. Andy Manis / Getty Images.
ByJulia Baumel
The outbreak of COVID-19 across the U.S. has touched every facet of our society, and our democracy has been no exception.