This website uses cookies to ensure you get the best experience while browsing it. By clicking 'Got It' you're accepting these terms.
Shocking Documents Reveal Fracking Health Complaints Swept Under the Rug in Pennsylvania
Jun. 30, 2015 07:45AM EST
Energy

[Editor's update: Food & Water Watch has submitted a Right-to-Know request to the Pennsylvania Attorney General's office. Last July, the Attorney General told residents who called with concerns about how their complaints with the Department of Health were handled that the office would launch a formal investigation. But since then, no evidence of any substantive investigation has surfaced. Food & Water Watch issued this Right-to-Know request to see what, if anything, has been done by the Attorney General's office to carry out their promise of an investigation.]
Heavily-fracked Pennsylvania is a battle ground in the fight to protect affected families from the harms of the toxic drilling method. Last week after months of resisting our efforts, the state finally delivered more than 100 pages of documents to Food & Water Watch that were requested through a public Right-to-Know request. And what we received was shocking. The documents clearly demonstrate an ongoing pattern of alarming negligence and incompetence by the Pennsylvania Department of Health (DOH) in responding to scores of fracking-related health complaints from state residents.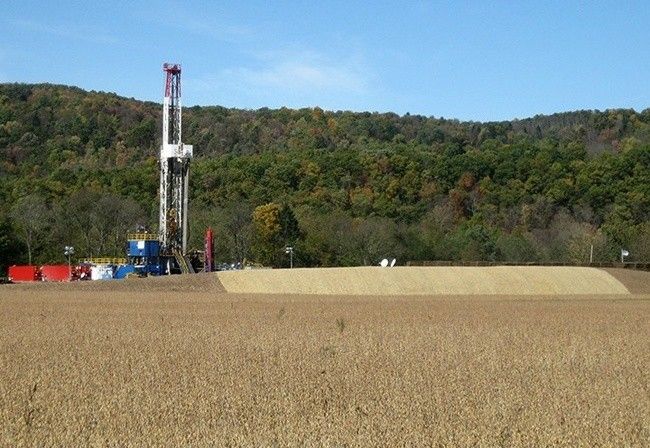 This first came to light in 2014, when a StateImpact Pennsylvania report revealing that DOH health workers were told not to respond to fracking-related health complaints. According to two former DOH employees, the department instituted policies to prevent field staff from addressing complaints from residents regarding natural gas drilling and fracking related health impacts. Employees were given specific instructions to refrain from engaging with residents who called with health complaints containing specific "buzzwords," according to these retired workers. One of the two stated, "We were absolutely not allowed to talk to them." The other indicated their department "wasn't told to be silent on any other topic that I can think of."
Following up, in July 2014, Food & Water Watch filed a Right-to-Know Law request with Pennsylvania's DOH to seek out records of complaints received by the agency and their response records. But DOH clearly did not want to turn over the documents, and it wasn't until the Office of Open Records threatened an injunction, that the DOH finally released these records to Food & Water Watch,.
Between March 30, 2011 and April 6, 2015, the DOH logged 87 complaint records filed by concerned residents, health professionals, state legislators and agencies on behalf of Pennsylvania residents. Respiratory issues, asthma, and throat and nose irritation were the most common health problems reported by residents, followed by noxious odors, skin problems, abdominal issues and noise pollution. Residents also complained of cancer, and extreme hair loss. Doctors even phoned in from "seeing unusual numbers of skin lesions/rashes in residents."
The types of health concerns reported are consistent with the scientific studies of the potential health effects of fracking. Chemicals used in the fracking process impact the skin, eyes, respiratory, immune, endocrine and cardiovascular systems and can cause cancer.
We fought for almost a year and with multiple administrations for these documents. Now we know why. DOH's gross irresponsibility in its failure to respond to the to serious health concerns of the people it is charged to protect must be documented and challenged. We will continue to use legal tools and grassroots outreach to uncover the evidence and to demand accountability.
Gov. Wolf must break the cycle of abuse by the oil and gas industry by instituting an immediate halt on any new fracking in the state.
YOU MIGHT ALSO LIKE
Rolling Stone: 'What's Killing the Babies of Vernal, Utah?'
Is the EPA Fracking Report Science Fiction?
EcoWatch Daily Newsletter
Environmental Investigation Agency
Last week, the Peruvian Palm Oil Producers' Association (JUNPALMA) promised to enter into an agreement for sustainable and deforestation-free palm oil production. The promise was secured by the U.S. based National Wildlife Federation (NWF) in collaboration with the local government, growers and the independent conservation organization Sociedad Peruana de Ecodesarrollo.
Pixabay
Leaked documents show that Jair Bolsonaro's government intends to use the Brazilian president's hate speech to isolate minorities living in the Amazon region. The PowerPoint slides, which democraciaAbierta has seen, also reveal plans to implement predatory projects that could have a devastating environmental impact.
XL CATLIN SEAVIEW SURVEY / THE OCEAN AGENCY
Hope may be on the horizon for the world's depleted coral reefs thanks to scientists who successfully reproduced endangered corals in a laboratory setting for the first time, according to Reuters.
Last week we received positive news on the border wall's imminent construction in an Arizona wildlife refuge. The Trump administration delayed construction of the wall through about 60 miles of federal wildlife preserves.
PhotoAlto / Frederic Cirou / Getty Images
Drinking water treated with fluoride during pregnancy may lead to lower IQs in children, a controversial new study has found.
National Institude of Allergy and Infectious Disease
A Greenpeace rally calls for a presidential campaign climate debate on June 12 in Washington, DC. Sarah Silbiger / Getty Images