This website uses cookies to ensure you get the best experience while browsing it. By clicking 'Got It' you're accepting these terms.
Shocking Documents Reveal Fracking Health Complaints Swept Under the Rug in Pennsylvania
Jun. 30, 2015 07:45AM EST

[Editor's update: Food & Water Watch has submitted a Right-to-Know request to the Pennsylvania Attorney General's office. Last July, the Attorney General told residents who called with concerns about how their complaints with the Department of Health were handled that the office would launch a formal investigation. But since then, no evidence of any substantive investigation has surfaced. Food & Water Watch issued this Right-to-Know request to see what, if anything, has been done by the Attorney General's office to carry out their promise of an investigation.]
Heavily-fracked Pennsylvania is a battle ground in the fight to protect affected families from the harms of the toxic drilling method. Last week after months of resisting our efforts, the state finally delivered more than 100 pages of documents to Food & Water Watch that were requested through a public Right-to-Know request. And what we received was shocking. The documents clearly demonstrate an ongoing pattern of alarming negligence and incompetence by the Pennsylvania Department of Health (DOH) in responding to scores of fracking-related health complaints from state residents.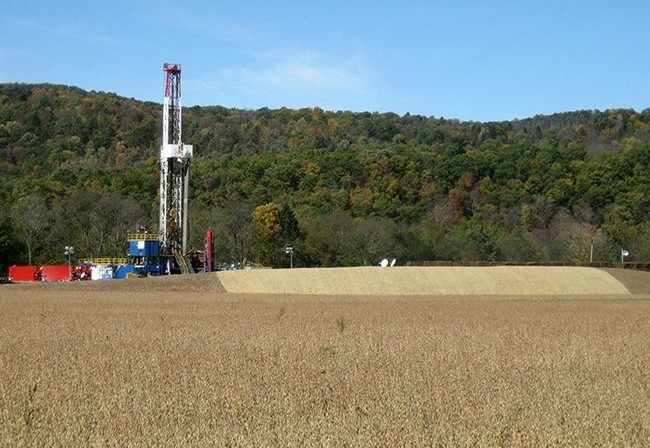 This first came to light in 2014, when a StateImpact Pennsylvania report revealing that DOH health workers were told not to respond to fracking-related health complaints. According to two former DOH employees, the department instituted policies to prevent field staff from addressing complaints from residents regarding natural gas drilling and fracking related health impacts. Employees were given specific instructions to refrain from engaging with residents who called with health complaints containing specific "buzzwords," according to these retired workers. One of the two stated, "We were absolutely not allowed to talk to them." The other indicated their department "wasn't told to be silent on any other topic that I can think of."
Following up, in July 2014, Food & Water Watch filed a Right-to-Know Law request with Pennsylvania's DOH to seek out records of complaints received by the agency and their response records. But DOH clearly did not want to turn over the documents, and it wasn't until the Office of Open Records threatened an injunction, that the DOH finally released these records to Food & Water Watch,.
Between March 30, 2011 and April 6, 2015, the DOH logged 87 complaint records filed by concerned residents, health professionals, state legislators and agencies on behalf of Pennsylvania residents. Respiratory issues, asthma, and throat and nose irritation were the most common health problems reported by residents, followed by noxious odors, skin problems, abdominal issues and noise pollution. Residents also complained of cancer, and extreme hair loss. Doctors even phoned in from "seeing unusual numbers of skin lesions/rashes in residents."
The types of health concerns reported are consistent with the scientific studies of the potential health effects of fracking. Chemicals used in the fracking process impact the skin, eyes, respiratory, immune, endocrine and cardiovascular systems and can cause cancer.
We fought for almost a year and with multiple administrations for these documents. Now we know why. DOH's gross irresponsibility in its failure to respond to the to serious health concerns of the people it is charged to protect must be documented and challenged. We will continue to use legal tools and grassroots outreach to uncover the evidence and to demand accountability.
Gov. Wolf must break the cycle of abuse by the oil and gas industry by instituting an immediate halt on any new fracking in the state.
YOU MIGHT ALSO LIKE
Rolling Stone: 'What's Killing the Babies of Vernal, Utah?'
Is the EPA Fracking Report Science Fiction?
Three scissor-tailed flycatcher fledglings in a mesquite tree in Texas. Texas Eagle / CC BY-NC 2.0
By Gary Paul Nabhan
President Trump has declared a national emergency to fund a wall along our nation's southern border. The border wall issue has bitterly divided people across the U.S., becoming a vivid symbol of political deadlock.
PeopleImages / E+ / Getty Images
By Daniel Ross
Hurricane Florence, which battered the U.S. East Coast last September, left a trail of ruin and destruction estimated to cost between $17 billion and $22 billion. Some of the damage was all too visible—smashed homes and livelihoods. But other damage was less so, like the long-term environmental impacts in North Carolina from hog waste that spilled out over large open-air lagoons saturated in the rains.
Hog waste can contain potentially dangerous pathogens, pharmaceuticals and chemicals. According to the state's Department of Environmental Quality, as of early October nearly 100 such lagoons were damaged, breached or were very close to being so, the effluent from which can seep into waterways and drinking water supplies.
This picture taken on May 21, 2018 shows discarded climbing equipment and rubbish scattered around Camp 4 of Mount Everest. Decades of commercial mountaineering have turned Mount Everest into the world's highest rubbish dump as an increasing number of big-spending climbers pay little attention to the ugly footprint they leave behind. DOMA SHERPA / AFP / Getty Images
China has closed its Everest base camp to tourists because of a buildup of trash on the world's tallest mountain.
Researchers tested the eggs of Arctic northern fulmers like these in Nunavut, Canada.
Fiona Paton / Flickr
By Madison Dapcevich
Plastics have been recorded in every corner of the world, from the remote icy waters of Antarctica to the bellies of deep-sea fishes. Now, preliminary findings presented at this year's American Association for the Advancement of Science (AAAS) annual meeting in Washington, DC suggest that bird eggs from the high Arctic—one of the most remote wildernesses on the planet—show evidence of contamination from chemicals used in plastics.