This website uses cookies to ensure you get the best experience while browsing it. By clicking 'Got It' you're accepting these terms.
Shell Pipeline Leaks 20,000 Gallons of Oil in California's Central Valley
May. 27, 2016 09:55AM EST
Energy
For the second time in two weeks, Shell has spilled thousands of gallons of oil, this time in California's Central Valley.
Less than two weeks after dumping nearly 90,000 gallons of oil into the Gulf of Mexico, Shell Oil is at it again. The company's San Pablo Bay Pipeline, which transports crude oil from California's Central Valley to the San Francisco Bay Area, leaked an estimated 21,000 gallons into the soil near in San Joaquin County this week.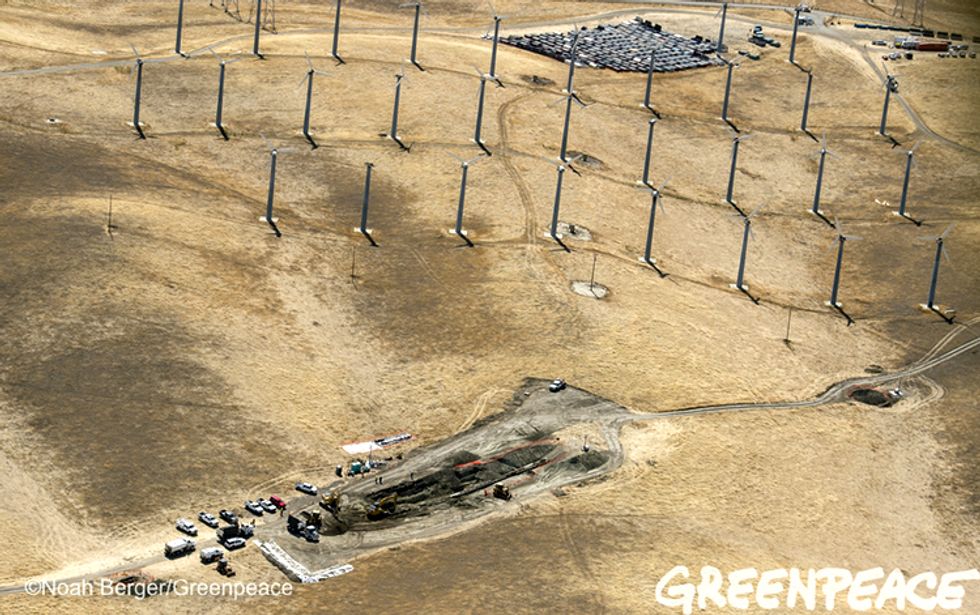 Responders are on the scene to clear oil that's reached the surface, which county officials say covered roughly 10,000 square feet of land. As of today, Shell representatives claim the pipeline has been repaired, but have not resumed operations.
Local government officials and Shell responders are investigating the cause of the leak and currently report that no oil has entered drinking water sources or populated areas.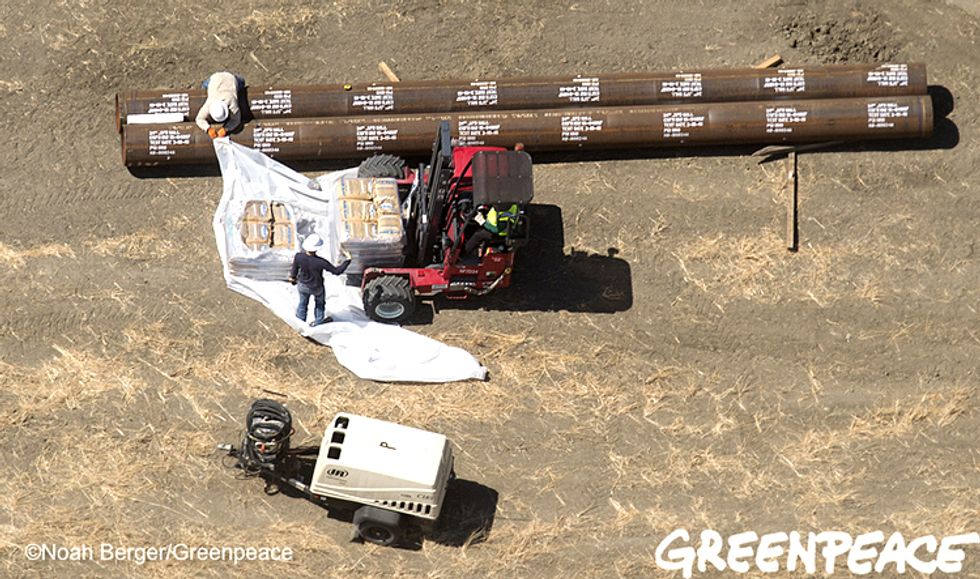 While two large oil spills in two weeks may seem like a pretty epic failure—particularly for a company that just said "no release [of oil] is acceptable"—in reality this is what business as usual looks like for an industry built on polluting our environment and driving climate disaster.
In fact, this same pipeline sprung a leak just eight months ago in almost the same location, spilling roughly the same amount of oil into the ground.
Adding irony to injury, the spill occurred on the site of one the state's largest wind energy developments, the Altamont Pass Wind Farm. Wind energy, it should be clarified, does not release toxic chemicals into the soil or contribute to runaway climate change. Perhaps Shell responders on the scene will take note.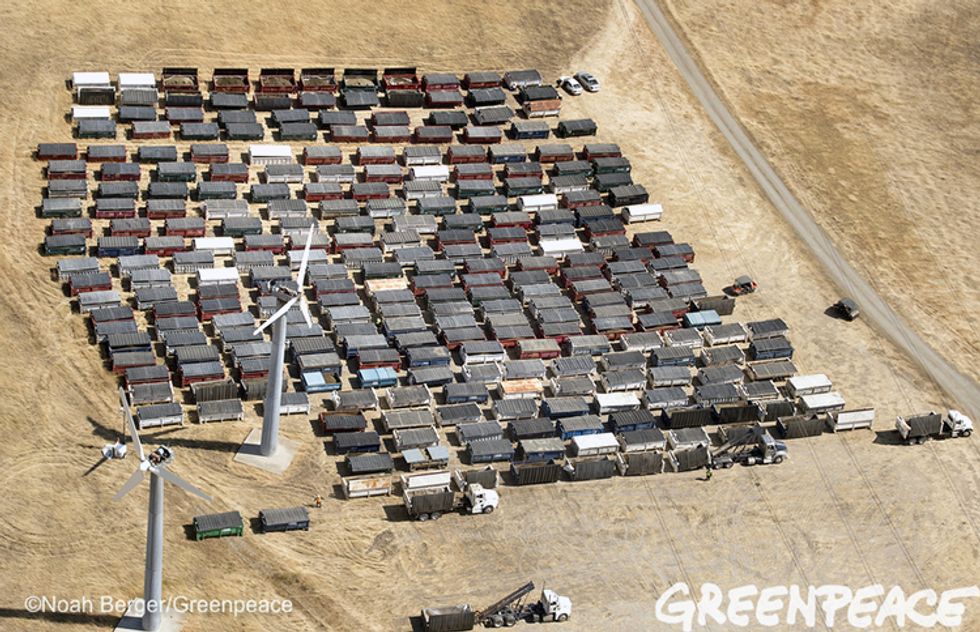 Interestingly, Shell officials decided to wait three days before releasing a statement to the public about the spill—after shareholders convened at the company's Annual General Meeting in The Hague, Netherlands. The spill was first detected early Friday morning, but not publicly reported until Monday evening Pacific time.
Environmental watchdog groups are still monitoring the impacts of Shell's spill in the Gulf, some pointing to the oil industry's history of under-reporting the extent and impact of spills as reason to stay vigilant.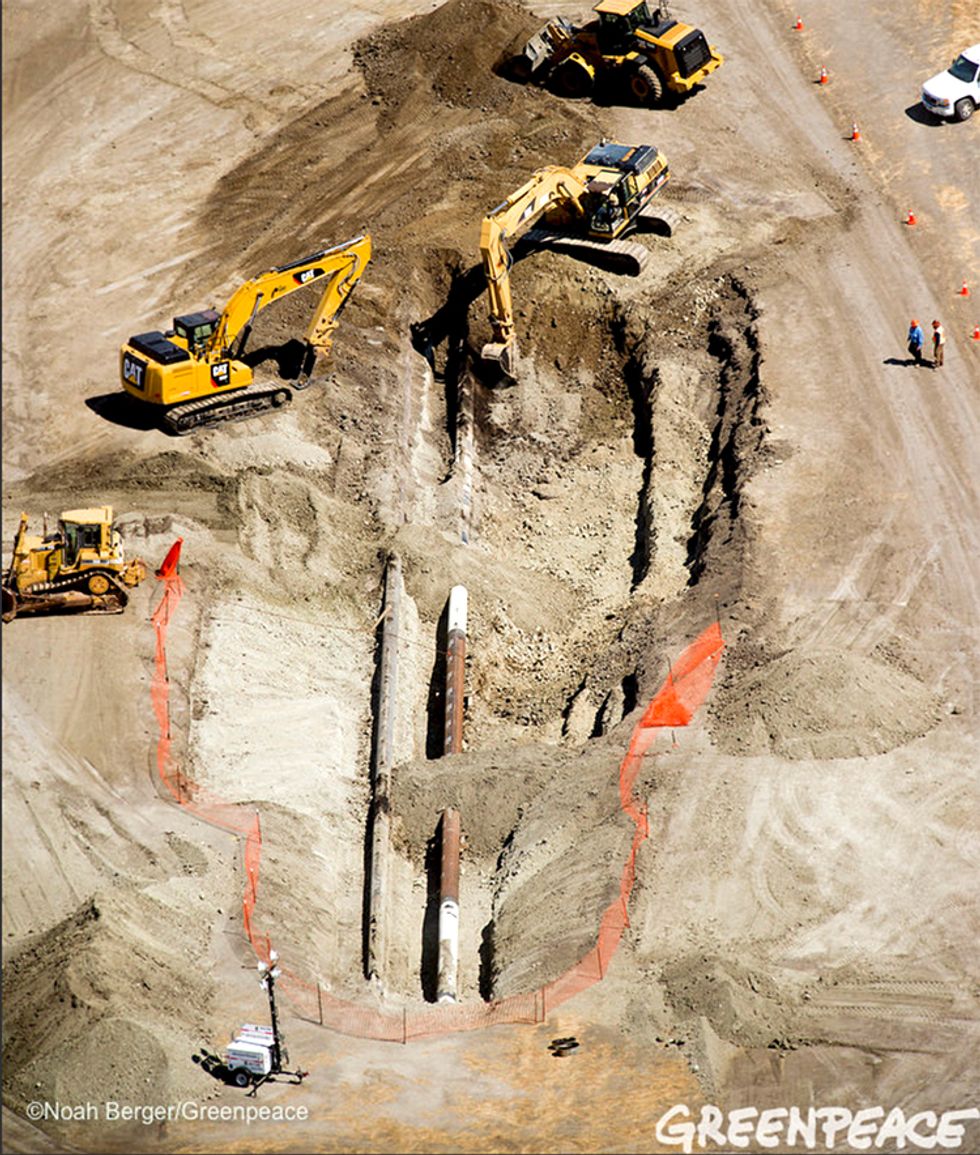 What's increasingly clear is that companies like Shell aren't going to stop polluting in pursuit of fossil fuels we can't afford to burn on their own—we're going to have to rise up to stop them.
History shows us that the more fossil fuel infrastructure we have (and we have a lot in this country) the more spills like this we'll see. So let's not build more—business as usual for the fossil fuel industry cannot continue.
Help put an end to leaks, spills and fossil fuel pollution while fighting for the climate at the same time. Tell President Obama to end all new offshore drilling today.
YOU MIGHT ALSO LIKE
Granddaughter of Exxon Scientist Confronts CEO Over Funding Climate Denial
Protesters Blockade Planned Pipeline Site Near Nuclear Plant Outside NYC
Shell Oil Spill Dumps Nearly 90,000 Gallons of Crude Into Gulf
Exxon Board Rejects All Nine Climate Resolutions at Annual Meeting
EcoWatch Daily Newsletter
A new study shows that half of all Arctic warming and corresponding sea-loss during the late 20th century was caused by ozone-depleting substances. Here, icebergs discharged from Greenland's Jakobshavn Glacier. Kevin Krajick / Earth Institute /
EurekAlert!
The world awakened to the hole in the ozone layer in 1985, which scientists attributed it to ozone depleting substances. Two years later, in Montreal, the world agreed to ban the halogen compounds causing the massive hole over Antarctica. Research now shows that those chemicals didn't just cut a hole in the ozone layer, they also warmed up the Arctic.
Diane Wilson holds up a bag full of nurdles she collected from one of Formosa's outfall areas on Jan. 15. Julie Dermansky / DeSmogBlog
On the afternoon of Jan. 15, activist Diane Wilson kicked off a San Antonio Estuary Waterkeeper meeting on the side of the road across from a Formosa plastics manufacturing plant in Point Comfort, Texas.
After Wilson and the waterkeeper successfully sued Formosa in 2017, the company agreed to no longer release even one of the tiny plastic pellets known as nurdles into the region's waterways. The group of volunteers had assembled that day to check whether the plant was still discharging these raw materials of plastics manufacturing.
Malaysian Environment Minister Yeo Bee Yin (front 2nd L) and officials inspect a container containing plastic waste shipment on Jan. 20, 2020 before sending back to the countries of origin. AFP via Getty Images
The Southeast Asian country Malaysia has sent 150 shipping containers packed with plastic waste back to 13 wealthy countries, putting the world on notice that it will not be the world's garbage dump, as CNN reported. The countries receiving their trash back include the United States, the United Kingdom, France and Canada.
Trump leaves after delivering a speech at the Congress Centre during the World Economic Forum annual meeting in Davos on Jan. 21, 2020. JIM WATSON / AFP via Getty Images