Shell Pipeline Leaks 20,000 Gallons of Oil in California's Central Valley
For the second time in two weeks, Shell has spilled thousands of gallons of oil, this time in California's Central Valley.
Less than two weeks after dumping nearly 90,000 gallons of oil into the Gulf of Mexico, Shell Oil is at it again. The company's San Pablo Bay Pipeline, which transports crude oil from California's Central Valley to the San Francisco Bay Area, leaked an estimated 21,000 gallons into the soil near in San Joaquin County this week.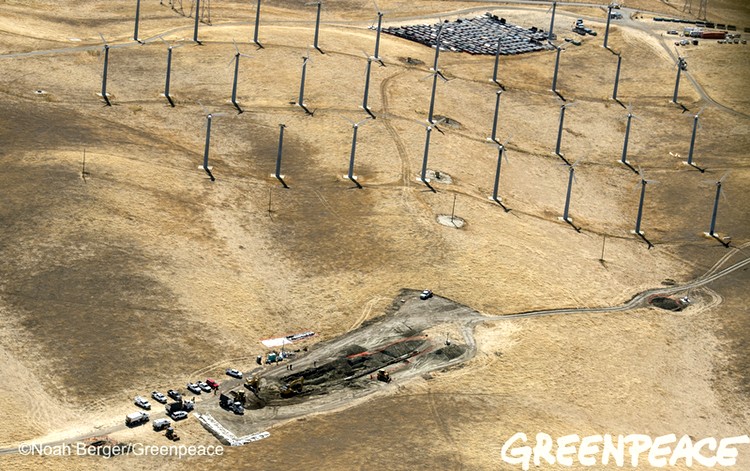 Responders are on the scene to clear oil that's reached the surface, which county officials say covered roughly 10,000 square feet of land. As of today, Shell representatives claim the pipeline has been repaired, but have not resumed operations.
Local government officials and Shell responders are investigating the cause of the leak and currently report that no oil has entered drinking water sources or populated areas.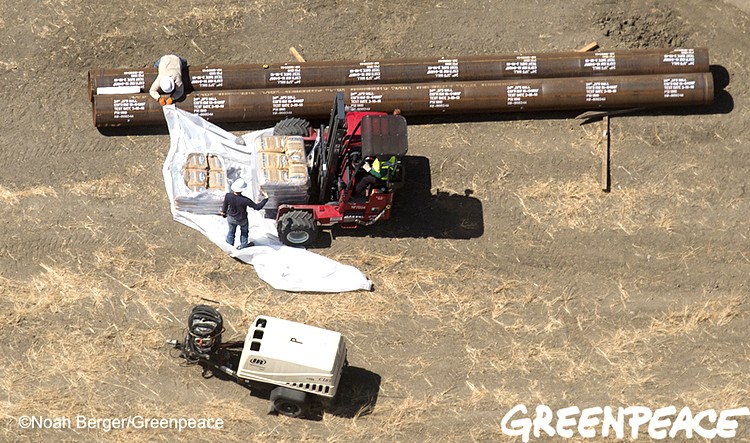 While two large oil spills in two weeks may seem like a pretty epic failure—particularly for a company that just said "no release [of oil] is acceptable"—in reality this is what business as usual looks like for an industry built on polluting our environment and driving climate disaster.
In fact, this same pipeline sprung a leak just eight months ago in almost the same location, spilling roughly the same amount of oil into the ground.
Adding irony to injury, the spill occurred on the site of one the state's largest wind energy developments, the Altamont Pass Wind Farm. Wind energy, it should be clarified, does not release toxic chemicals into the soil or contribute to runaway climate change. Perhaps Shell responders on the scene will take note.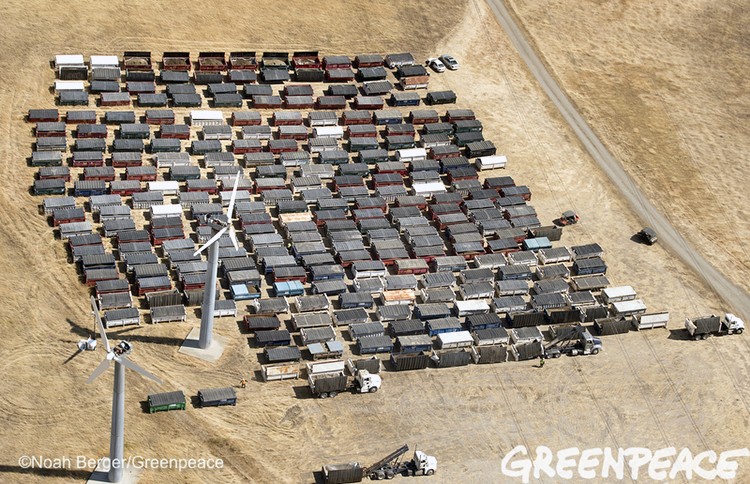 Interestingly, Shell officials decided to wait three days before releasing a statement to the public about the spill—after shareholders convened at the company's Annual General Meeting in The Hague, Netherlands. The spill was first detected early Friday morning, but not publicly reported until Monday evening Pacific time.
Environmental watchdog groups are still monitoring the impacts of Shell's spill in the Gulf, some pointing to the oil industry's history of under-reporting the extent and impact of spills as reason to stay vigilant.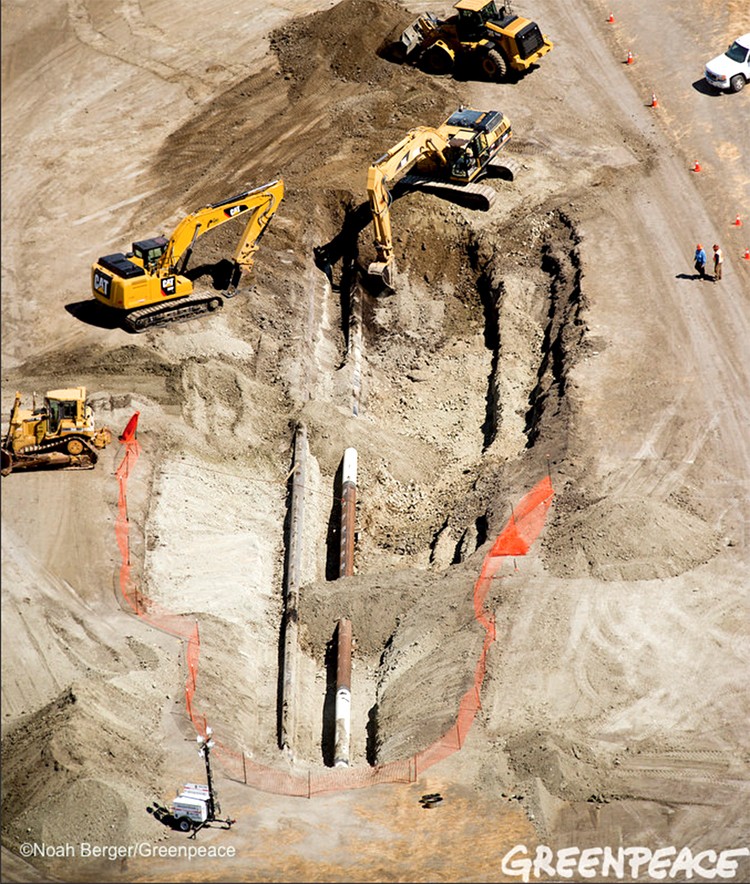 What's increasingly clear is that companies like Shell aren't going to stop polluting in pursuit of fossil fuels we can't afford to burn on their own—we're going to have to rise up to stop them.
History shows us that the more fossil fuel infrastructure we have (and we have a lot in this country) the more spills like this we'll see. So let's not build more—business as usual for the fossil fuel industry cannot continue.
Help put an end to leaks, spills and fossil fuel pollution while fighting for the climate at the same time. Tell President Obama to end all new offshore drilling today.
YOU MIGHT ALSO LIKE
Granddaughter of Exxon Scientist Confronts CEO Over Funding Climate Denial
Protesters Blockade Planned Pipeline Site Near Nuclear Plant Outside NYC
Shell Oil Spill Dumps Nearly 90,000 Gallons of Crude Into Gulf
Exxon Board Rejects All Nine Climate Resolutions at Annual Meeting
Glyphosate, the main ingredient in Monsanto's widely used herbicide Roundup, will be added July 7 to California's list of chemicals known to the state to cause cancer, according to a Reuters report Tuesday. This news comes after the company's unsuccessful attempt to block the listing in trial court and requests for stay were denied by a state appellate court and California's Supreme Court.
California's Office of Environmental Health Hazard Assessment (OEHHA) announced the designation on Monday under the Safe Drinking Water and Toxic Enforcement Act of 1986, or Proposition 65.
Keep reading...
Show less
www.facebook.com
Keep reading...
Show less
Researchers from the Marine Animal Response Society examine one of the dead right whales. Marine Animal Response Society
Canadian government officials and marine biologists are investigating the mysterious deaths of six North American right whales. The endangered animals all turned up dead between June 6 and June 23 in the Gulf of St. Lawrence, off Canada's southeastern coast.
North Atlantic right whales are the rarest of all large whale species and among the rarest of all marine mammal species, with only about 450 right whales in the North Atlantic.
Keep reading...
Show less
Scott Pruitt testifies during his Senate confirmation hearing for EPA administrator, January 2017.
The U.S. Environmental Protection Agency's (EPA) chief of staff pressured the leader of its Board of Scientific Counselors to change her congressional testimony to downplay the impact of the agency's mass dismissal of scientists from the board, the New York Times reports.
Keep reading...
Show less
By Jason Mark
Sequoiadendron giganteum. That's the scientific name for the giant sequoia: the mammoth trees found in California's Sierra Nevada that are the largest organisms on Earth, and among the longest-lived. Biologists estimate that about half of all sequoias live in Giant Sequoia National Monument, a 328,000-acre preserve in the Southern Sierra Nevada established by President Clinton in 2000.
Now that national monument is in jeopardy.
Keep reading...
Show less
By Andy Rowell
Donald Trump this week is launching an "energy week," pushing the argument that the U.S. will become a net exporter of oil and gas.
The president and his cronies are talking about a new era of "U.S. energy dominance," which could stretch for decades to come. However, no one believes the president anymore.
Keep reading...
Show less
UN
By Colleen Curry
The United Nations has designated 23 new sites around the world to its World Network of Biosphere reserves—stunning natural landscapes that balance environmental and human concerns and strive for sustainability.
The forests, beaches and waterways were added to the list this year at the International Coordinating Council of the Man and the Biosphere Programme meeting in Paris earlier this month.
Keep reading...
Show less
Jun. 26, 2017 01:48PM EST
www.elysee.fr
By Andy Rowell
There is a growing feeling within European capitals that a quiet, but deeply positive, revolution is happening under Emmanuel Macron in France.
Macron's opinion poll rating is high, especially boosted in how the young French president has reacted to Donald Trump on the international stage.
Keep reading...
Show less
Jun. 26, 2017 12:32PM EST
www.facebook.com
Keep reading...
Show less