This website uses cookies to ensure you get the best experience while browsing it. By clicking 'Got It' you're accepting these terms.


The best of EcoWatch, right in your inbox. Sign up for our email newsletter!
Shell Abandons 2013 Arctic Drilling
Feb. 28, 2013 08:38AM EST
Energy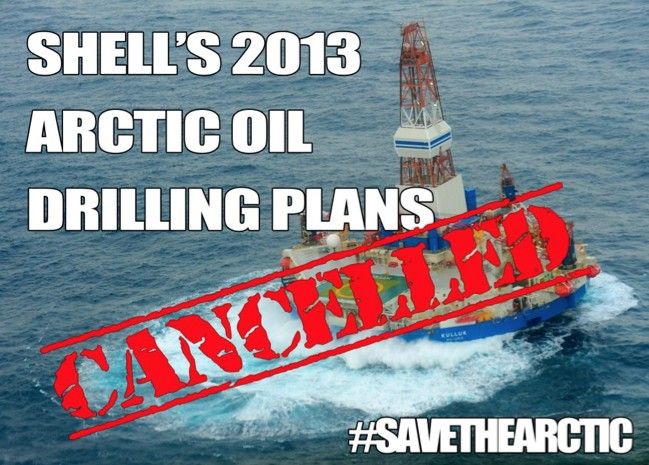 After a year of embarrassing failures and accidents, Royal Dutch Shell announced yesterday it would not drill in the Arctic this year.
"It is encouraging that America's pristine Arctic has been given a reprieve and we are happy Shell has now officially recognized they cannot safely drill in the Arctic. Now, it's time that the Obama Administration recognizes the same thing," said Michael Brune, executive director of the Sierra Club.
"Shell began its Arctic folly by declaring they would take every possible step to ensure safety, and then promptly proceeded to fail over and over again. In just twelve months, Shell's ships have caught fire, run aground, lost control and become the subject of criminal investigation. Now, they've retreated from the Arctic with their tails between their legs and hauled their broken ships to Asia for repair. Their best efforts to drill safely in the Arctic have been a catastrophe that only pushed us to the brink of disaster.
"If one of the largest and wealthiest companies in the world cannot drill safely in the Arctic, no one can. The Obama Administration should declare the Arctic off-limits to dangerous drilling, cancel Shell's permits, and terminate future lease sales immediately, before we're faced with an even greater disaster."
Phil Radford, executive director of Greenpeace USA, responded by saying, "This is the first thing Shell's done right in Alaska—calling it quits. Shell was supposed to be the best of the best, but the long list of mishaps and near-disasters is a clear indication even the 'best' companies can't succeed in Arctic drilling. Secretary Salazar and President Obama gave drilling a chance; now the responsible decision is to make Arctic drilling off limits, forever.
"Taking the lead on saving the Arctic from dangerous exploitation will not only protect the fragile Arctic ecosystem and the communities that depend on it, it will send a powerful signal to other nations that it's time to kick our addiction to fossil fuels. Drilling in the Arctic will propel us towards catastrophic climate change, so it needs to end now.
"Shell's announcement is an admission that  the millions of people around the world were right to urge Obama to keep the company out of the Arctic. Now Obama needs to listen to the 2.7 million people who have signed on to #SaveTheArctic and make Arctic drilling off-limits forever."
According to Greenpeace, here's eight reasons Shell can't be trusted in the Arctic:
1. Shell has no idea how much an oil spill clean-up would cost
In March 2012, in response to questions from the UK's Parliamentary Environmental Audit Committee, Peter Velez, Shell's head of emergency response in the Arctic admitted that Shell had not assessed the costs of a clean-up operation in the Arctic, leaving shareholders exposed to potentially huge financial losses.
2. Shell's barge, the Arctic Challenger, was not deemed safe enough by the U.S. government
In July last year the U.S. authorities announced that a key part of Shell's oil spill response fleet hadn't been allowed to sail to the Arctic because it did not meet U.S. Coast Guard safety standards. The ship, Arctic Challenger, is a 36-year-old barge used to drag safety equipment through sea ice. But U.S. authorities are not happy with what they've seen on-board and didn't feel confident the Arctic Challenger could withstand the extremely harsh Arctic environment. Originally Shell agreed that the ship would be able to withstand a 100-year storm, but company engineers are now saying that it is "no longer appropriate" for the barge to meet such onerous standards.
3. U.S. Coast Guard "not confident" with Shell's dispersants in the event of an oil spill
In an interview with Bloomberg, the commandant of the U.S. Coast Guard expressed doubts about the impact of dispersants in Alaska in the event of an oil spill, saying, "I'm not confident what it will do in the colder water up in Alaska." Shell has included dispersant use as a major part of its oil spill response plan for the Arctic.
4. Shell's drill ship runs aground in a "stiff breeze"
On July 15, Shell's drill ship, the Noble Discoverer, ran aground in the sheltered and relatively calm Dutch Harbour, Alaska, in a 35 mph wind. Both the Noble Discoverer and the Kulluk are aging, rusty vessels and not the state of the art fleet that Shell has been boasting about. The Kulluk has been mothballed for the last 13 years whilst the Frontier Discoverer was built in 1966.
5. Shell's drill ship catches fire
In November the engine of the drill ship the Noble Discoverer caught fire as it returned to Dutch Harbour, Alaska, and had to be put out by specialist fire crews.
6. Shell's capping stack safety system "crushed like a beer can" during testing
In December it was revealed that the oil spill containment system that Shell was supposed to have on-site in the Arctic was badly damaged in September testing. A Federal Bureau of Safety and Environmental Enforcement representative disclosed that the sub-sea capping stack was "crushed like a beer can."
7. Shell's Alaskan Vice-President admits: "There will be spills"
In an interview with the BBC, Pete Slaiby admits that an oil spill is what people were most concerned about. "If you ask me will there ever be spills, I imagine there will be spills," he said.
8. Shell's Arctic oil rig hits the rocks
On Dec. 31, 2012, the oil rig the Kulluk ran aground off the coast of Alaska while being towed back to harbor in Seattle. It had hit heavy weather in the gulf of Alaska a few days earlier which caused the 400 foot towing line to break and the rig to drift free. The tug managed to reconnect with the Kulluk but it "experienced multiple engine failures" 50 miles south of Kodiak Island, causing the rig to drift free once again in 35 foot seas and winds of 40 mph. The rig eventually ran aground on Monday after another attempt to tow it away. The Kulluk has 139,000 gallons of diesel and 12,000 gallons of hydraulic oil on board but as yet no spills have been observed. Teams on the ground are currently still trying to secure the rig.
Visit EcoWatch's OFFSHORE OIL DRILLING page for more related news on this topic.
——–
Click here to tell Congress to Expedite Renewable Energy.

EcoWatch Daily Newsletter
Did you know that more than a third of food is wasted or thrown away every year? And that only 25 percent of it would be enough to feed the 795 million undernourished people in the world? That's why today is Stop Food Waste Day, a chance to reflect on what you can do to waste less of the food you buy.
Stop Food Waste Day is an initiative of food service company Compass Group. It was launched first in the U.S, in 2017 and went global the year after, making today it's second worldwide celebration.
Flames and smoke are seen billowing from the roof at Notre-Dame Cathedral on April 15 in Paris, France. Veronique de Viguerie / Getty Images
When Paris's Notre Dame caught fire on April 15, the flames threatened more than eight centuries of culture and history. The fire evoked shock, horror and grief worldwide. While the cathedral burned, French President Emmanuel Macron expressed determination to rebuild what the French regard as a sacred site.
An artist's impression of NASA's InSight lander on Mars. NASA / JPL-CALTECH
Scientists have likely detected a so-called marsquake — an earthquake on Mars — for the first time, The National Aeronautics and Space Administration (NASA) announced on Tuesday.
Hero Images / Getty Images
Across the political aisle, a majority of American parents support teaching climate change in schools even though most teachers currently do not.
By Andrea Germanos
Lawyer and visionary thinker Polly Higgins, who campaigned for ecocide to be internationally recognized as a crime on par with genocide and war crimes, died Sunday at the age of 50.
She had been diagnosed with an aggressive cancer last month and given just weeks to live.
The Anopheles stephensi mosquito, which carries malaria. CDC / Jim Gathany
The world's first malaria vaccine was launched in Malawi on Tuesday, NPR reported. It's an important day in health history. Not only is it the first malaria vaccine, it's the first vaccine to target any human parasite.