This website uses cookies to ensure you get the best experience while browsing it. By clicking 'Got It' you're accepting these terms.
Sheldon Whitehouse Slams Marco Rubio's Climate Change Views, Extends Senate-Floor Invitation
May. 16, 2014 08:17AM EST
Climate
U.S. Sen Sheldon Whitehouse (D-RI) told Sen. Marco Rubio (R-FL) why his views on climate change were wrong Thursday and used some of the latter's own words against him to do so. He then invited Rubio to the Senate floor to further discuss climate change.
Whitehouse sent a two-page letter to Rubio's office in response to comments he made on ABC that he doesn't believe  "that human activity is causing these dramatic changes to our climate the way these scientists are portraying it." Whitehouse recalled a speech Rubio made last fall suggesting that the U.S. was the only nation capable of spreading "the light of peace and liberty" throughout the world. Whitehouse does't understand why Rubio views climate change differently.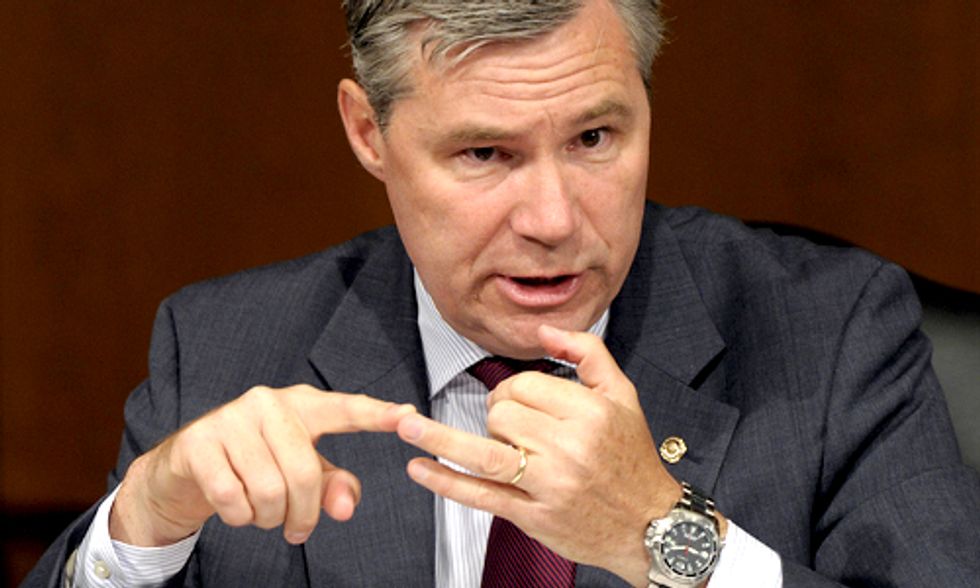 "I, too, believe that Americans must continue to hold up a torch to the world," Whitehouse wrote. "It is our responsibility as a great nation to set an example for others to follow. Failing to act on climate change would dim our torch and give other nations an excuse to delay action on this urgent issue."
In addition to Rubio's alarming comments on ABC, a recent road trip to Florida influenced Whitehouse to write the letter, uploaded to Scribd by the Huffington Post. He talked to Army Corps of Engineers officials in Jacksonville about what sea-level rise would mean for Florida's coast, its freshwater supply and the state's inland flooding. He said residents fully understood that manmade climate change was adding to the problem.
Whitehouse also said that these factors are not stopping leaders in Rubio's state from taking action. He made sure to point out that climate change is not a partisan issue.
"Monroe County has a Republican mayor who is putting climate and energy policy at the heart of her 20-year growth plan," Whitehouse wrote. "Mayor Philip Levine of Miami Beach is hard at work, too. 'Sea-level rise is our reality in Miami Beach,' [Levine] said. 'We are past the point of debating the existence of climate change and are now focusing on adapting to current and future threats.'"
To that end, Levine is pushing for a $400 million drainage system plan for rising tides.
Whitehouse says he talks about climate change on the Senate floor every week.
"[I] would love for you to join me to present your own perspective," Whitehouse said. "I hope you'll consider doing so.
"Climate change is an issue of critical importance for both Rhode Island and Florida, and I hope we can find a way to work together to address it." 
——–
YOU ALSO MIGHT LIKE
Marco Rubio: Human's Don't Cause Climate Change
How Melting Antarctic Glacier Will Make These 14 Coastal U.S. Attractions Look
U.S. Military Report: Climate Change is a 'Catalyst for Conflict'
——–
EcoWatch Daily Newsletter
A new study shows that half of all Arctic warming and corresponding sea-loss during the late 20th century was caused by ozone-depleting substances. Here, icebergs discharged from Greenland's Jakobshavn Glacier. Kevin Krajick / Earth Institute /
EurekAlert!
The world awakened to the hole in the ozone layer in 1985, which scientists attributed it to ozone depleting substances. Two years later, in Montreal, the world agreed to ban the halogen compounds causing the massive hole over Antarctica. Research now shows that those chemicals didn't just cut a hole in the ozone layer, they also warmed up the Arctic.
Diane Wilson holds up a bag full of nurdles she collected from one of Formosa's outfall areas on Jan. 15. Julie Dermansky / DeSmogBlog
On the afternoon of Jan. 15, activist Diane Wilson kicked off a San Antonio Estuary Waterkeeper meeting on the side of the road across from a Formosa plastics manufacturing plant in Point Comfort, Texas.
After Wilson and the waterkeeper successfully sued Formosa in 2017, the company agreed to no longer release even one of the tiny plastic pellets known as nurdles into the region's waterways. The group of volunteers had assembled that day to check whether the plant was still discharging these raw materials of plastics manufacturing.
Malaysian Environment Minister Yeo Bee Yin (front 2nd L) and officials inspect a container containing plastic waste shipment on Jan. 20, 2020 before sending back to the countries of origin. AFP via Getty Images
The Southeast Asian country Malaysia has sent 150 shipping containers packed with plastic waste back to 13 wealthy countries, putting the world on notice that it will not be the world's garbage dump, as CNN reported. The countries receiving their trash back include the United States, the United Kingdom, France and Canada.
Trump leaves after delivering a speech at the Congress Centre during the World Economic Forum annual meeting in Davos on Jan. 21, 2020. JIM WATSON / AFP via Getty Images