This website uses cookies to ensure you get the best experience while browsing it. By clicking 'Got It' you're accepting these terms.
Sequester Cuts: How It Will Strain the Economy and Put Americans' Health at Risk
Mar. 04, 2013 09:19AM EST
Energy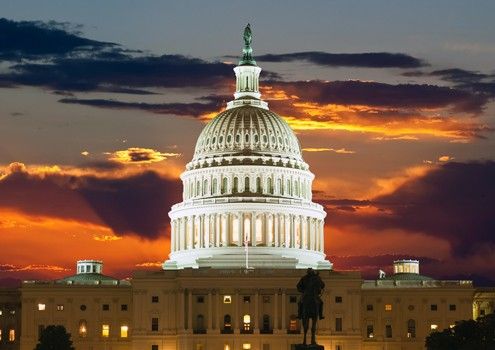 Photo courtesy of Shutterstock
The failure of elected officials in Washington, D.C. to reach a deal on the "sequester" led to an automatic $85 billion cut to the federal budget on March 1. And, unfortunately, environmental initiatives and other projects were the first to be placed on the chopping block.
Environmental programs within the U.S.—everything from wildlife refuges to clean air and water programs—have already been grossly underfunded for years, and the sequester cuts are only going to make things much, much worse for our environment.
One program that was gearing up to be cut less than 24 hours after sequester took effect was the Bureau of Labor Statistics green jobs survey. This program allowed the administration to track the creation and tally of jobs within the clean energy and other "green" sectors, a program that many Republicans in Washington had wanted to cut from day one. 
But those cuts are just the beginning. Energy Secretary Steven Chu said that the mandatory cuts are going to severely hurt investment and research into lightweight automobile construction and fuel cell technology, investments that were aimed at helping increase automobile fuel efficiency and reducing our gasoline consumption. Those programs will now have to wait to receive funding.
Chu said that the cuts the Energy Department is facing would significantly slow down the country's quest to become energy independent, a goal that 64 percent of Americans (from both sides of the political aisle) favor.
Frances Beineke, president of the Natural Resources Defense Council, said that the sequester cuts will force the U.S. Environmental Protection Agency (EPA) to cut back on their air quality monitoring across the U.S., as well as their programs to monitor drinking water. This puts all Americans at risk of breathing polluted air and drinking contaminated water. 
Jobs in the environmental sector will also take a significant hit, as the Department of the Interior is now having to plan job cuts for park rangers in state parks, as well as reduced hours for those who manage to hold onto their jobs.
Never a group to allow an opportunity to bash the EPA slip away, the dirty energy industry-funded Heritage Foundation has used the sequester cuts to highlight how wasteful (and intrusive) the EPA is for American taxpayers:
Heritage experts Jack Spencer, Nicolas Loris and Katie Tubb argue instead for freedom-based reforms, writing that Congress should:
Prohibit the EPA from regulating carbon dioxide, saving families who rely on the 82 percent of the energy used in the U.S. that produce greenhouse gases;
Stop the EPA's regulatory overreach, which is artificially driving the cost of energy higher, harming job creation and providing little to no environmental benefit; and
Repeal the EPA's energy efficiency initiatives, which drive up gas prices and restrict consumer choice.
Such reforms would save taxpayers money by reducing the scope of the EPA's ever-expanding mission, and they would also serve the needs of the economy by lightening the heavy regulatory burden on America's businesses.
The spin from Heritage underscores the severity of the cuts facing the country. Not only will the sequester cuts put a tremendous strain on our economy as a whole, but the health effects that will result from more pollution and less monitoring will become a second wave of economic (and of course, environmental) impacts that should leave us all worried about the future.
EcoWatch Daily Newsletter
A vegan diet can improve your health, but experts say it's important to keep track of nutrients and protein. Getty Images
By Dan Gray
Research shows that 16 weeks of a vegan diet can boost the gut microbiome, helping with weight loss and overall health.
A healthy microbiome is a diverse microbiome. A plant-based diet is the best way to achieve this.
It isn't necessary to opt for a strictly vegan diet, but it's beneficial to limit meat intake.
New research shows that following a vegan diet for about 4 months can boost your gut microbiome. In turn, that can lead to improvements in body weight and blood sugar management.
Students gathered at the National Mall in Washington DC, Sept. 20. NRDC
By Jeff Turrentine
Nearly 20 years have passed since the journalist Malcolm Gladwell popularized the term tipping point, in his best-selling book of the same name. The phrase denotes the moment that a certain idea, behavior, or practice catches on exponentially and gains widespread currency throughout a culture. Having transcended its roots in sociological theory, the tipping point is now part of our everyday vernacular. We use it in scientific contexts to describe, for instance, the climatological point of no return that we'll hit if we allow average global temperatures to rise more than 2 degrees Celsius above preindustrial levels. But we also use it to describe everything from resistance movements to the disenchantment of hockey fans when their team is on a losing streak.
samael334 / iStock / Getty Images
Berries are small, soft, round fruit of various colors — mainly blue, red, or purple.
A glacier is seen in the Kenai Mountains on Sept. 6, near Primrose, Alaska. Scientists from the U.S. Geological Survey have been studying the glaciers in the area since 1966 and their studies show that the warming climate has resulted in sustained glacial mass loss as melting outpaced the accumulation of new snow and ice. Joe Raedle / Getty Images
By Mark Mancini
On Aug. 18, Iceland held a funeral for the first glacier lost to climate change. The deceased party was Okjökull, a historic body of ice that covered 14.6 square miles (38 square kilometers) in the Icelandic Highlands at the turn of the 20th century. But its glory days are long gone. In 2014, having dwindled to less than 1/15 its former size, Okjökull lost its status as an official glacier.
Members of Chicago Democratic Socialists of America table at the Logan Square Farmers Market on Aug. 18. Alex Schwartz
By Alex Schwartz
Among the many vendors at the Logan Square Farmers Market on Aug. 18 sat three young people peddling neither organic vegetables, gourmet cheese nor handmade crafts. Instead, they offered liberation from capitalism.
Hackney primary school students went to the Town Hall on May 24 in London after school to protest about the climate emergency. Jenny Matthews / In Pictures / Getty Images
Bird watching in the U.S. may be a lot harder than it once was, since bird populations are dropping off in droves, according to a new study.