This website uses cookies to ensure you get the best experience while browsing it. By clicking 'Got It' you're accepting these terms.
Seneca Lake Guardian: The Eyes, Ears and Voice Fighting for Clean Water
Jan. 05, 2016 03:47PM EST
Waterkeeper Alliance, a global movement uniting more than 270 Waterkeeper organizations and affiliates, recently approved a new affiliate, Seneca Lake Guardian. Joseph M Campbell and Yvonne Taylor of Gas Free Seneca are excited to extend their efforts as the Seneca Lake Guardians to protect and preserve Seneca Lake, one of New York's Finger Lakes, by combining their firsthand knowledge of the watershed with an unwavering commitment to the rights of the community.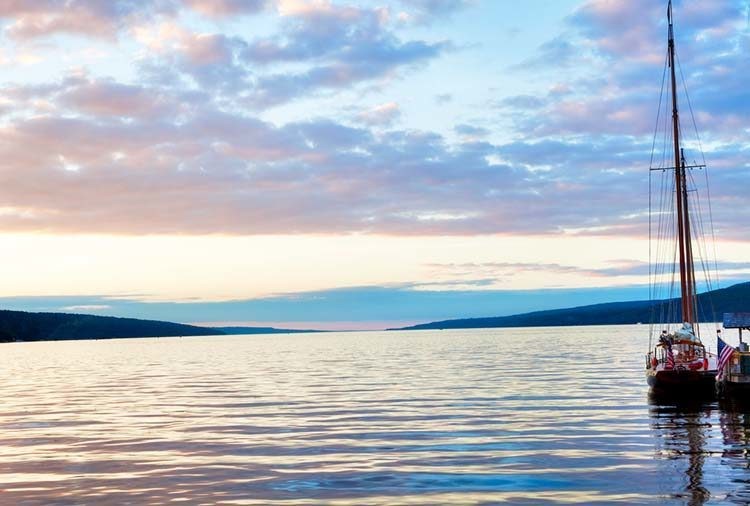 Photo credit: Shutterstock
"Waterkeeper Alliance is thrilled to have Seneca Lake Guardian to be the eyes, ears and voice for this vital watershed and community," Waterkeeper Alliance President Robert F. Kennedy Jr. said. "Every community deserves to have swimmable, drinkable and fishable water, and Joseph Campbell and Yvonne Taylor are the right leaders to fight for clean water in the region."
Seneca Lake Guardian will be an advocate for the Seneca Lake watershed and its tributaries, protecting and restoring water quality through community action and enforcement. Campbell and Taylor will work on watershed-related issues from their home base in Watkins Glen, New York.
"Seneca Lake Guardian, a Waterkeeper affiliate's aim, is to provide strong advocacy that will result in an improved quality of life for all citizens whether they rely on it for drinking water or recreation or whether they simply value the lake's continued well-being," Campbell explained.
"Seneca Lake Guardian will have an incredibly important job," Marc Yaggi, executive director of Waterkeeper Alliance, added. "Waterkeeper Affiliates defend their communities against anyone who threatens their right to clean water, from law-breaking polluters to irresponsible government officials. Until our public agencies have the means necessary to protect us from polluters and the will to enforce the law, there will always be a great need for people like Joseph and Yvonne to fight for our right to clean water."
"Gas Free Seneca has, as a small grassroots organization, been successfully keeping Crestwood's misbegotten plans to industrialize the shores of Seneca Lake from coming to fruition for five years," Taylor said. "But the threats to our lake are many and this collaboration will now allow us to fully address those threats and bring the resources of the Waterkeeper Alliance into the fray. Becoming a Waterkeeper affiliate was the perfect evolution for us."
YOU MIGHT ALSO LIKE
12 Earthquakes Hit Frack-Happy Oklahoma in Less Than a Week
Armed Militia in Oregon Is Latest Right-Wing Attempt to Seize America's Public Lands
How One Man Plans to Make Billions Selling Water From Mojave Desert to Drought-Stricken California
Teflon's Toxic Legacy: DuPont Knew for Decades It Was Contaminating Water Supplies
PeopleImages / E+ / Getty Images
By Daniel Ross
Hurricane Florence, which battered the U.S. East Coast last September, left a trail of ruin and destruction estimated to cost between $17 billion and $22 billion. Some of the damage was all too visible—smashed homes and livelihoods. But other damage was less so, like the long-term environmental impacts in North Carolina from hog waste that spilled out over large open-air lagoons saturated in the rains.
Hog waste can contain potentially dangerous pathogens, pharmaceuticals and chemicals. According to the state's Department of Environmental Quality, as of early October nearly 100 such lagoons were damaged, breached or were very close to being so, the effluent from which can seep into waterways and drinking water supplies.
This picture taken on May 21, 2018 shows discarded climbing equipment and rubbish scattered around Camp 4 of Mount Everest. Decades of commercial mountaineering have turned Mount Everest into the world's highest rubbish dump as an increasing number of big-spending climbers pay little attention to the ugly footprint they leave behind. DOMA SHERPA / AFP / Getty Images
China has closed its Everest base camp to tourists because of a buildup of trash on the world's tallest mountain.
Researchers tested the eggs of Arctic northern fulmers like these in Nunavut, Canada.
Fiona Paton / Flickr
By Madison Dapcevich
Plastics have been recorded in every corner of the world, from the remote icy waters of Antarctica to the bellies of deep-sea fishes. Now, preliminary findings presented at this year's American Association for the Advancement of Science (AAAS) annual meeting in Washington, DC suggest that bird eggs from the high Arctic—one of the most remote wildernesses on the planet—show evidence of contamination from chemicals used in plastics.

A small Australian rat that lived on a 12 acre island in the Great Barrier Reef has become the first mammal to go extinct primarily because of human-caused climate change, the Australian Government confirmed Monday.
The Bramble Cay melomys was first declared extinct after a 2014 search on Bramble Cay, its native island in the Torres Strait, between Queensland, Australia and Papua New Guinea, according to a 2016 report by the University of Queensland and the Queensland government.