Senate Votes to Proceed on Keystone XL Pipeline Bill
Jan. 12, 2015 09:07PM EST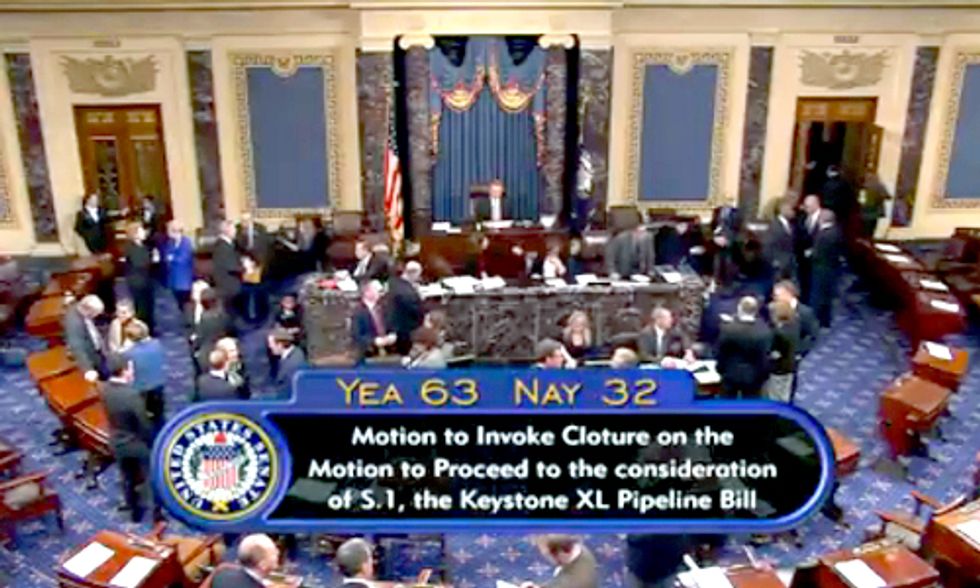 After a short debate on the floor today, the Senate voted 63-32 to overcome a 60-vote threshold to begin debate on SB 1—the bill to approve the Keystone XL pipeline. This is the first time the Senate has been able to clear this key procedural hurdle, thanks to a now Republican-controlled Senate. Ten Democrats and one independent—Senator Angus King of Maine—voted with Republicans to move forward on the bill.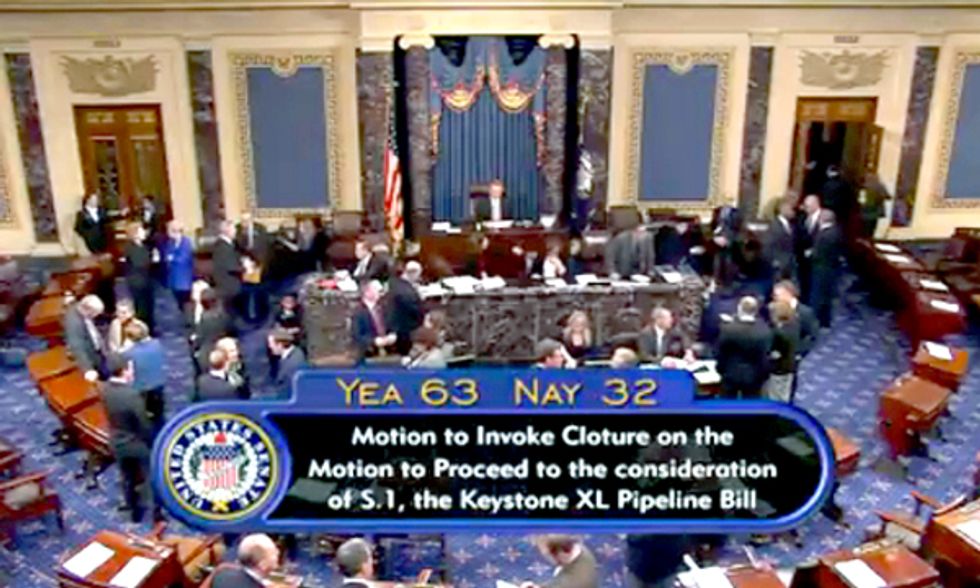 The debate wound up prior to the late-afternoon vote with an impassioned though factually shaky presentation by pipeline supporter John Hoeven of South Dakota, who used a map to emphasize his contention that shipping tar sands oil from Canada would help make the U.S. energy-independent. Indiana Senator Dan Coats also spoke in favor of, while Virginia Senator Tim Kaine, Washington Senator Maria Cantwell of Washington spoke in opposition to the pipeline.
"Here we stand in what people still call the world's greatest deliberative body, and the first bill that we are taking up is not infrastructure generally, not national energy policy, and not even national laws as they relate to our pipeline infrastructure," said Schatz. "No, we are legislating about a specific pipeline which will move oil from Canada through the U.S. to be primarily exported from our southern border."
He added, "Our economy will do better and grow faster and be more resilient if we embrace the technologies at our fingerprints and end our reliance on fossil fuels. We have a chance to embrace the future here and our future in not in tar sands oil."
"Tar sands oil is not like conventional gas or petroleum," said Kaine. "Tar sands oil, the mining and refining and production of it, produces about 15 to 20 percent more greenhouse gas emissions per unit of energy than conventional petroleum. I think we should all care about the emissions of CO2 because I accept the science that says CO2 emissions cause significant climate effects. If you care about CO2 emissions, then tar sands oil is absolutely the worst thing that can be done."
Following the official business, California Senator Barbara Boxer took the floor for nearly 10 minutes. After skewering Majority Leader Mitch McConnell for his claim that the election of Republicans in November was responsible for the economic uptick of the last couple of years, she proceeded to dismantle all the arguments in favor of the Keystone XL pipeline, with copious use of charts.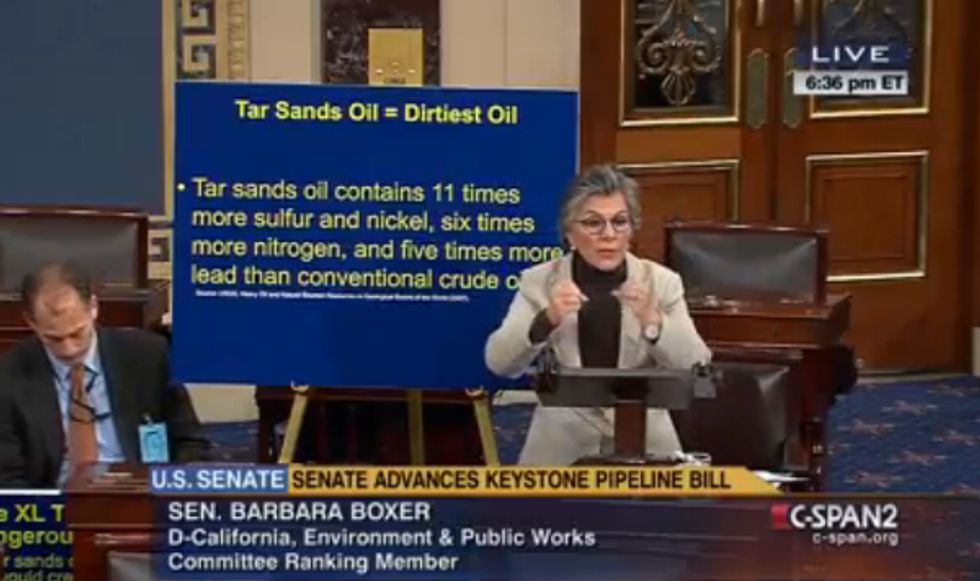 "We have deniers here," she continued. "So they deny any problem and they rush to build the Keystone pipeline. What happens here is the Keystone pipeline will undermine our efforts to address climate change. The State Department's own analysis says a barrel of tar sands oil carried by the Keystone tar sands pipeline will create at least 17 percent more carbon pollution than domestic oil. And it could add up to an additional 27 million metric tons of carbon each year. And we believe the peer-reviewed studies that show it's far worse than even the State Department says. So again, if you don't believe climate change is a problem, I'm really sorry for your constituency. Because let me tell you what scientists are saying. Ninety-eight percent of scientists say climate change is real. Two percent say we're not so sure. So my friends side with the 2 percent."
She concluded, alluding to McConnell's earlier complaint that prolonged debate could push discussion past midnight Tuesday, saying, "I think this [the Keystone XL pipeline] is an enormous mistake and I will continue to stand on my feet as long as it takes to make the case as to why I think it's wrong, make the case for why I think there's so much else we could do for the good of our people."
The House of Representatives approved the bill last Friday, so it will head to President Obama's desk if the Senate passes the bill, possibly as soon as Wednesday. President Obama has strongly indicated he will veto the bill and it's unlikely the Senate will find the 67 votes needed to override his veto.
YOU MIGHT ALSO LIKE
Tell President Obama: Veto Keystone XL Pipeline Bill
EcoWatch Daily Newsletter