This website uses cookies to ensure you get the best experience while browsing it. By clicking 'Got It' you're accepting these terms.
Senate to Vote on Farm Bill, Sustainable Agriculture Amendments Ignored
Jun. 10, 2013 10:39AM EST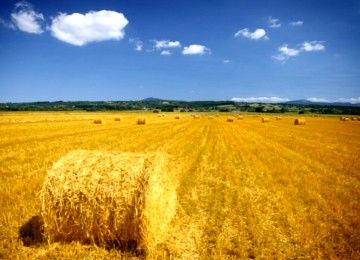 Photo courtesy of Shutterstock
Last Thursday, June 6, the Senate voted 75-22 to limit debate on its version of the 2013 Farm Bill, setting up a final vote on passage of the bill for this evening. Fifty-three Democrats and 22 Republicans voted to limit debate—or, to invoke "cloture" —and 22 Republicans voted against.
The vote to limit debate became necessary after Senate leaders failed to come to an agreement on a list of farm bill amendments to consider. Since consideration by the full Senate of the Committee-passed farm bill started in mid-May, over 200 amendments have been filed to the bill. Of the amendments filed to the bill, the Senate has considered only 14 and has adopted eight. This includes the National Sustainable Agriculture Coalition-supported amendment led by Sens. Coburn (R-OK) and Durbin (D-IL) to reduce crop insurance subsidies for millionaires that passed by a vote of 59-33.
Chairwoman Stabenow (D-MI) had been trying to secure a unanimous consent agreement on a shorter list of amendments to receive votes, but Senators kept objecting to consideration of certain amendments unless others were also considered. This led to the need to limit debate on the bill, especially since the Senate Majority Leader Reid (D-NV) wants to move on to debate other bills, including immigration reform. The immigration reform bill debate started Friday and picks up again on Tuesday.
The successful vote to limit debate on the farm bill also severely limits the number and types of amendments to be voted on. Currently, only two more Senate votes are expected on the Senate farm bill—one on a rural broadband amendment by Senator Leahy (D-VT) and the other on final passage of the bill.
If that proves to be the case and the only votes tonight are on the Leahy broadband amendment and then final passage, the Senate will not get the opportunity to vote on a number of priority sustainable agriculture amendments. These include:
The Brown amendment on local food and rural development
The Casey amendment on beginning farmer microloans
The Harkin amendment to modernize the interest rate for Farm Service Agency real estate loans
The Leahy amendment on conservation payments for organic farmers
The Udall amendment on water conservation
The Grassley amendment on antitrust enforcement
The Tester amendment on public plant breeding research
The Shaheen amendment on revenue insurance premium subsidy limits
It is unclear whether there will also be a manager's amendment that packages a variety of amendments that have bipartisan support and are relatively uncontroversial. It may still prove possible, but given the heated backroom debate and all the jockeying this week over amendments, it could very well be that no additional changes will be considered.
It is widely expected that the Senate will pass its version of the 2013 Farm Bill on Monday by a substantial bipartisan majority. A number of significant unknowns remain about the path to completion of the 2013 Farm Bill, but both the Senate and the House are taking steps to move the bill forward before the current extension expires on Sept. 30. The full House is expected to take up consideration of the House Agriculture Committee-passed farm bill during the week of June 17.
The National Sustainable Agriculture Coalition continues to support a manager's amendment that would allow at least some of the less controversial amendments to move forward.
Visit EcoWatch's FARM BILL and SUSTAINABLE AGRICULTURE pages for more related news on this topic.
EcoWatch Daily Newsletter
A. Battenburg / Technical University of Munich
By Sarah Kennedy
Algae in a pond may look flimsy. But scientists are using algae to develop industrial-strength material that's as hard as steel but only a fraction of the weight.
Variety of fermented food korean traditional kimchi cabbage and radish salad. white and red sauerkraut in ceramic plates over grey spotted background. Natasha Breen / REDA&CO / Universal Images Group / Getty Image
Even if you've never taken probiotics, you've probably heard of them.
These supplements provide numerous benefits because they contain live microorganisms, such as bacteria or yeast, which support the healthy bacteria in your gut (1, 2, 3, 4).
Pexels
Singapore will become the first country in the world to place a ban on advertisements for carbonated drinks and juices with high sugar contents, its health ministry announced last week. The law is intended to curb sugar consumption since the country has some of the world's highest diabetes rates per capita, as Reuters reported.
A typical adult takes around 20,000 breaths per day. If you live in a megacity like Beijing, with many of those lungfuls you're likely to inhale a noxious mixture of chemicals and pollutants.
Fred Stone holds his brown swiss cow Lida Rose at his Arundel dairy farm on March 18 after a press conference where he spoke about PFAS chemical contamination in his fields. Gregory Rec / Portland Portland Press Herald via Getty Images
By Susan Cosier
First there was Fred Stone, the third-generation dairy farmer in Maine who discovered that the milk from his cows contained harmful chemicals. Then came Art Schaap, a second-generation dairy farmer in New Mexico, who had to dump 15,000 gallons of contaminated milk a day.
Protesters attend the 32nd annual Fur-Free Friday demonstration on Nov. 23, 2018 in Beverly Hills, California. Ella DeGea / Getty Images
California Governor Gavin Newsom signed into law a bill that that bans the sale and manufacture of fur products in the state. The fur ban, which he signed into law on Saturday, prohibits Californians from selling or making clothing, shoes or handbags with fur starting in 2023, according to the AP.
By Simon Evans
During the three months of July, August and September, renewables generated an estimated total of 29.5 terawatt hours (TWh), compared with just 29.1TWh from fossil fuels, the analysis shows.
A demonstrator waves an Ecuadorian flag during protests against the end of subsidies to gasoline and diesel on Oct. 9 in Quito, Ecuador. Jorge Ivan Castaneira Jaramillo / Getty Images