Senate Democrats Plan Attack on Koch Brothers Ahead of 2016 Race
Sep. 30, 2015 11:13AM EST
Politics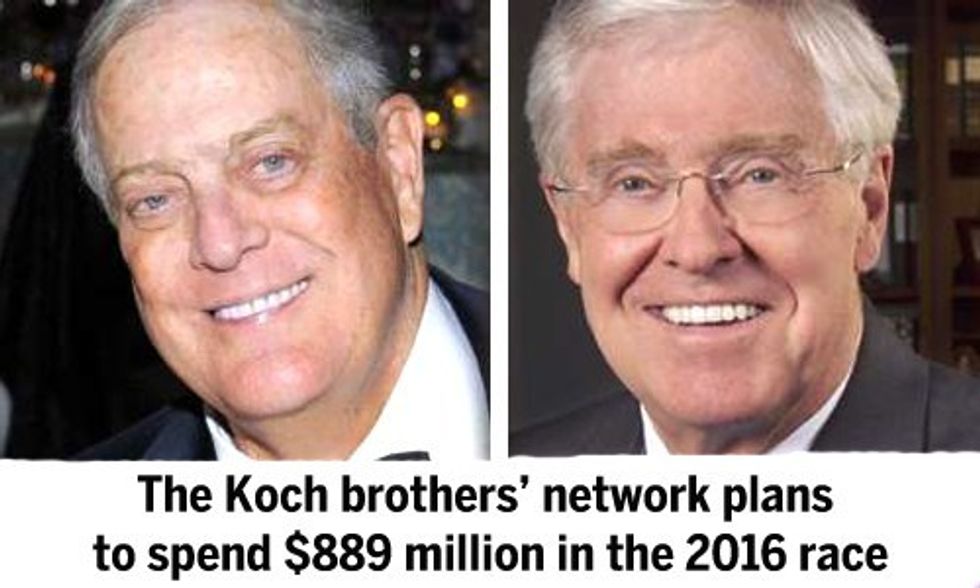 Sen. Harry Reid (D-NV) and "a coalition of deep-pocketed liberal groups, including a pair of super PACs backing Hillary Clinton" have been holding strategic meetings for months "examining the 2016 map and plotting attacks against the powerful Koch brothers' network," according to Politico.
Senate Dems consider 2016 Koch brothers strategy http://t.co/YMUMfutQyG | Getty http://t.co/wszWHWKXIv

— POLITICO (@POLITICO)1443611104.0
A key organizer of the effort, David Brock will present his findings tomorrow, using polling and research, to the Senate Democratic Caucus. The Koch brothers network of conservative mega-donors plans to spend a staggering $889 million for the 2016 presidential race.
Brock believes that highlighting the "massive political spending" of the Koch brothers network is a "critical component" of boosting Democratic candidates, including Clinton, in 2016.
In August, the billionaire brothers held a donor conference in California, in which several of the top presidential candidates—former Florida Gov. Jeb Bush, Texas Sen. Ted Cruz, Florida Sen. Marco Rubio, Wisconsin Gov. Scott Walker (who has now withdrawn from the race) and former Hewlett-Packard CEO Carly Fiorina—flocked to the event to seek donations. This led Donald Trump to call these candidates "puppets" of the Koch brothers.
"We've proven in the long run that they're interested in one thing: Their bottom line. They're trying to buy the country, they want to become America's oligarchs," Reid told Politico. Reid has repeatedly called out the Koch brothers for "buying elections" and being one of the "main causes" of climate change.
The Koch brothers have launched a so-called "war on renewables," using their advocacy groups, including Americans for Prosperity and the American Legislative Exchange Council (ALEC), to try and pass bills in states that repeal renewable energy standards. They've had some success in West Virginia, Ohio and Kansas.
In August, President Obama slammed critics of his energy policies at a renewable energy summit in Nevada, specifically calling out the Koch brothers, for "wanting to protect an outdated status quo" based on fossil fuels and warned them away from "standing in the way of the future" and his efforts to combat climate change.
"When you start seeing massive lobbying efforts backed by fossil fuel interests, or conservative think tanks, or the Koch brothers pushing for new laws to roll back renewable energy standards, or to prevent new clean energy businesses from succeeding, that's a problem," Obama said, marking the first time a president has singled out the Koch brothers in a climate speech.
The explosive growth of solar in the U.S. "has some big fossil fuel interests pretty nervous," Obama noted. This comment launched a mini-feud between the Koch brothers and the White House with Charles Koch calling the comments "beneath the president, the dignity of the president." And the White House Press Sec. Josh Earnest responding in kind.
However, some Democrats don't think it's in the party's best interest to focus on the Koch brothers. "I think the American public wants a discussion on solutions," Sen. Heidi Heitkamp (D-ND) told Politico. "When you start making [the Kochs] front and center, you are losing sight of what you absolutely need to do," said Heitkamp. "We need to be more mindful of what the message is, not who the messengers are and who's paying for them."
While others such as Cristóbal J. Alex, president of the liberal advocacy group Latino Victory Project, disagree. "We don't want to be caught flatfooted like we were in 2014. We won't let our candidates be attacked without response," he said.
YOU MIGHT ALSO LIKE
Why This Republican Is #FeelingtheBern
It's Official: Republicans Want Climate Action and Support Accelerating Renewable Energy
Trump, Bush Attack Pope's Call to Climate Action
EcoWatch Daily Newsletter