Senate Approves Kerry for Secretary of State
Jan. 29, 2013 07:16PM EST
Climate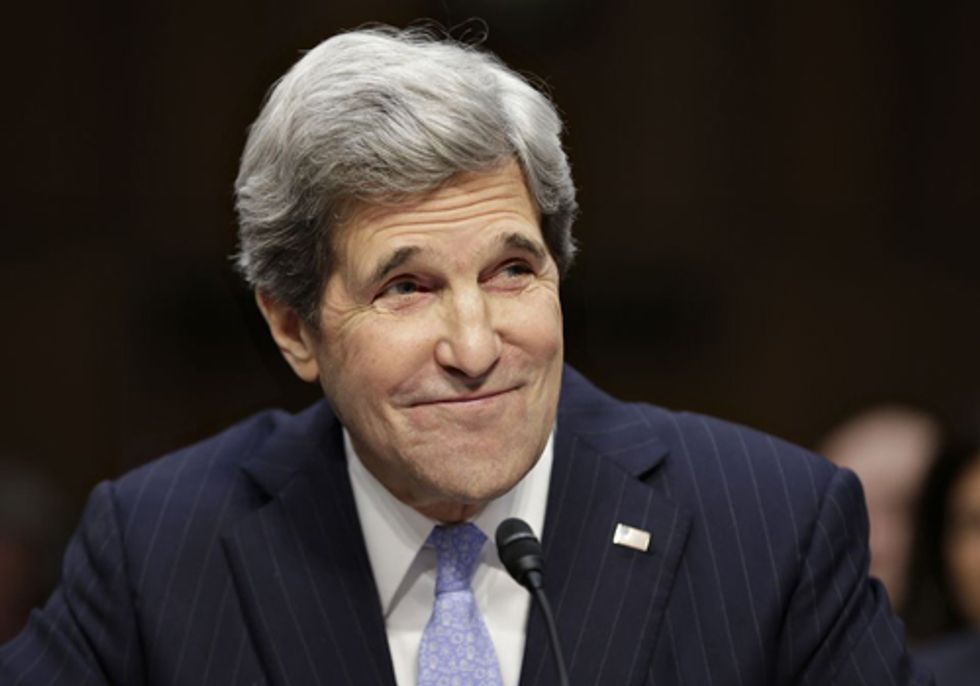 The Senate approved one of its own to become President Obama's second Secretary of State in a near-unanimous vote today. Sen. John Kerry (D-Mass.) sailed through the chamber in a 94-to-3 vote, with Sen. James Inhofe (R-Okla.) and Texas Sens. Ted Cruz (R) and John Cornyn (R) casting the only "no" votes.
"In nearly three decades in the U.S. Senate, John Kerry has distinguished himself as a champion for action against climate change, an advocate for the international cooperation we need to protect the natural resources of a changing world and a visionary promoter of American jobs in the fast-growing market for clean energy worldwide," said Natural Resources Defense Council President Frances Beinecke.
"At a time when neither conflict, economic uncertainty nor environmental disaster respect international borders, our nation's top diplomat must advance American interests by helping to create a more peaceful, prosperous and sustainable world. We take great confidence in Kerry's record of commitment and achievement and we look forward to working with him and his team," said Beinecke.
Sen. John Kerry (D-MA), at his confirmation hearing for Secretary of State on Jan. 24, took a strong position on climate change and the role of renewable energy in revitalizing the U.S. economy.
During the hearing, Sen. John Barrasso (R-WY) suggested that environmental protection, including action on climate change, would hurt the U.S. economy, and he asked Sen. Kerry if he had specific thoughts on the issue.
Kerry responded:
The solution to climate change is energy policy. And, the opportunities of energy policy so vastly outweigh the downsides that you're expressing concerns about … You want to do business and do it well in America, you have to get into the energy race … I would respectfully say to you that climate change is not something to be feared in response to—the steps to respond to—it's to be feared if we don't … I will be a passionate advocate on this not based on ideology but based on facts and science, and I hope to sit with all of you and convince you that this $6 trillion market is worth millions of American jobs and we better go after it.
Watch the video of Sen. Kerry at the Sec. of State confirmation hearing:
"This is what leadership in tackling global warming looks like. From superstorm Sandy to the worst drought since the Dust Bowl, far too many Americans have been harmed by the early effects of global warming. We have the solutions to address this problem, and today these legislators are speaking out and urging the President to follow through on his pledge to put these solutions to work," said Nathan Willcox, federal global warming program director with Environment America.
"We join the state legislators in calling on the President to finalize standards to limit carbon pollution from new power plants, and to move forward with a standard to reduce carbon pollution from existing power plants," said Willcox.
"Now, one of the strongest champions for climate action in the Senate will be our nation's top climate negotiator. We are excited that he will bring his strong credentials on climate to the critical decisions facing our planet, including increasing access to affordable clean energy options and stopping the expansion of dirty tar sands and coal worldwide," said Sierra Club Executive Director Michael Brune.
Visit EcoWatch's CLIMATE CHANGE page for more related news on this topic.
——–
Click here to tell Congress to Expedite Renewable Energy.

EcoWatch Daily Newsletter