This website uses cookies to ensure you get the best experience while browsing it. By clicking 'Got It' you're accepting these terms.


The best of EcoWatch, right in your inbox. Sign up for our email newsletter!
Sen. Whitehouse Proposes Carbon Tax to Repay Citizens for Pollution Costs
Oct. 29, 2014 03:35PM EST
Climate
Delivering a keynote address at the New York University Institute for Policy Integrity's fall conference, in which he noted "The world has just set some dubious records. 2014 is on pace to tie or become the hottest year on record," U.S. Sen. Sheldon Whitehouse announced that he plans to introduce legislation creating a carbon pollution fee next month. He said he will reveal details in the next few weeks.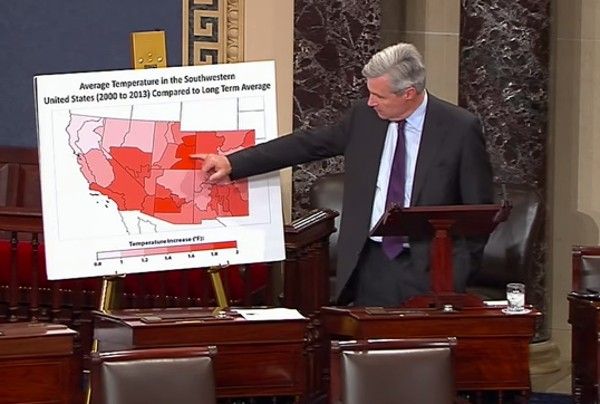 It was an appropriate announcement to make at the conference whose theme this year was "The Future of U.S. Climate Policy: Coal, Carbon Markets and the Clean Air Act."
"Pollution-driven climate change hurts our economy, damages our infrastructure and harms public health," he told his audience. "However, none of these costs are factored into the price of the coal or oil that's burned to release this carbon. The big oil and coal companies have offloaded those costs onto society. Economics 101 tells us that's a market failure; in the jargon, that negative externalities are inefficient. If a company participates in an activity that causes harm, it should have to compensate those harmed."
"By making carbon pollution free, we subsidize fossil fuel companies to the tune of hundreds of billions of dollars annually," he continued. "By making carbon pollution free, we fix the game, favoring polluters over newer and cleaner technologies that harvest the wind, sun and waves.  Corporate polluters, not bearing the costs of their products, are in effect cheating their competitors."
The Rhode Island Democrat, chairman of the Senate Environment and Public Works Subcommittee on Clean Air and Nuclear Safety, has long been an advocate for climate change action. His official website features a page called "Climate Change: Time to Wake Up" and he has made more than 85 speeches in the Senate on the topic, giving one per week.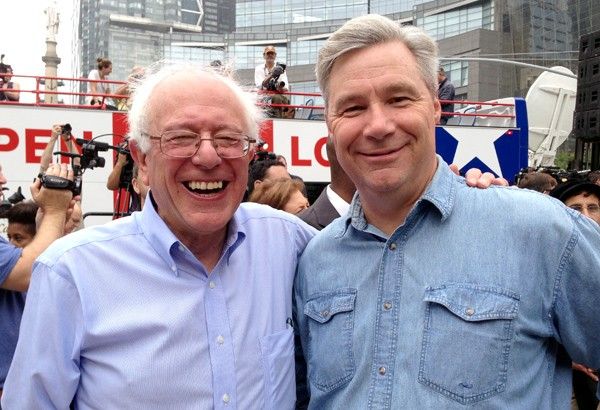 Whitehouse praised the Obama administration's limit on carbon emissions from power plants, announced in June, saying "It will change the way polluters think." But he'd like to take the next step of making polluters pay for their cost to society. He said that not only would it reduce carbon emissions and improve air quality, it would generate significant new revenue for the federal government, perhaps as much as a two trillion dollars in the first decade. He pointed to some of the positive uses that money could be applied to, including cutting taxes, relieving student debt, increasing Social Security benefits and providing transition assistance to workers in fossil fuel industries.
"It's win-win-win," he said. "We can use this revenue to do big things; repair a marketplace failure; and guide the economy toward lower emissions, enhanced productivity and a sustainable future."
Whitehouse also drew a direct line between the Republican party's increasingly stubborn climate denier stance and the U.S. Supreme Court's Citizens United decision, which allowed a gusher of corporate money into campaigns.
"Not long ago, Republicans joined Democrats in pushing for action on climate," Whitehouse said. "Leading Republican voices agreed that the dangers of climate change were real. Leading Republican voices agreed that carbon emissions were the culprit. And leading Republican voices agreed that Congress had the responsibility to act. Then the heartbeat flatlined. Republican calls for climate action fell silent. Something happened, right around 2010. It was the Supreme Court's 2010 decision in Citizens United v. Federal Election Commission—one of the court's most disgraceful decisions. Improper fact-finding by the five conservative activists on the Supreme Court concluded that corporate spending could not ever corrupt elections—just couldn't do it. By some magic, it's pure."
He says that although his Republican colleagues represent many states ravaged by its effects, "Most won't even utter the words 'climate change' on the floor of the Senate at all.  It's not safe to, ever since Citizens United allowed the bullying, polluting special interests to bombard our elections with their attack ads and their threats."
YOU MIGHT ALSO LIKE
Obama and EPA Release Historic Carbon Reduction Plan to Fight Climate Change
Why a Carbon Tax Is Absolutely Essential to Combating Climate Change
Top 20 'Dirty Denier$' Who Accept Big Bucks from Big Polluters
EcoWatch Daily Newsletter
jenifoto / iStock / Getty Images
Many people consider granola bars a convenient and healthy snack and enjoy their flavor and versatility.
A common green darners (Anax junius). Judy Gallagher / Flickr
By Jason Bittel
It's that time of year again: Right now, monarch butterflies are taking wing in the mountains of northwestern Mexico and starting to flap their way across the United States.
fstop123 / iStock / Getty Images Plus
At EcoWatch, our team knows that changing personal habits and taking actions that contribute to a better planet is an ongoing journey. Earth Day, happening on April 22, is a great reminder for all of us to learn more about the environmental costs of our behaviors like food waste or fast fashion.
To offer readers some inspiration this Earth Day, our team rounded up their top picks for films to watch. So, sit back and take in one of these documentary films this Earth Day. Maybe it will spark a small change you can make in your own life.
Denali national park. Domen Jakus / Flickr / CC BY-NC 2.0
By Stephanie Gagnon
Happy National Parks Week! This year, between April 20 and 28, escape to the beautiful national parks — either in person or in your imagination — and celebrate the amazing wildlife that calls these spaces home.
Sesame, three months old, at Seal Rescue Irleand.
Screenshot / Seal Rescue Ireland Instagram
On Friday, Seal Rescue Ireland released Sesame the seal into the ocean after five months of rehabilitation at the Seal Rescue Ireland facility. Watch the release on EcoWatch's Facebook.

Beer packs of Guinness will now come in a cardboard box. Diageo

By Jordan Davidson
Guinness is joining the fight against single use plastic. The brewer has seen enough hapless turtles and marine life suffering from the scourge of plastic.
Maskot / Getty Images
People of all ages are spending more of their day looking at their phones, computers and television screens, but parents now have another reason for limiting how much screen time their children get — it could lead to behavioral problems.