This website uses cookies to ensure you get the best experience while browsing it. By clicking 'Got It' you're accepting these terms.
Sen. Whitehouse Calls Out ALEC for Role in Funding Climate Deniers
Mar. 13, 2015 09:07AM EST
Climate
Despite the role of the American Legislative Exchange Council (ALEC) in helping billionaires, Big Oil, Coal, Tobacco, the gun lobby and other dubious corporate interests to infiltrate our state lawmaking processes, it's not every day you hear U.S. Senators name-drop ALEC during hearings.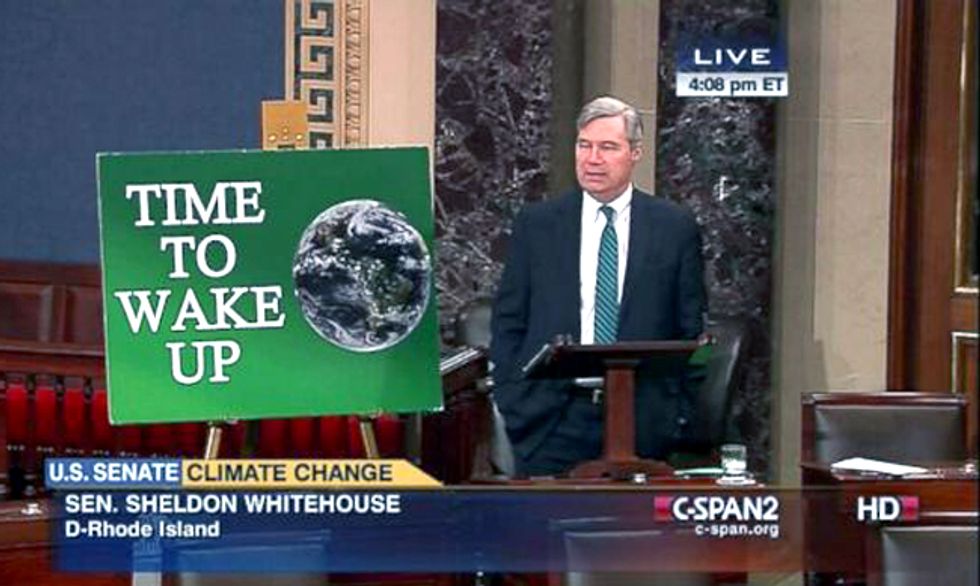 This week, Sen. Sheldon Whitehouse (D-RI) took a swing at ALEC's role in helping the fossil fuel lobby deny the science of climate change, during his weekly "Time to Wake Up" speech in the Senate. This comes at an interesting time, as climate denier Willie Soon has been exposed for promising "deliverables" in the form of Congressional influence to coal utility giant Southern Company, to billionaire Charles Koch and to ExxonMobil that paid for Dr. Soon's climate denial "research."
With climate deniers on the defense, Sen. Whitehouse has reminded us that Exxon, BP, Shell, Chevron and their lobbying organization, the American Petroleum Institute, have funded scientists like Willie Soon and front groups like ALEC to peddle climate misinformation to the public. Here's a transcript of highlights from this climate call-out, which earned a favorable fact-check from PolitiFact.
"Chevron, BP, Shell and ExxonMobil also support something called the American Legislative Exchange Council, or 'ALEC.'"

"ALEC is an organization which works to undercut climate science and undermine climate progress at the state level, interfering in our state legislatures. ALEC has tried to roll back state renewable fuel standards and has handed out model state legislation to obstruct and tie up the President's Clean Power Plan."

[…]

"Major companies like Google, eBay, Facebook, Yahoo and believe or not even Occidental Petroleum, have disassociated themselves from ALEC because of its destructive position on climate. Google CEO Eric Schmidt has said of ALEC, quote 'they are literally lying' end quote. They are literally lying about climate change but they keep getting funding from Chevron, BP, Shell and ExxonMobil."
These fossil fuel giants certainly have ALEC busy—with help from the other front groups that affiliate with ALEC through the "State Policy Network."
Koch-funded university departments at Utah State University and Suffolk University are cranking out debunked studies to justify attacks on clean energy incentives in Kansas. Koch's State Policy Network tried this before, and repeatedly failed. This year, they are trying again to get Charles Koch what he wants: to leave incentives for Koch Industries alone while attacking support for his clean energy competitors.
As Sen. Whitehouse mentions, while ALEC and the State Policy Network attack clean energy competition to Koch, Exxon, and other fossil fuel giants, they are simultaneously creating red tape for states trying to comply with the U.S. Environmental Protection Agency's Clean Power Plan – our first ever national effort to curb carbon pollution at coal plants, the top sources of emissions that cause global warming.
Richard Berman, aka Dr. Evil, is lending a hand to ALEC and SPN, living up to his promise to oil executives to funnel their money anonymously into the groups that are attacking environmental protections.
Senator Whitehouse called attention to the broader influence of money in politics, which the Koch brothers and their billionaire allies have pushed for decades in an effort to increase their own influence and ability to make money (they call it "freedom"). From his speech:
"The effect of Citizens United has been particularly clear here in the Senate. There once was an active heartbeat of Republican activity on climate change. Senator [John] McCain ran for president on an active, robust program of addressing climate change. Senator [Susan] Collins did a bipartisan bill on climate change. Senator [Mark] Kirk voted in the House for the Waxman-Markey cap-and-trade bill. Senator [Jeff] Flake wrote article supporting a carbon fee as long as the taxes were reduced elsewhere to offset the increased revenue from the carbon fee ... and on and on. My first exposure to this was the Warner-Lieberman bill, and the "Warner" was a Republican Senator, John Warner.

"Well, that's been a while. Since 2010, the year that Citizens United was decided, this honest debate about how we address this problem for the benefits of the American people has flatlined. Now since 2010, the evidence of climate change has only become stronger."
This is why Greenpeace has worked to expose the secretive coordination of these dirty companies. It turns out that sunshine is both the best disinfectant in a struggling democracy, and it's a business threat to the companies still extracting 20th Century energy at the expense of our health and our climate.
Courtesy of InsideClimate News, whose recent reporting on Dr. Willie Soon has been second to none, here is an image of some other members of Congress who chose to ignore their colleagues like Sen. Whitehouse, instead doubling down on debunked denial coming from the likes of Dr. Willie Soon and ALEC.

YOU MIGHT ALSO LIKE
John Kerry: Not Addressing Climate Change Will Lead to 'Utter Catastrophe'
Heartland Institute Attacks Senators for Questioning Funding of Climate Deniers, Calling It a 'Witch Hunt'
Watch Sen. Bernie Sanders Drill Alaskan Leaders on Failing to Address Climate Change
EcoWatch Daily Newsletter
California Gov. Gavin Newsom speaking with attendees at the 2019 California Democratic Party State Convention at the George R. Moscone Convention Center in San Francisco.
Gage Skidmore
/ Flickr /
CC BY-SA 2.0
California Gov. Gavin Newsom imposed new restrictions on oil exploration in his state yesterday by putting a moratorium on hundreds hydraulic fracturing permits until the projects are reviewed by independent scientists, as the AP reported.
The endangered Houston toad. Courtesy of U.S. Fish and Wildlife Service
While the planet continues to heat up, almost every single one of the 459 species listed as endangered in the U.S. will struggle as the climate crisis intensifies, according to new research published in the journal Nature Climate Change.
"This singular scientific achievement was accomplished at Heliogen's commercial facility in Lancaster, California."
Heliogen
A startup backed by Bill Gates unveiled a breakthrough solar technology Tuesday that could free heavy industry from fossil fuels.
Rhodiola rosea is an adaptogenic herb that can help with chronic fatigue and stress-related burnout. Tero Laakso / Flickr
By Gavin Van De Walle, MS, RD
While everyone has specific life stressors, factors related to job pressure, money, health, and relationships tend to be the most common.
Stress can be acute or chronic and lead to fatigue, headaches, upset stomach, nervousness, and irritability or anger.
A video shows a woman rescuing a koala from Australia's wildfires.
VOA News / YouTube screenshot
More than 350 koalas may have died in the wildfires raging near the Australian town of Port Macquarie in New South Wales, but one got a chance at survival after a woman risked her life to carry him to safety.