This website uses cookies to ensure you get the best experience while browsing it. By clicking 'Got It' you're accepting these terms.
Sen. Whitehouse and Rep. Waxman Question Koch Brothers' Financial Interest in Keystone XL Pipeline
Apr. 02, 2014 07:11AM EST
Energy
As a writer of environmental issues, as well as a person concerned about the future of the planet, I am anxiously awaiting the decision on the Keystone XL pipeline. I keep questioning if the U.S. is ready to set an example by eliminating fossil fuel extraction. Will we get down to the hard work of moving forward on a different energy path?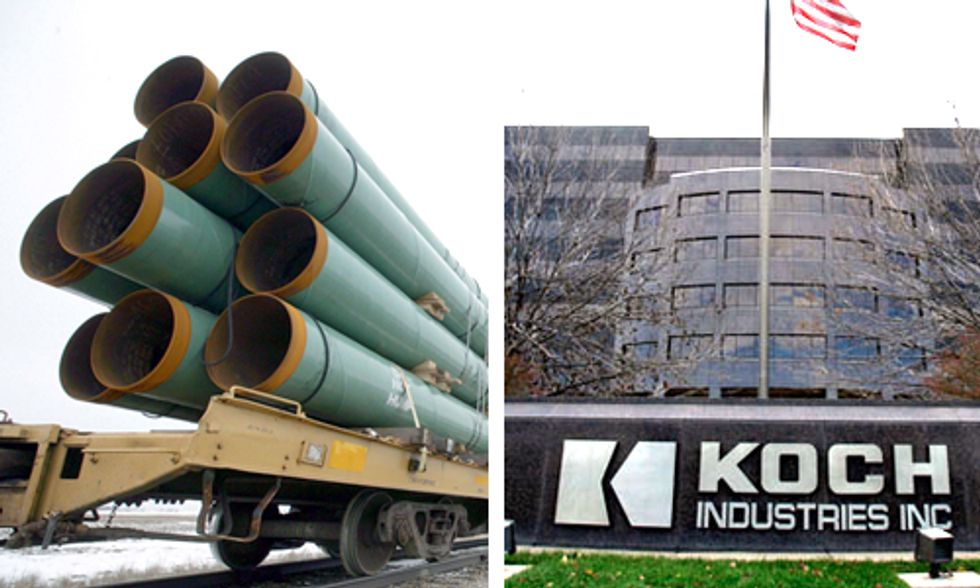 With all the recent news about oils spills and the 25th anniversary of the Exxon Valdez disaster—you have to wonder about the advisability of 1,660 miles of pipeline transversing the nation. It will be transporting 830,000 barrels of oil on a daily basis from the Canadian Alberta oil sands to the refineries of the beleaguered city of Port Arthur (home to several refineries, chemical plants and an incinerator). I have written about the abysmal lack of environmental justice for the indigenous communities in Canada and the low-income urban victims in Port Arthur.
There are constantly new sidebars in the debate. One was about the contractor who compiled the Environmental Impact Statement (EIS), and if there was a conflict of interest stemming from a prior relationship with TransCanada. Allegations aside, the EIS did make note of "elevated levels of carcinogen and mercury" that would be emitted into the air and acknowledged the "difficulty" of cleaning up potential spills.
On their page about the Keystone  XL pipeline, the U.S. State Department puts forth that it is considering the application from TransCanada Corporation based on numerous factors "including" foreign policy concerns, economics, energy security, health and the environment.
When I looked at the comments from the public (close to 125,000), it was clear on why those who were opposed to the pipeline had weighed in. Their apprehensions referenced the Gulf of Mexico oil spill, finding alternative sources of energy, the abuse of eminent domain and the impact on populations of color.
The pro-pipeline comments skewed to job creation and energy security. A majority of them used identical language stating, "I'm writing to encourage you to approve the construction of the Keystone XL pipeline as quickly as possible."
Okay. So each side is mobilizing in their own manner. Yet I couldn't help thinking of those rote answers when I read the press release from the offices of Rep. Henry A. Waxman (D-CA) and Sen. Sheldon Whitehouse (D-RI), which released a letter they had sent to Koch Industries. It specifically asked if their business or affiliated companies had "financial interests" in the pipeline.
Addressed to David L. Robertson, the president and COO of Koch Industries, the letter said:
"Groups backed by Charles and David Koch have lobbied and run political ads to support construction of the pipeline. But Koch Industries has consistently denied financial motives played any role in these activities, asserting that the Keystone XL pipeline has 'nothing to do with any of our businesses.' We want to know whether this is true."
The letter points to Americans for Prosperity, which was founded by David Koch, as having "run a multi-year pressure campaign in favor of the Keystone XL pipeline, including airing ads against members of Congress for opposing the pipeline." It goes on to underscore the Koch financial connection to entities seeking to dismiss the science that has emphasized "the relationship between the use of carbon-based fuel and climate change."
Rep. Waxman and Sen. Whitehouse present eleven detailed questions, along with requests for documentation. Some of the points covered are:
The number of leases, acres and exploratory wells held by Koch Industries or it subsidiaries in Alberta, Canada.
Current and expected levels of production expected from lands leased in Alberta, Canada.
Potential impact that the passage of the pipeline would have on the value of their lease holdings.
Connection between the amount of oil coming from the Canadian tar sands and the amount that is processed at Koch Industries/subsidiaries refineries.
Connection between the amount of oil coming from the Canadian tar sands and the amount that is "purchased, shipped, or exported yearly" by Koch Industries/subsidiaries.
Question eleven is my favorite, because it seeks to unpack the trail of money between Koch Industries, Koch Affiliated Foundations and donations to Donors Trust/Capital (qualified on DeSmogBlog as a major funder of anti-science groups), with groups that are involved in "climate science research."
The closing line from Rep. Waxman and Sen. Whitehouse reads: "Your cooperation in providing this information to Congress would be greatly appreciated."
It will be interesting to see what response, if any, the two legislators—and the American people—receive.
--------
YOU ALSO MIGHT LIKE
Koch Brothers Are Largest Lease Holders in Alberta Tar Sands
Climate Scientists and Deniers Debate Keystone XL on The Ed Show
MSNBC's Ed Schultz: 'I Was Wrong,' Don't Build Keystone XL Pipeline
--------
EcoWatch Daily Newsletter
Fresno, California, seen above, is receiving $66 million for walking trails, sidewalks, bike lanes, and more. DenisTangneyJr / iStock / Getty Images
Grecia Elenes grew up in Fresno, California. She says some parts of the city have been neglected for decades. When she moved back after college she realized nothing has changed.
People are seen embracing at Numeralla Rural Fire Brigade near the scene of a water tanker plane crash on Jan. 23 in Cooma, Australia. Three American firefighters have have died after their C-130 water tanker plane crashed while battling a bushfire near Cooma in southern NSW this afternoon. Jenny Evans / Getty Images
Three U.S. firefighters gave their lives battling Australia's historic wildfires Thursday when their airborne water tanker crashed.
The Doomsday Clock is now at 100 seconds to midnight. EVA HAMBACH / AFP via Getty Images
The Doomsday Clock is now 100 seconds to midnight, partly because of the
climate crisis
.
A new report spotlights a U.N. estimate that at least 275 million people rely on healthy coral reefs. A sea turtle near the Heron Island in the Great Barrier Reef is seen above. THE OCEAN AGENCY / XL CATLIN SEAVIEW SURVEY
In a new report about how the world's coral reefs face "the combined threats of climate change, pollution, and overfishing" — endangering the future of marine biodiversity — a London-based nonprofit calls for greater global efforts to end the climate crisis and ensure the survival of these vital underwater ecosystems.
Half of the extracted resources used were sand, clay, gravel and cement, seen above, for building, along with the other minerals that produce fertilizer. Cavan Images / Cavan / Getty Images
The world is using up more and more resources and global recycling is falling. That's the grim takeaway from a new report by the Circle Economy think tank, which found that the world used up more than 110 billion tons, or 100.6 billion metric tons, of natural resources, as Agence France-Presse (AFP) reported.