This website uses cookies to ensure you get the best experience while browsing it. By clicking 'Got It' you're accepting these terms.


The best of EcoWatch, right in your inbox. Sign up for our email newsletter!
Sen. Whitehouse and Rep. Waxman Question Koch Brothers' Financial Interest in Keystone XL Pipeline
Apr. 02, 2014 07:11AM EST
Energy
As a writer of environmental issues, as well as a person concerned about the future of the planet, I am anxiously awaiting the decision on the Keystone XL pipeline. I keep questioning if the U.S. is ready to set an example by eliminating fossil fuel extraction. Will we get down to the hard work of moving forward on a different energy path?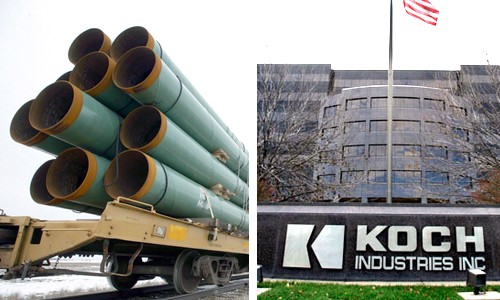 With all the recent news about oils spills and the 25th anniversary of the Exxon Valdez disaster—you have to wonder about the advisability of 1,660 miles of pipeline transversing the nation. It will be transporting 830,000 barrels of oil on a daily basis from the Canadian Alberta oil sands to the refineries of the beleaguered city of Port Arthur (home to several refineries, chemical plants and an incinerator). I have written about the abysmal lack of environmental justice for the indigenous communities in Canada and the low-income urban victims in Port Arthur.
There are constantly new sidebars in the debate. One was about the contractor who compiled the Environmental Impact Statement (EIS), and if there was a conflict of interest stemming from a prior relationship with TransCanada. Allegations aside, the EIS did make note of "elevated levels of carcinogen and mercury" that would be emitted into the air and acknowledged the "difficulty" of cleaning up potential spills.
On their page about the Keystone  XL pipeline, the U.S. State Department puts forth that it is considering the application from TransCanada Corporation based on numerous factors "including" foreign policy concerns, economics, energy security, health and the environment.
When I looked at the comments from the public (close to 125,000), it was clear on why those who were opposed to the pipeline had weighed in. Their apprehensions referenced the Gulf of Mexico oil spill, finding alternative sources of energy, the abuse of eminent domain and the impact on populations of color.
The pro-pipeline comments skewed to job creation and energy security. A majority of them used identical language stating, "I'm writing to encourage you to approve the construction of the Keystone XL pipeline as quickly as possible."
Okay. So each side is mobilizing in their own manner. Yet I couldn't help thinking of those rote answers when I read the press release from the offices of Rep. Henry A. Waxman (D-CA) and Sen. Sheldon Whitehouse (D-RI), which released a letter they had sent to Koch Industries. It specifically asked if their business or affiliated companies had "financial interests" in the pipeline.
Addressed to David L. Robertson, the president and COO of Koch Industries, the letter said:
"Groups backed by Charles and David Koch have lobbied and run political ads to support construction of the pipeline. But Koch Industries has consistently denied financial motives played any role in these activities, asserting that the Keystone XL pipeline has 'nothing to do with any of our businesses.' We want to know whether this is true."
The letter points to Americans for Prosperity, which was founded by David Koch, as having "run a multi-year pressure campaign in favor of the Keystone XL pipeline, including airing ads against members of Congress for opposing the pipeline." It goes on to underscore the Koch financial connection to entities seeking to dismiss the science that has emphasized "the relationship between the use of carbon-based fuel and climate change."
Rep. Waxman and Sen. Whitehouse present eleven detailed questions, along with requests for documentation. Some of the points covered are:
The number of leases, acres and exploratory wells held by Koch Industries or it subsidiaries in Alberta, Canada.
Current and expected levels of production expected from lands leased in Alberta, Canada.
Potential impact that the passage of the pipeline would have on the value of their lease holdings.
Connection between the amount of oil coming from the Canadian tar sands and the amount that is processed at Koch Industries/subsidiaries refineries.
Connection between the amount of oil coming from the Canadian tar sands and the amount that is "purchased, shipped, or exported yearly" by Koch Industries/subsidiaries.
Question eleven is my favorite, because it seeks to unpack the trail of money between Koch Industries, Koch Affiliated Foundations and donations to Donors Trust/Capital (qualified on DeSmogBlog as a major funder of anti-science groups), with groups that are involved in "climate science research."
The closing line from Rep. Waxman and Sen. Whitehouse reads: "Your cooperation in providing this information to Congress would be greatly appreciated."
It will be interesting to see what response, if any, the two legislators—and the American people—receive.
--------
YOU ALSO MIGHT LIKE
Koch Brothers Are Largest Lease Holders in Alberta Tar Sands
Climate Scientists and Deniers Debate Keystone XL on The Ed Show
MSNBC's Ed Schultz: 'I Was Wrong,' Don't Build Keystone XL Pipeline
--------
EcoWatch Daily Newsletter
PhotoAlto / Laurence Mouton / Getty Images
By Ana Reisdorf, MS, RD
You've probably heard the buzz around collagen supplements and your skin by now. But is the hype really that promising? After all, research has pointed to both the benefits and downsides of collagen supplements — and for many beauty-conscious folk, collagen isn't vegan.
Pixabay
By Marlene Cimons
Neil Pederson's introduction to tree rings came from a "sweet and kindly" college instructor, who nevertheless was "one of the most boring professors I'd ever experienced," Pederson said. "I swore tree rings off then and there." But they kept coming back to haunt him.
Aerial view of the explosion site of a chemical factory on March 22 in Yancheng, Jiangsu Province of China. Caixin Media / VCG / Getty Images)
At least 47 people have died in an explosion at a plant in Yancheng, China Thursday run by a chemical company with a history of environmental violations, Sky News reported.
A fishmonger in Elmina, a fishing port in the Central Region of Ghana. Environmental Justice Foundation
By Daisy Brickhill
Each morning, men living in fishing communities along Ghana's coastline push off in search of the day's catch. But when the boats come back to shore, it's the women who take over.
Pexels
By Sam Nickerson
Links between excess sugar in your diet and disease have been well-documented, but new research by Harvard's School of Public Health might make you even more wary of that next soda: it could increase your risk of an early death.
The study, published this week in the American Heart Association's journal Circulation, found that drinking one or two sugar-sweetened beverages (SSBs) each day — like sodas or sports drinks — increases risk of an early death by 14 percent.
Tyson Foods is recalling approximately 69,093 pounds of frozen chicken strips because they may have been contaminated with pieces of metal, the U.S. Department of Agriculture (USDA) Food Safety and Inspection Service (FSIS) announced Thursday.
The affected products were fully-cooked "Buffalo Style" and "Crispy" chicken strips with a "use by" date of Nov. 30, 2019 and an establishment number of "P-7221" on the back of the package.
"FSIS is concerned that some product may be in consumers' freezers," the recall notice said. "Consumers who have purchased these products are urged not to consume them. These products should be thrown away or returned to the place of purchase."
Environmental exposure to pesticides, both before birth and during the first year of life, has been linked to an increased risk of developing autism spectrum disorder, according to the largest epidemiological study to date on the connection.
The study, published Wednesday in BMJ, found that pregnant women who lived within 2,000 meters (approximately 1.2 miles) of a highly-sprayed agricultural area in California had children who were 10 to 16 percent more likely to develop autism and 30 percent more likely to develop severe autism that impacted their intellectual ability. If the children were exposed to pesticides during their first year of life, the risk they would develop autism went up to 50 percent.