Seeing Climate Change From Space: NASA Creates Image-Based iPad App
Perspective is everything.
We humans have made great progress to get to this unique point in our history. But those very strides now pose us with the greatest challenges. The combination of a booming population, increasing industrialization and the ability to exploit Earth's natural resources like never before is, quite literally, changing the face of our planet.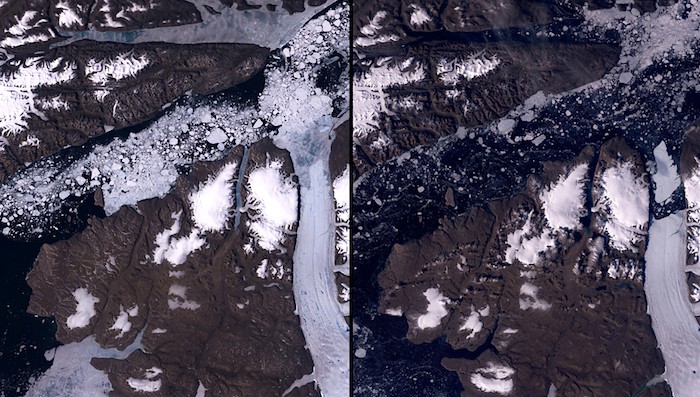 NASA's new Images of Change iPad app tracks this changing face, giving a global perspective on our planet in flux.
The app offers a collection of some of the best before-and-after image pairs from this site, NASA's Webby-award-winning Global Climate Change website. The site is a larger effort to make information about climate change, images and interactive tools more accessible to citizens and decision makers, which is also a key aspect of President Obama's Climate Action Plan. 

The Images of Change app—currently geared for the iPad but with versions for iPhone and Android platforms in the works—shows places that have changed dramatically over days, years or centuries. Some of these locations have suffered a disaster, such as a fire or tsunami, or illustrate the impact of human activities, such as dam building or urban sprawl. Others document the ravage of climate change such as persistent drought and rapidly receding glaciers. Viewers can look at the images side-by-side or overlay them using a slider bar to travel from past to present. Each image pair includes background information on what the viewer is seeing and its location on a map.
The app is a spin-off from our Images of Change gallery project launched in 2009. With nearly 300 image sets, taken mostly from space but also at ground level, the gallery is one of the more popular parts of the Global Climate Change website. Seeing is believing, and climate change can feel like a rather abstract concept at times. It can seem like a far-off, "not-going-to-affect-me" type of thing, and it's definitely easier not to think about it. But the images are hard to ignore. They offer a compelling view of how our planet is changing before our eyes. The app, which curates a subset of the gallery content, allows people to explore climate change for themselves and draw their own conclusions.

When you think of NASA, you might think of robotic vehicles roving on Mars, or probes flying out into the solar system, or the Hubble space telescope peering back into the distant past of our universe. But the agency has for a long time been at the forefront of research into our climate, with its fleet of "eyes on the Earth"—more than a dozen satellites orbiting over us and a slew of aircraft carrying scientific instruments—as well as an army of scientists on the ground making measurements and analyzing models and data.
Centuries of planet-watching tell us that climate change is real, it's happening now—and human beings are the cause. The latest climate reports to come out of the U.S. and United Nations are sobering. Places like the West Antarctic ice sheet are passing the point of no return, and the destructive and expensive extreme events we're seeing now (floods, super storms, heat waves, drought, wildfires, et al) are likely to get worse.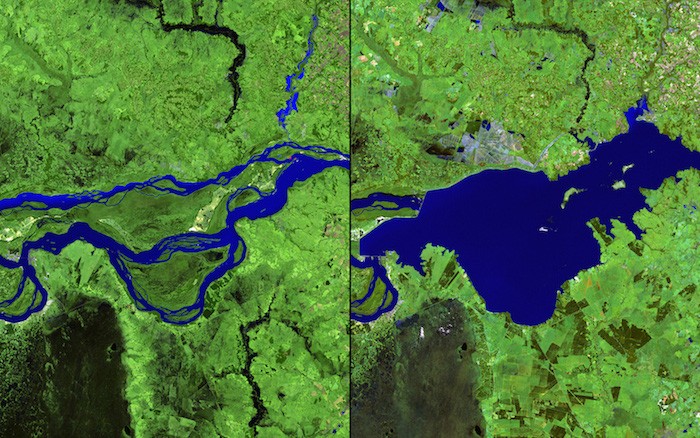 Our way of life is built around the climate we are used to. As climate change marches on, can we adapt fast enough? Can we slow down or reverse climate change to manageable levels and be the careful stewards of the planet that some argue we should be? The unique, global perspective we get from space can help us see just how small, fragile and interconnected our planet really is. What happens next is up to us.
Glyphosate, the main ingredient in Monsanto's widely used herbicide Roundup, will be added July 7 to California's list of chemicals known to the state to cause cancer, according to a Reuters report Tuesday. This news comes after the company's unsuccessful attempt to block the listing in trial court and requests for stay were denied by a state appellate court and California's Supreme Court.
California's Office of Environmental Health Hazard Assessment (OEHHA) announced the designation on Monday under the Safe Drinking Water and Toxic Enforcement Act of 1986, or Proposition 65.
Keep reading...
Show less
www.facebook.com
Keep reading...
Show less
Researchers from the Marine Animal Response Society examine one of the dead right whales. Marine Animal Response Society
Canadian government officials and marine biologists are investigating the mysterious deaths of six North American right whales. The endangered animals all turned up dead between June 6 and June 23 in the Gulf of St. Lawrence, off Canada's southeastern coast.
North Atlantic right whales are the rarest of all large whale species and among the rarest of all marine mammal species, with only about 450 right whales in the North Atlantic.
Keep reading...
Show less
Scott Pruitt testifies during his Senate confirmation hearing for EPA administrator, January 2017.
The U.S. Environmental Protection Agency's (EPA) chief of staff pressured the leader of its Board of Scientific Counselors to change her congressional testimony to downplay the impact of the agency's mass dismissal of scientists from the board, the New York Times reports.
Keep reading...
Show less
By Jason Mark
Sequoiadendron giganteum. That's the scientific name for the giant sequoia: the mammoth trees found in California's Sierra Nevada that are the largest organisms on Earth, and among the longest-lived. Biologists estimate that about half of all sequoias live in Giant Sequoia National Monument, a 328,000-acre preserve in the Southern Sierra Nevada established by President Clinton in 2000.
Now that national monument is in jeopardy.
Keep reading...
Show less
By Andy Rowell
Donald Trump this week is launching an "energy week," pushing the argument that the U.S. will become a net exporter of oil and gas.
The president and his cronies are talking about a new era of "U.S. energy dominance," which could stretch for decades to come. However, no one believes the president anymore.
Keep reading...
Show less
UN
By Colleen Curry
The United Nations has designated 23 new sites around the world to its World Network of Biosphere reserves—stunning natural landscapes that balance environmental and human concerns and strive for sustainability.
The forests, beaches and waterways were added to the list this year at the International Coordinating Council of the Man and the Biosphere Programme meeting in Paris earlier this month.
Keep reading...
Show less
Jun. 26, 2017 01:48PM EST
www.elysee.fr
By Andy Rowell
There is a growing feeling within European capitals that a quiet, but deeply positive, revolution is happening under Emmanuel Macron in France.
Macron's opinion poll rating is high, especially boosted in how the young French president has reacted to Donald Trump on the international stage.
Keep reading...
Show less
Jun. 26, 2017 12:32PM EST
www.facebook.com
Keep reading...
Show less