This website uses cookies to ensure you get the best experience while browsing it. By clicking 'Got It' you're accepting these terms.
Seed Freedom, Not GMOs, the Answer to Malnutrition and Hunger
Aug. 29, 2013 03:34PM EST
Food

What happens to the seed affects the web of life. When seed is living, regenerative and diverse, it feeds pollinators, soil organisms and animals—including humans. When seed is non-renewable, bred for chemicals, or genetically engineered with toxic Bt or Roundup Ready genes, diversity disappears.
In recent years, beekeepers have been losing 25 percent of their hives each winter. According to a scientific study in 2008, bees and pollinators contribute more than €153 billion annually to agriculture. Chemically-farmed soils, sprayed with herbicides and pesticides kill the beneficial organisms that create soil fertility and protect plants.
Organic seeds and organic farming do not just protect human health; they protect the health and wellbeing of all.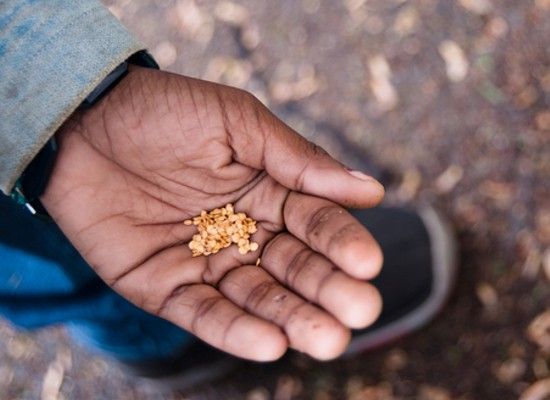 Photo courtesy of Shutterstock
The Rise of Monocultures
With industrial seeds and industrial agriculture, the diversity of plants and crops disappears. India had 200,000 rice varieties before the "green revolution" in the 1970s, which relied on pesticides and fertilizers to avert famine in India. This diversity was replaced by monocultures.
Today the fastest expanse in acreage is of genetically engineered corn and soya, because they are patented and corporations can collect royalties from farmers. When seed freedom disappears and farmers become dependent on genetically modified organism (GMO) seeds, they in effect become seed slaves.
According to the National Bureau of Crime Records, more than 284,000 Indian farmers have committed suicide since seed monopolies were established in India. Gandhi spun cotton for our freedom. Today GMO Bt cotton has enslaved our farmers in debt, and pushed them to suicide. And 95 percent cotton seed is controlled by one company: Monsanto.
When culture is eroded, biodiversity is eroded. And when control over seeds becomes big business, diversity disappears faster. Diversity is a product of care, connection and cultural pride.
Greed Versus Care
The tribals and peasants who gave us rice diversity wanted to evolve a rice for lactating mothers, a rice for babies, a rice for old people. They wanted to have rices that would survive droughts and floods and cyclones, so they evolved climate-resilient rices. In the Himalaya, different rices are needed for different altitudes and different slopes. The intimacy and care that go with belonging to a place and a community allows diversity to flourish.
Greed promotes carelessness and drives control, and control is facilitated by uniformity and monocultures. You cannot control diversity, you can only co-evolve and co-create with it.
A will to control becomes a will to destroy diversity, through what I have called the monoculture of the mind. And the expansion of corporate control over seed and plants is the main reason for the disappearance of diversity in our fields and in our food.
Undermining Health and Nutrition
Corporations first controlled agriculture through the chemical inputs for the green revolution. External chemical inputs demand uniformity and monocultures. In an ecological system, wheat and mustard and chana grow in a mixture, as an internal input self-organizing system is based on diversity and co-operation. When ecological inputs are replaced with external inputs, diversity becomes a problem, and monocultures become an imperative. Chemically-fertilized crops start competing with one another and different external inputs have to be applied to different crops.
This is how the green revolution destroyed our rich diversity of rice and wheat. Millets, which we at Navdanya call forgotten foods, were driven out of our farms and from our plates on totally unscientific criteria of being called inferior grains, even though in health and nutrition terms they are superior to green revolution and hybrid rice and wheat.
Indigenous rice and wheat varieties are superior in nutrition to the new varieties. Native rices have a low glycaemic index, while industrial rice has a high glycaemic index. When all that the poor get is industrial rice, they also get diabetes. India is now the capital of diabetes, which is intimately linked to the disappearance of diversity.
Not only does living, organic seed have more quality, nutrition and taste; farming systems that are based on biodiversity produce more nutrition and "health per acre", as the Navdanya study has shown. Seed freedom is the answer to hunger and malnutrition. One billion people today are hungry and two billion are obese because agriculture is out of balance with nature. Half of humanity is denied wellbeing through food.
Globalization and the Disappearance of Diversity
Globalization means an expanded and aggressive assault on the diversity of our crops and foods is taking place. There are three forces driving the disappearance of diversity, and all are connected to corporate control over seed and food.
The first is the entry of big business in the seed market, with uniform commercial, industrial hybrids and GMOs, and the consequent displacement of local diverse varieties evolved by farmers. Local farmers grew different water melon varieties, and water melons were seasonal fruits. Today you get only one oblong variety everywhere, all year round, because watermelon seeds are now commercial hybrids sold by corporations, which can only breed and sell uniformity.
The second factor in the disappearance of diversity is long-distance trade. Diversity goes hand in hand with local, decentralised food systems. Long-distance trade replaces freshness and softness with hardness, so fruits can travel. You may have noticed how soft jacket oranges have disappeared and been replaced with varieties that cannot be peeled. Corporations are advising the Indian government that bananas and mangoes need a makeover to travel longer, and stay longer on shelves.
The third factor is industrial processing. When McDonald's wants potatoes for French fries, only Russell Burbank will grow. Pepsi's Lay's chips cannot use indigenous potato diversity—such as the tomri that we grow in the mountains. Ketchup requires tomatoes with pulp, not juice. So the juicy, tasty tomatoes disappear, and hard and tasteless tomatoes replace them.
The Italians have continued to grow good, diverse tomatoes since and have managed to get the Mediterranean diet on the Unesco heritage list. Every cuisine in every part of India deserves to be recognized as a cultural heritage.
Navdanya has been making its contributions to protecting biodiversity and food heritage. But the issue is too important not to be taken up by every citizen in their daily lives. We are what we eat. When we are careless with food we are careless with ourselves. Will we only wake up when the last peasant and the last seed disappears?
Originally posted in The Guardian.
Visit EcoWatch's GE FOODS page for more related news on this topic.
——–

EcoWatch Daily Newsletter

mevans / E+ / Getty Images
The federal agency that manages the Great Barrier Reef issued an unprecedented statement that broke ranks with Australia's conservative government and called for urgent action to reduce greenhouse gas emissions, according to the Guardian.
A powerful earthquake struck near Athens, Greece and shook the capital city for 15 seconds on Friday, causing people to run into the streets to escape the threat of falling buildings, NBC News reported.
Golde Wallingford submitted this photo of "Pure Joy" to EcoWatch's first photo contest. Golde Wallingford
EcoWatch is pleased to announce our third photo contest!

U.S. government scientists concluded in a new report that last month was the hottest June on record.
Angelo Juan Ramos
/ Flickr
By Jessica Corbett
As meteorologists warned Thursday that temperatures above 100°F are expected to impact two-thirds of the country this weekend, U.S. government scientists revealed that last month was the hottest June ever recorded — bolstering calls for radical global action on the climate emergency.
Rod Waddington / CC BY-SA 2.0
By John R. Platt
For years now conservationists have warned that many of Madagascar's iconic lemur species face the risk of extinction due to rampant deforestation, the illegal pet trade and the emerging market for the primates' meat.
Yes, people eat lemurs, and the reasons they do aren't exactly what we might expect.
A visitor views a digital representation of the human genome at the American Museum of Natural History in New York City. Mario Tama / Getty Images
Genetics are significantly more responsible for driving autism spectrum disorders than maternal factors or environmental factors such as vaccines and chemicals, according to a massive new study involving more than 2 million people from five different countries.
Pixabay
By Emilie Karrick Surrusco
Across the globe, extreme weather is becoming the new normal.