This website uses cookies to ensure you get the best experience while browsing it. By clicking 'Got It' you're accepting these terms.
Secret Videos Expose Chevron's Corruption in Ecuadorian Oil Spill
Apr. 09, 2015 08:54AM EST
Energy
There's a new development in the case against Chevron for its failure to address decades of contamination in the Ecuadorian Amazon. An apparent Chevron whistleblower sent dozens of internal company videos to Amazon Watch with a note saying "I hope this is useful for you in your trial against Texaco/Chevron. [signed] A Friend from Chevron."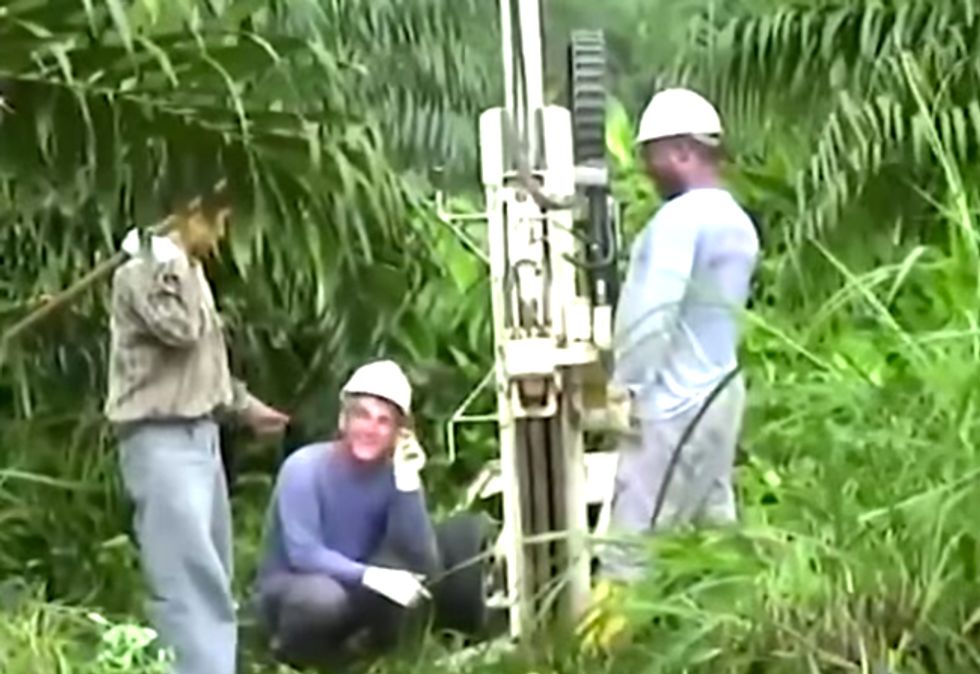 The videos—some of which can be seen on Amazon Watch—show Chevron employees and consultants secretly visiting the company's former well sites in Ecuador to find samples that didn't contain crude oil to use in soil and water samples at later site inspections when the presiding trial judge would be there to monitor the testing.
The problem is that they couldn't do it. In the videos, the employees can be heard joking about how they just can't find a sample without crude oil in it. I don't see anyone in the surrounding community laughing in the video when they talk about a nearby pond "oozing" with crude that is killing their cows and their own people.
"This is smoking gun evidence that shows Chevron hands are dirty—first for contaminating the region, and then for manipulating and hiding critical evidence," said Paul Paz y Miño, director of outreach at Amazon Watch. Chevron testified before both U.S. and Ecuadorian courts that the sites had been remediated in the mid-1990s.
"The videos show company technicians discussing in stark terms the presence of oil pollution in places where they told the court it didn't exist. This is corruption caught on tape," said Kevin Koenig, Ecuador program director at Amazon Watch, who has been working with the affected communities for two decades.
"After reviewing 105 technical evidentiary reports documenting extensive pollution, eight appellate judges, including Ecuador's Supreme Court, affirmed Chevron's liability in 2013 after 11 years of legal proceedings in the company's chosen forum," says Amazon Watch. "Damages were set at $9.5 billion, but Chevron thus far has refused to pay."
The case has made it all the way to the International Court of Justice at The Hague, which ruled a few weeks ago that the Ecuadorean court's ruling should be upheld. The case has, of course, been appealed by Chevron, whose own CEO, John Watson, "promised the Ecuadorians a lifetime of litigation, saying the 22-year-old legal battle will end when 'the plaintiffs' lawyers give up'" reports Amazon Watch.
In case you didn't think Chevron's actions were appalling enough: In the appeal, Chevron is arguing that not only should it not have to pay for the decades worth of damage, but that the Ecuadorian people should foot the bill for the clean up, according to Ecuador's Foreign Minister Ricardo Patiño, who spoke about the case with Amy Goodman and Juan Gonzalez on Democracy Now!
Additional videos are being reviewed by Amazon Watch and will be released in the coming weeks. Watch one of the tapes below:
YOU MIGHT ALSO LIKE
Will Chevron and Exxon Ever Be Held Responsible for Decades of Contamination
Jon Stewart Hammers Gov. Christie Over Staggering Exxon Spill Settlement
EcoWatch Daily Newsletter
Pro-environment demonstrators on the streets of Washington, DC during the Jan. 20, 2017 Trump inauguration.
Mobilus In Mobili
/ Flickr /
CC BY-SA 2.0
By Dr. Brian R. Shmaefsky
One year after the Flint Water Crisis I was invited to participate in a water rights session at a conference hosted by the US Human Rights Network in Austin, Texas in 2015. The reason I was at the conference was to promote efforts by the American Association for the Advancement of Science (AAAS) to encourage scientists to shine a light on how science intersects with human rights, in the U.S. as well as in the context of international development. My plan was to sit at an information booth and share my stories about water quality projects I spearheaded in communities in Bangladesh, Colombia, and the Philippines. I did not expect to be thrown into conversations that made me reexamine how scientists use their knowledge as a public good.
Mt. Rainier and Reflection Lake on Sept. 10, 2015. Crystal Geyser planned to open a bottling plant near Mt. Rainier, emails show.
louelke - on and off / Flickr
Bottled water manufacturers looking to capture cool, mountain water from Washington's Cascade Mountains may have to look elsewhere after the state senate passed a bill banning new water permits, as The Guardian reported.
Large storage tank of Ammonia at a fertilizer plant in Cubatão, Sao Paulo State, Brazil. Luis Veiga / The Image Bank / Getty Images
The shipping industry is coming to grips with its egregious carbon footprint, as it has an outsized contribution to greenhouse gas emissions and to the dumping of chemicals into open seas. Already, the global shipping industry contributes about 2 percent of global carbon emissions, about the same as Germany, as the BBC reported.
At high tide, people are forced off parts of the pathway surrounding DC's Tidal Basin. Andrew Bossi /
Wikimedia
The Jefferson Memorial in Washington, DC overlooks the Tidal Basin, a man-made body of water surrounded by cherry trees. Visitors can stroll along the water's edge, gazing up at the stately monument.
But at high tide, people are forced off parts of the path. Twice a day, the Tidal Basin floods and water spills onto the walkway.
Lioness displays teeth during light rainstorm in Kruger National Park, South Africa. johan63 / iStock / Getty Images
Ahead of government negotiations scheduled for next week on a global plan to address the biodiversity crisis, 23 former foreign ministers from various countries released a statement on Tuesday urging world leaders to act "boldly" to protect nature.