This website uses cookies to ensure you get the best experience while browsing it. By clicking 'Got It' you're accepting these terms.
Secret Tape Exposes Fracking Industry Playing Dirty
Oct. 31, 2014 09:38AM EST
Right-wing public relations consultant/astroturf king Richard Berman probably wasn't very happy when he saw yesterday's New York Times. Like the now infamous American Legislative Exchange Council (ALEC), Berman's success depends in large part on anonymity. He is known for his use of what's called "astroturf" groups—organizations that appear to be community or citizen advocacy groups with names like "Center for Consumer Freedom" but are really shell groups for untraceable corporate donations—to attack labor unions, environmental laws, attempts to regulate the food industry and anti-smoking measures. Lately, he's been a conduit for fossil fuel interests with his Big Green Radicals campaign, based on the mockery and personal destruction of those who advocate for the environment.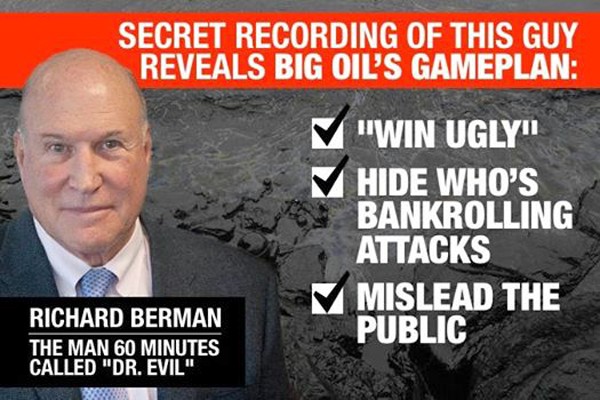 Photo credit: Oil Change International
But one industry executive had enough. The anonymous executive leaked a tape to the New York Times of a June event in Colorado Springs at which Berman and Jack Hubbard, a vice president at Berman & Company, were soliciting money from oil and gas executives for the Big Green Radicals effort, telling them that they needed to exploit fear, greed and anger, and to stoke resentment against environmentally-minded celebrities. The executive told the New York Times the presentation left a bad taste in his mouth.
Last spring, that campaign placed billboards in a pair of states where the explosive growth of fracking has raised community opposition and demands for more regulation or banning the process altogether—Pennsylvania and Colorado. They mocked celebrities who had records of environmental advocacy such as Lady Gaga, Yoko Ono and Robert Redford. "Demands green living. Flies on private jets," said the Redford Billboard." "Would you take energy advice from a woman who wears a meat dress?" said the Lady Gaga billboard. The head-scratching billboard featuring Yoko Ono said, "Would you take energy advice from a woman who broke up the Beatles?"
At the secretly taped presentation, Berman and Hubbard laid out their strategy of playing dirty, saying "You can win ugly or lose pretty."
Winning ugly is what he specializes in. The BigGreenRadicals website attacks big environmental groups like the Sierra Club, Food & Water Watch and the Natural Resources Defense Council, saying these organizations "have morphed into multi-million dollar lobbying machines that use questionable tactics to scare the American public and policymakers into supporting unnecessary and unreasonable policies."
Talk about the pot calling the kettle black!
Even Robert F. Kennedy, Jr. chimed in on this one:
Rick Berman: The Oil Reich's Minister of Propaganda & public information #HOWDOTHESEPEOPLELIVEWITHTHEMSELVES? http://t.co/0iixpjotOM

— Robert F. Kennedy Jr (@RobertKennedyJr) October 31, 2014
And Sierra Club Executive Director Michael Brune said in a statement:
"You know climate deniers and big polluters are desperate when they turn to the tired old tactics of the tobacco industry to try and save themselves. Whether it's cigarettes or dirty fuels, toxic products are on their way out, and their proponents are left scraping the bottom of the barrel. Its not going to work—dirty tricks won't save dirty fuels."
Berman told the executives at the June meeting that he had researched the personal histories of board members of these groups, looking for information that could be used to embarrass and discredit them. He emphasized to them how they could operate anonymously through his company, shoveling six-figure donations to his front groups without their involvement being revealed.
"People always ask me one question all the time: 'How do I know that I won't be found out as a supporter of what you're doing?'" Berman said. "We run all of this stuff through nonprofit organizations that are insulated from having to disclose donors. There is total anonymity. People don't know who supports us."
They're starting to learn, and that probably won't work to Berman's benefit.
YOU MIGHT ALSO LIKE
Billboards Attack Anti-Fracking Celebrities
Frack Waste Investigation Launched by Pennsylvania Congressman
Groundbreaking Study Finds Cancer-Causing Air Pollution Near Fracking Sites
PeopleImages / E+ / Getty Images
By Daniel Ross
Hurricane Florence, which battered the U.S. East Coast last September, left a trail of ruin and destruction estimated to cost between $17 billion and $22 billion. Some of the damage was all too visible—smashed homes and livelihoods. But other damage was less so, like the long-term environmental impacts in North Carolina from hog waste that spilled out over large open-air lagoons saturated in the rains.
Hog waste can contain potentially dangerous pathogens, pharmaceuticals and chemicals. According to the state's Department of Environmental Quality, as of early October nearly 100 such lagoons were damaged, breached or were very close to being so, the effluent from which can seep into waterways and drinking water supplies.
This picture taken on May 21, 2018 shows discarded climbing equipment and rubbish scattered around Camp 4 of Mount Everest. Decades of commercial mountaineering have turned Mount Everest into the world's highest rubbish dump as an increasing number of big-spending climbers pay little attention to the ugly footprint they leave behind. DOMA SHERPA / AFP / Getty Images
China has closed its Everest base camp to tourists because of a buildup of trash on the world's tallest mountain.
Researchers tested the eggs of Arctic northern fulmers like these in Nunavut, Canada.
Fiona Paton / Flickr
By Madison Dapcevich
Plastics have been recorded in every corner of the world, from the remote icy waters of Antarctica to the bellies of deep-sea fishes. Now, preliminary findings presented at this year's American Association for the Advancement of Science (AAAS) annual meeting in Washington, DC suggest that bird eggs from the high Arctic—one of the most remote wildernesses on the planet—show evidence of contamination from chemicals used in plastics.

A small Australian rat that lived on a 12 acre island in the Great Barrier Reef has become the first mammal to go extinct primarily because of human-caused climate change, the Australian Government confirmed Monday.
The Bramble Cay melomys was first declared extinct after a 2014 search on Bramble Cay, its native island in the Torres Strait, between Queensland, Australia and Papua New Guinea, according to a 2016 report by the University of Queensland and the Queensland government.