Secret Tape Exposes Fracking Industry Playing Dirty
Right-wing public relations consultant/astroturf king Richard Berman probably wasn't very happy when he saw yesterday's New York Times. Like the now infamous American Legislative Exchange Council (ALEC), Berman's success depends in large part on anonymity. He is known for his use of what's called "astroturf" groups—organizations that appear to be community or citizen advocacy groups with names like "Center for Consumer Freedom" but are really shell groups for untraceable corporate donations—to attack labor unions, environmental laws, attempts to regulate the food industry and anti-smoking measures. Lately, he's been a conduit for fossil fuel interests with his Big Green Radicals campaign, based on the mockery and personal destruction of those who advocate for the environment.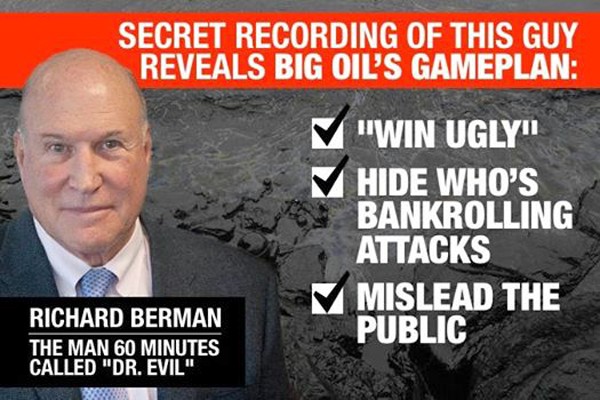 Photo credit: Oil Change International
But one industry executive had enough. The anonymous executive leaked a tape to the New York Times of a June event in Colorado Springs at which Berman and Jack Hubbard, a vice president at Berman & Company, were soliciting money from oil and gas executives for the Big Green Radicals effort, telling them that they needed to exploit fear, greed and anger, and to stoke resentment against environmentally-minded celebrities. The executive told the New York Times the presentation left a bad taste in his mouth.
Last spring, that campaign placed billboards in a pair of states where the explosive growth of fracking has raised community opposition and demands for more regulation or banning the process altogether—Pennsylvania and Colorado. They mocked celebrities who had records of environmental advocacy such as Lady Gaga, Yoko Ono and Robert Redford. "Demands green living. Flies on private jets," said the Redford Billboard." "Would you take energy advice from a woman who wears a meat dress?" said the Lady Gaga billboard. The head-scratching billboard featuring Yoko Ono said, "Would you take energy advice from a woman who broke up the Beatles?"
At the secretly taped presentation, Berman and Hubbard laid out their strategy of playing dirty, saying "You can win ugly or lose pretty."
Winning ugly is what he specializes in. The BigGreenRadicals website attacks big environmental groups like the Sierra Club, Food & Water Watch and the Natural Resources Defense Council, saying these organizations "have morphed into multi-million dollar lobbying machines that use questionable tactics to scare the American public and policymakers into supporting unnecessary and unreasonable policies."
Talk about the pot calling the kettle black!
Even Robert F. Kennedy, Jr. chimed in on this one:
Rick Berman: The Oil Reich's Minister of Propaganda & public information #HOWDOTHESEPEOPLELIVEWITHTHEMSELVES? http://t.co/0iixpjotOM

— Robert F. Kennedy Jr (@RobertKennedyJr) October 31, 2014
And Sierra Club Executive Director Michael Brune said in a statement:
"You know climate deniers and big polluters are desperate when they turn to the tired old tactics of the tobacco industry to try and save themselves. Whether it's cigarettes or dirty fuels, toxic products are on their way out, and their proponents are left scraping the bottom of the barrel. Its not going to work—dirty tricks won't save dirty fuels."
Berman told the executives at the June meeting that he had researched the personal histories of board members of these groups, looking for information that could be used to embarrass and discredit them. He emphasized to them how they could operate anonymously through his company, shoveling six-figure donations to his front groups without their involvement being revealed.
"People always ask me one question all the time: 'How do I know that I won't be found out as a supporter of what you're doing?'" Berman said. "We run all of this stuff through nonprofit organizations that are insulated from having to disclose donors. There is total anonymity. People don't know who supports us."
They're starting to learn, and that probably won't work to Berman's benefit.
YOU MIGHT ALSO LIKE
Billboards Attack Anti-Fracking Celebrities
Frack Waste Investigation Launched by Pennsylvania Congressman
Groundbreaking Study Finds Cancer-Causing Air Pollution Near Fracking Sites
By Itai Vardi
A recent intensification in protests against Williams Partners' planned Atlantic Sunrise pipeline in Pennsylvania prompted a state senator to propose legislation aimed at limiting demonstrations.
Last month, Pennsylvania Sen. Scott Martin (R-Norman) announced his intention to introduce legislation that would pass the costs of law enforcement responding to protests onto the demonstrators. Martin also helped introduce a different bill that would criminalize protests at natural gas facilities.
Keep reading...
Show less
Black Shogun / iStock
The Federal Energy Regulatory Commission (FERC) released its Final Environmental Impact Statement Friday for the Mountain Valley Pipeline, a controversial 303-mile pipeline that would carry two billion cubic feet of fracked gas per day from West Virginia through Virginia.
Keep reading...
Show less
Falcon PEV
The so-called "first and last mile" problem is one of the biggest hurdles with public transportation. How do you encourage more people to take Earth-friendlier commutes when their homes are miles away from the train or bus station?
One solution, as this Estonian electric scooter company proposes, is to simply take your commute with you—literally. Tallinn-based Stigo has developed a compact e-scooter that folds to the size of a rolling suitcase in about two seconds.
Keep reading...
Show less
Connect4Climate
[Editor's note: I'm still in shock after hearing the news that Lucia Grenna passed away in her sleep last week. When we first met in April of 2014 at a Copenhagen hotel, I was immediately taken by here powerful presence. We spent the next couple days participating in a Sustainia climate change event where Lucia presented her audacious plans to connect people to the climate issue. I had the chance to partner with Lucia on several other projects throughout the years and work with her incredible Connect4Climate team. I was always in awe of her ability to "make the impossible possible." Her spirit will live on forever. — Stefanie Spear]
It is with a heavy heart that Connect4Climate announces the passing of its founder and leading light, Lucia Grenna. Lucia passed peacefully in her sleep on June 15, well before her time. We remember her for her leadership and extraordinary ability to motivate people to take on some of the greatest challenges of our time, not least climate change.
Keep reading...
Show less
Jun. 23, 2017 07:29PM EST
Wikimedia Commons
By Stacy Malkan
Neil deGrasse Tyson has inspired millions of people to care about science and imagine themselves as participants in the scientific process. What a hopeful sign it is to see young girls wearing t-shirts emblazoned with the words, "Forget princess, I want to be an astrophysicist."
Keep reading...
Show less
Jun. 23, 2017 01:57PM EST
www.youtube.com
By Andy Rowell
Any day now we will truly witness climate change in action. Within days at worst, maybe weeks at best, scientists predict that a huge section of the Larsen C ice shelf in Antarctica will break off into the ocean, in what is called a major "carving" event.
Keep reading...
Show less
Jun. 23, 2017 02:27PM EST
www.youtube.com
President Trump visited Cedar Rapids, Iowa on June 21 to speak to a large crowd in the U.S. Cellular Center at a political rally organized by his campaign.
As Trevor Noah noted during The Daily Show episode last night (starts at 2:25), the real reason Trump has these rallies is to "get back in front of his loyal crowds and feed of their energy." Noah believes that "Trump supporters are so on board with their dude he can say anything and they'll come along for the ride."
Keep reading...
Show less
Jun. 23, 2017 07:50PM EST
The Kamuthi solar plant in the southern Indian state of Tamil Nadu.
The rapid growth in renewable energy continues to put a dent in the demand for coal.
Coal India, the world's biggest coal mining company and producer of 82 percent of the country's coal, announced the closure of 37 mines that are financially "unviable."
Keep reading...
Show less
Jun. 23, 2017 06:42PM EST
www.youtube.com
By Katie O'Reilly
Two years ago—long before coal became one of the most dominant and controversial symbols of the 2016 presidential election—Bloomberg Philanthropies approached production company RadicalMedia with the idea of creating a documentary exploring the U.S. coal mining industry. Last spring, they brought on Emmy-nominated director Michael Bonfiglio, tasked with forging a compelling story out of the multitudes of facts, statistics and narratives underlying the declining industry.
Keep reading...
Show less


Get EcoWatch in your inbox