Secret Footage Exposes Tyson's Shocking Cruelty to Chickens
Sep. 14, 2015 01:46PM EST
Food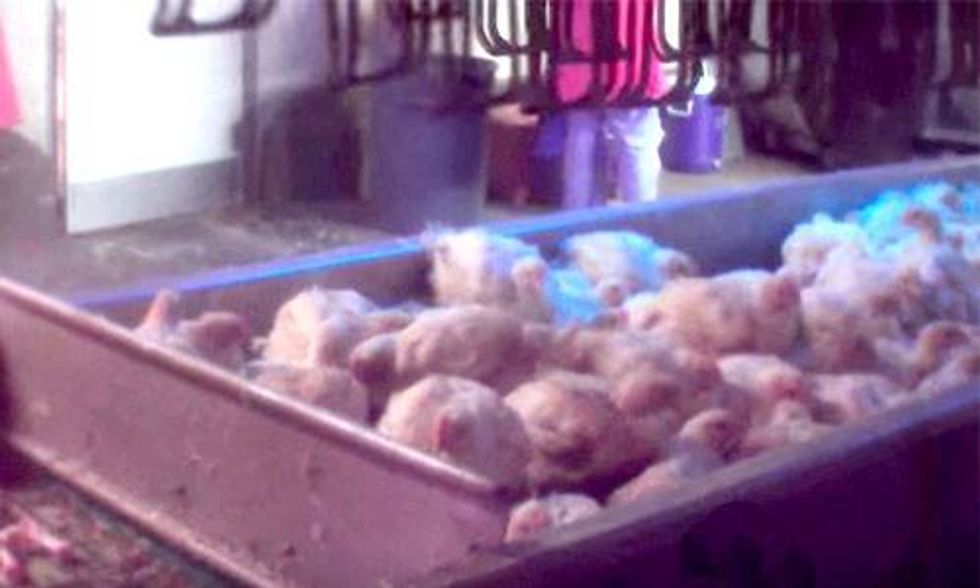 The Animal Legal Defense Fund (ALDF) released secret video footage today taken by an undercover reporter inside a Tyson Foods slaughterhouse in Texas. According to ALDF, the footage reveals an exploitative system for both workers and animals.
"The overall attitude towards the chickens at the Tyson plant is that they were thought of as objects and not living and feeling beings," said the anonymous ALDF investigator. "They were nothing more than a commodity. It didn't seem to matter to anyone if the chickens were hurt or killed in the pre-slaughter process. It was just part of 'business.'"
Watch the undercover footage here:
The abuse of workers and animals in factory farms is well documented. Undercover footage from Mercy for Animals in July revealed equally appalling conditions at another Tyson's facility. And a similar undercover investigation into Costco's egg suppliers from The Humane Society earlier this summer sparked Ryan Gosling, Brad Pitt and Bill Maher to call on the retail giant to make changes.
"Our investigation proves that the cruel treatment of chickens by Tyson Foods are not isolated incidents, but a systematic, companywide problem," says Stephen Wells, Animal Legal Defense Fund executive director. "Tyson Foods is putting profits over not only ethical standards, but state and federal laws."
ALDF is asking the attorney general of the state of Delaware, where Tyson Foods is incorporated, to "investigate and sanction the company." ALDF has also filed three complaints against Tyson Foods with three different government agencies—the U.S. Department of Agriculture (USDA), Occupational Safety and Health Administration (OSHA) and Securities and Exchange Commission (SEC).
With the USDA filing, ALDF is "asking the agency to enforce basic food safety regulations outlined in the Poultry Products Inspection Act." Its complaint with OSHA cites "unsafe working conditions for employees, including repetitive motion stress injuries and the high risk of being maimed and/or injured by the rapidly moving conveyor belts."
ALDF believes "Tyson's expectations of line speeds—140 chickens per minute—and number of birds processed per day up to 250,000—are unrealistic to physically meet, leading workers to putting quotas ahead of animal welfare, food safety regulations, and their own personal safety."
Lastly, the national nonprofit's complaint with SEC accuses Tyson of "overstating the priority it puts on animal welfare in corporate and investor materials." ALDF says that "Tyson Foods is well aware of the working conditions in its plants, as well as of blatant violations of welfare regulations covering poultry processing."
YOU MIGHT ALSO LIKE
University Scientists Caught Conspiring With Monsanto to Manipulate Public Opinion on GMOs
World's First Hydraulic-Driven Vertical Farm Produces 1 Ton of Vegetables Every Other Day
EcoWatch Daily Newsletter
Related Articles from EcoWatch
Recent Stories from EcoWatch